The Finale : Zagreb to the coast, via the Velebit mountains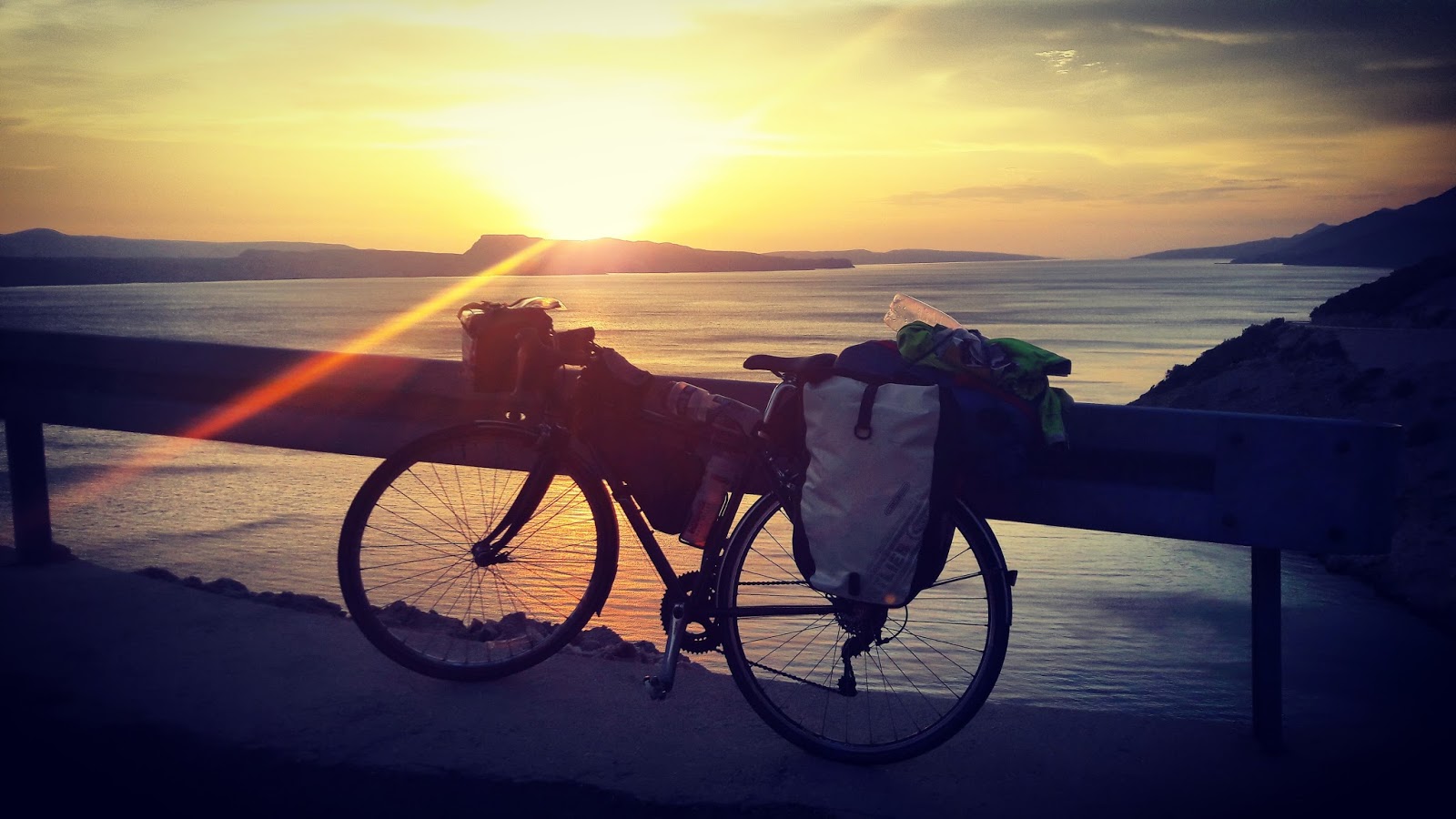 Zagreb to Novi Vinodolski
Day 50 of riding | 118 miles | 190 km | Ascent: 2,100 metres
Adopted by a Croatian family, and finally, seeing the sea...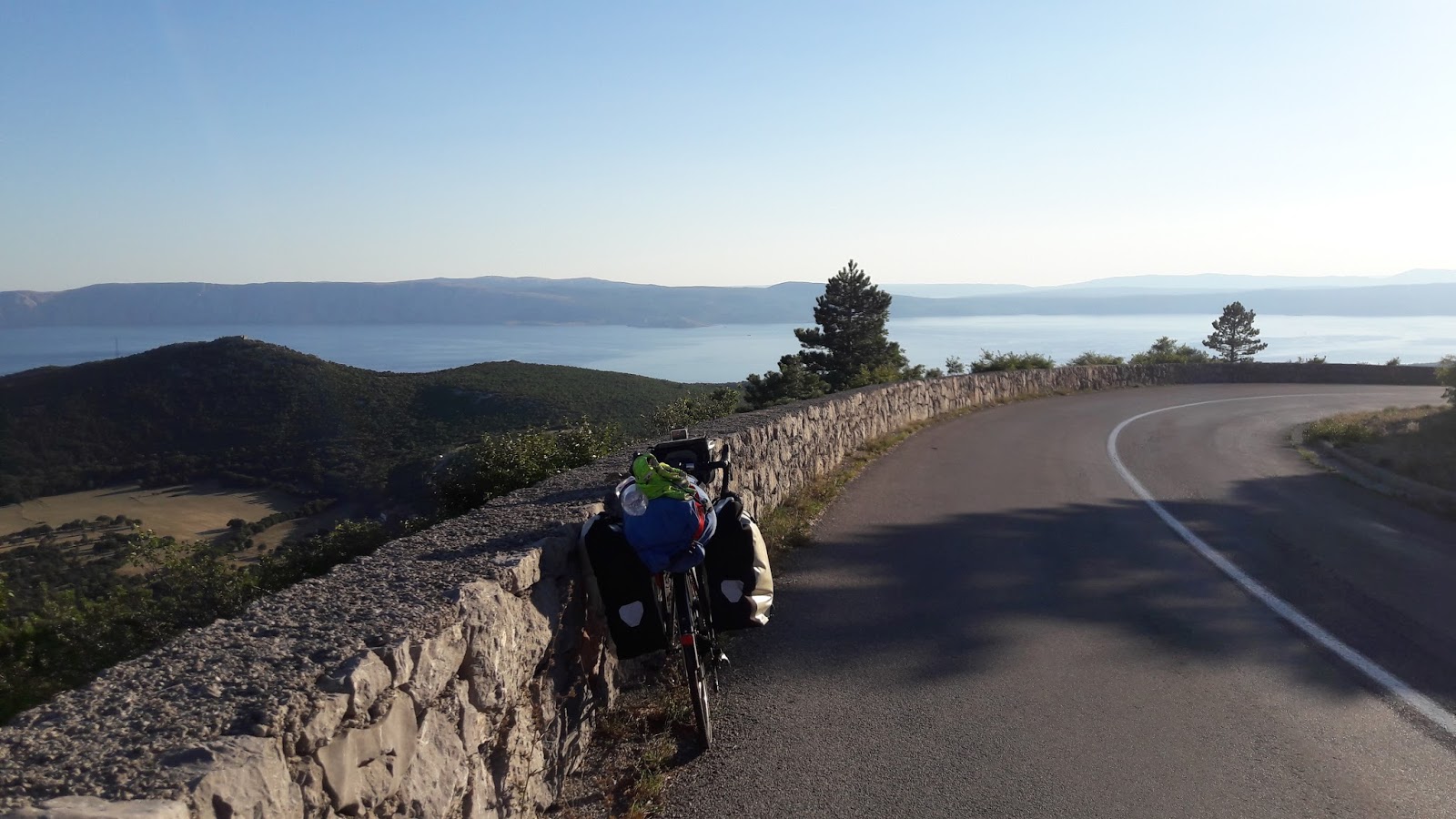 Sonia & I said our final goodbyes at 0630, then I headed off, following a route I had plotted pre-trip.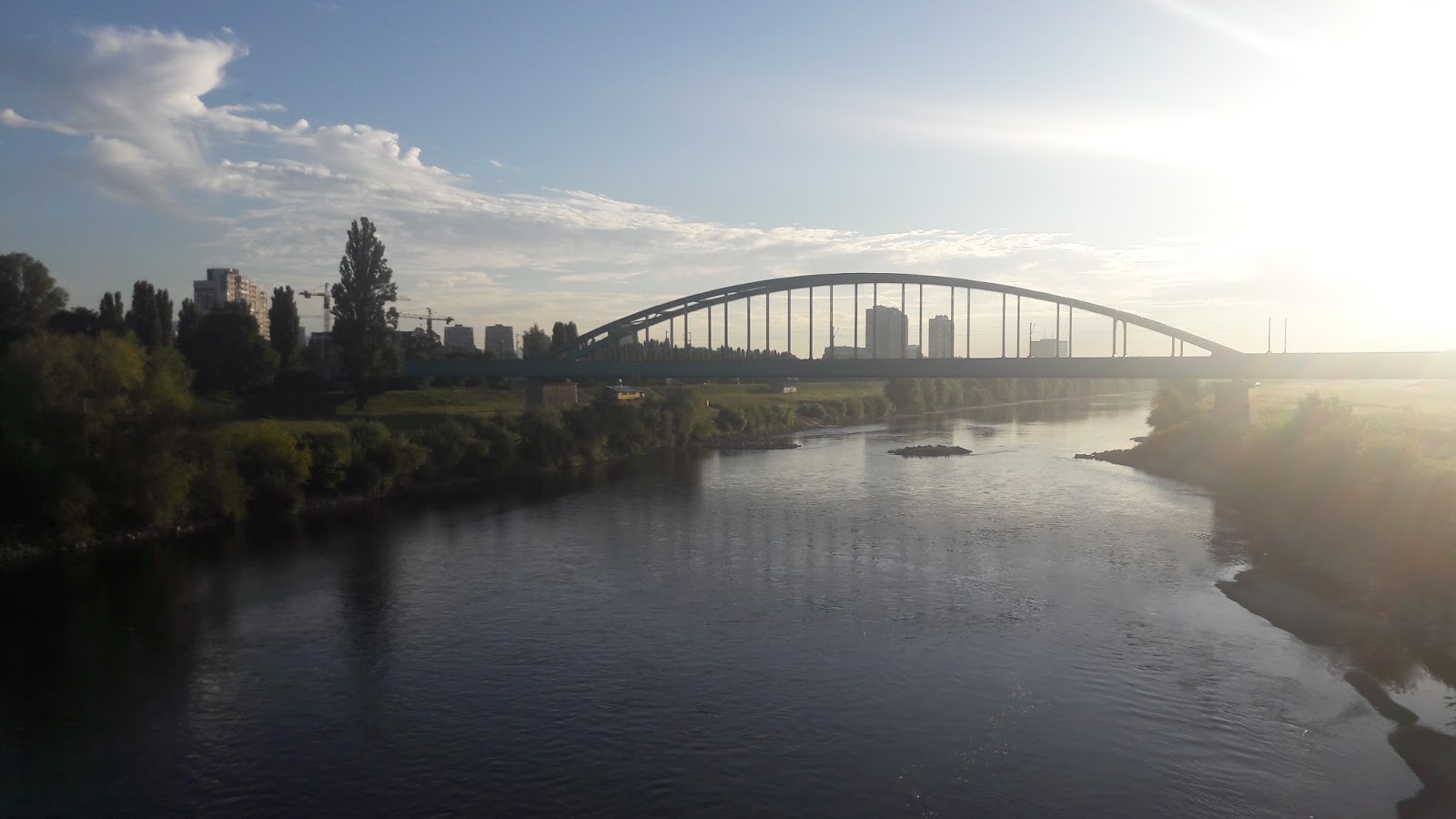 The warm rays of late dawn glistened across the land, & I travelled down quiet country roads, edging closer to the distant hills.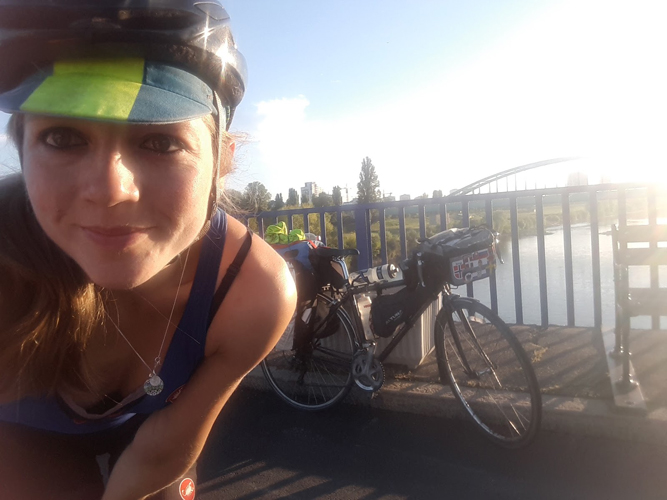 The downside to this rural route was that I could find nowhere for a toilet stop (bush was not ideal for this type of toilet requirement..) - two shops refused/ said there were none. Finally at 40ish miles I found a cafe by diverting to a town. Yes!
Getting closer to you, mountains!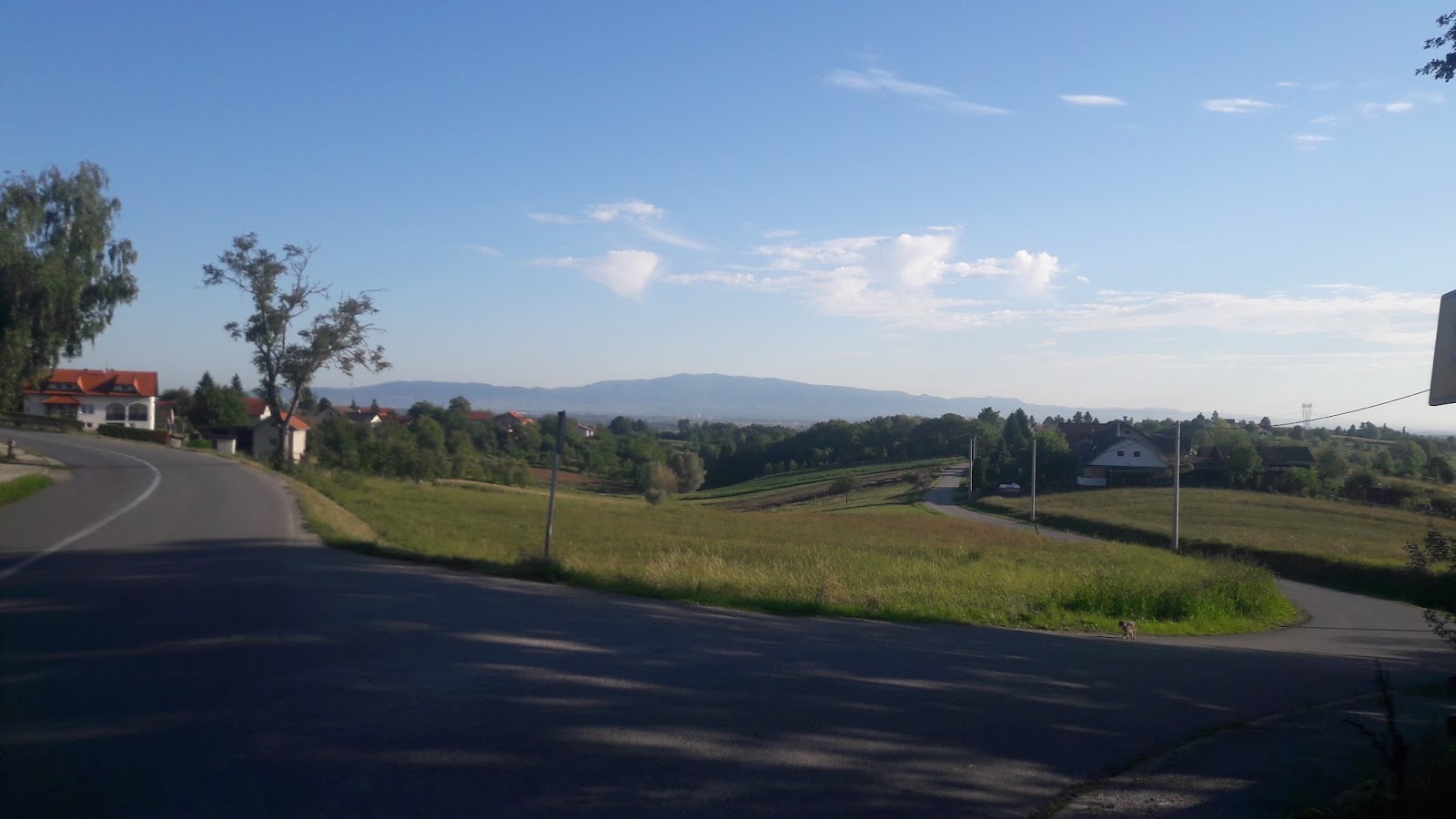 Tractor parking place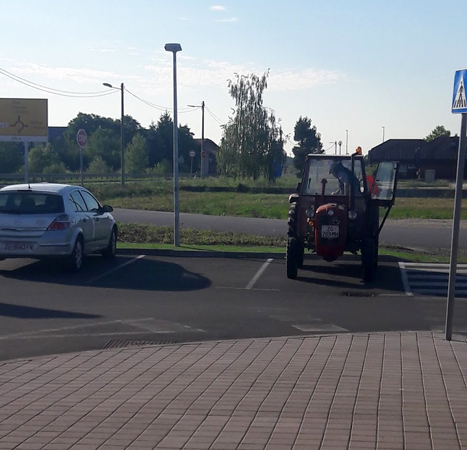 I was also frequently running out of water. On one of these occasions, I thought I was nearing a large place, so aimed for it. It was a holy day for the Catholic people, so hoards of locals took to this street; I questioned many about a cafe or somewhere to get water, & eventually a very lovely lady took me into her home! She spoke little english, but grabbed her son, who had actually been working up in Nordkapp. They had also just returned from a trip to Birmingham, where I went to University. They took me to their garden where they were having a large family party & roasting a pig.
The Croatian party crasher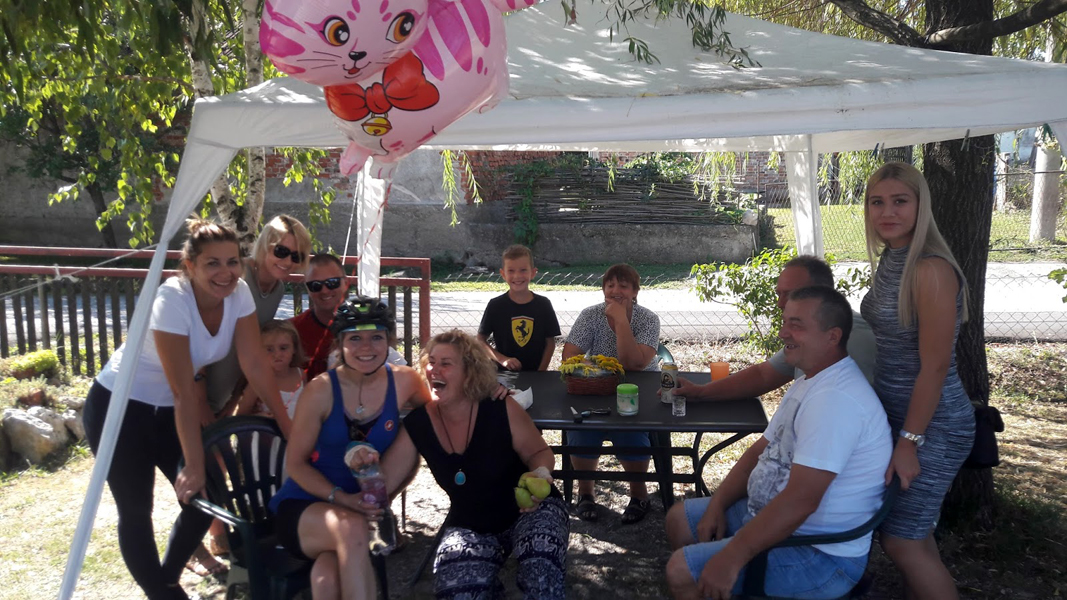 I had to politely decline their sweet invitation for lunch, & after a brief chat (via translations from her children) we swapped details. I left, now with plenty of water & a bag full of homegrown pears. I love people!
Local storks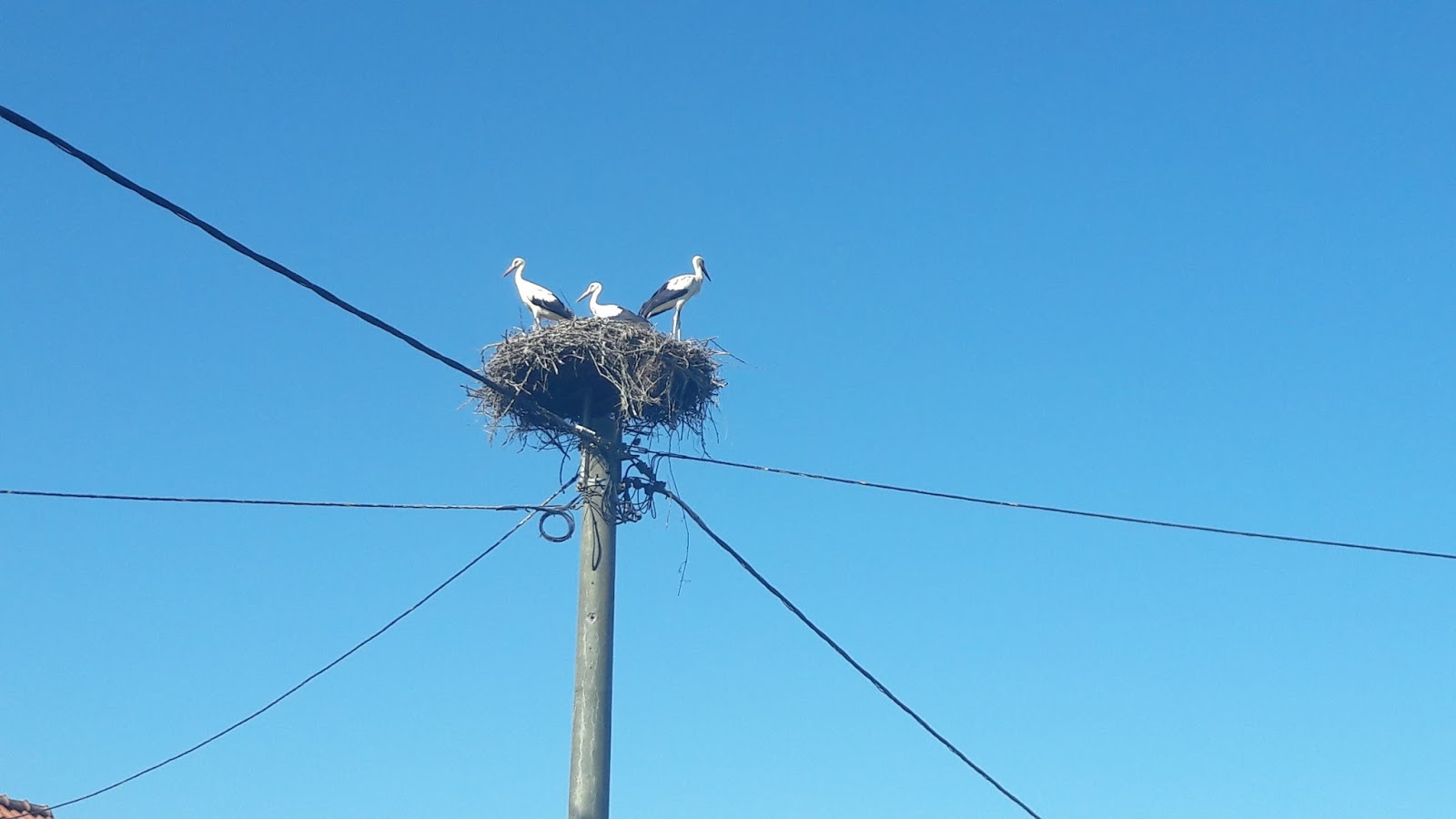 Due to the heat, humidity, & the hilly riding, I was soon seriously depleting my water reserves again. No luck finding anywhere open in the seemingly large town of Ogulin...thankfully a closed bar kindly refilled my water bottles!
Yes! I think my grandmas should get into cycling too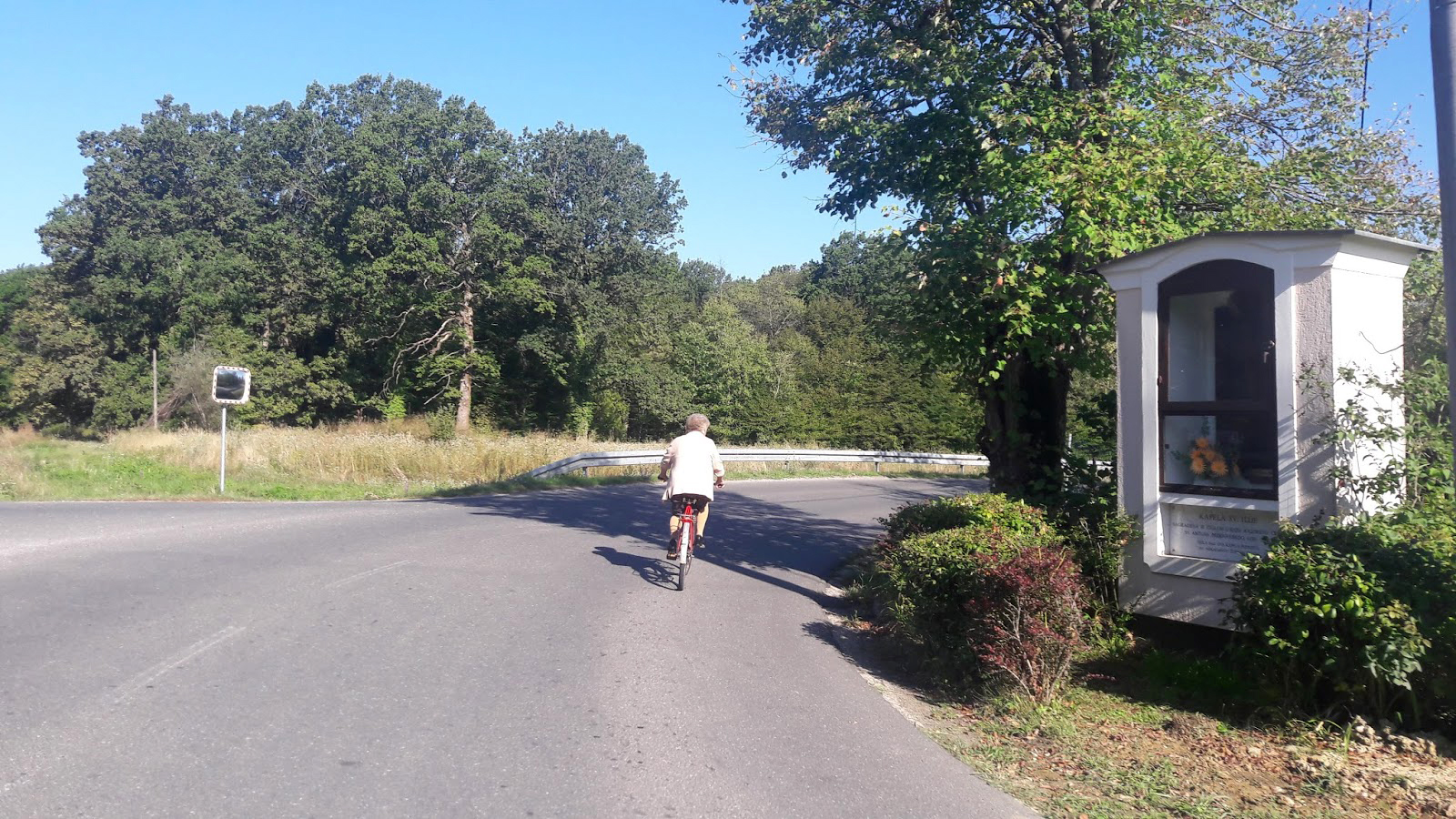 Off to the hills I went, first steadily climbing up to over 1000m in height before dropping into a valley; some of those metres would then have to be re-climbed on the other side.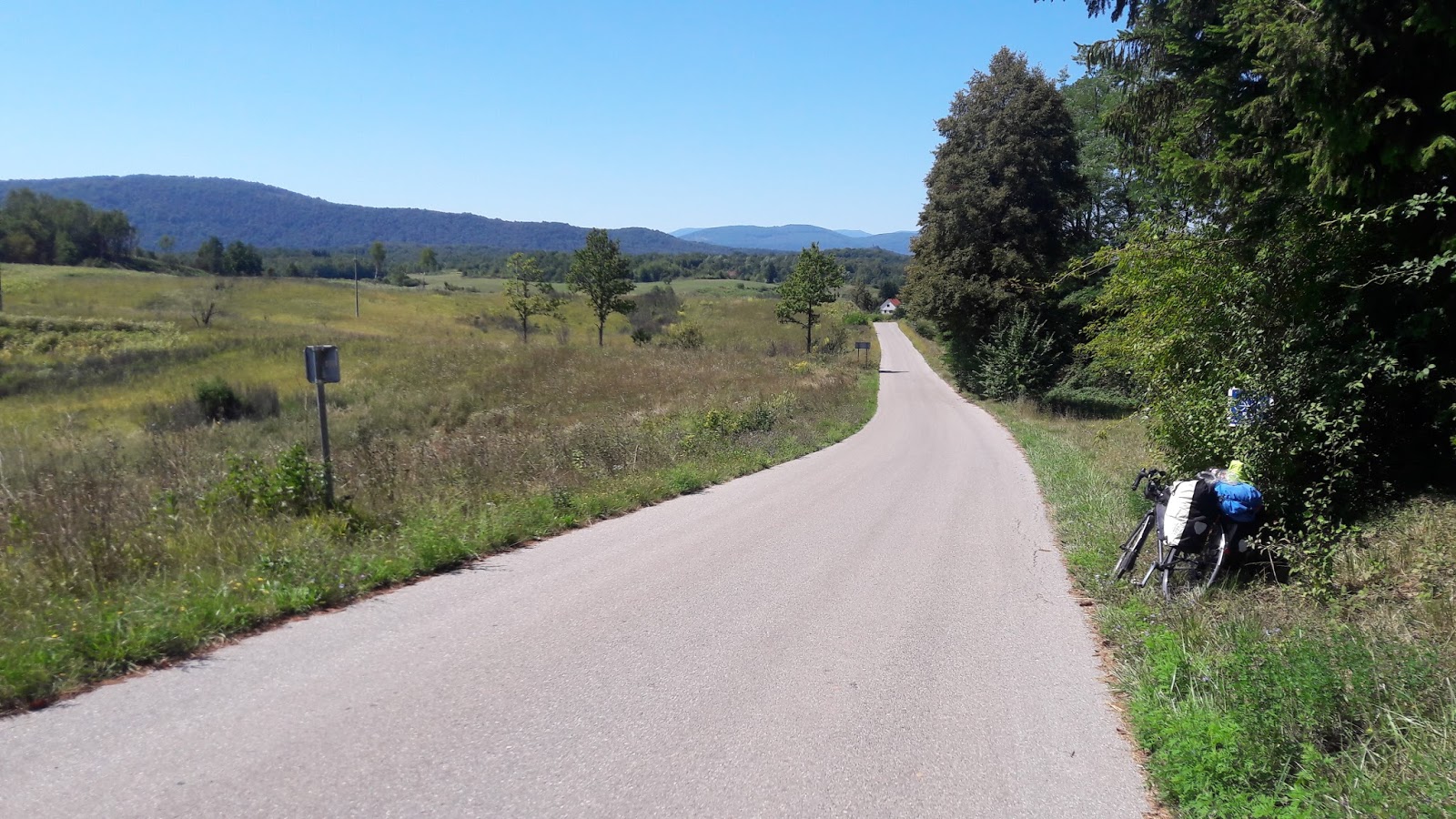 The water IS actually fluoro blue in Croatia!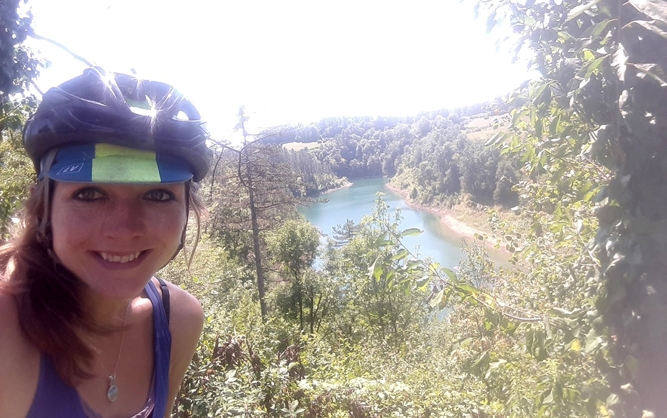 A lot of dogs were loudly marking their territory around these villages, & I was just praying that I may never meet one on the road. Of course, an Alsation soon stood ahead, glaring at me. Oh God. I actually cannot pass. After calming myself down, & realising it would be quite irrational to fail the ride due to a single dog, I planned to just accelerate as fast as possible. The disinterested domesticated creature just wandered back into its driveway. Ha ha panic over! Must learn to beat this fear/ special tactics for future ventures.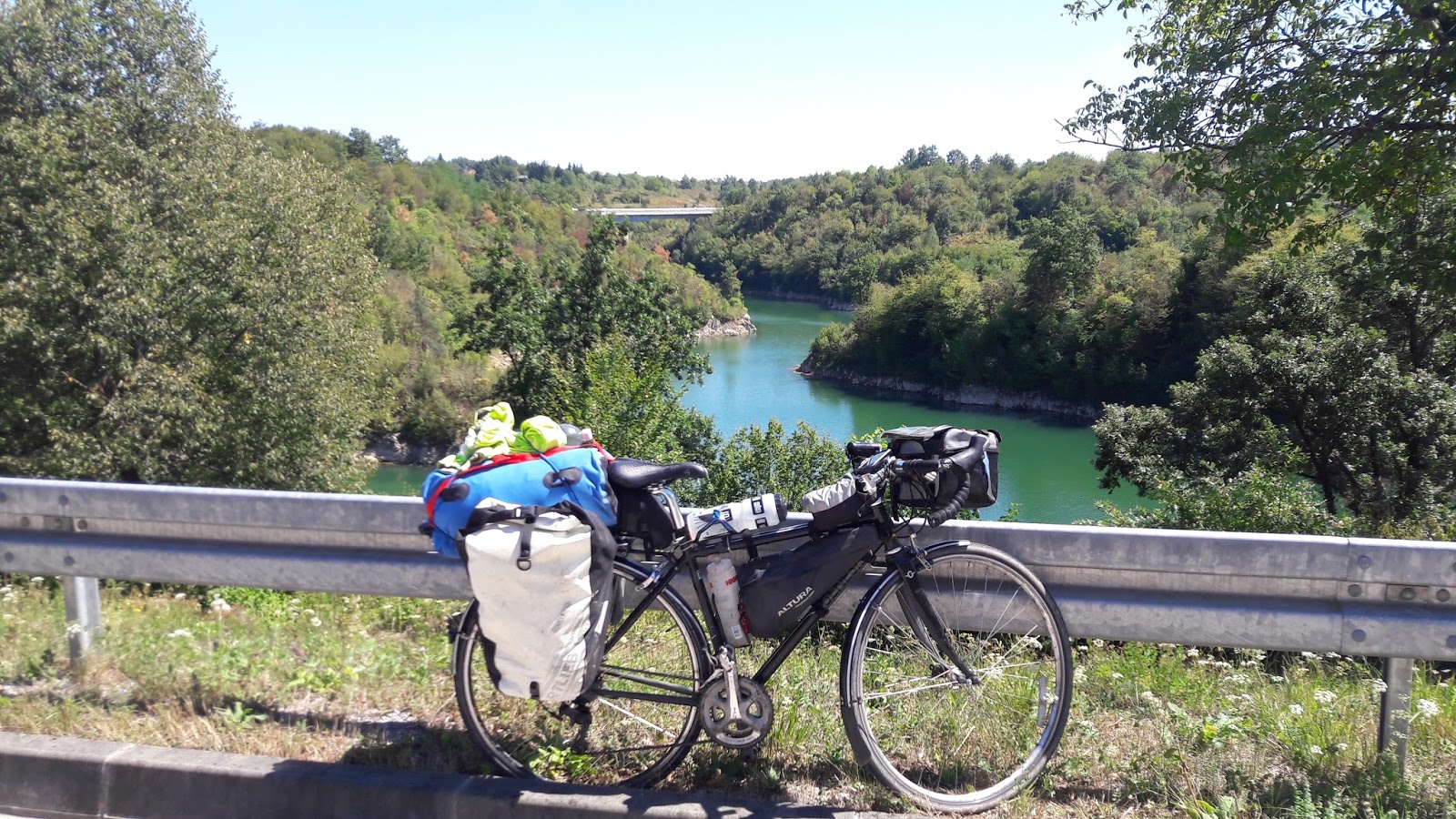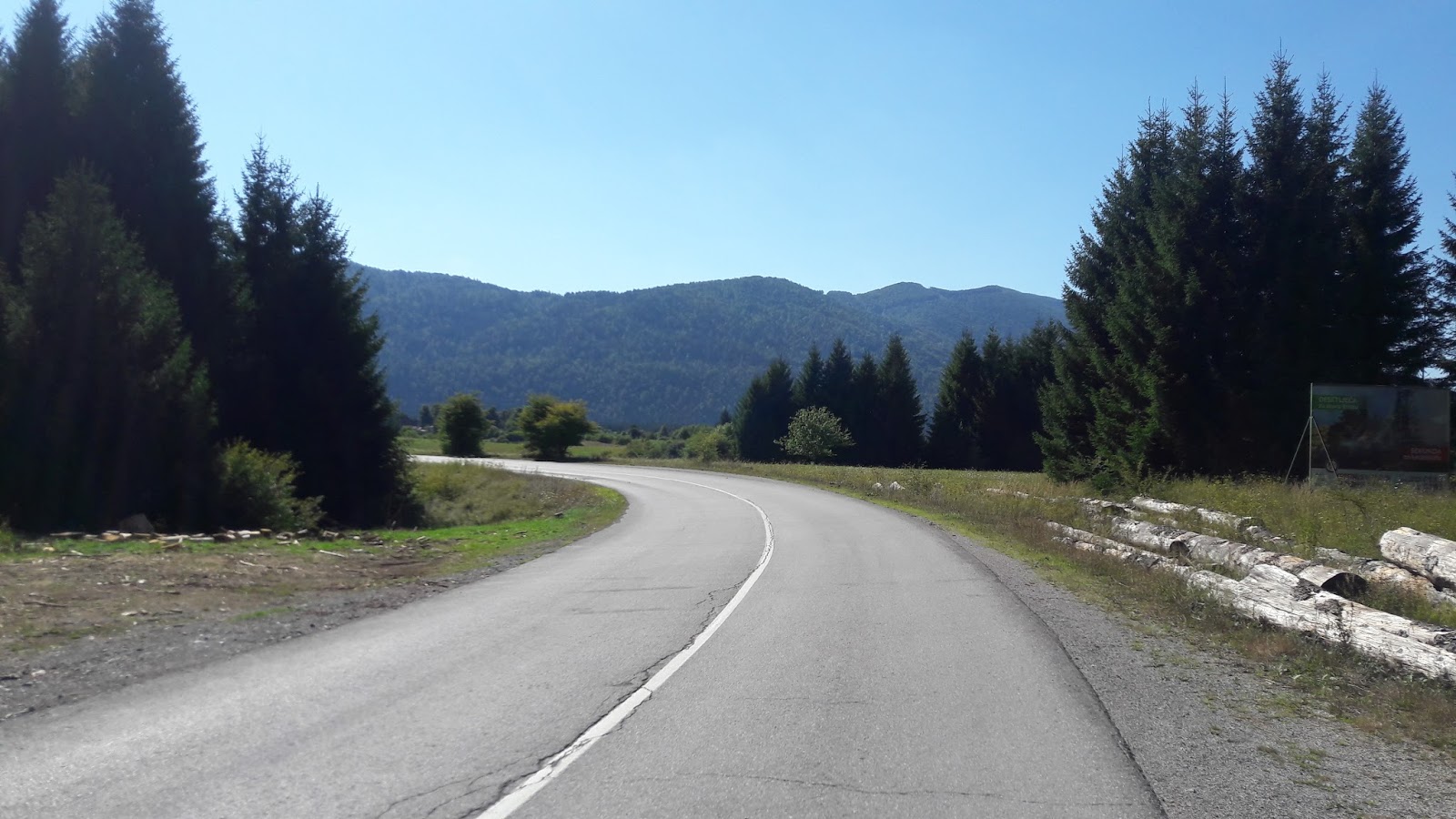 The final mountain was a long, hard slog: I was downing every available calorie & water source to fight the exhaustion.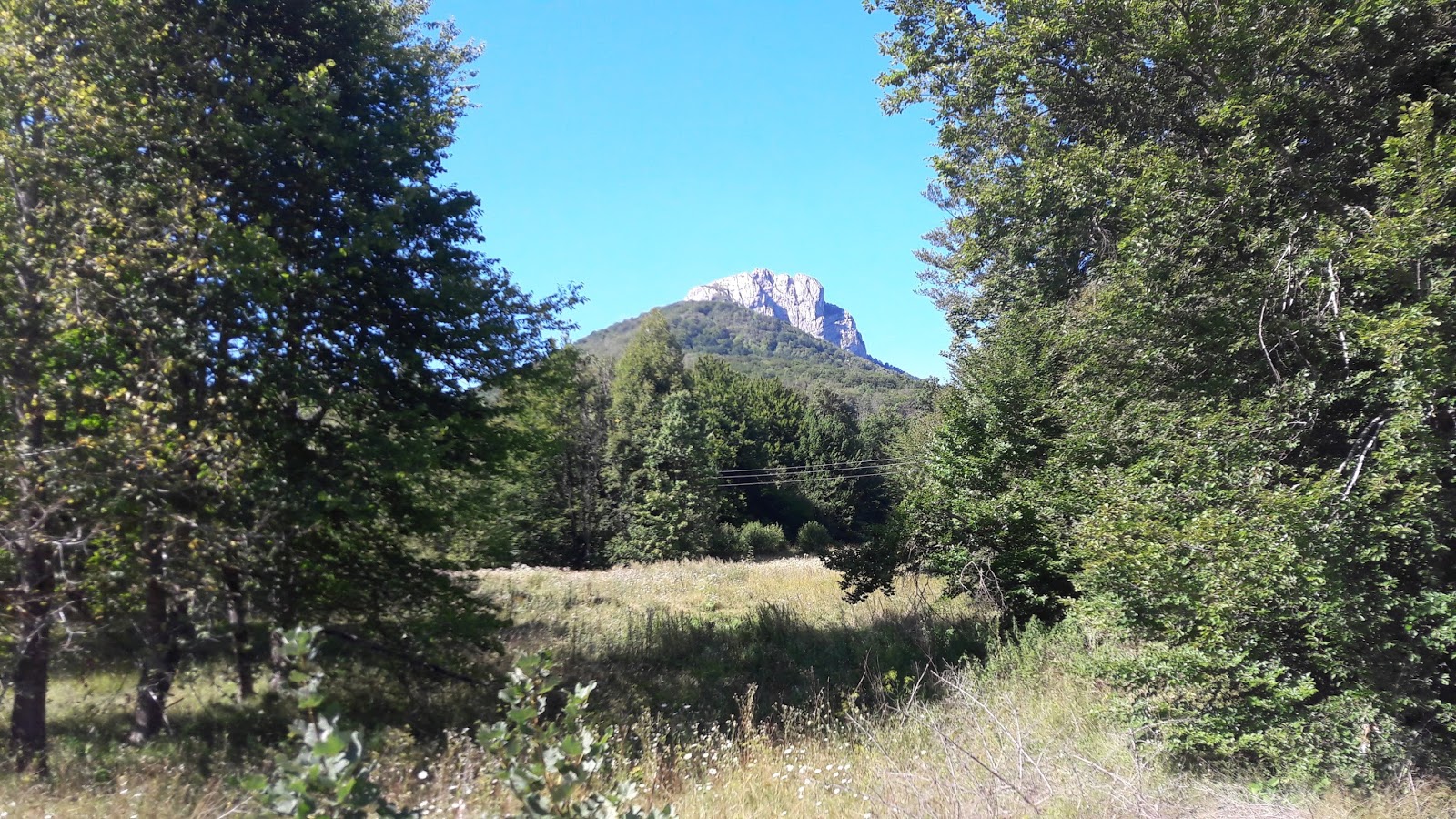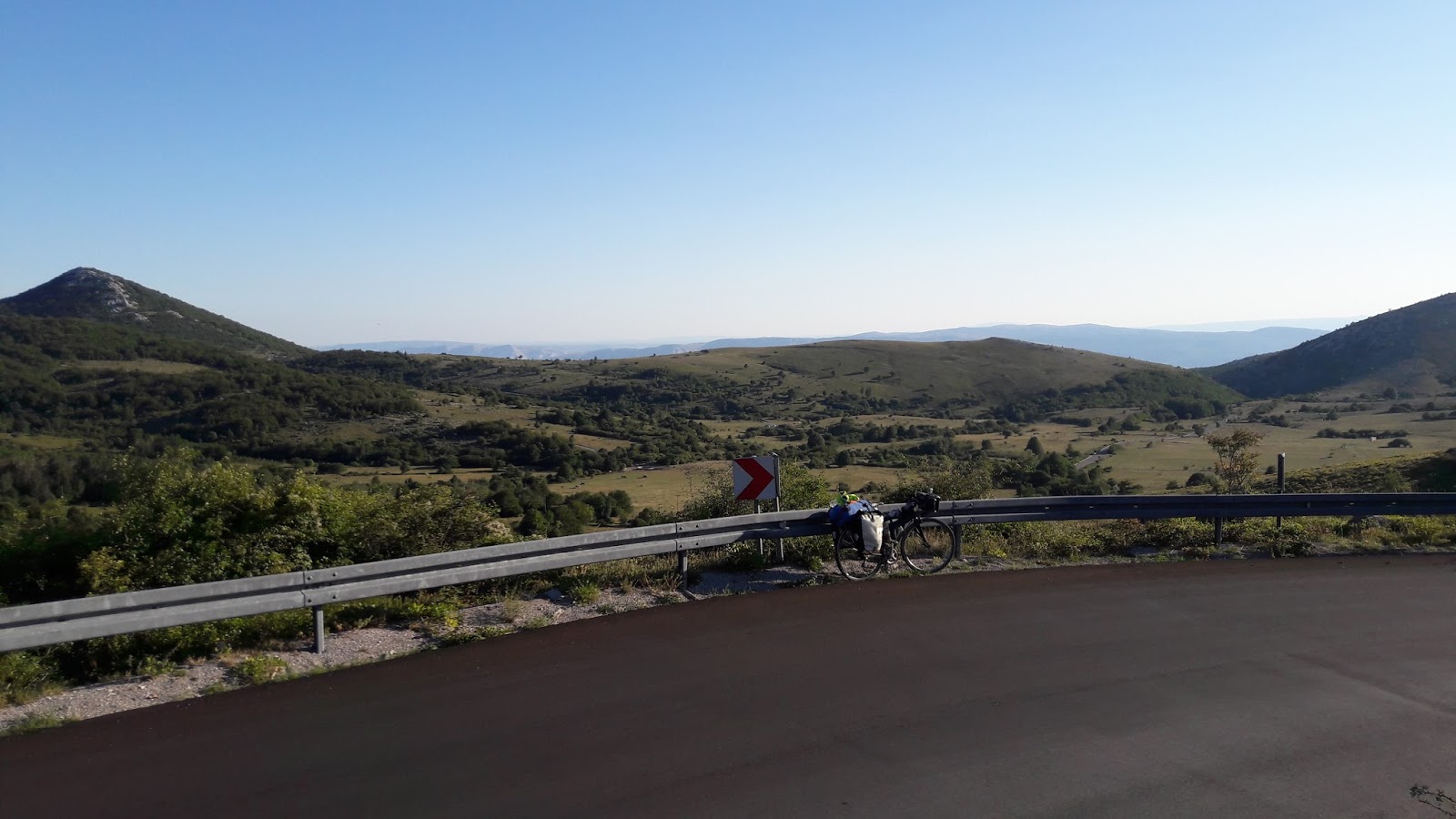 Finally at the top & excited for an incredibly rewarding descent, I couldn't believe my eyes: stretching ahead endlessly, under a beaming white evening sun, was the Adriatic sea.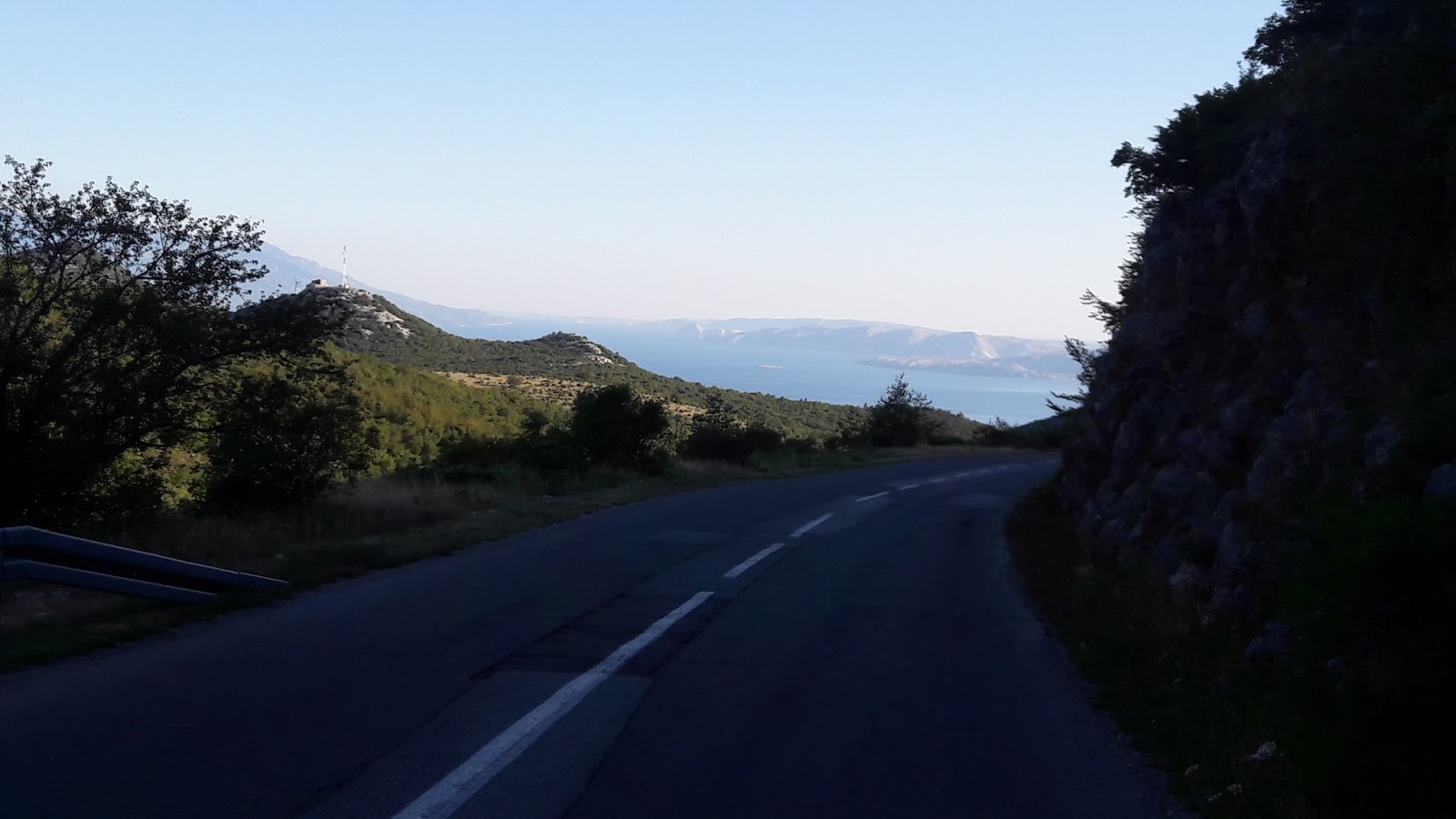 I could make out the dark shapes of countless islands: endless mysterious figures in this emotional image. I had made it to part of the Mediterranean, after cycling over 5000 miles from the Arctic Ocean.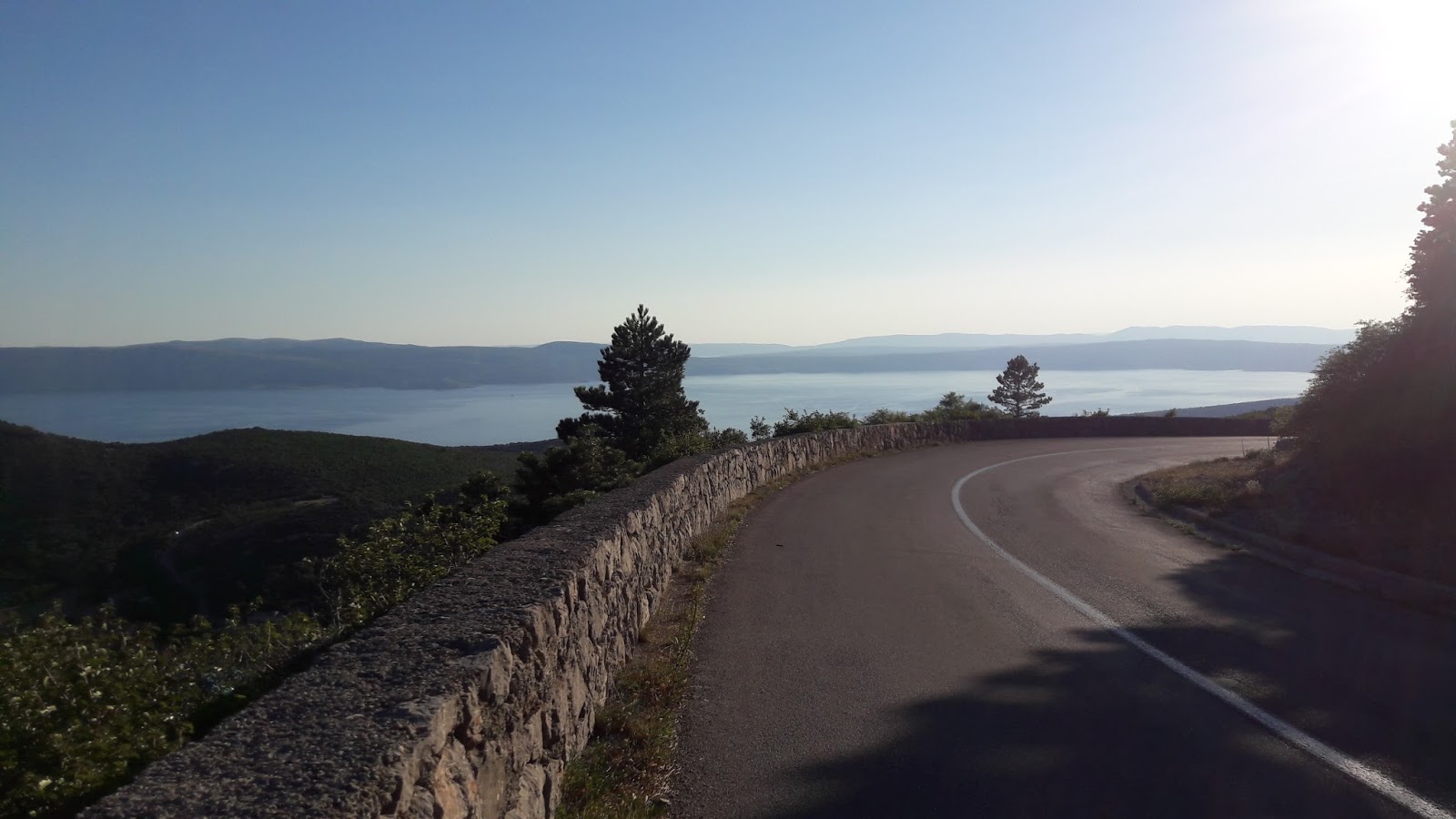 I still had to get at least 1 day's distance further south, so my journey was not quite over. But the significance of reaching the sea was insurmountable. I had to stop for a while, to absorb what had just happened.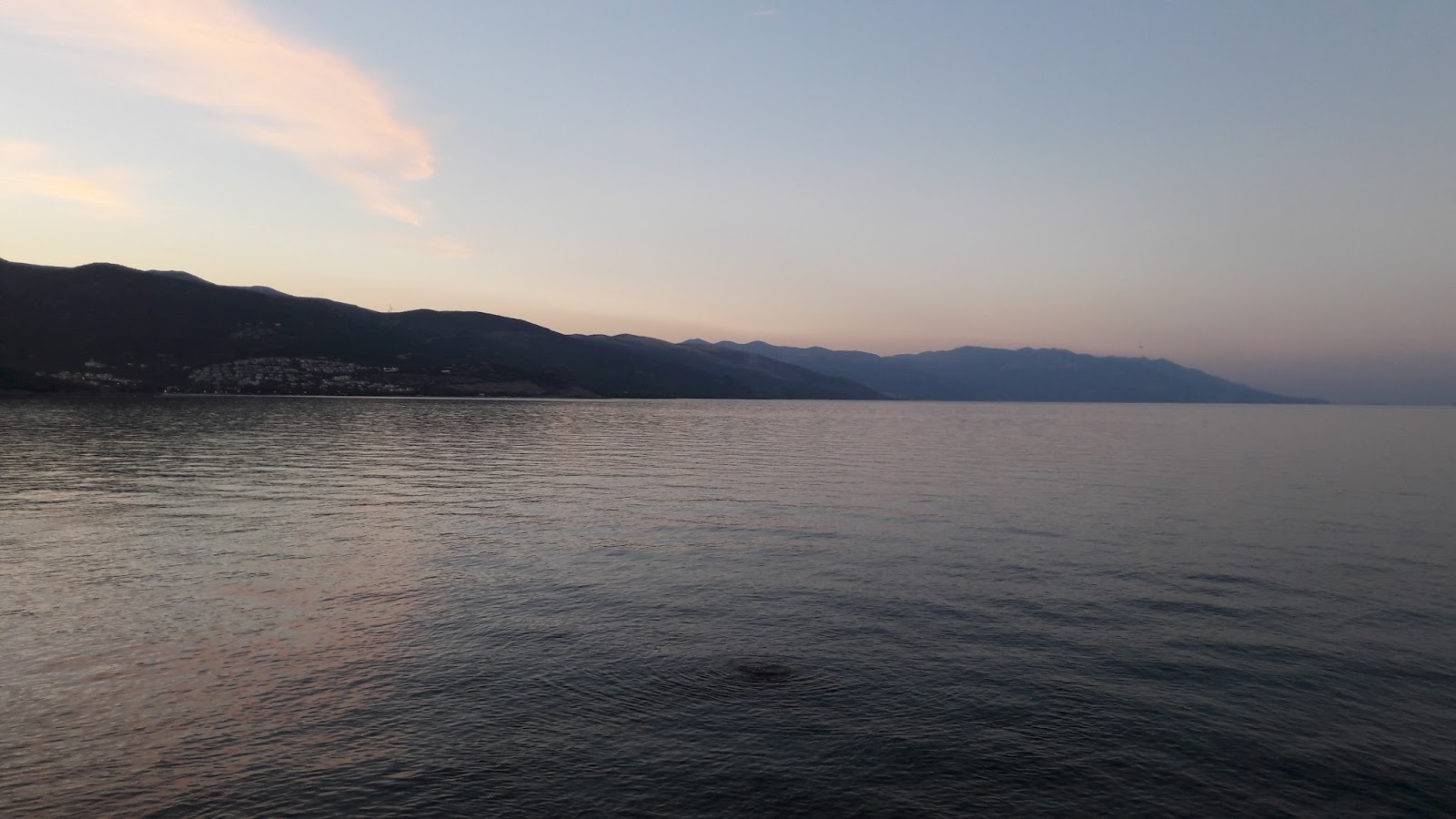 The campsite that night conflicted with my feelings of joy & reflection, as the only spare pitch was on down-slanted stony ground, covered in pine needles. A very sleepless, & hot night.
One sweet thing was that after being the target of everyones glare whilst pitching my tent, a Slovenian couple asked if I was hungry & wanted to join them for dinner - bless!
This vegan baby was my celebratory dinner (which I'd carried since I received it in a package a few countries earlier. Thanks mum!)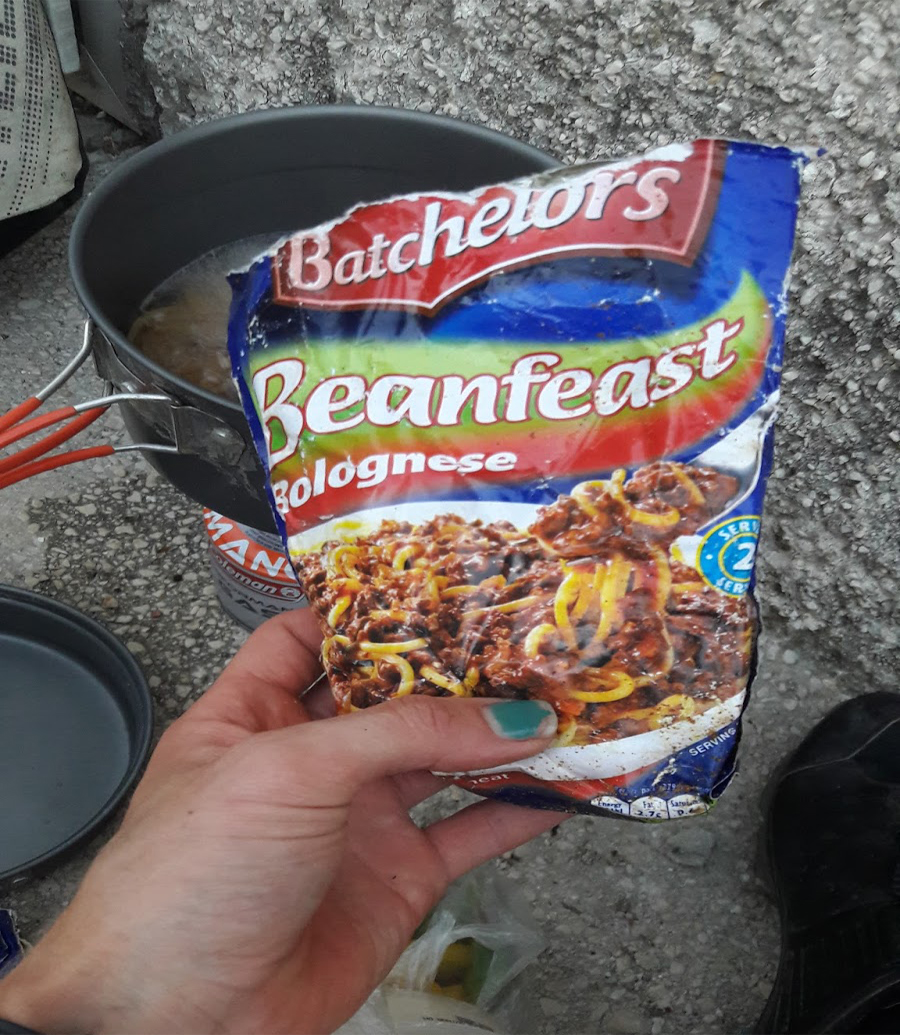 I also met a Danish lady who was complaining about the sea water being cold at 15 degrees; she wandered away shrieking "Nordkapp!?!" after asking about my trip.
It's quite cool to get recognition when people understand how far you have come, it makes me stop and realise, yeah, I guess it's pretty far!
Final day, the Velebit Mountains
Day 51 of riding | 112 miles | 180 km | Ascent: 2,907 metres
The most mountainous day of the whole trip - a bit silly, but, I made it!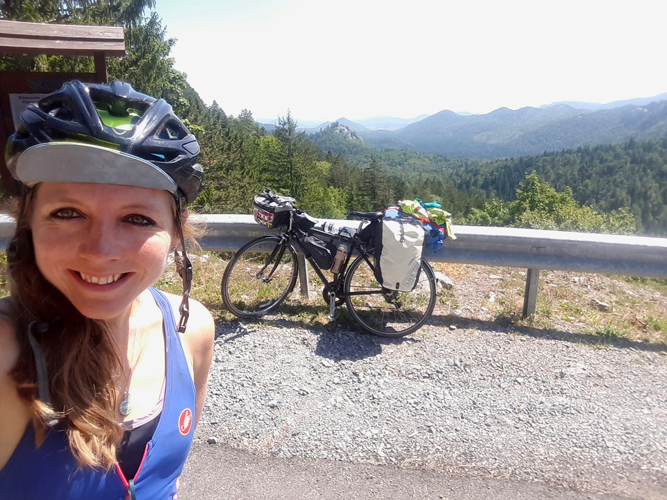 Zadar was only 94 miles down the direct coastal road, but how busy & boring that may be! I had studied the map, which revealed an adjacent large mountain range: the Northern Velebits. After my hilly experience yesterday, I knew that I would love it. I also knew it would be much cooler than the 35+ degrees here at sea level, & it would be my only chance to explore this national park. Done.
Peaks & swiggly roads are easily sold to me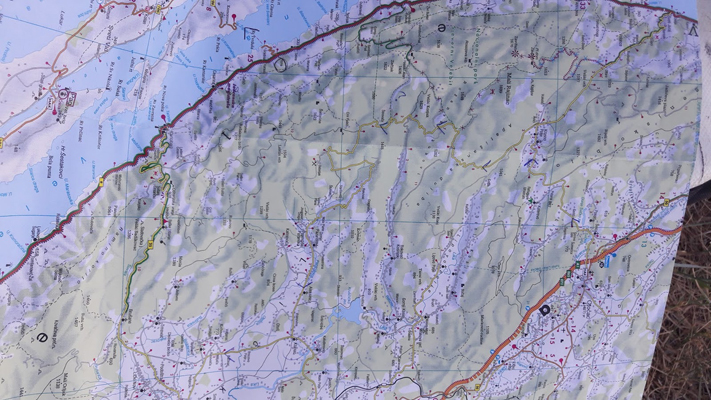 I had no idea what type of mountains I would be riding through, aka how steep, how long, how high, & how many. All I had was a road map without contour lines (which can give you the height of the land/roads). Even google maps doesn't have a cycling option for Croatia, so you can't be given the total ascent or 'climbing' you'll be doing from that either.
Well, there was only one way to find out.
Good morning coastal road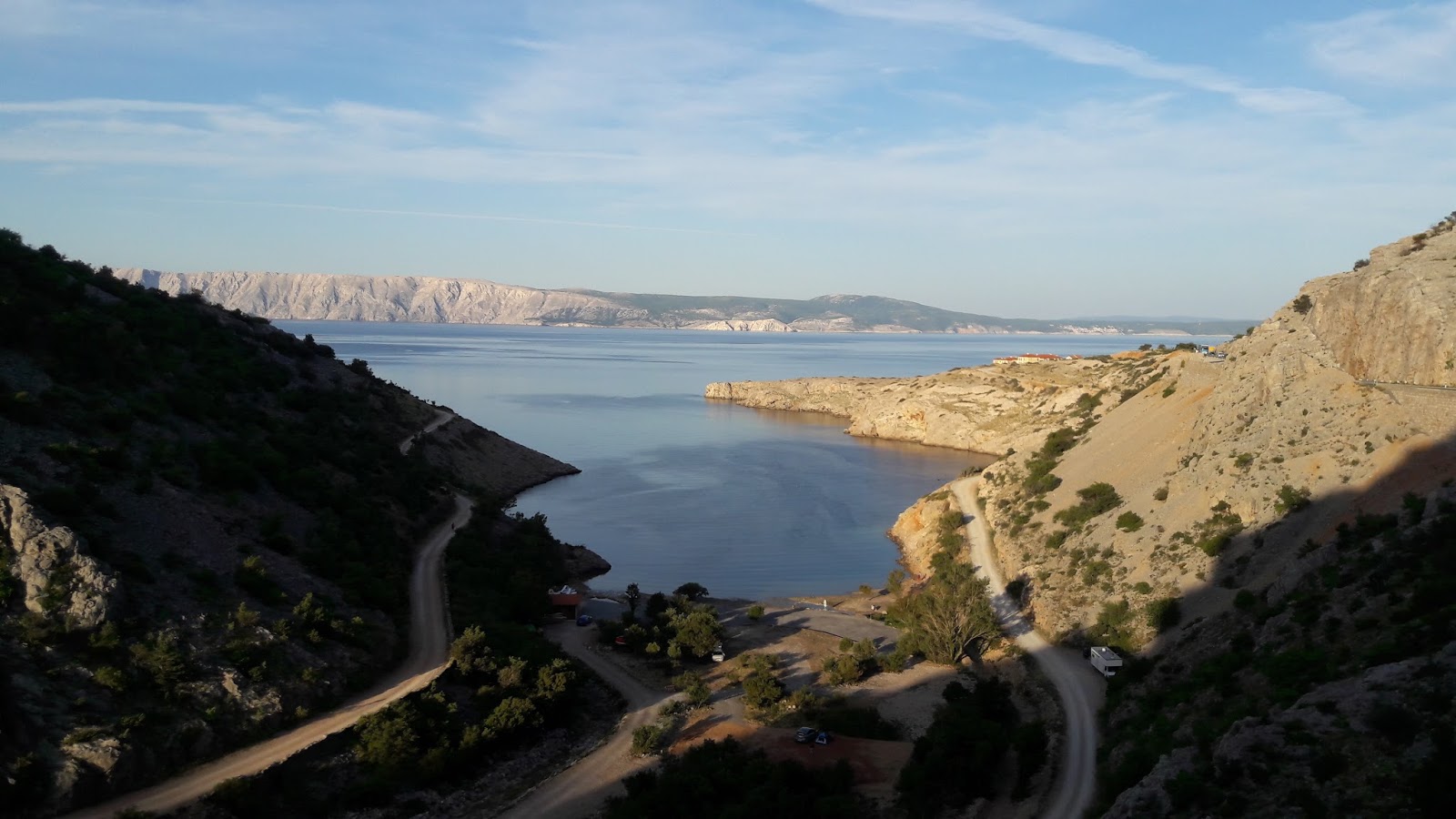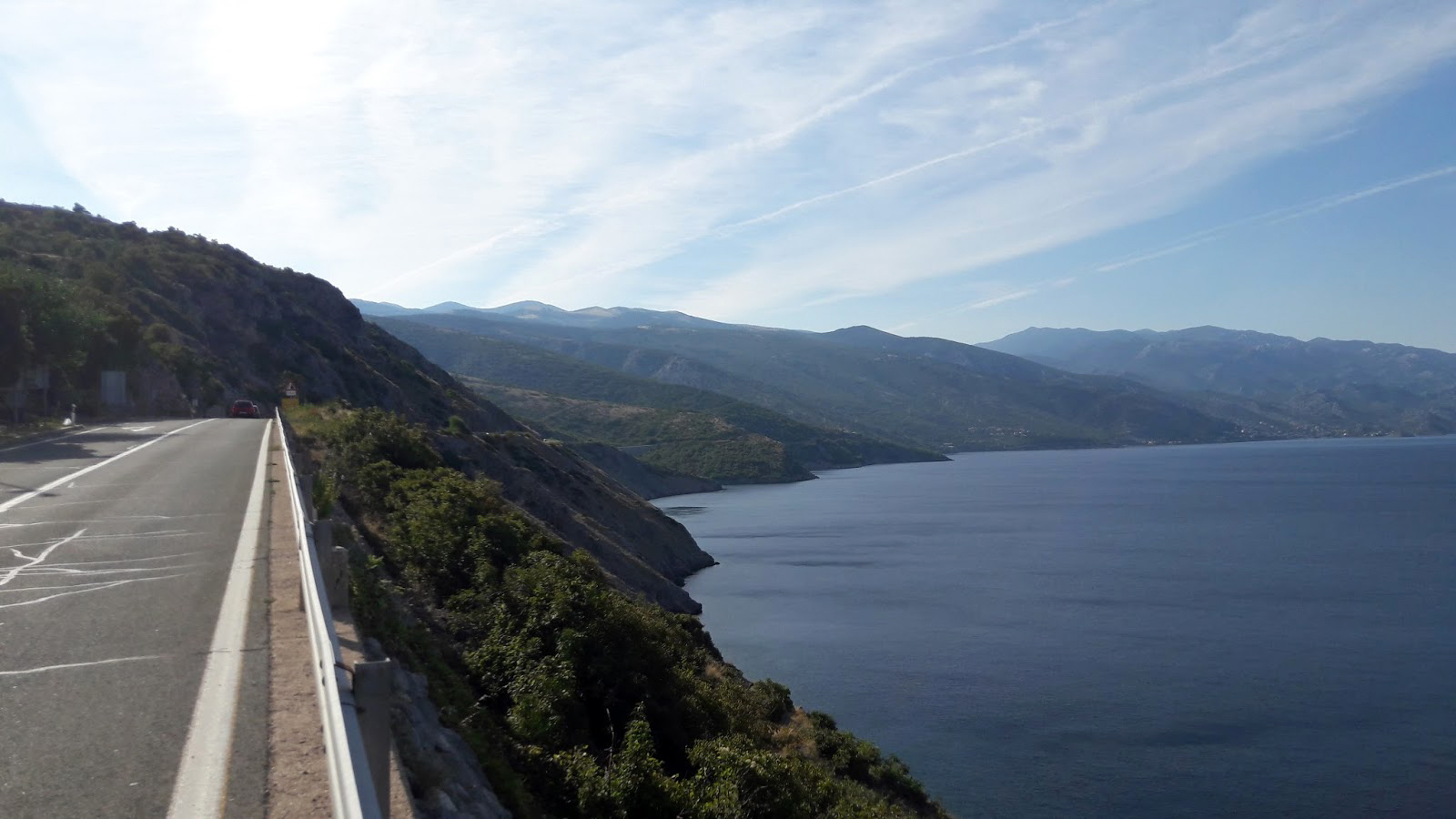 I was delayed by needing to pick up a mass of supplies from the next town, Senj (damn needing to eat & drink!). After a shop queue & getting through some busy traffic, I approached the winding road up Sveti Juraj - happy to be escaping the now baking coastal tarmac.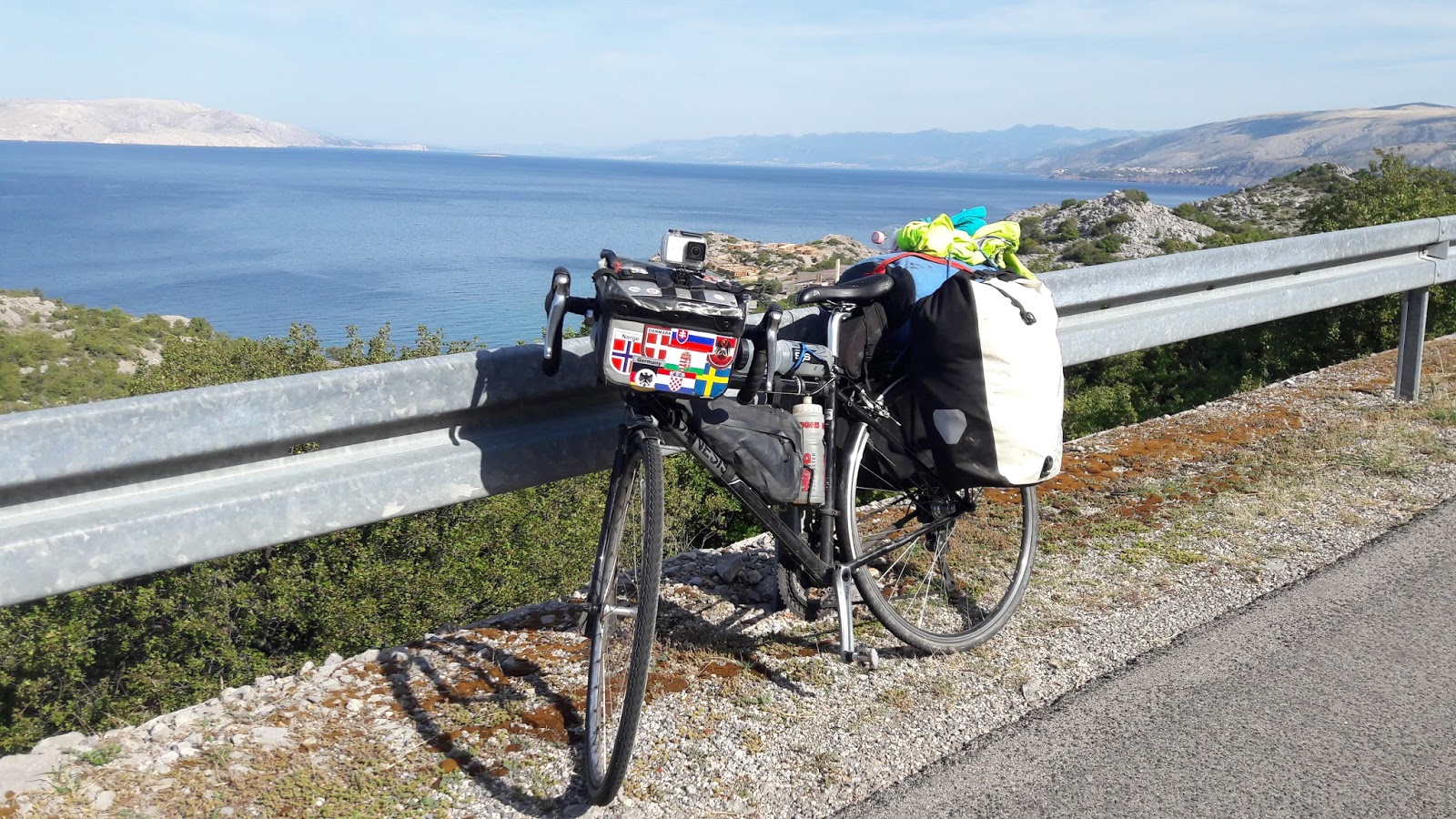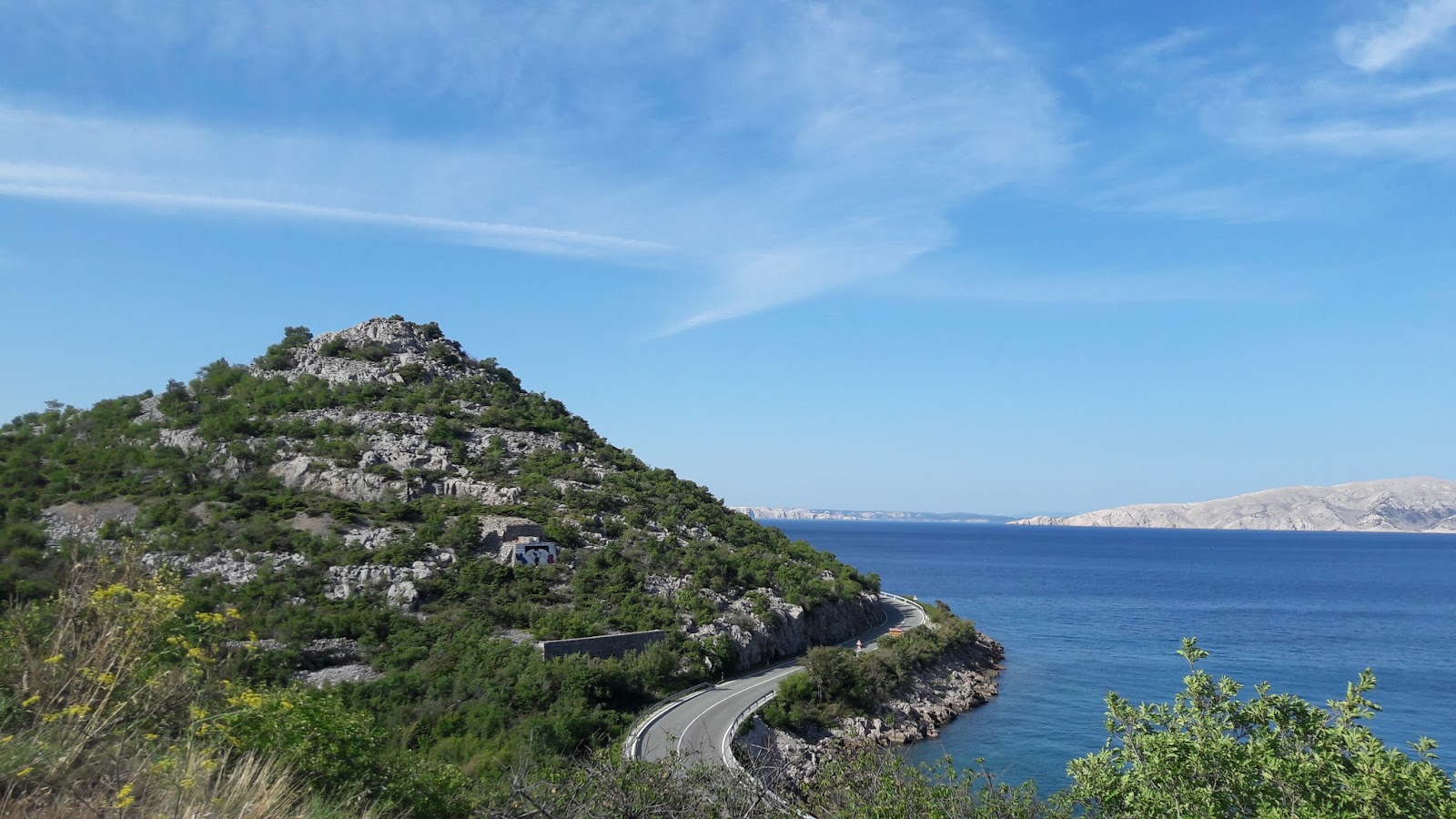 I started to ascend the beautifully designed hairpin bends: never too steep, & slowly inviting me to experience the Adriatic vistas. After a long while (hours!) of still ascending, I was concerned at the rate I was depleting my 3 litres of water...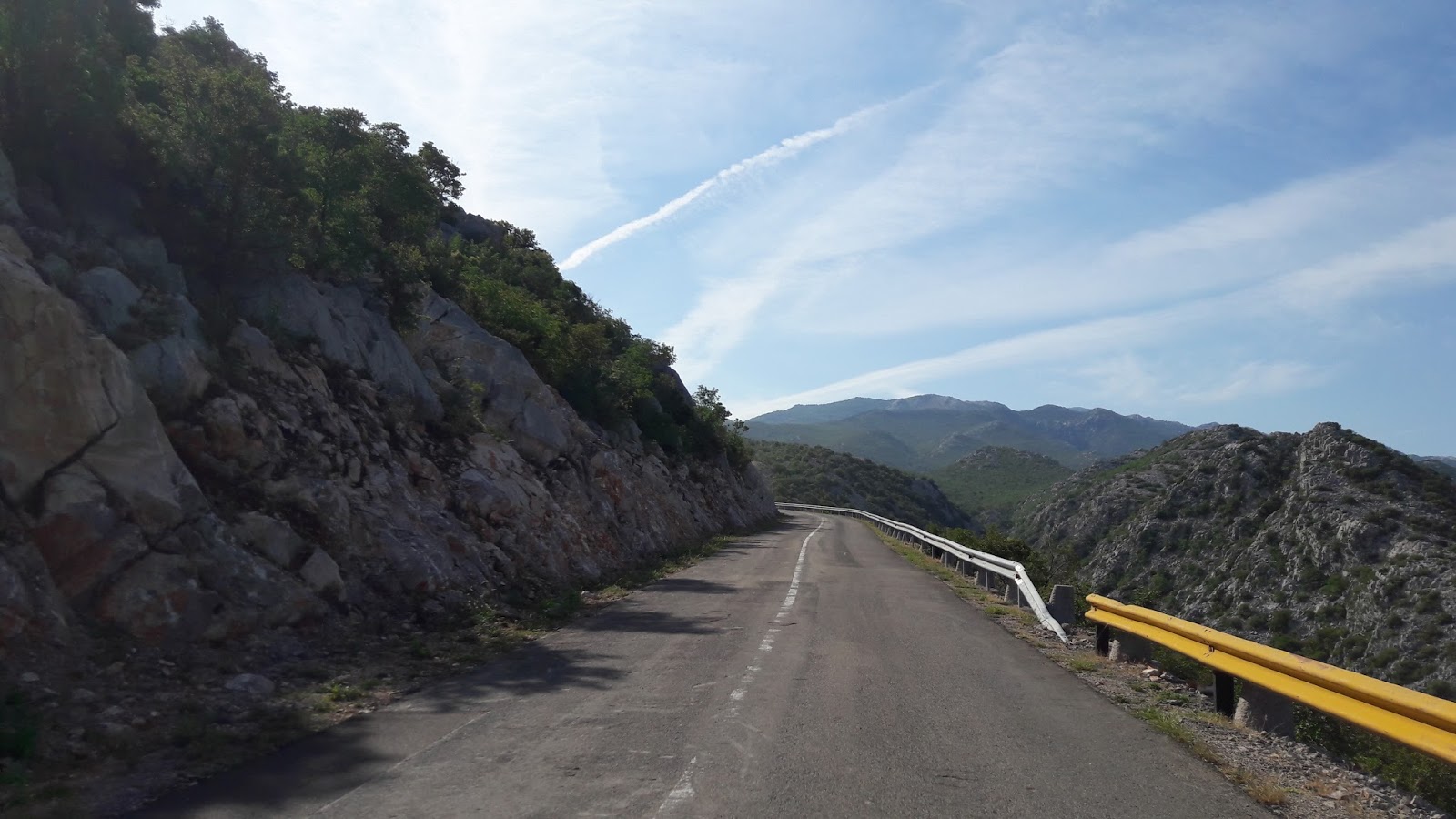 I noted 2 place names on my map, & aiming to get to these to refill, I realised how damn slow my progress was. Would I ever get there!? I then approached a 15% gradient sign, lovely. This gradient sustained itself for what felt like a kilometre or more; I just know it was extremely slow-going, hot, & steep, & I was starting to think I was ridiculous to to this with around 45kg of extra weight on me.
One of many. It just didn't let up. Cheeky!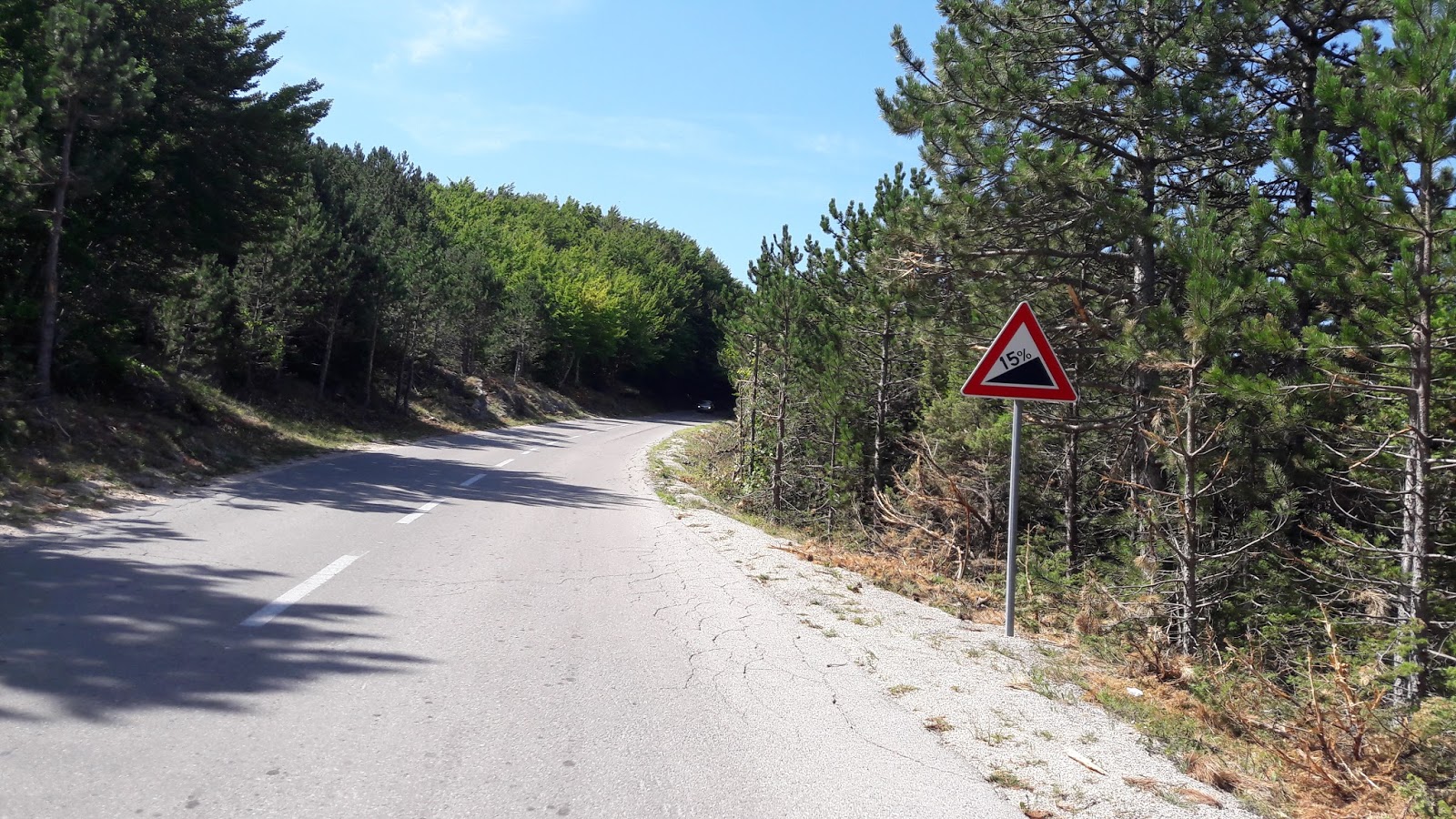 The 'towns' were a few houses, devoid of any public water source. I knocked on someone's door, & they were kindly more than happy to refill my bottles. Always remember, as a last resort: wherever there are people, there is water! That definitely aided me in Norway, too.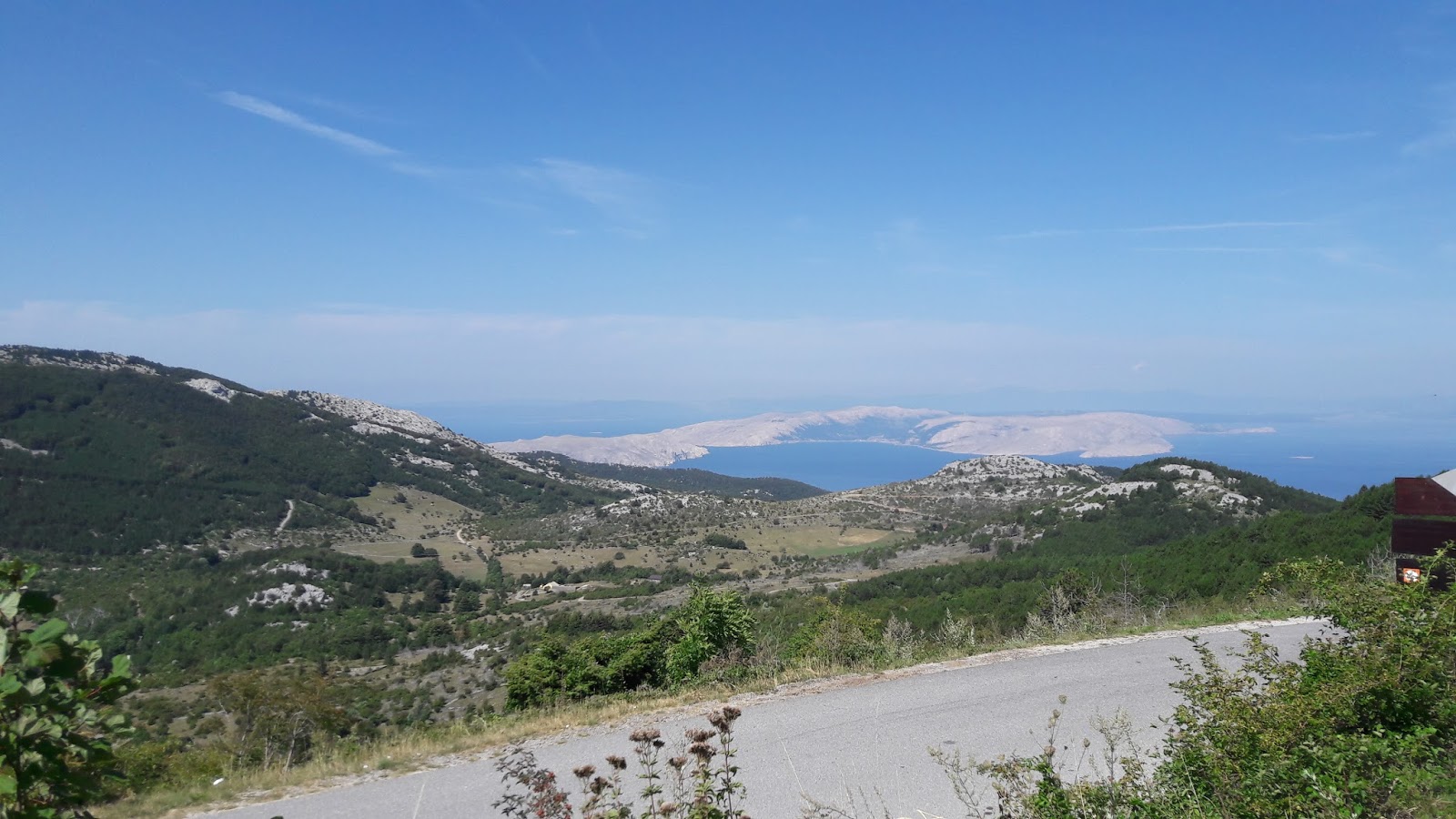 The road continued to climb past 1000m, & I considered whether instead of dropping down into a valley & getting stuck between further countless unknown mountains, I should go back the way I came. Inevitably, the stubborn & intrigued challenge-lover inside me just couldn't do that.
Highest climb from sea level, since Norway
Down I went, losing about 400m of height gain, before looking at my route, & fearing how it zig-zagged across these mountains, quite a few times...
I started climbing up again on a much quieter forested road, remembering my Italian experience of being followed by men & baited with a puppy, & thinking with disbelief how I was back in a similar environment.
I was supposed to be avoiding this...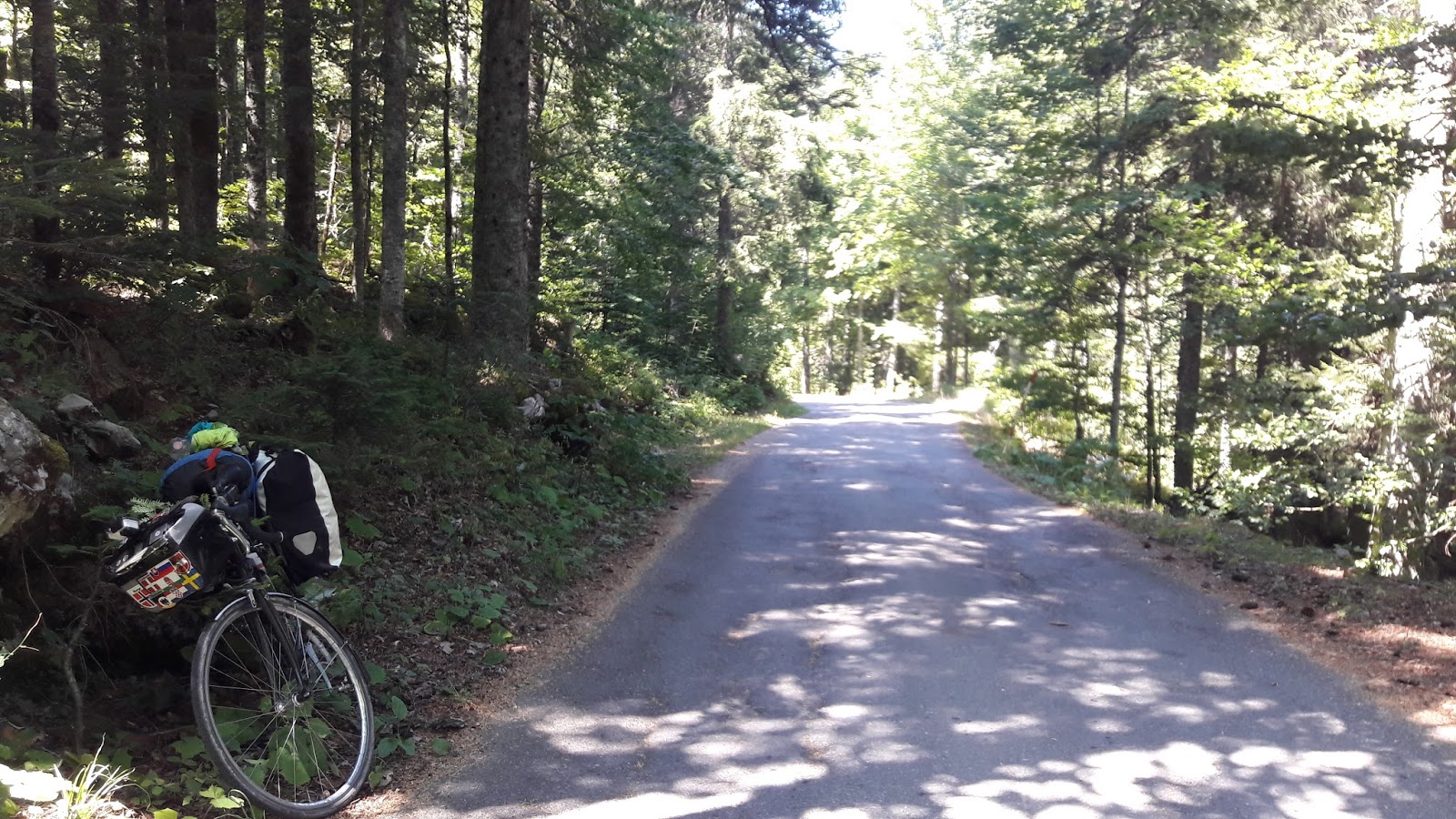 Literally 4 cars passed me in 2-3 hours. Out of the forests the road reached 1,310 metres of height (almost the height of the UKs highest mountain), then continously dropped before climbing back to 1200m, then down, then up again to 1300m. Exhausting!
Nearly out of water alert!! I followed signs to HOPEFULLY a town, but was again disappointed to see just 2 houses. A lady outside her home informed me of the nearby conveniently located well!
Oh so happy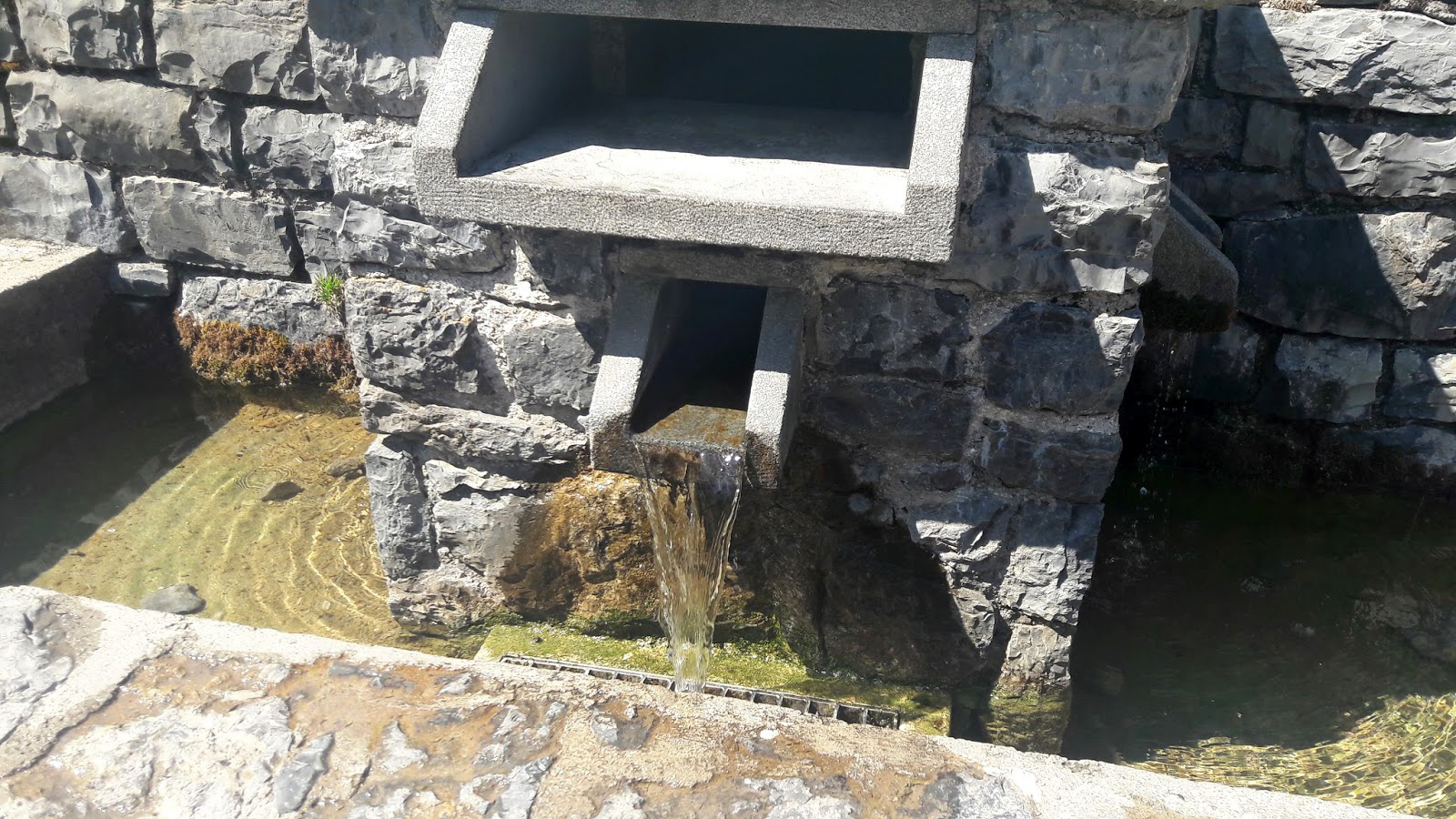 At least i had some company!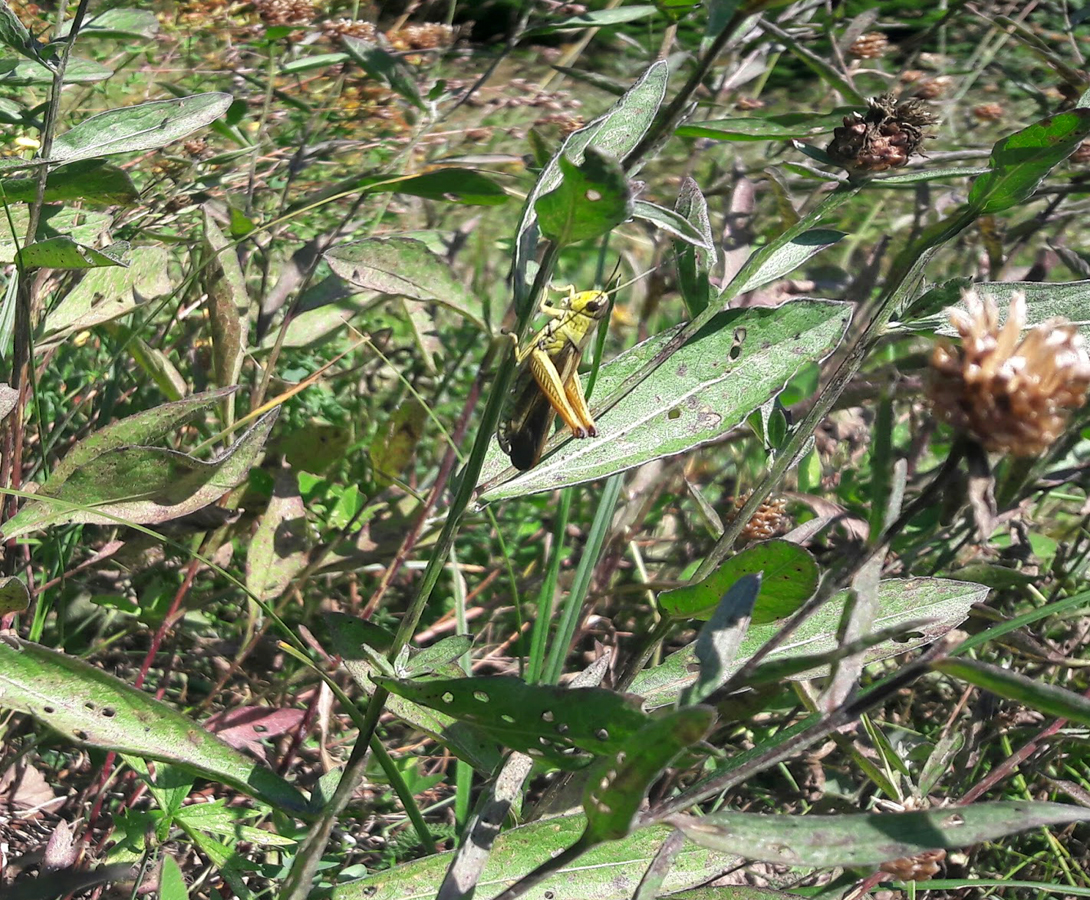 I refilled, then poised myself amongst the rich chirping of hundreds of surrounding crickets, noting the signage of 40km to a place I was headed.
It's all very well knowing the distance, but it's actually the ascent that would affect my progress. My concern was whether I could make it up the final mountain adjacent to the coast, mount Velebit, before nightfall.
A sneaky peak...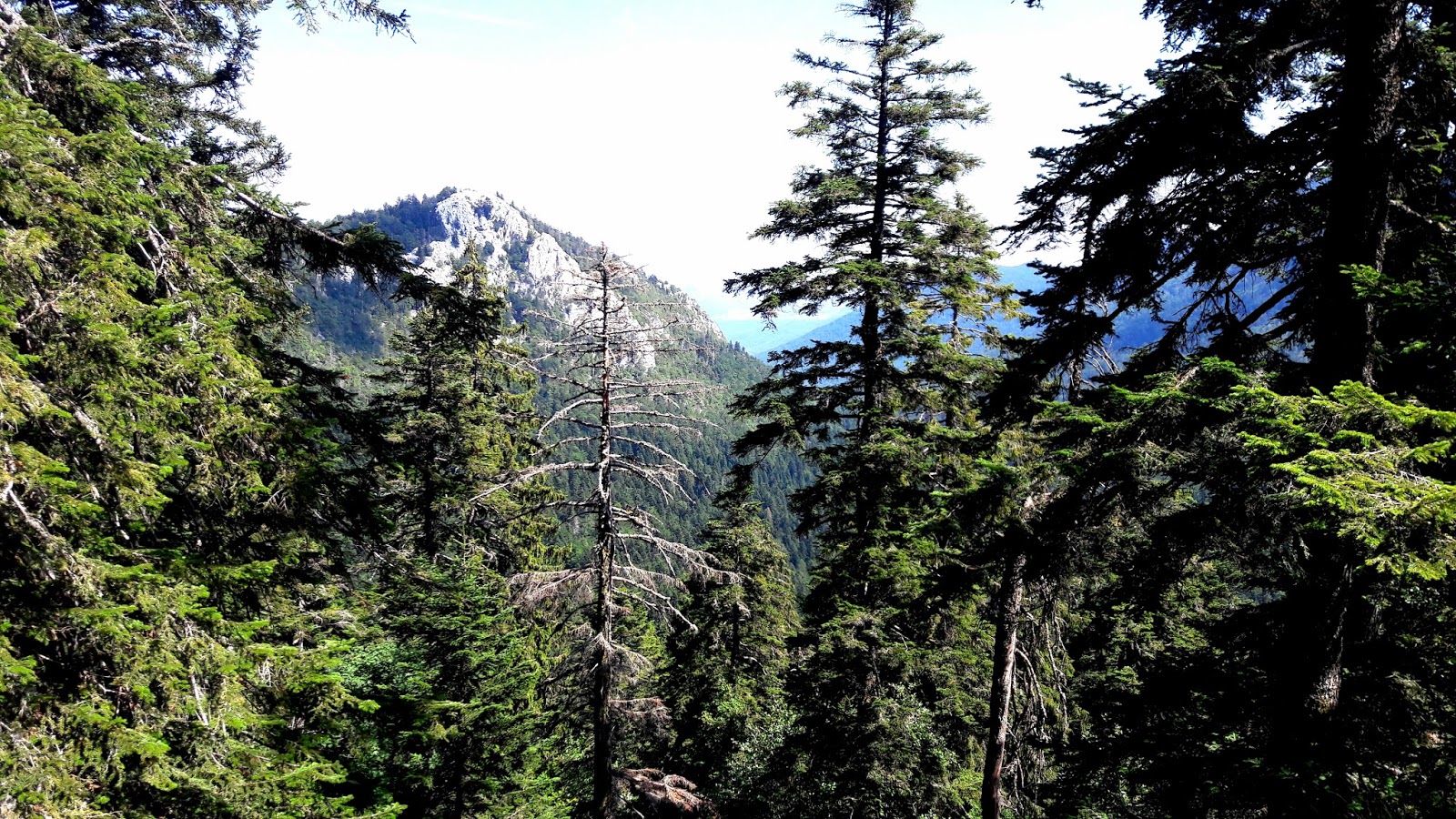 Dropping into the final valley to 550m of height at around 4pm, I knew I'd have time, yes! I tried to make up for the many slow hours by racing through this flat land, passing some wonderful craggy limestone faces.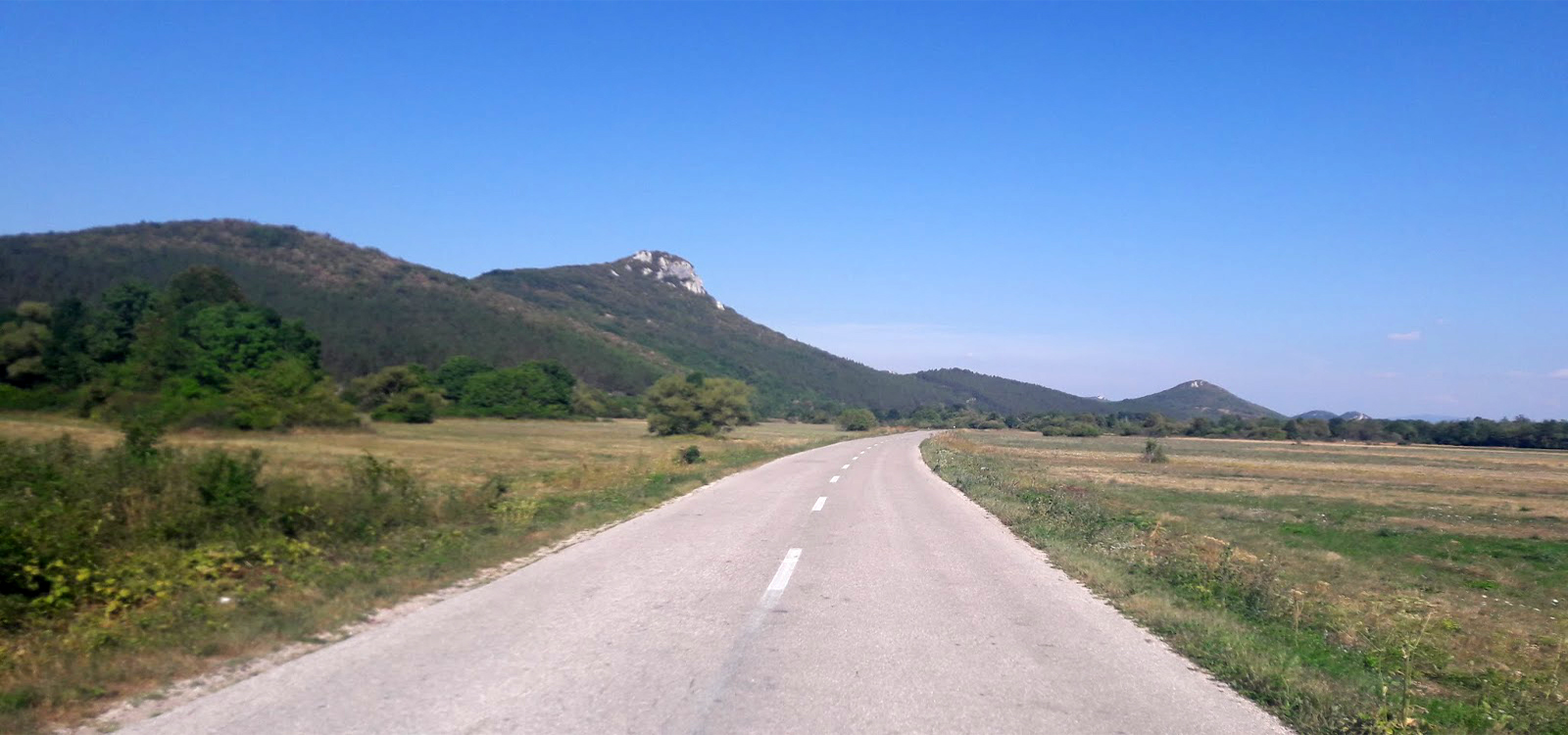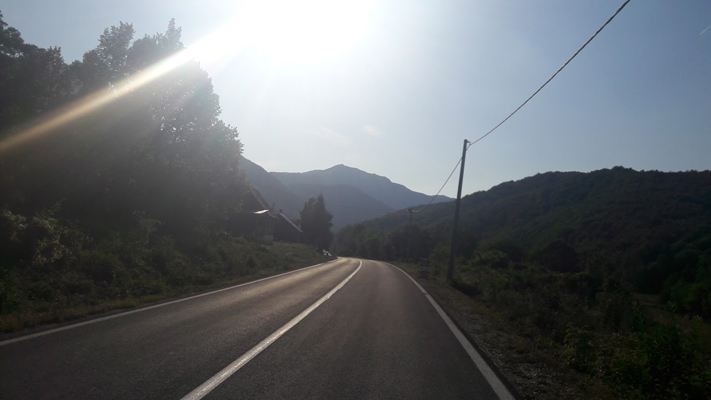 Up the last hill I went, which wasn't so bad, & gave me one of the best descents I have ever had as a cyclist. Honestly, to those of you who cycle, even if you don't - you must ride down Velebit. Not only was the road surface perfect, but I glided around the gently rounded bends & experienced a breathtaking view of Pag & Rab islands in the glinting sea. It went on, & on, & on. Amazing!
Top of Velebit road>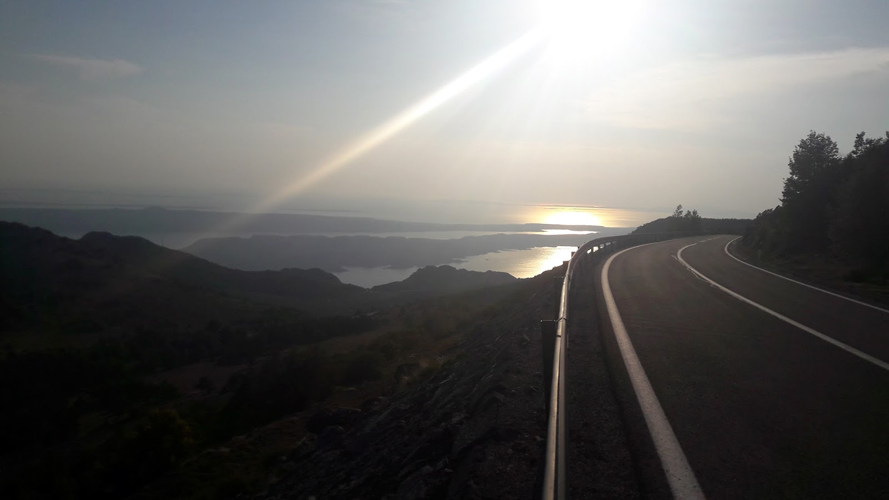 Reaching 100 miles by 7pm, I had a heated discussion with myself over how far to push it down the coast: the mountain detour had still left me 55 miles from Zadar... I felt I could easily just continue, & it may even be nice to do so after dark (a cool experience, too?).
The final hour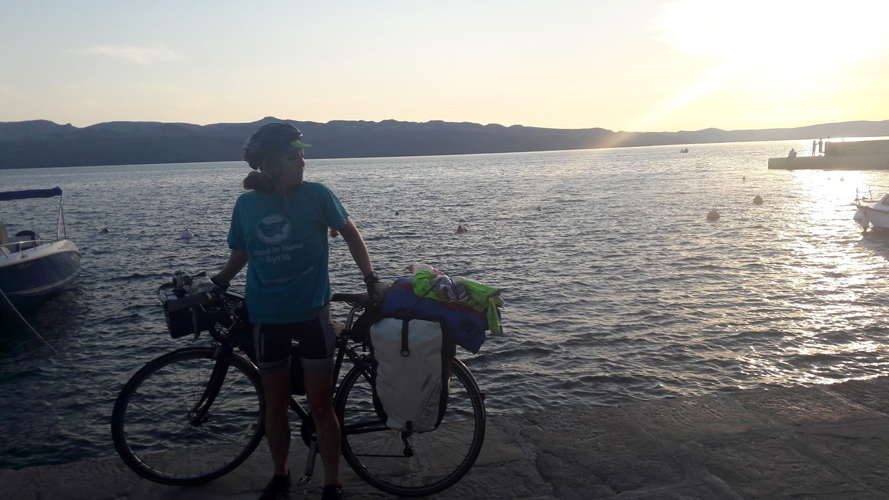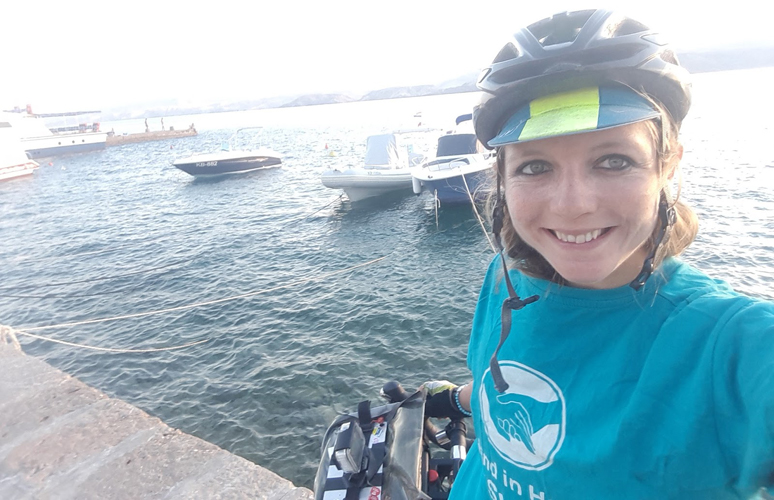 But, obviously I was still running out of water, & between major towns there is actually very little/no chance to resupply on this coastline, & what would I be pushing it for? Maybe I should stop at the first campsite I find, & actually give myself time to enjoy the last evening of my ride.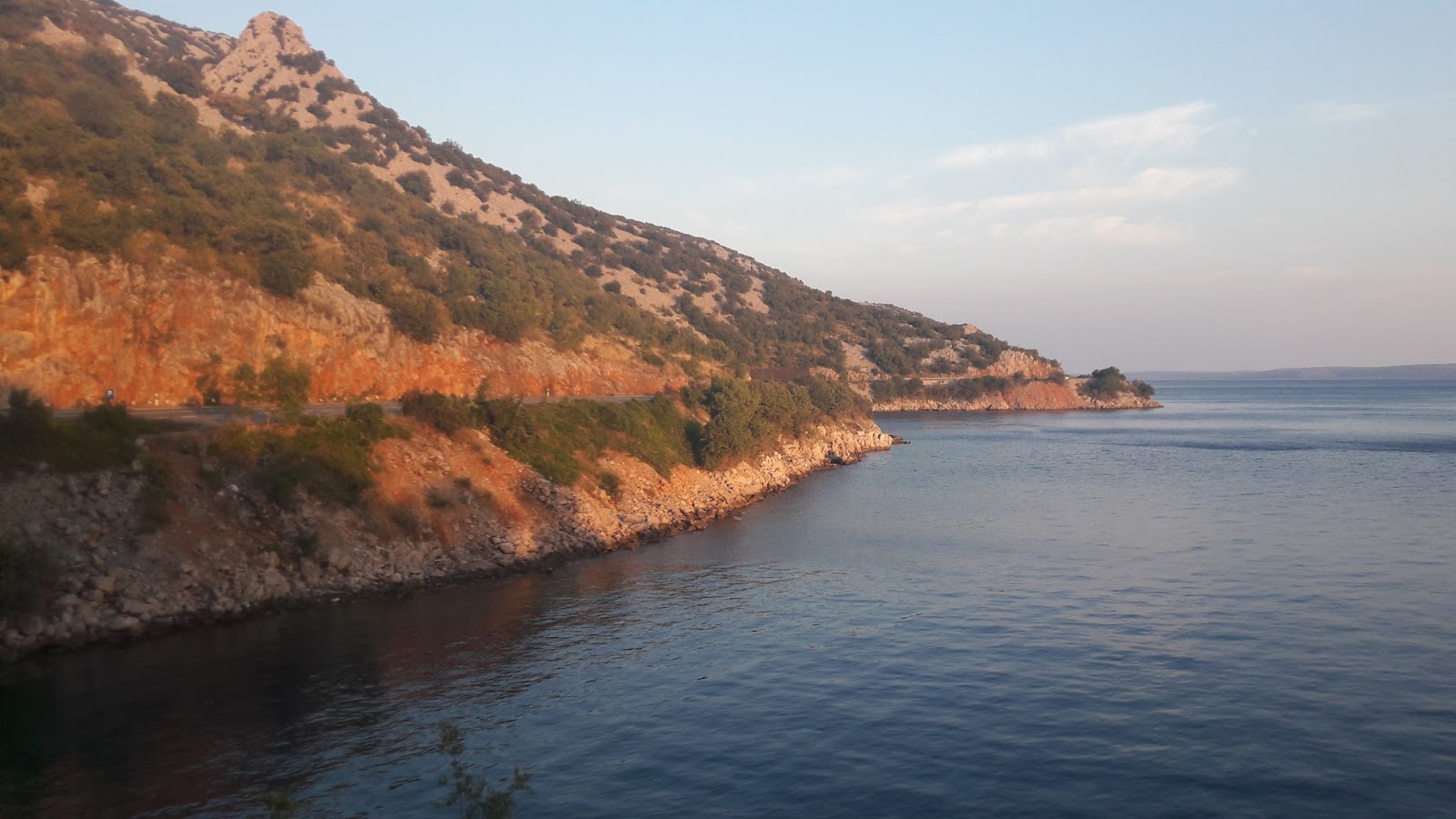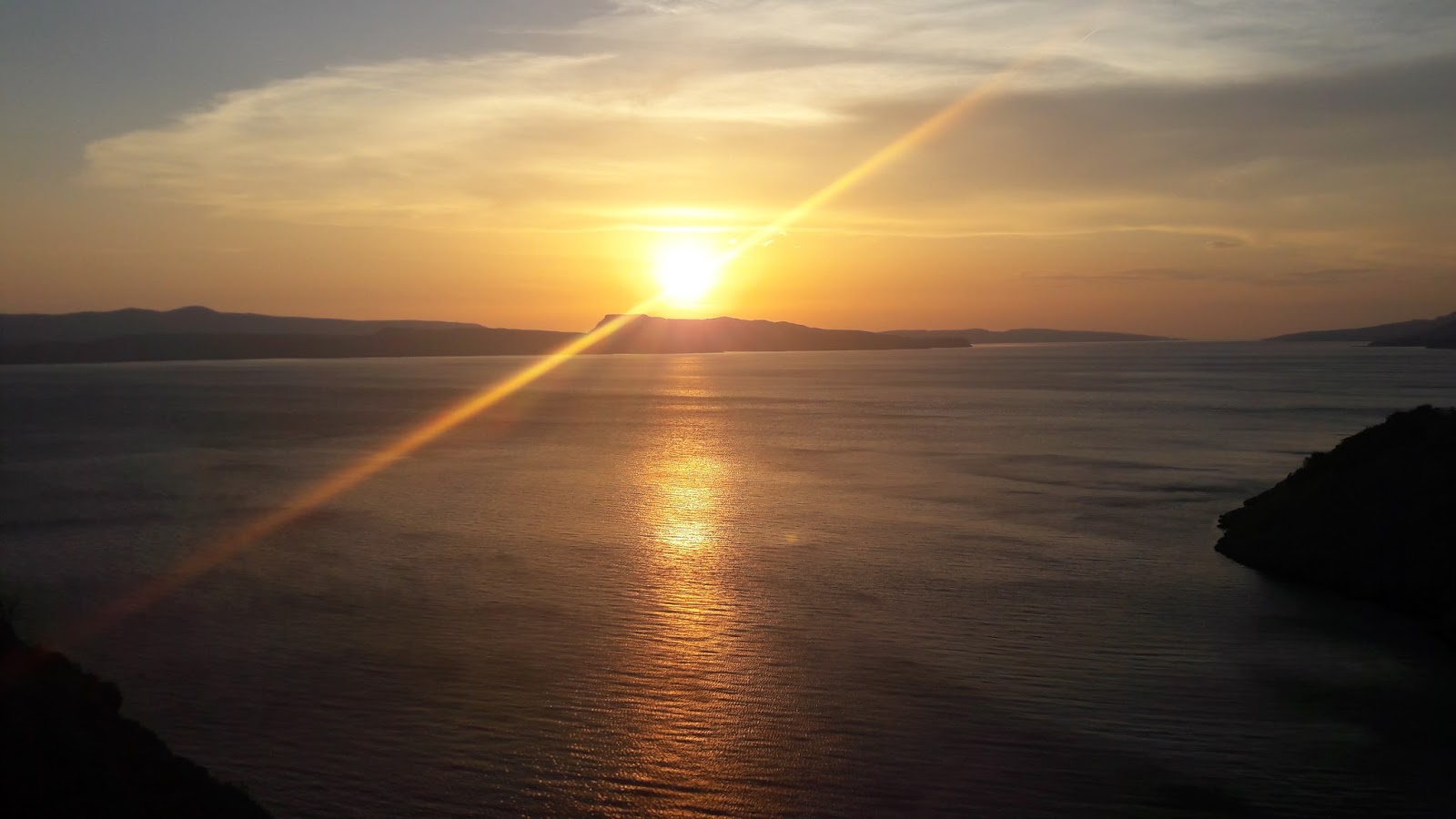 12 miles & no shops later, I reached a campsite & gave in to the sensible option. I celebrated by sitting on a wall near the sea, eating mushroom paste on bread. Luxury.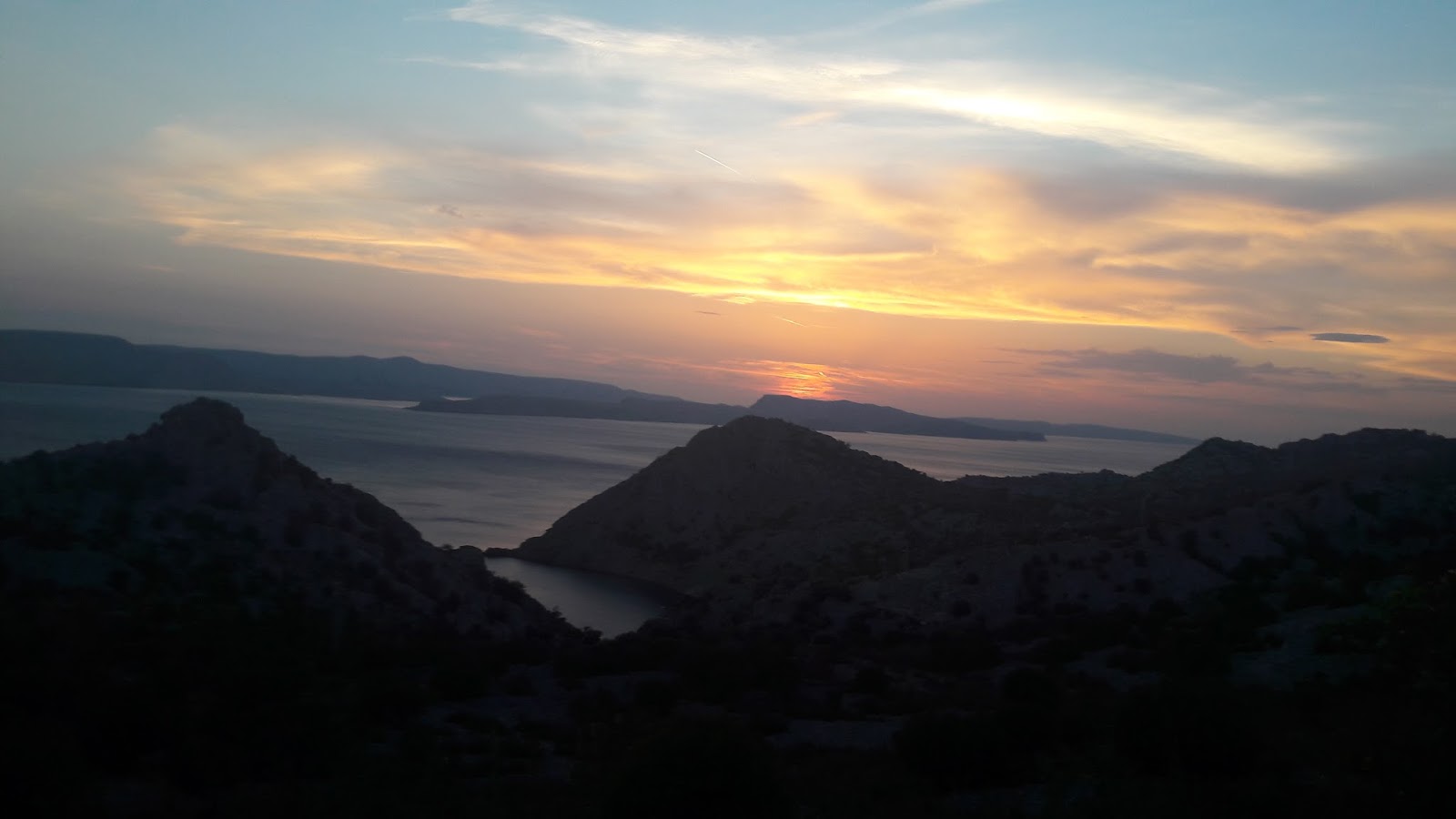 I now have a few days to get to where I need to be, but, leisurely! I will then complete this blog, box up my bike, & have a holiday here with some of my best friends.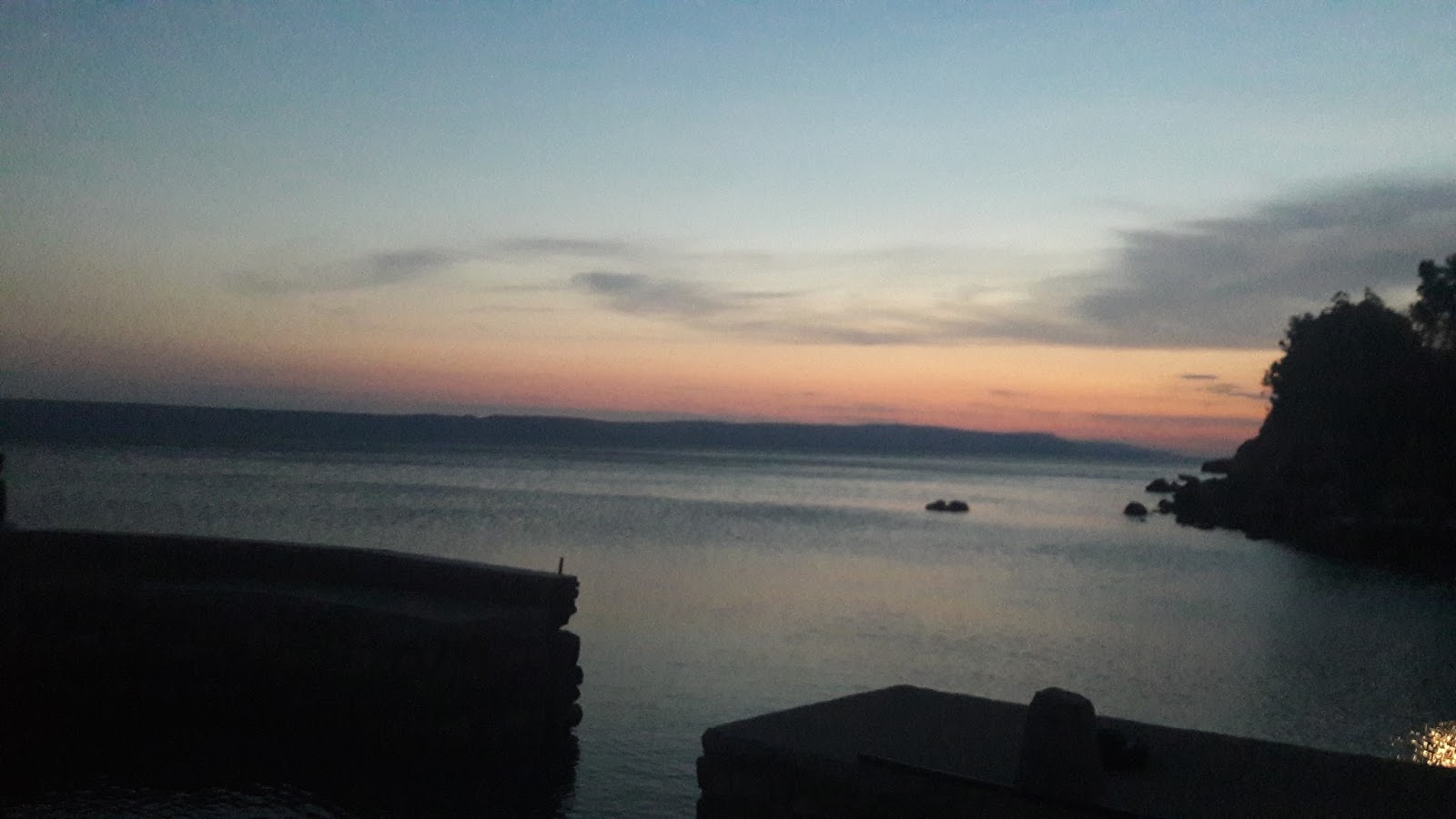 Please stay tuned for a final summary blogpost, otherwise thank you so much for being a part of my journey.
TOTALS
51 days
5,137 miles
£3,949 raised for Hand in Hand for Syria!

Thank you to everyone who has helped raise these vital funds! Please help support aid projects in Syria if you can.

I also want to thank the brilliant Adapt Outdoors, Liverpool (adaptoutdoors.com) who supplied some cracking outdoor kit to make this trip possible. Thank you also to Giant Store liverpool for a great bike fit, & Morvelo for my jersey.
Alaina Beacall
Return to Arctic-to-Med Blog contents
Return to Blog Main Page