Day 10: Valberg to Å (South Lofotens)
Day 8 of riding | 69 miles | 111 km | Ascent: 1070 metres
It gets even better.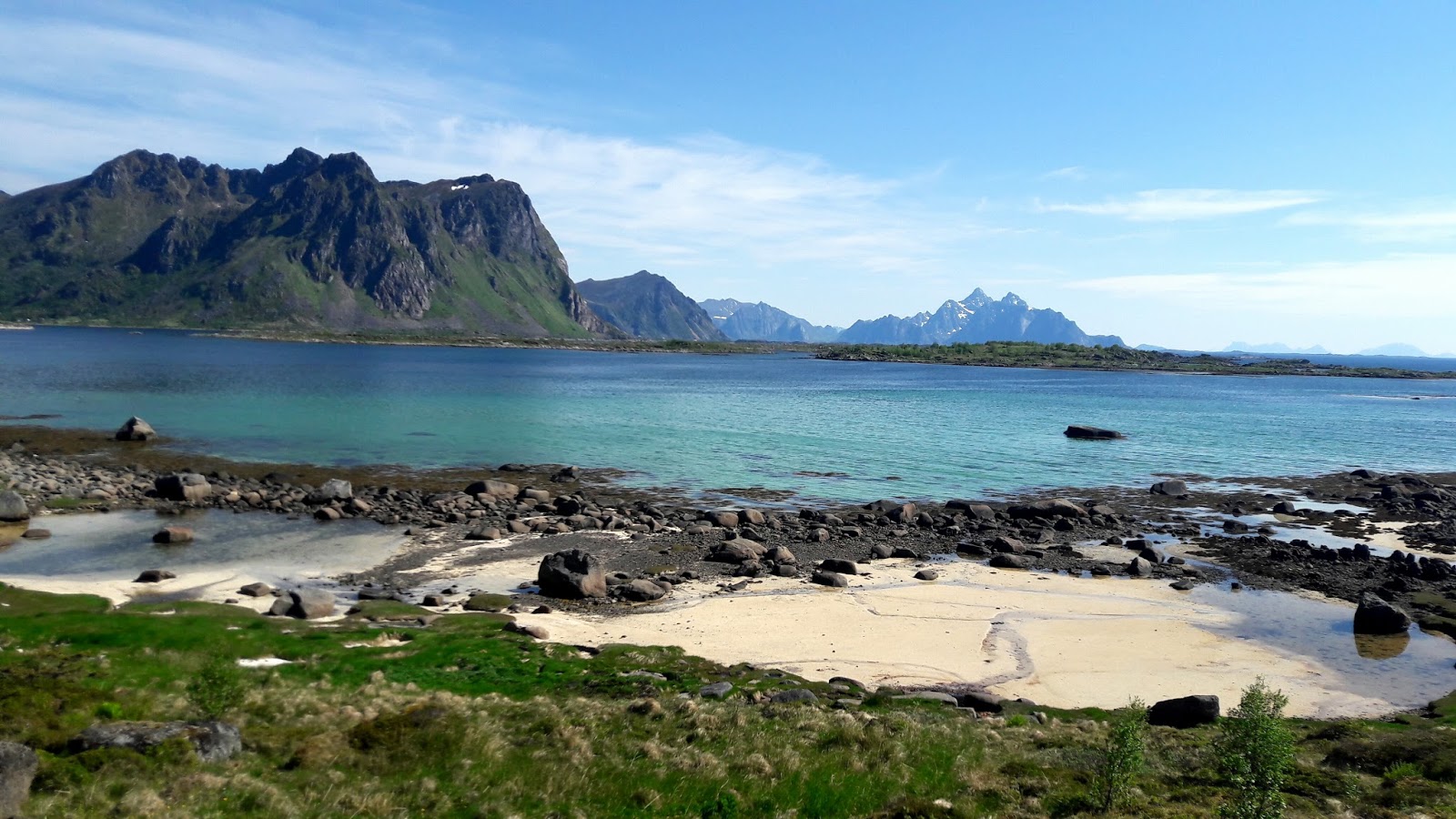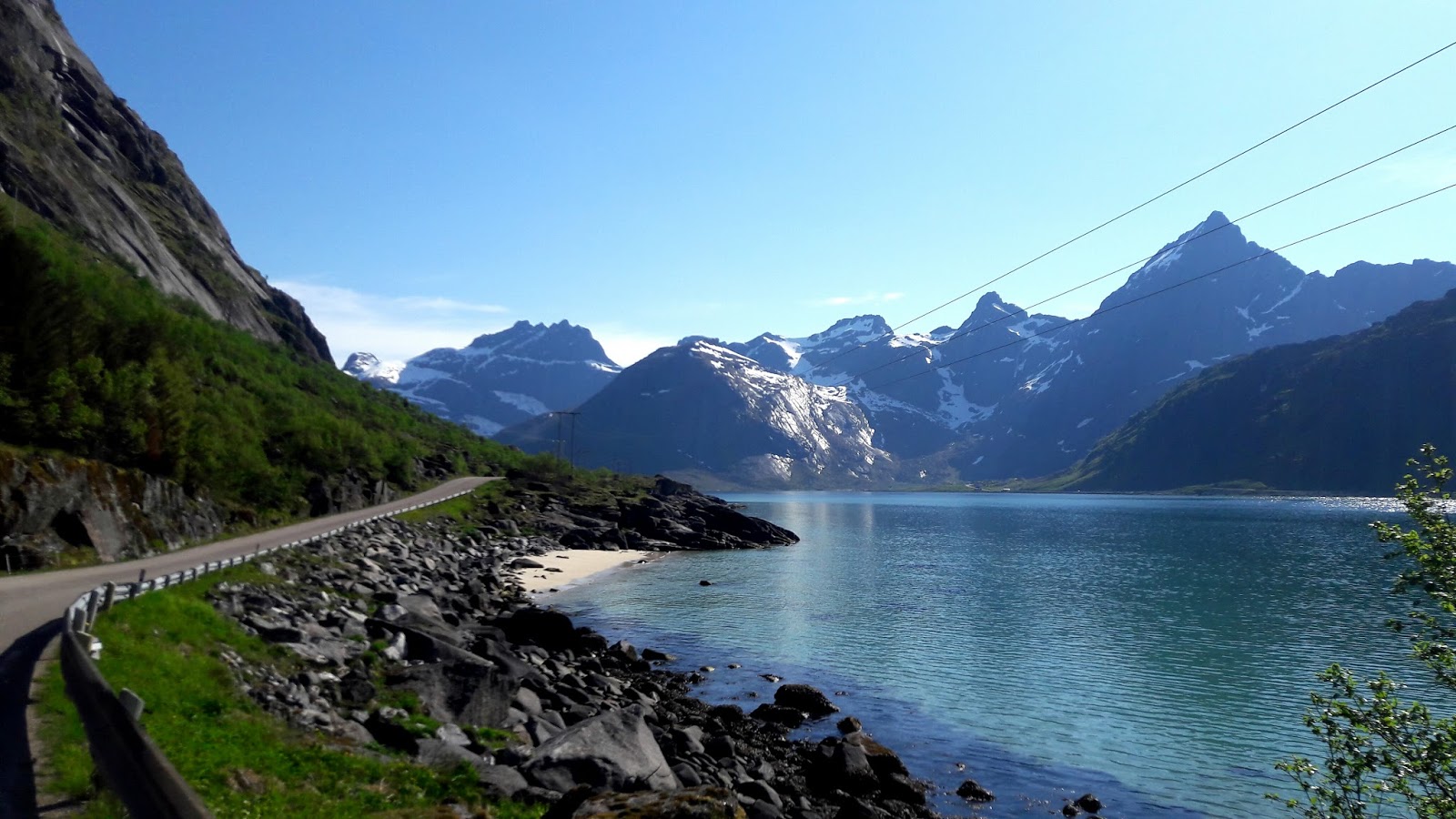 Knowing a direct route to the end of the south Lofotens would only be around 50 miles, I allowed myself a later and relaxed start. In the sunny, morning heat, sat by the waters' edge of my campsite, I was sipping a coffee and catching up on the UK's catastrophic political issues  - total bliss.
The english couple I'd met the previous day came along, and I found that they not only climb in the peaks, but own a house in the Pyrenees (amazing), the chap is a retired ITU consultant, and was actually also born on the Wirral!
Another fellow camper, from Germany, decided to rant at me for a while about how inappropriately stringent Norwegian speed limits are (80-90km ph on the biggest road, which suits me as a cyclist very nicely..), before I politely dismissed myself to pack up & head off.
My continuing knee pain has made me question my seat height, despite having had a 'bike fit' (where the bike was altered to suit the angles & measures of my body), pre-trip. I had adjusted it the previous day, to make it higher, which had briefly helped, but later on niggly 'pulling' had returned. Fortunately I'd packed a lightweight material tape measure for when I was rebuilding my bike after flying, and knowing my ideal measurement, I checked it. Hmm, it was much lower for some reason. I had a sneaky feeling it had been falling...
After 5 miles into the day it rapidly slumped down as I hit a lump on the road - bingo - this has been the issue!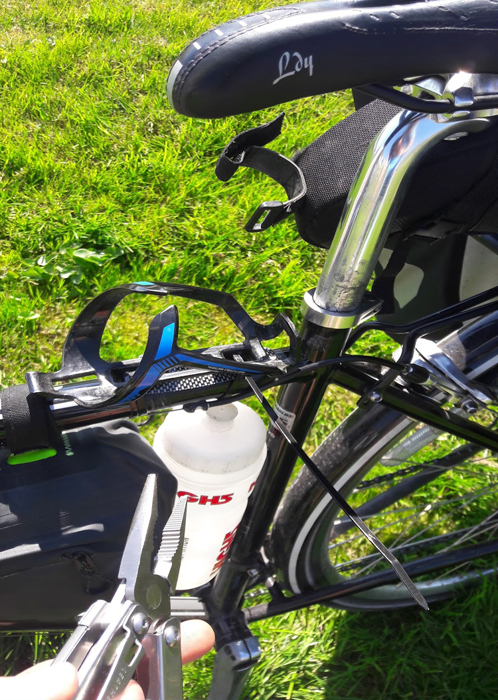 The attachment of a bottle cage to my top tube, had actually stopped the clip that holds the seatube in place from fully tightening. So I moved the bottle cage, and forced the tightener back into position, and re-measured the seatube. Hopefully no further knee problems now. I feel like a proper cyclist/someone who knows what they're actually doing now ;) ha.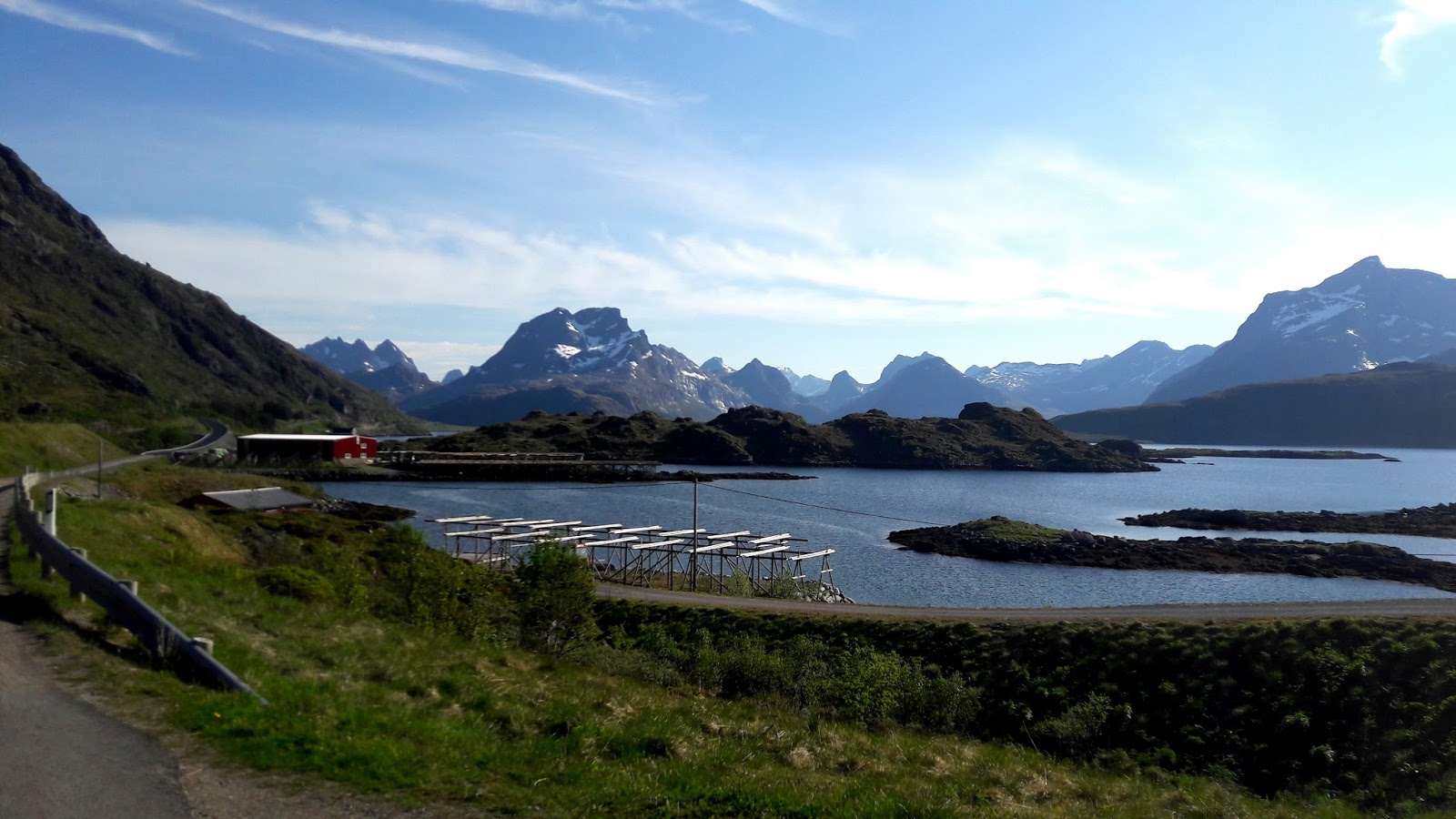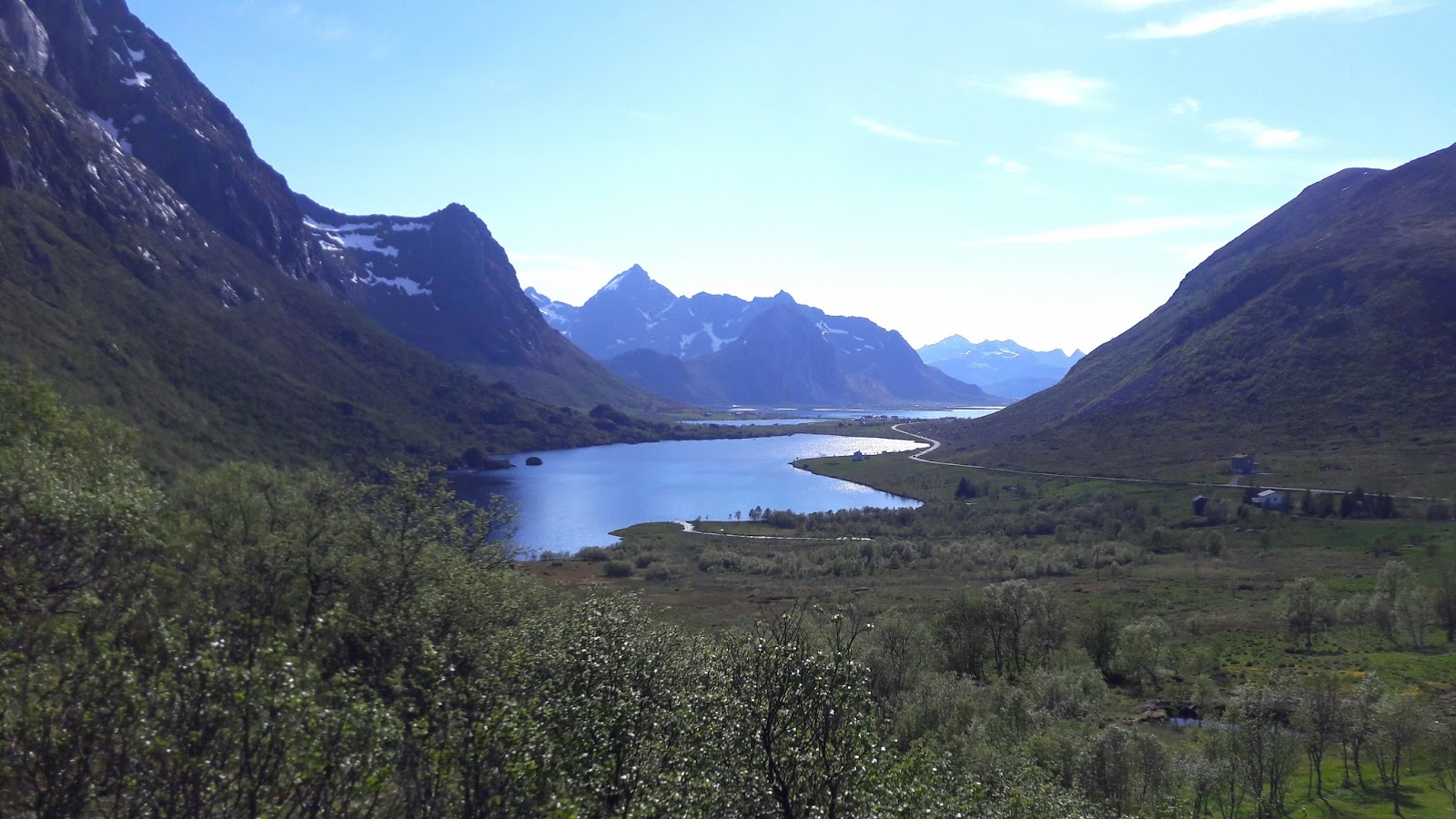 I felt I should indulge in some mild exploration once again today, & see some of the picturesque beaches these islands are famed for. Haukland beach was one of these, although as it is one of the biggest, it was extremely popular. I gave myself a short break to enjoy the GUACAMOLE I found at the supermarket in their largest town (oh yes! & cream-free, unlike the packaged stuff at home).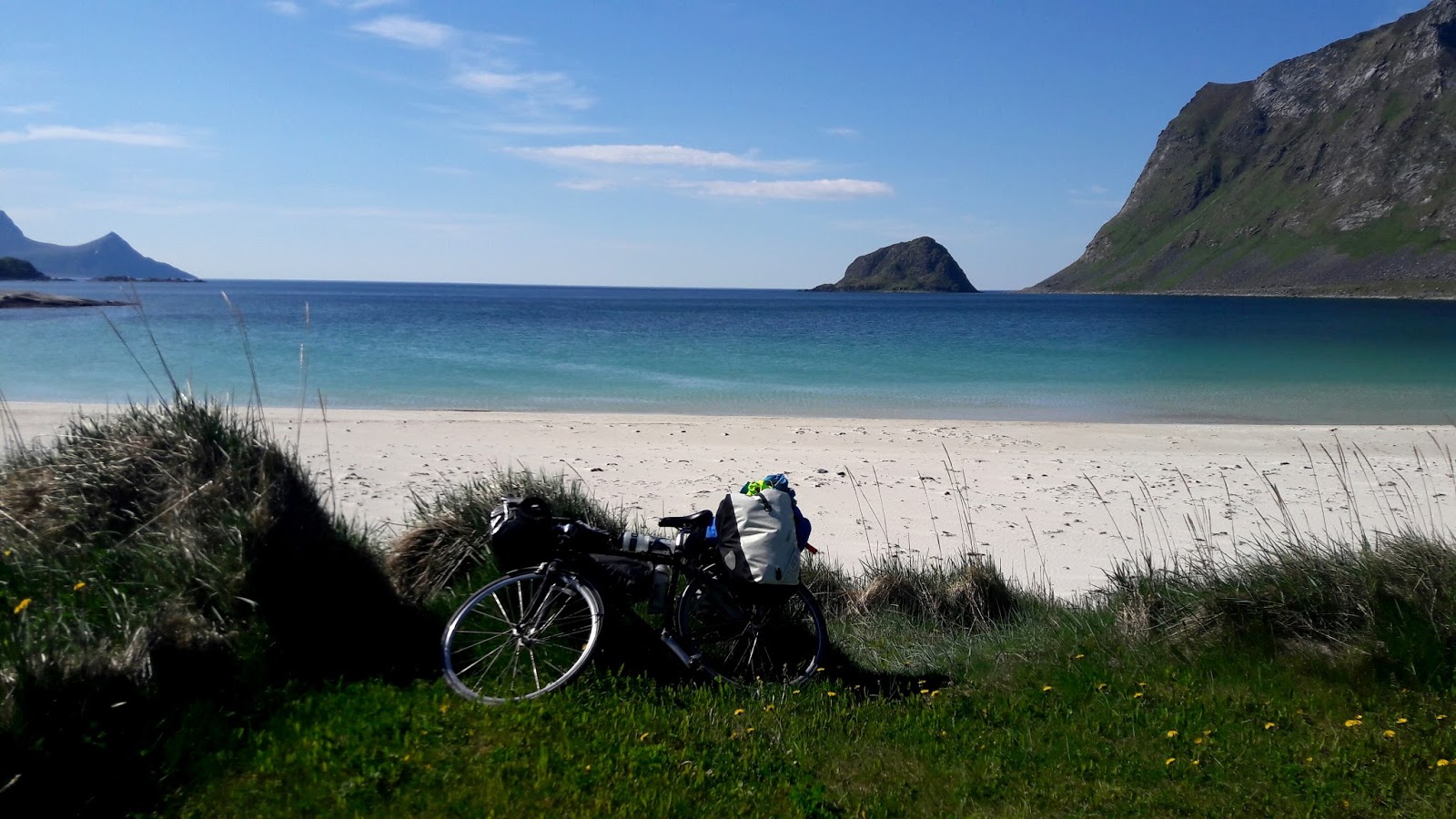 Further southwards towards Å, the next town for 20 miles, Napp, had nothing but a very cold and long sub-sea tunnel... nearly out of water, a kind local filled my bottle up from her kitchen. Yay! Note, I should always carry more water than required, even in places that seem well populated.
Hitting Vareid and the evening sun, the hamlet looked out over a fjord backed by a variance of mountain size and shapes, beyond 'Flakstad', all a hazy snow white. Stunning! The circumferential main road passed bay after bay of white sand being lapped by aqua waters, once again. So so beautiful.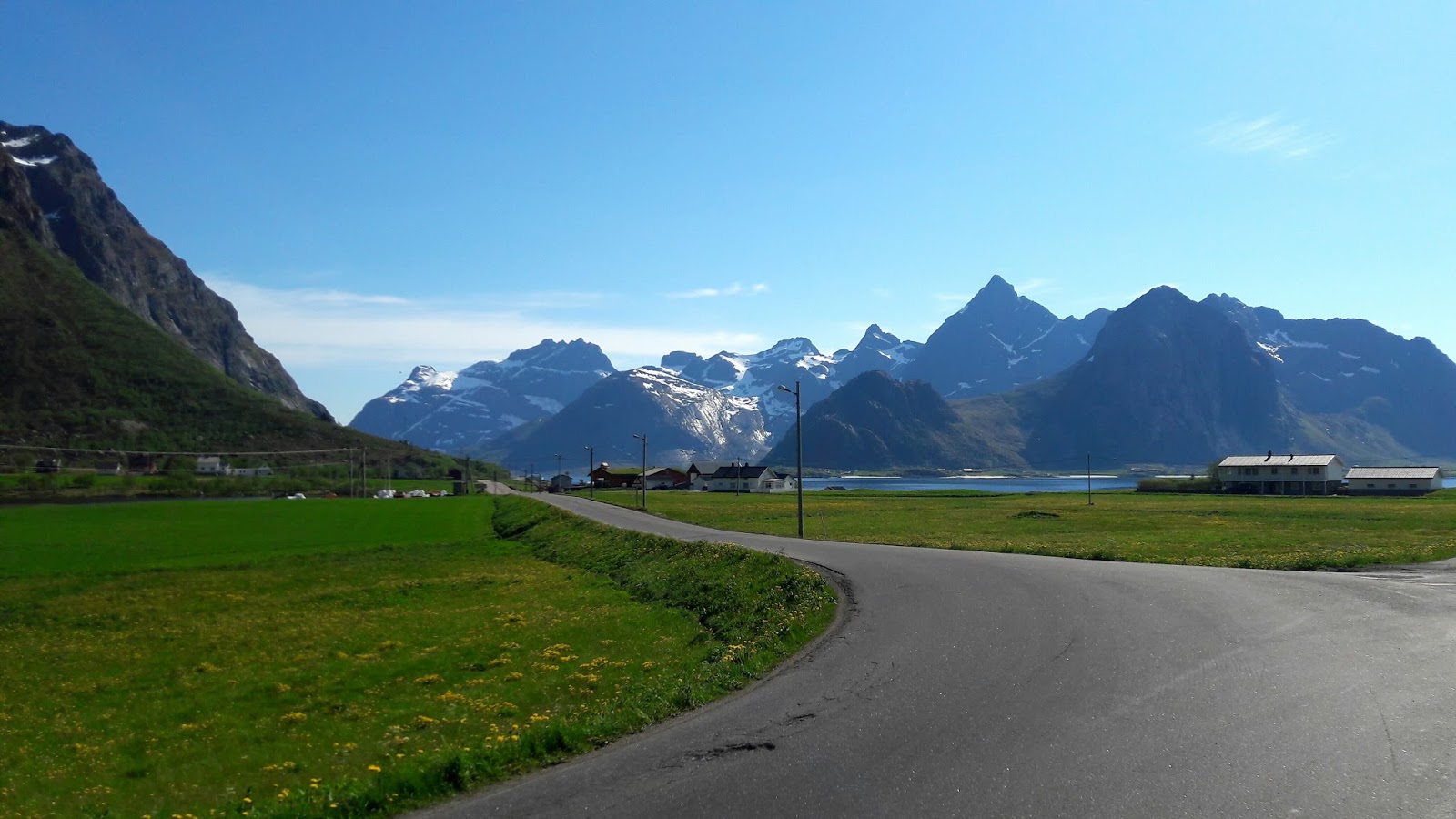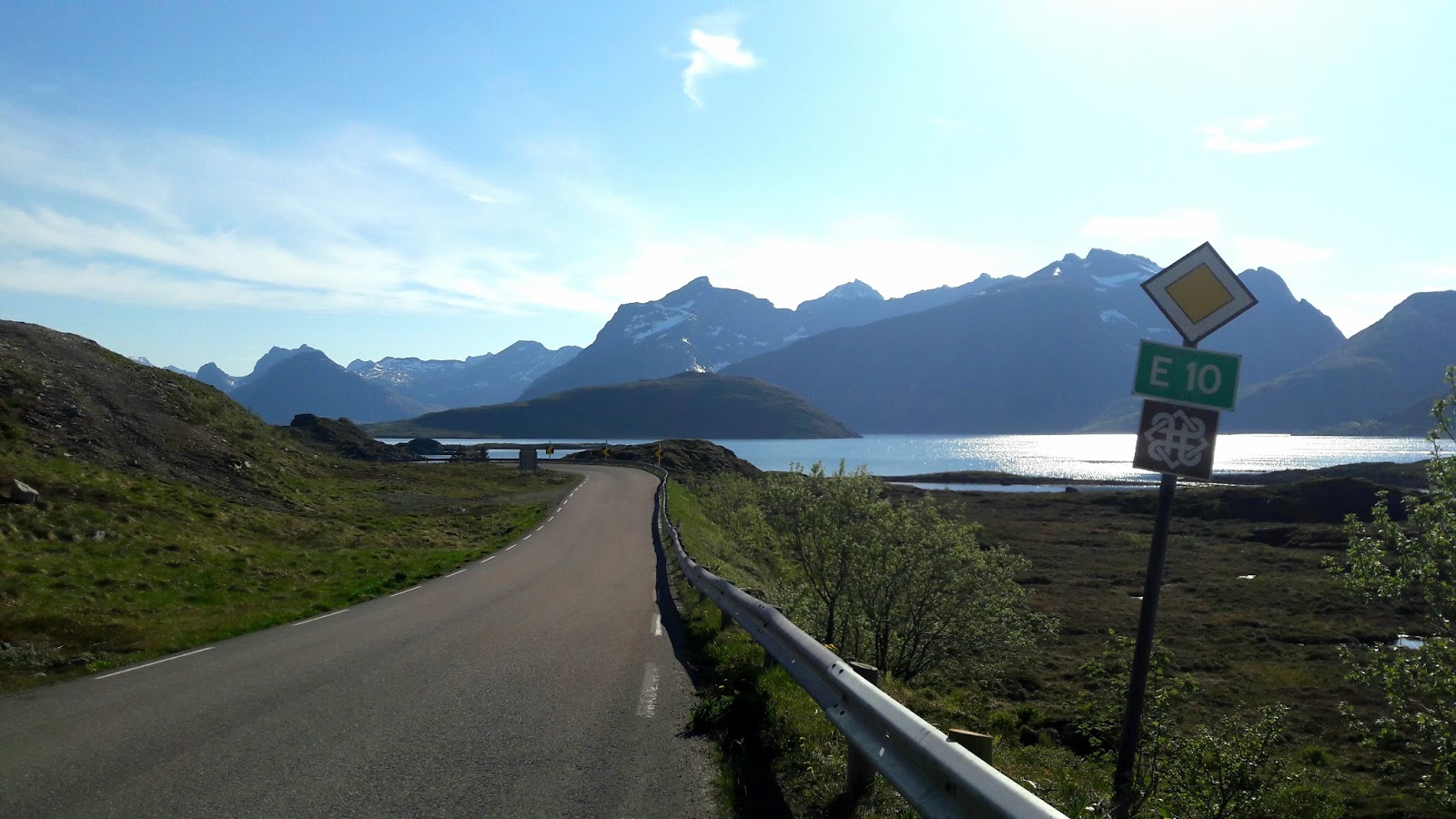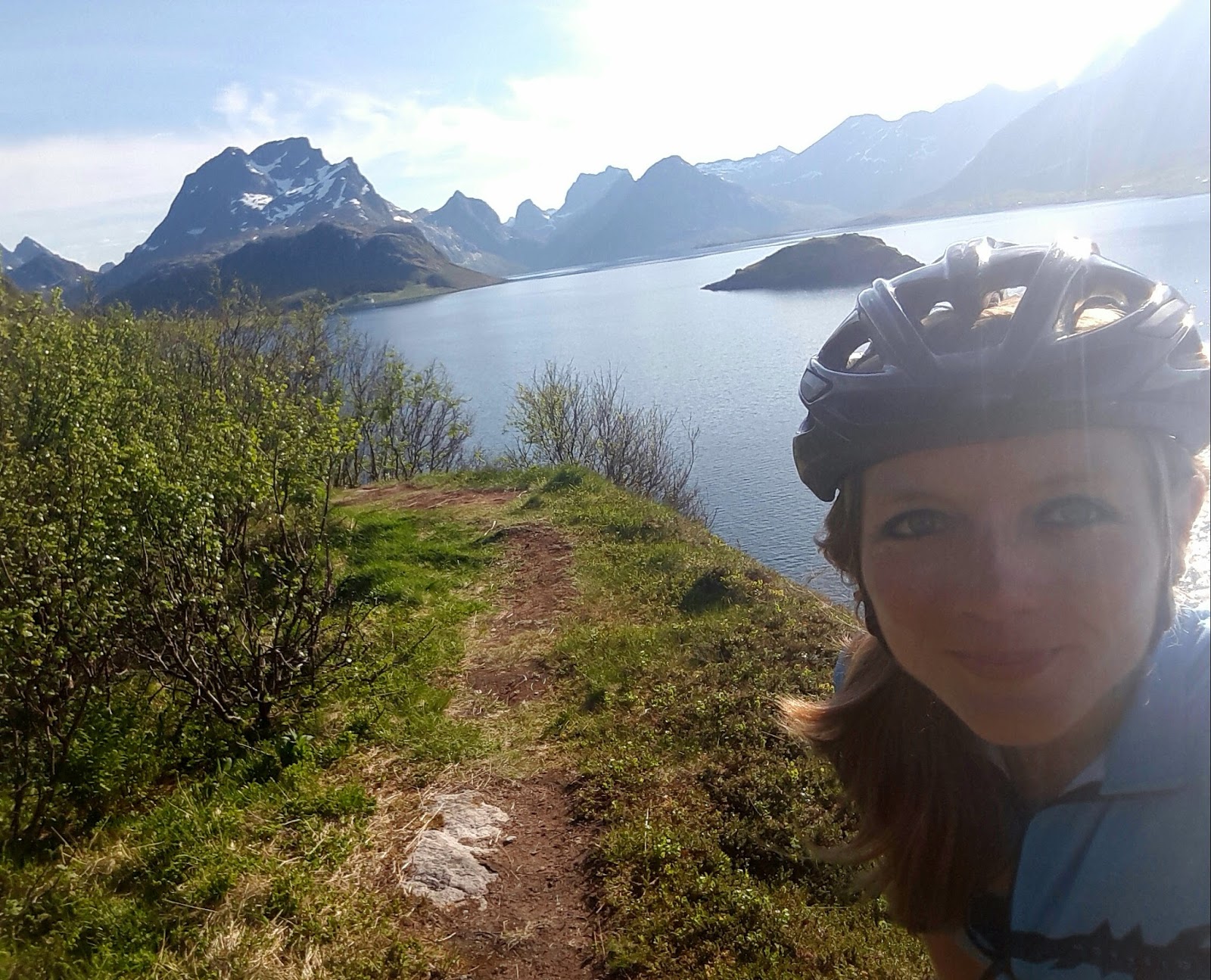 Eventually downhill into the also famed town of Ramberg, I got some further supplies to take me the last 20-30 miles. This is when I was faced with the 'real' Lofoten villages, particularly one called Reine. They are the most cute miniature collections of traditional buildings: red and yellow wooden 'rorbuer' (fishermen's cabins), raised high above their calm sheltered waters on stilts. Curved around these settlements are jagged sun-blessed peaks. I had to take some moments to appreciate their tranquil beauty.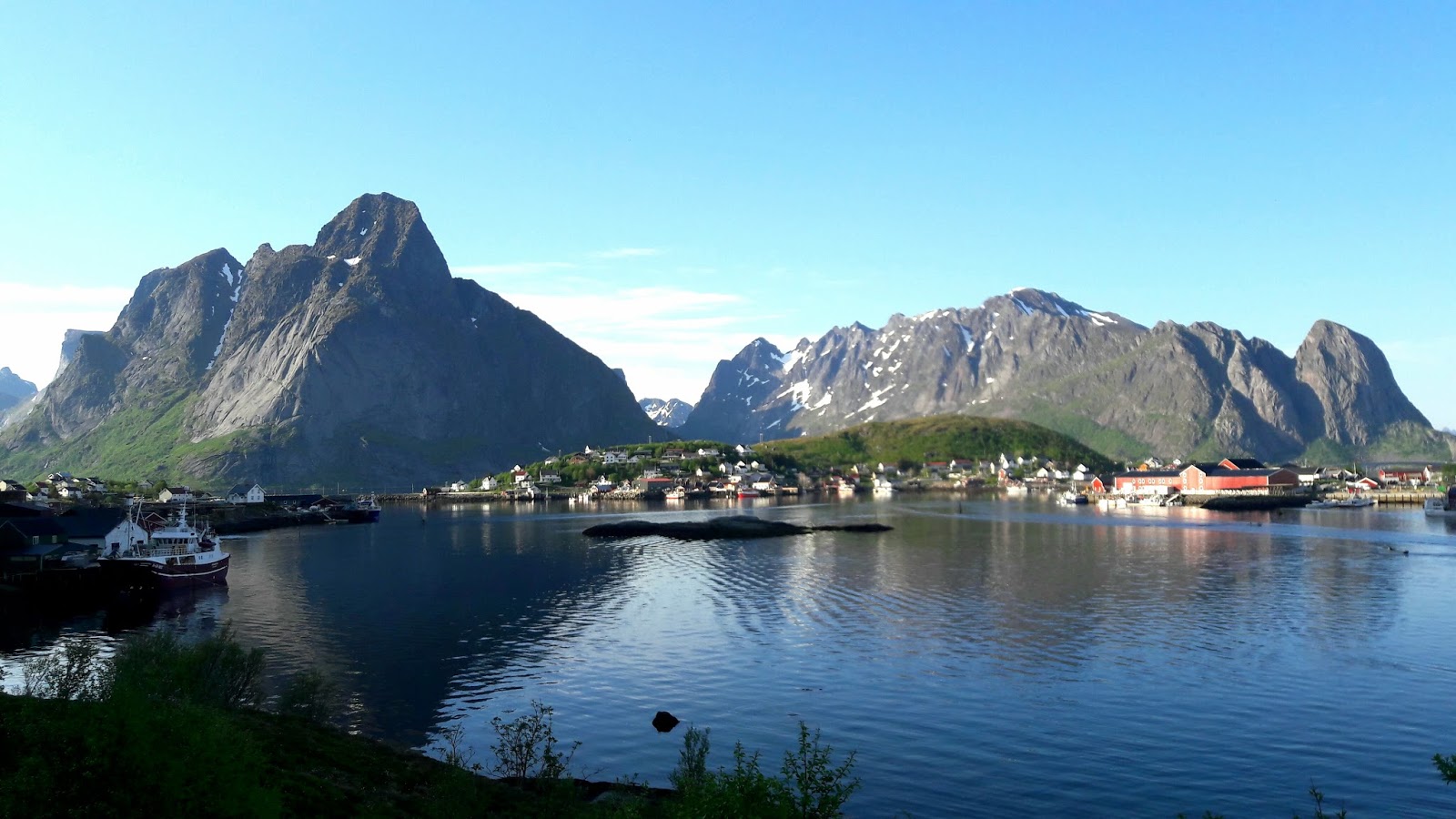 Unfortunately, I had left it quite late, approaching 20:30, and knowing I had dinner to cook (I was carrying the extra weight of chickpeas, stir fry veg, sauce & noodles), and a proceeding day of a 5am get up with a 100+ miles to do. It's very hard to enjoy the moment with this weighing heavily on my mind.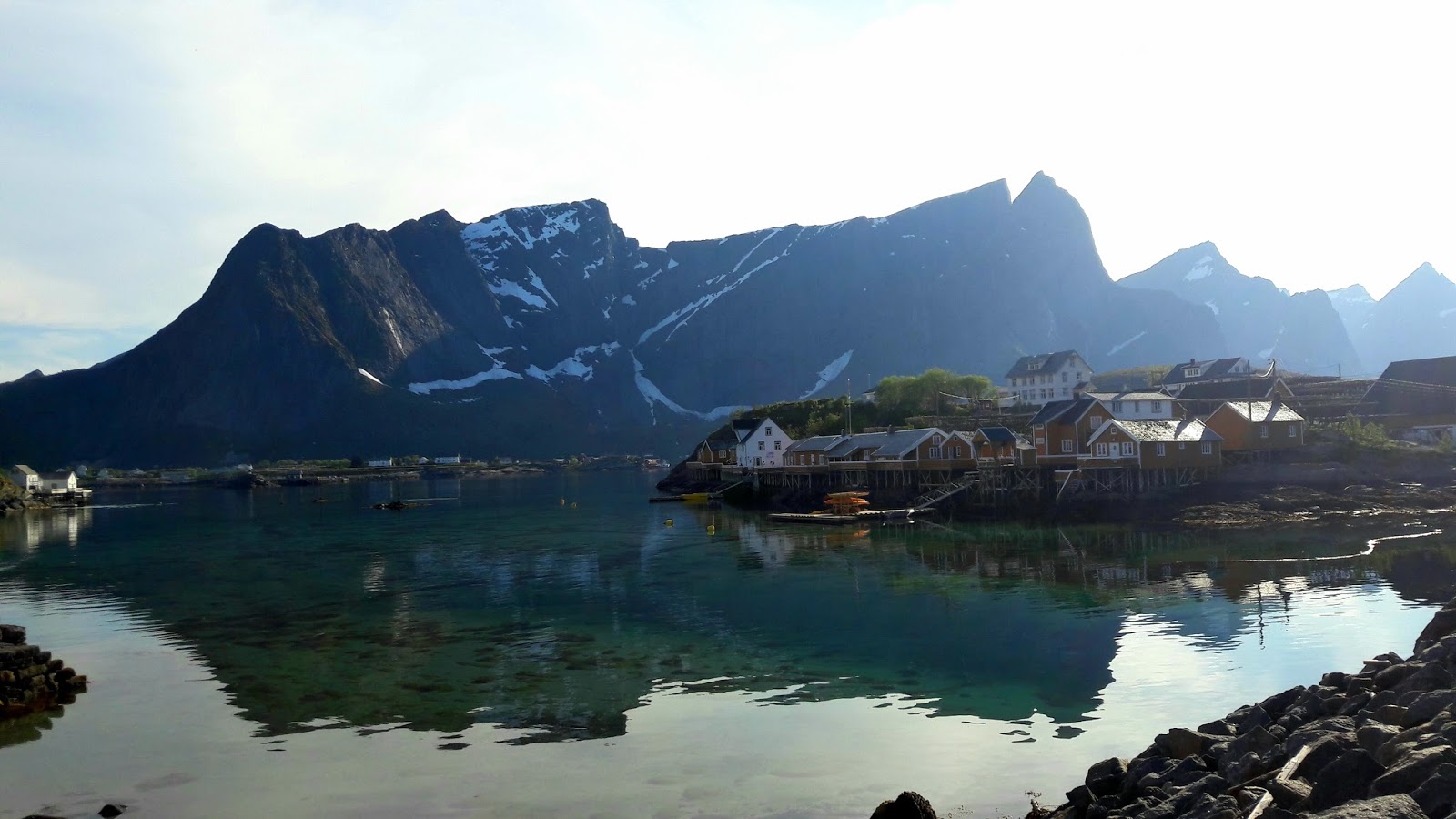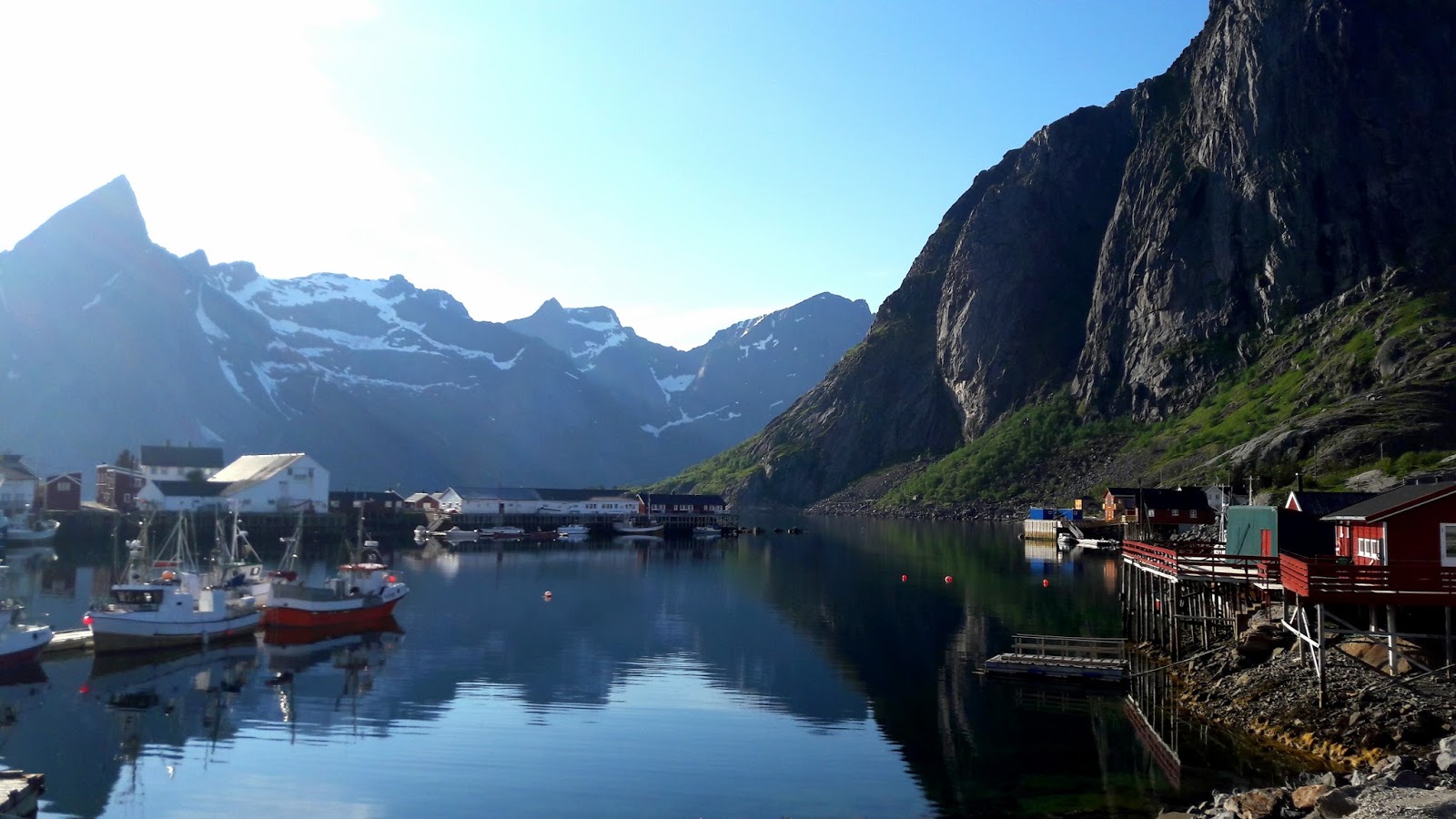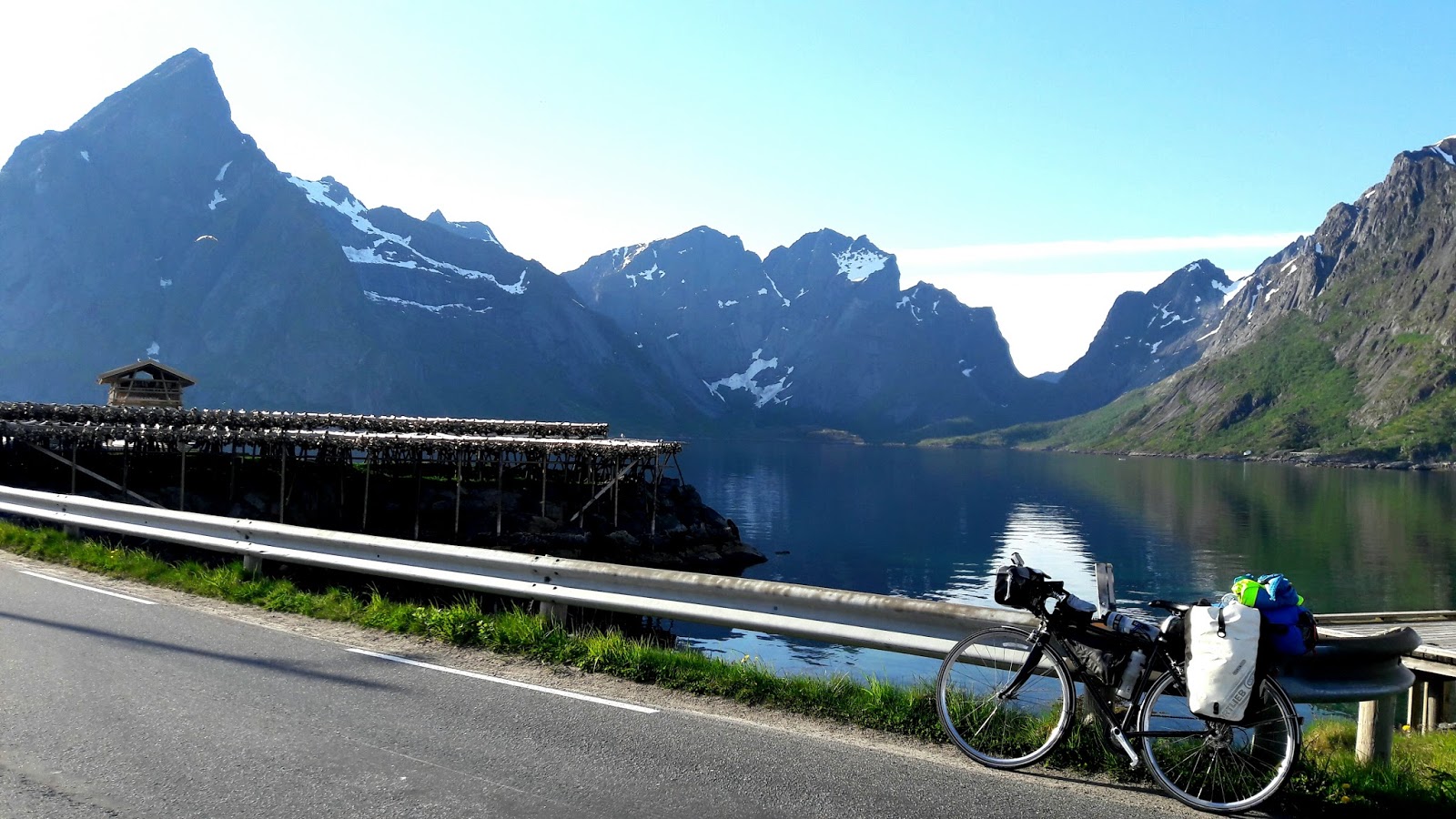 Onwards through some incredible balcony-type tunnels built into the cliffsides, I eventually got to a hostel at Å.
I chatted to a couple living in Trondheim, and met a very sweet English lady who lives in the same Peak District town as my grandmother, before heading straight to bed.

Thanks for your support and interest :)
Alaina Beacall
Return to Arctic-to-Med Blog contents
Return to Blog Main Page