Vienna to Budapest
The beautifully tiled St Stephen's Cathedral, Vienna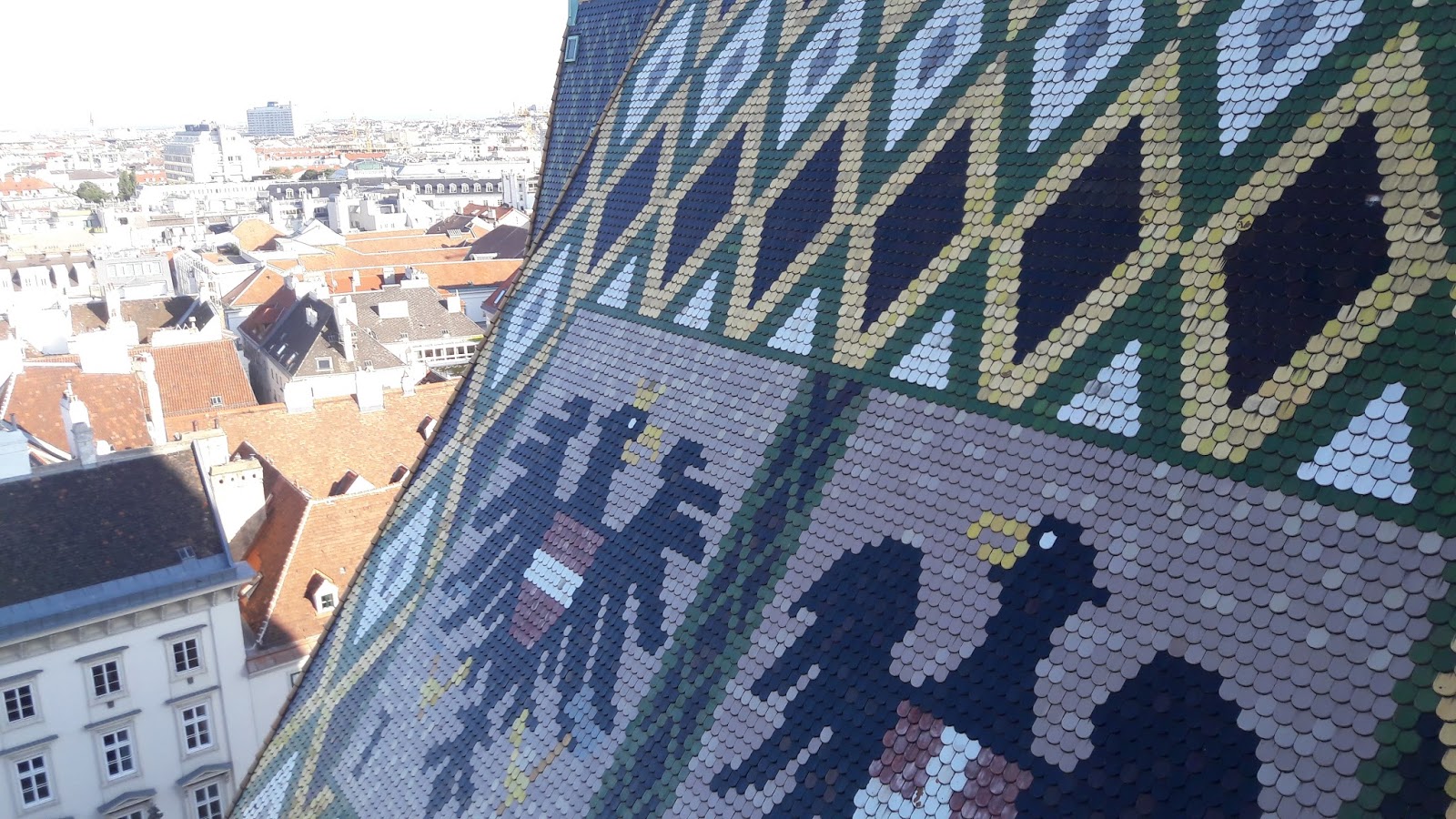 The night city scape as we arrived in Budapest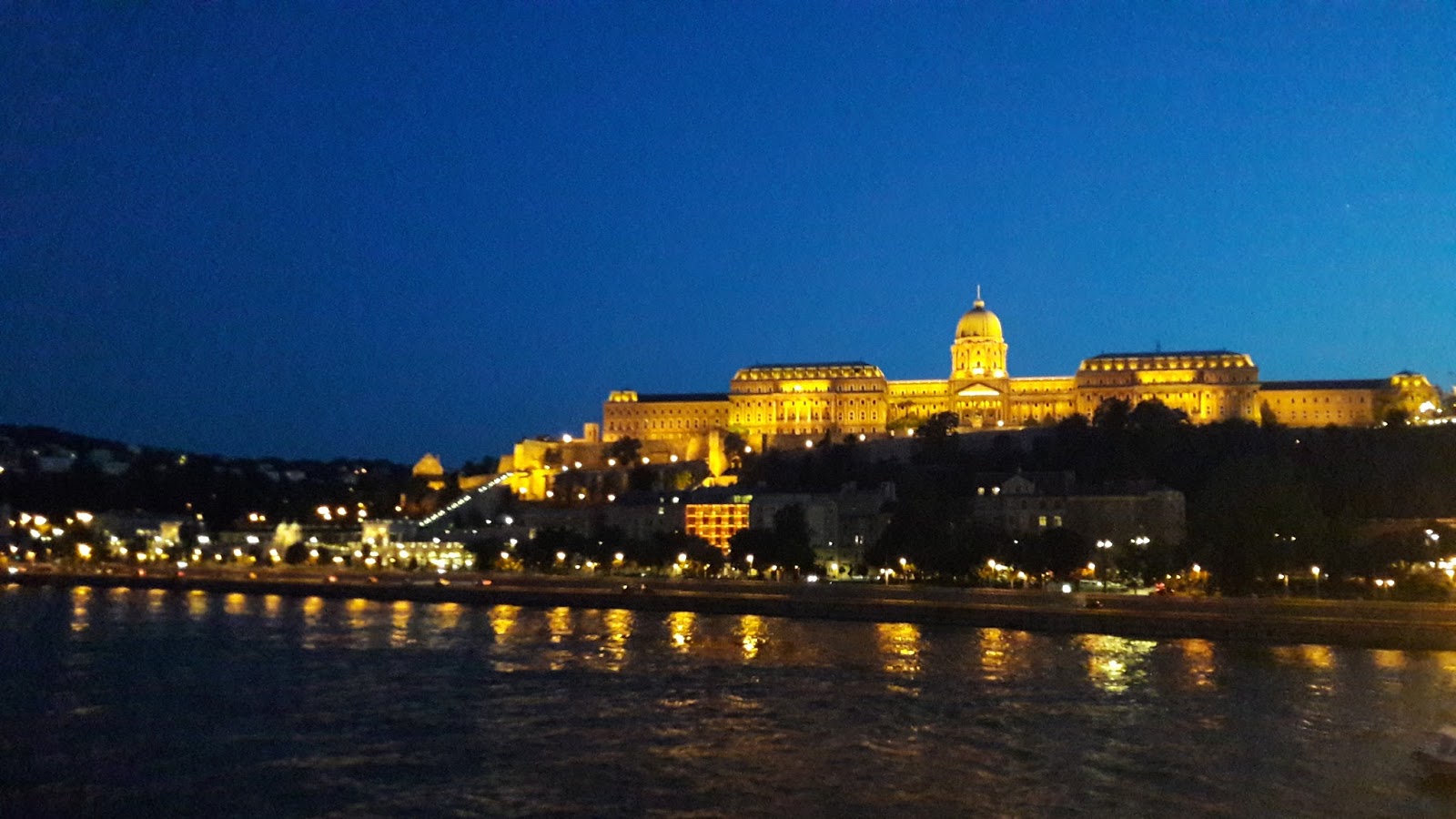 Rest/Wheel Day in Vienna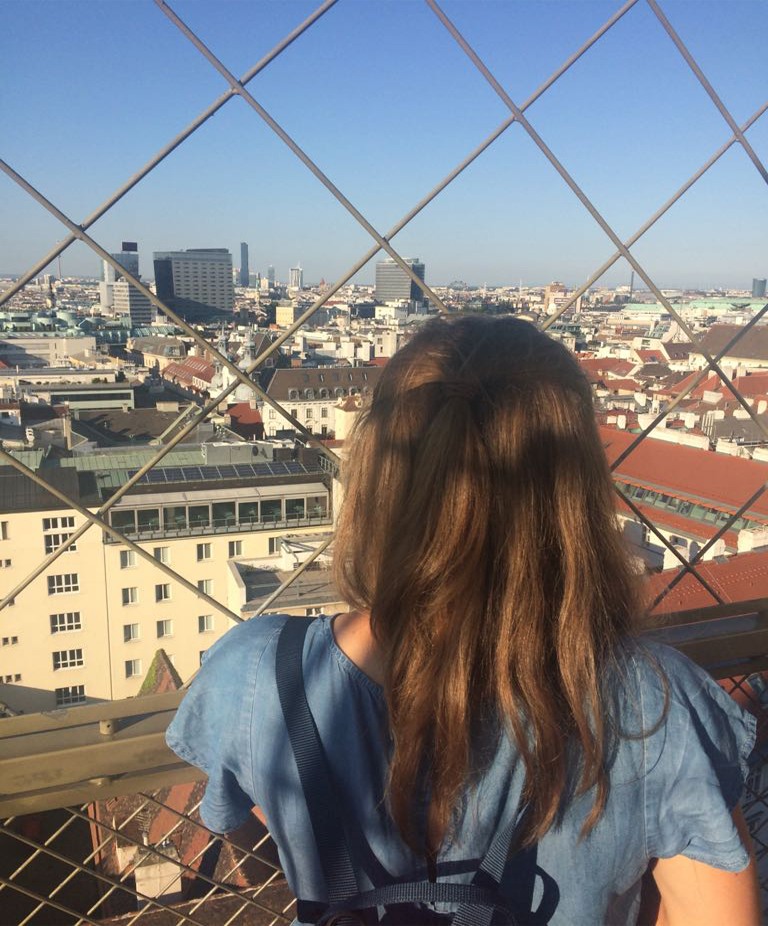 Unfortunately we couldn't see much of this extravagantly beautiful city, but it did provide us with two great things: an awesome vegan burger, & a NEW WHEEL.
Top burgers.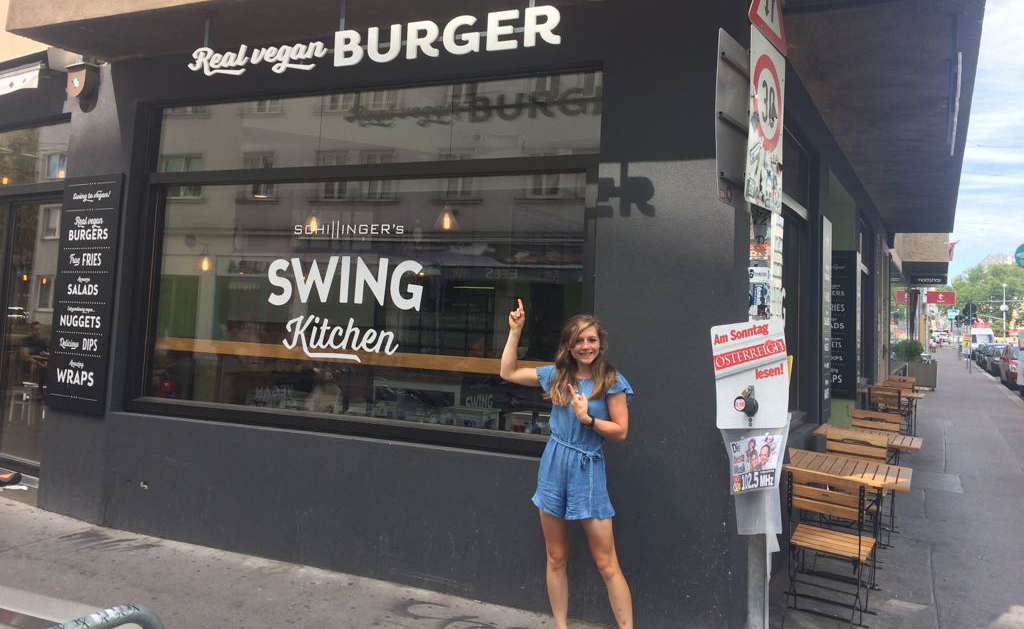 Yes, the shop Ciclismo, recommended by the lovely Stefan, built me an entire new wheel within a few hours. Amazing.
Vienna to Bratislava, Slovakia
Day 45 of riding | 49 miles | 79 km | Ascent: 102 metres
Overlooking Bratislava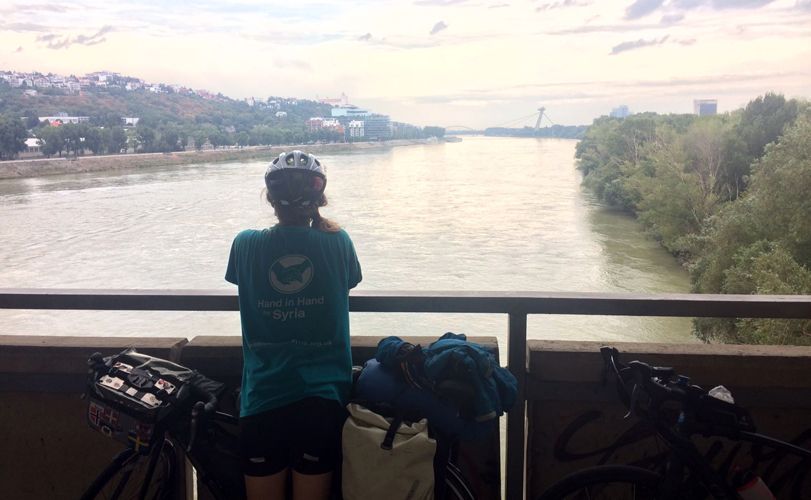 We opted for a walking tour of Vienna this morning, as a quick way of seeing & learning about the city. Sadly the weather was against us, and the torrential downpour forced the tour to occur under sheltered areas only.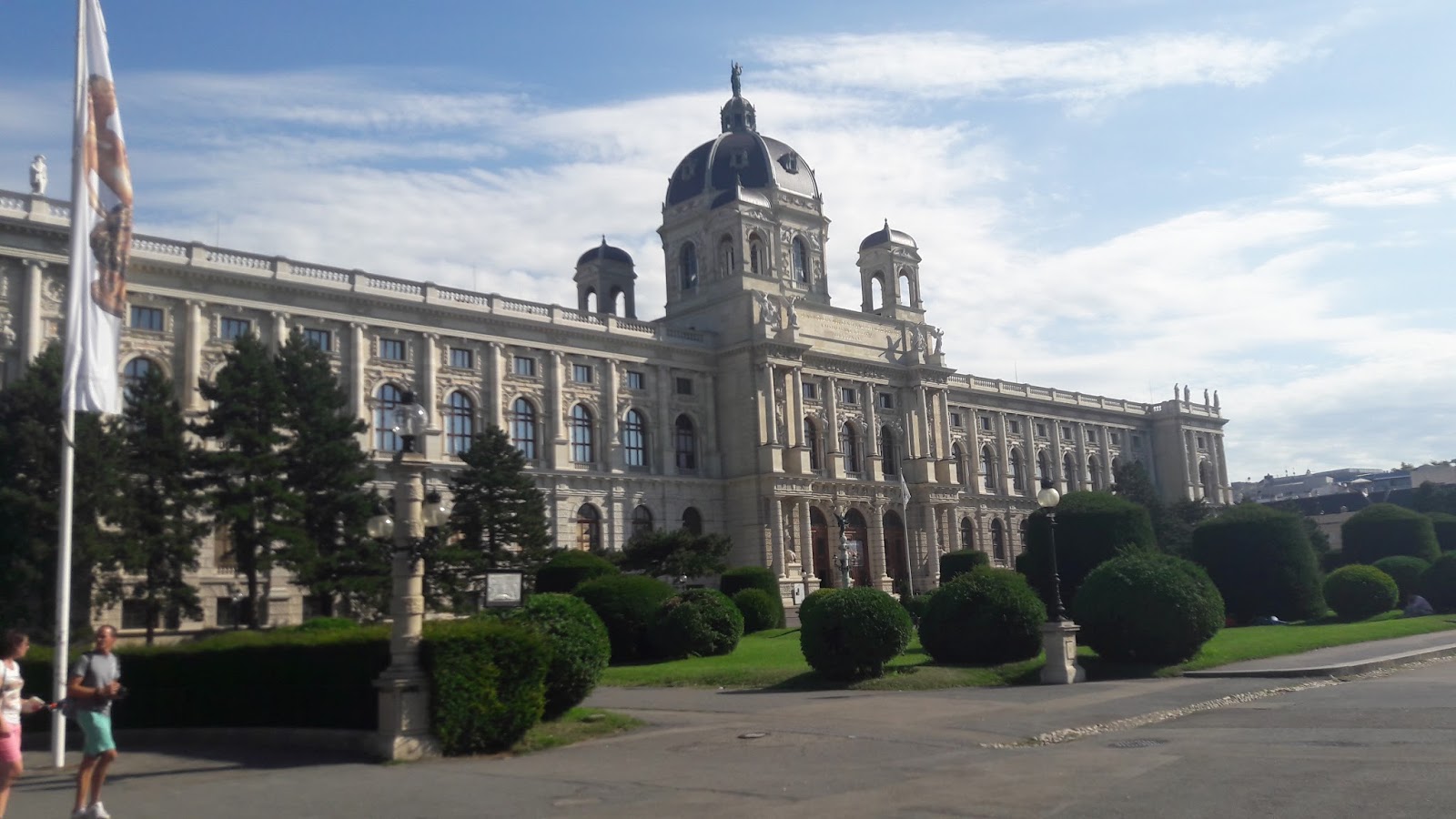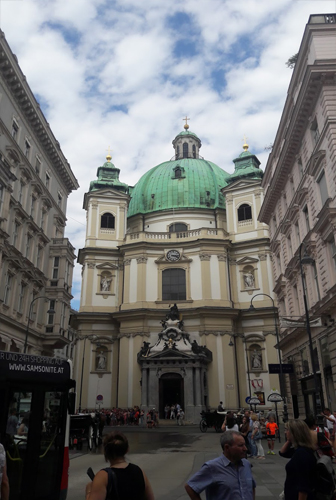 We left the city later than intended, & were unable to find the official Danube cycle path. To be honest, we just wanted to get to Bratislava before it got too late, especially as I needed to find a tourist shop to get a Slovakian flag sticker! A very important goal for the day.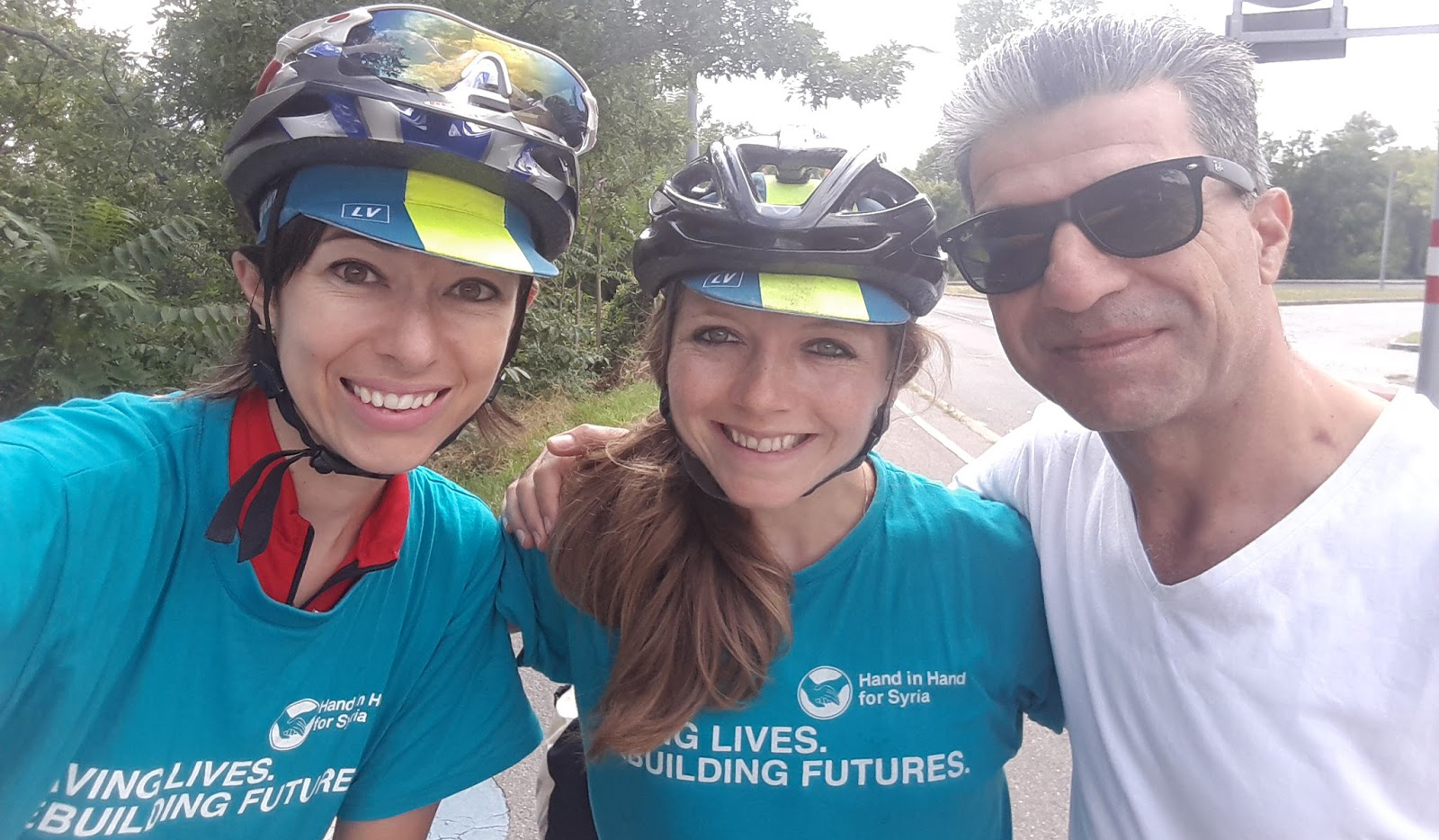 Getting a bit lost, we met a Syrian man called Nithar. After escaping from Syria with his family, they had become separated & he had been stuck in Greece for 18 months. He had just been reunited with them here. We shared an emotional moment, leaving Syria is obviously only half of the battle.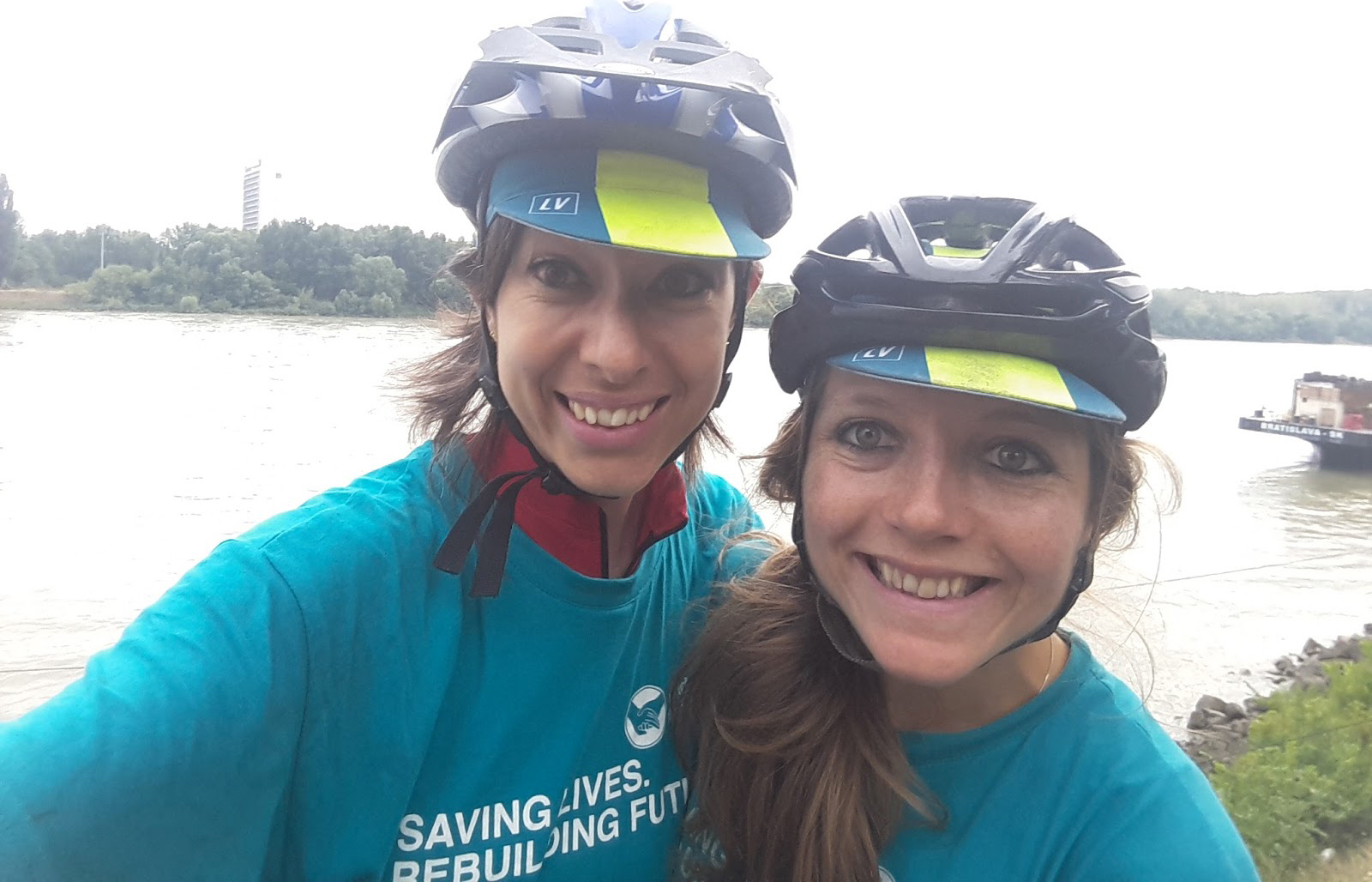 Pretty much along the main road which follows the motorway, we approached a beautiful & white beaming castle overlooking the Slovakian danube. As the evening drew in, we treated ourselves to dinner in the city before finding our accommodation.
Ahoy Bratisava!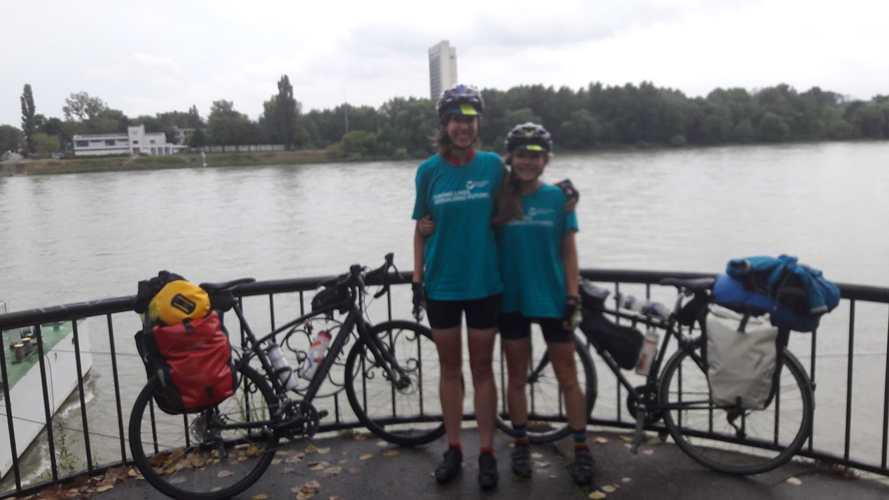 An incredible little vegan place offered tasty meals for under 5 pounds, including 1 pound 50 desserts, yes Slovakia!

Bratislava to Esztergom, Hungary
Day 46 of riding | 125 miles | 201 km | Ascent: 290 metres
"Oh man, am I in Hungary!?", & dodgy dealings at the campsite...
Cycle paths have a lot of character here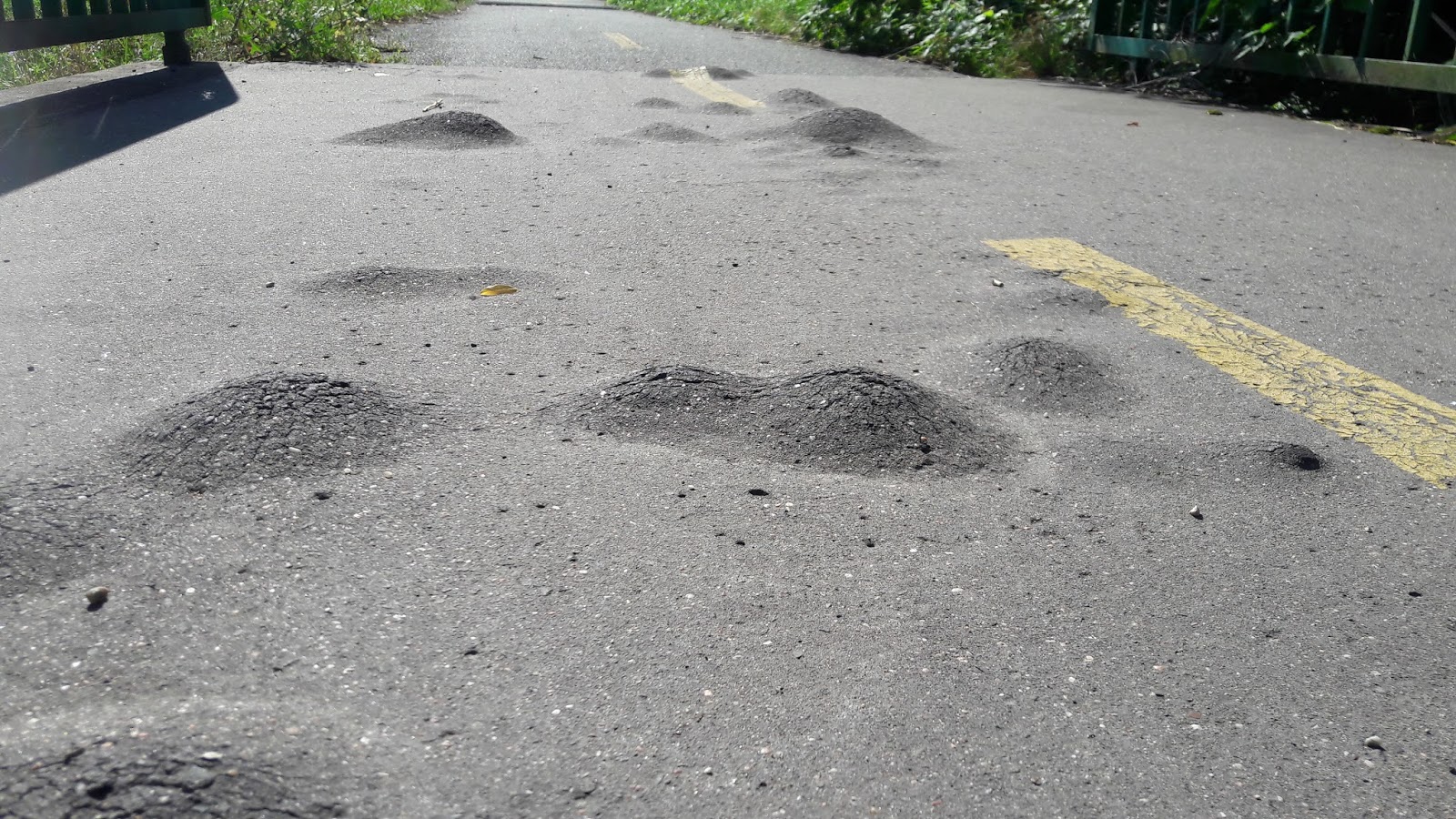 Signage was particularly hard to find in this section of the route, but you end up following the 'EuroVelo 6' signs.
Our Slovakian morning eye-opener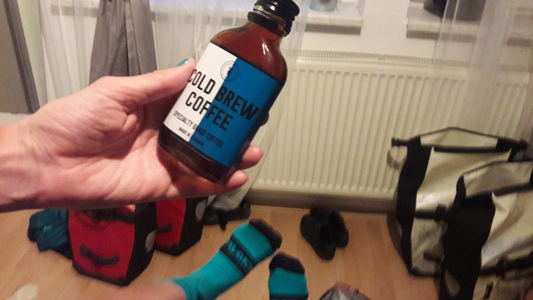 We left the city on a large busy road with a ridiculous surface - the tarmac literally formed WAVES on the edge of the road... this is like the other extreme to severe potholes! Falling off due to hitting one of these could be disasterous...
Constant sightings of the El Camino de Santiago symbol!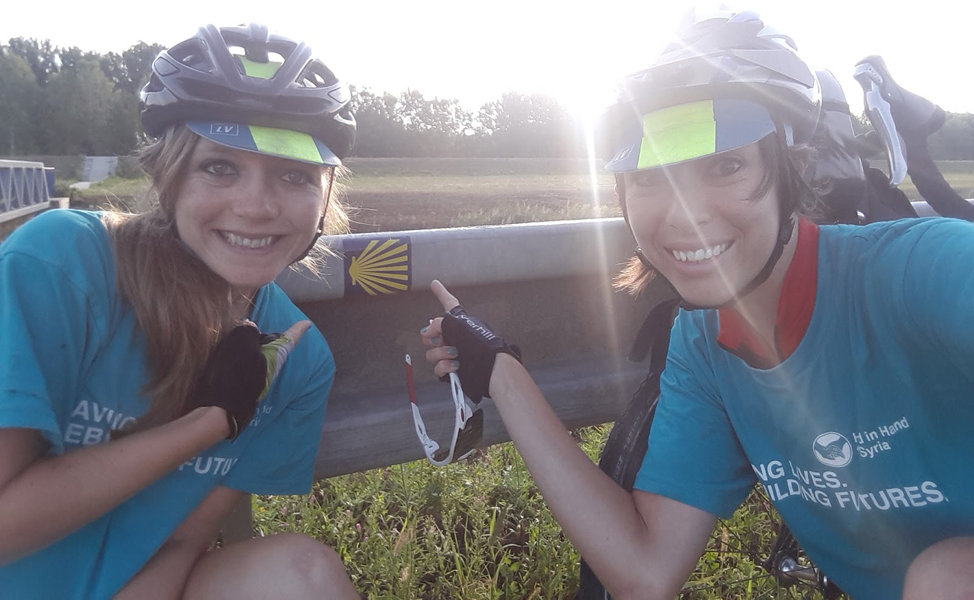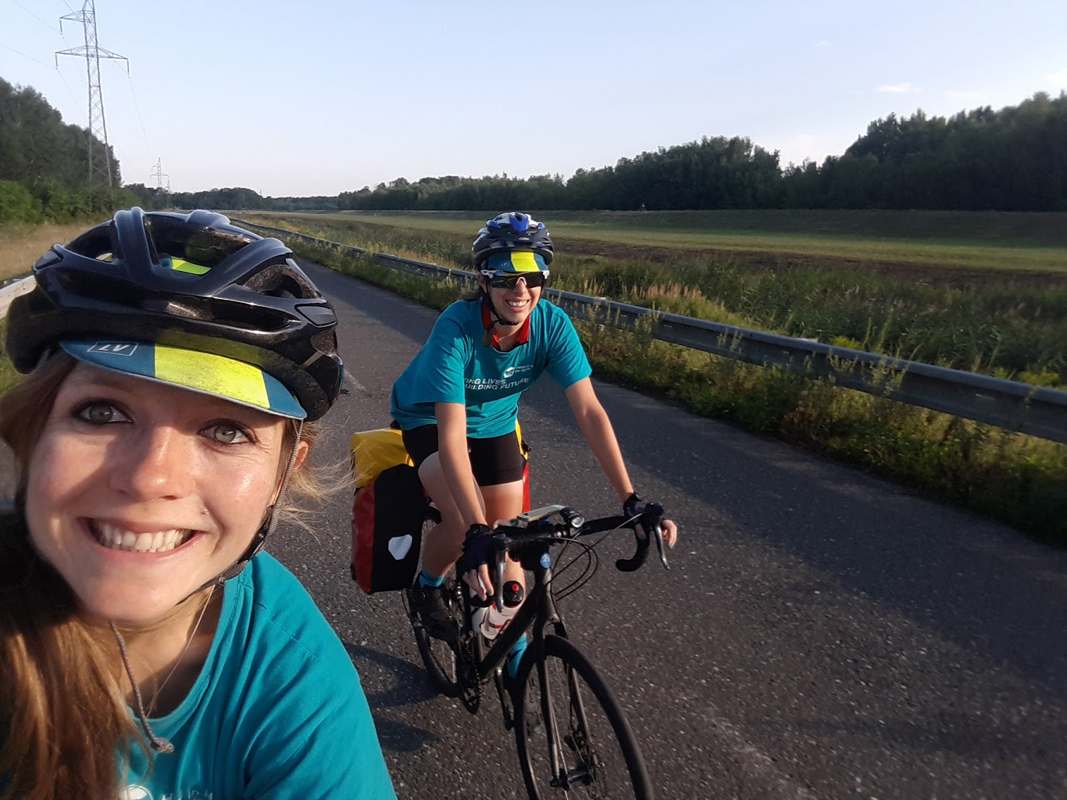 The bike paths we later found were alright, occasionally pretty rough, but rideable. We saw a lot more cycle tourism, & plenty of elderly locals riding around: we said Ahoy (Slovak for hello) to all!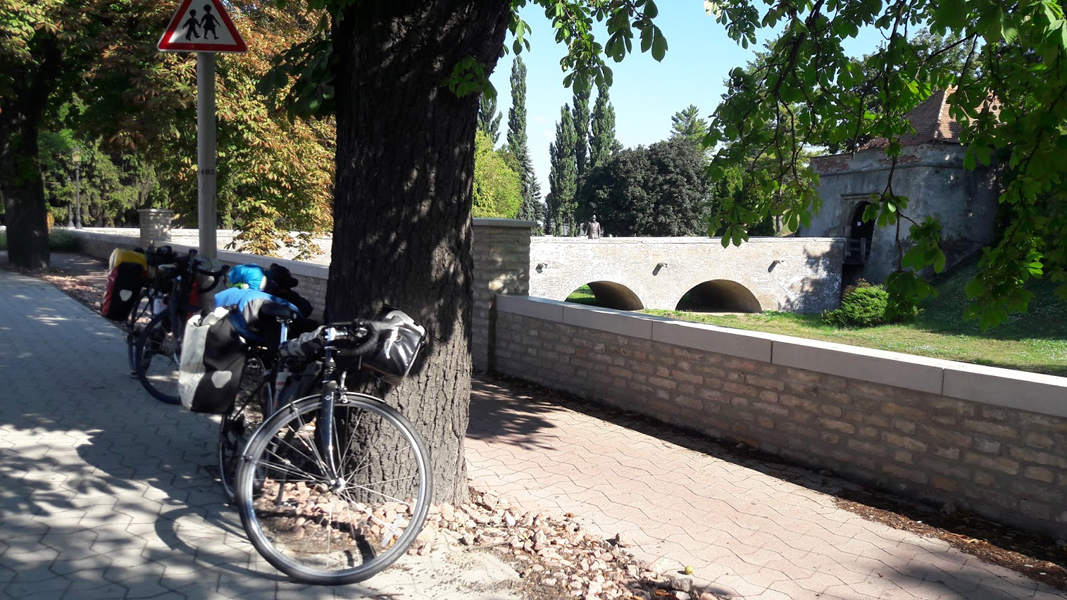 It was nice to get a feel for the dusty rural countryside here, & greet locals, going about their daily business.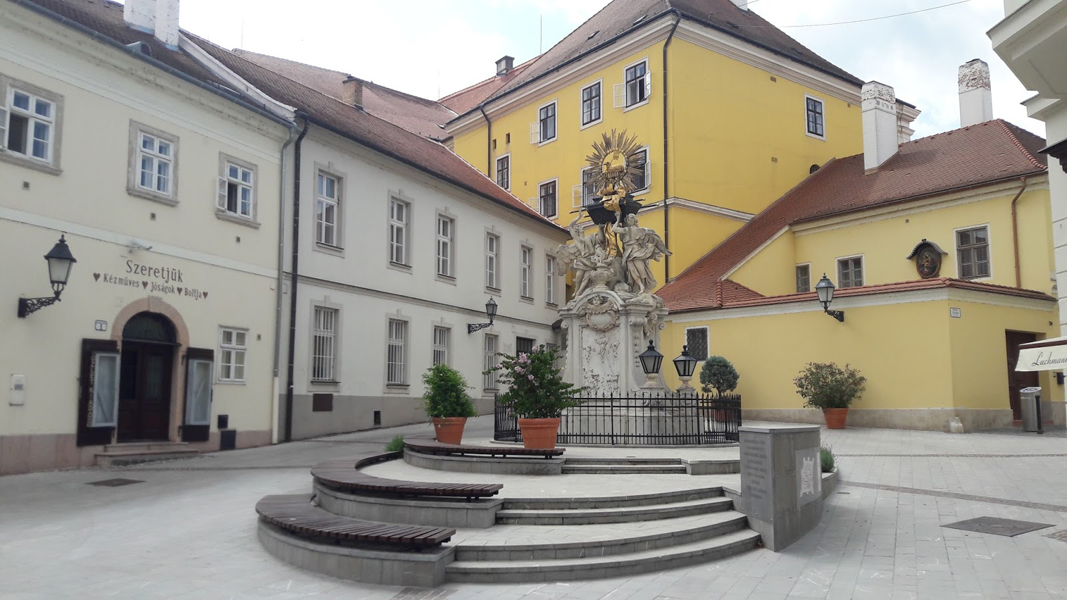 Mosonmagyaróvár was the first, quite comical stop. I ran into a bar to get espressos, saying the Slovakian 'Ahoy!'. The lady showed me '420' on her calculator. I assumed she meant 4 euros 20, quite expensive for the area, but never mind.  As I handed her the cash, she looked a bit annoyed, returned the 20 cents, & handed me a wad of unknown currency. Hmmm! Ahhh ok, 'forint'! I made a massive mountain out of this mole hill, by trying to return that random change, as I actually had forint in my bag so could pay properly. No one understood. I google translated into Slovakian, & they laughed "No Slovak!" a man said. Then it dawned on me, "oh man! Am I in Hungary!?" That was a very confusing & funny 15 minutes.
"So, Sonia, we're actually in Hungary already, and have been all morning!" They also don't say Ahoy, here. Ha ha.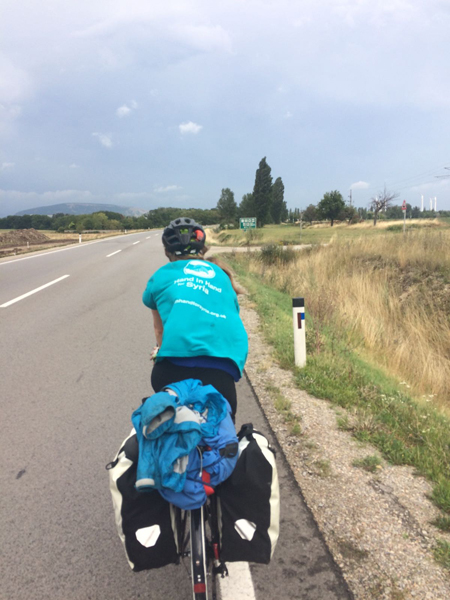 Riding behind Sonia, I noticed her rack to be lob-sided, once again. Dear Lord not now. Can any day be straightforward, please?!
Stopping in the city of Gyor, Sonia offloaded her rack on the pavement, & luckily found no issues other than a missing bolt. "Brilliant, you have the spare long bolts that the shop gave you!", I said. Nope, she had mistakingly left them in Vienna...
Suddenly a women tripped over the curb & fell onto the floor trying to avoid Sonia's bike, she was thankfully ok, but started screaming likely Hungarian expletives at us for being in the way.
Off to another bike shop we go, to get some bolts...
Bush stops - using my many creams for my many skin issues, Damn saddle sores!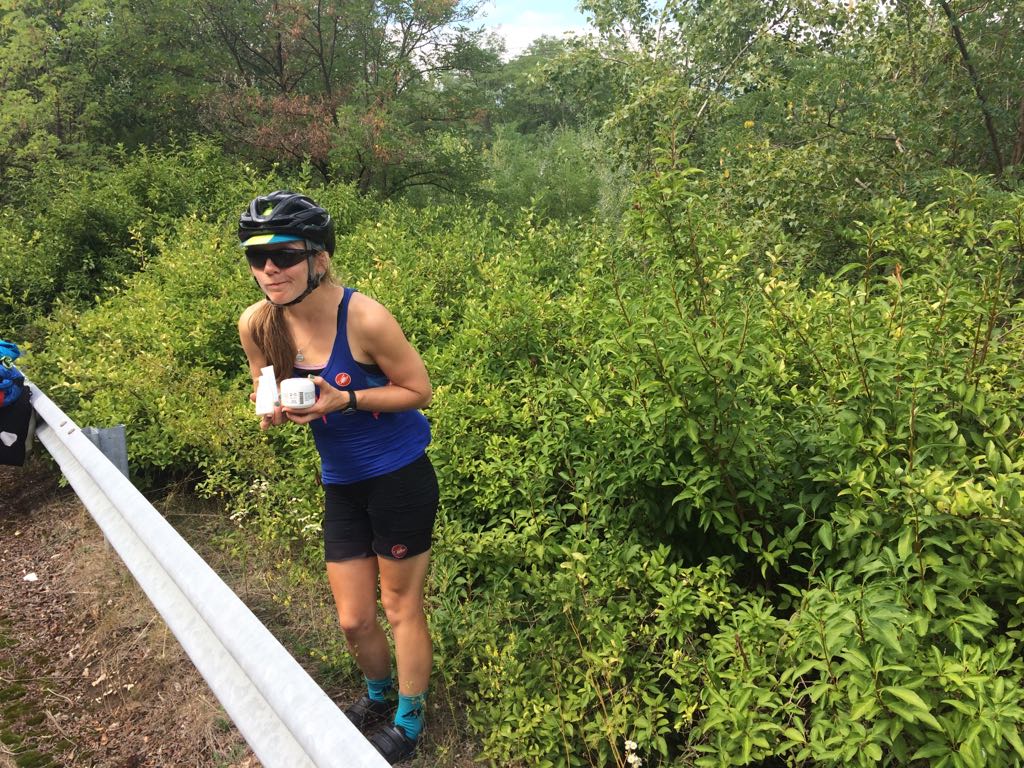 Once again delayed, poor Sonnie felt pretty bad for losing things a lot & for causing a delay: in the few days of her joining the trip, she had lost her roll mat, sunglasses, toothbrush & now the bike bolts. This trip has turned into a bike shop & buy Sonia a replacement item, tour!
Awesome view, awful campsite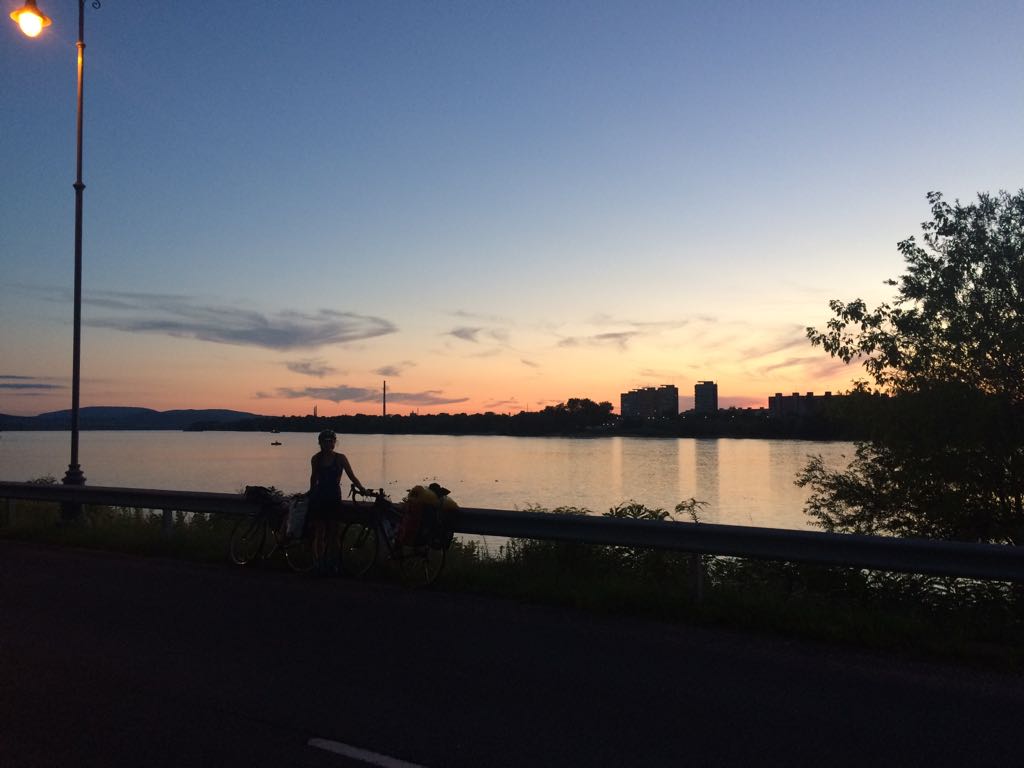 Eventually we re-found the route, & approached our destination just after sunset. This was beautiful. We had an incredibly enlarged orange moon over mountains to our right, then in the distance to the left, the Esztergom Basilica standing proudly in golden light.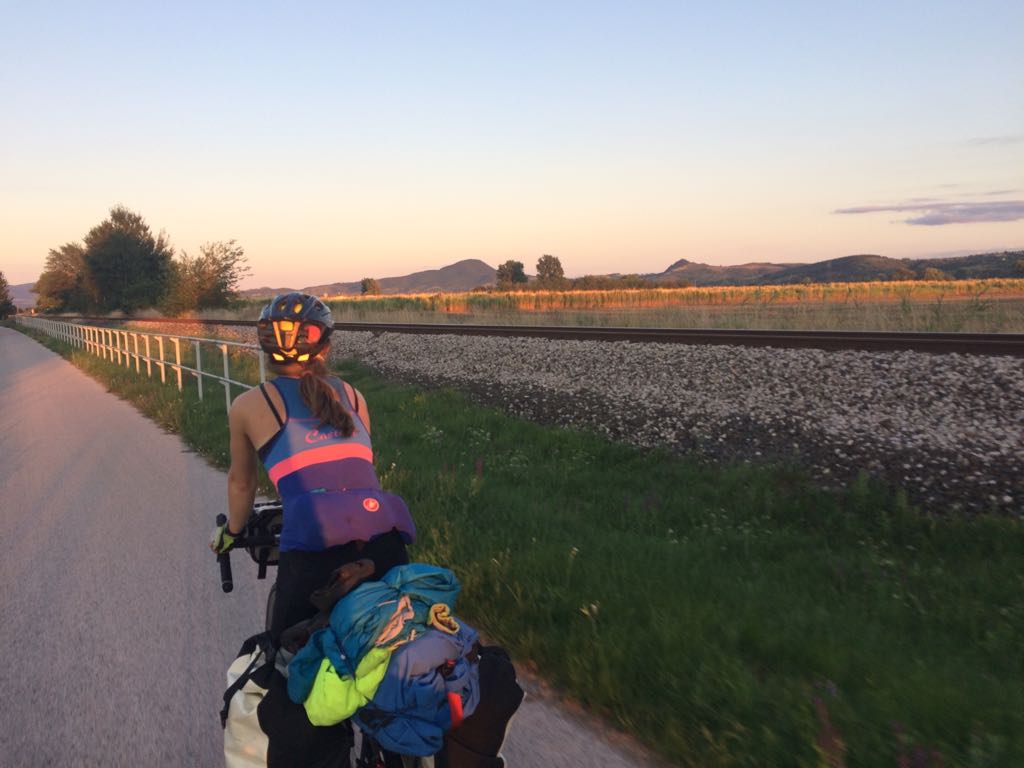 Ay ay ayyy, the campsite issue...
Arriving in the dark & eager to set up camp/eat, we were met by quite an abrupt little man at reception. We had no language in common, so he just pointed at a price, asked for passports, & said "9am!". How strange that one should want to take  both our ID and payment at the same time. That doesn't quite make sense. When I said that we want to leave earlier than 9, so we cannot wait until then to re-collect our passports, he was quite rude & unaccepting, "9am, 9am!!" pointing at his watch.
I also will not accept that as paying customers, any form of accommodation can tell YOU when you are permitted to leave!
After a numbing repetition of me declining to give him our passports, he gave in, but accepted more cash than he should have done by conveniently having no change! Who is this guy...
Despite tomorrow being a shorter day, we had better be out by 0830 to avoid facing his wrath / dodgy dealings.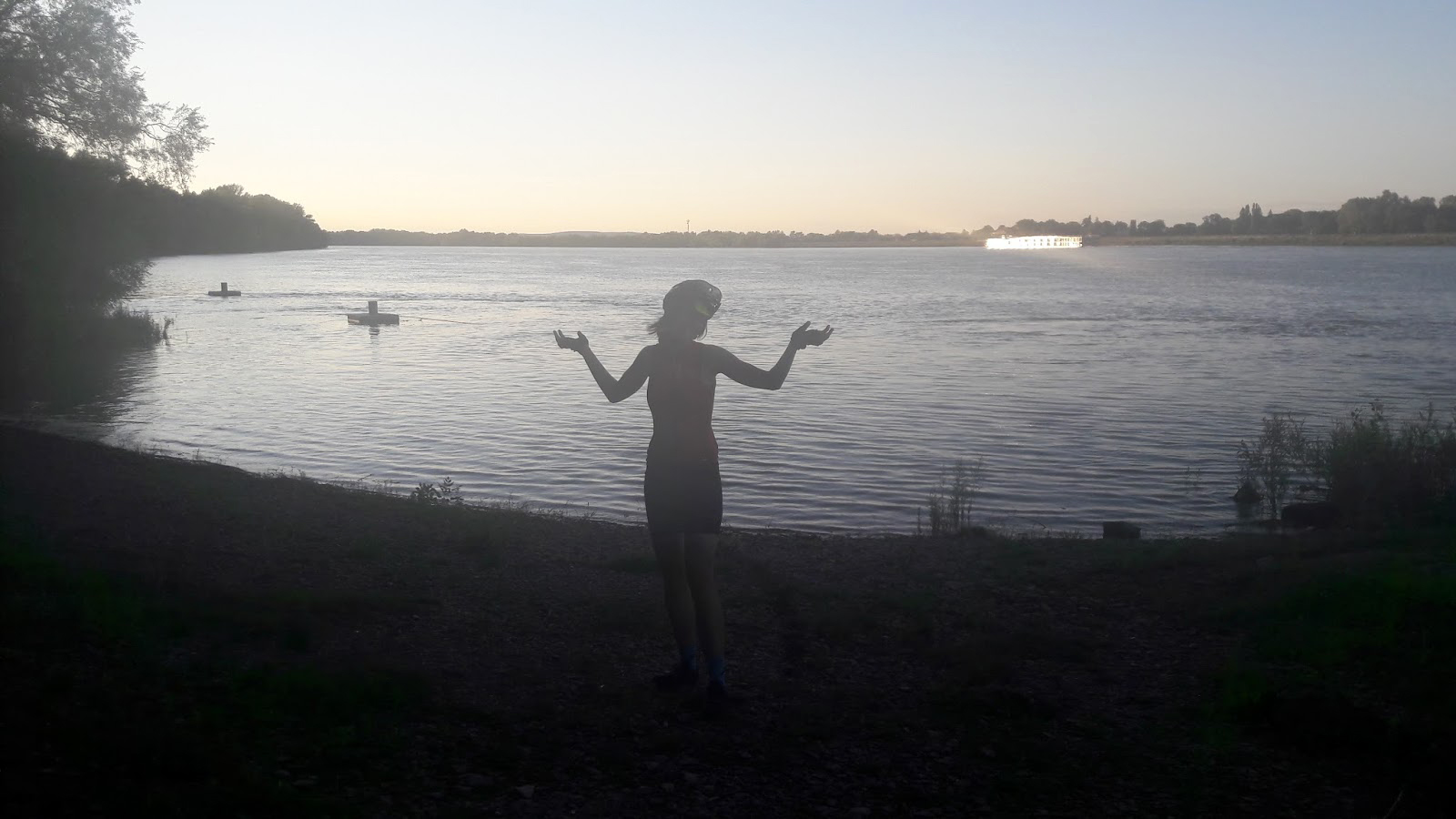 Esztergom to Budapest, via the Pilis Mountains
Day 47 of riding | 70 miles | 113 km | Ascent: 1,144 metres
Sonia gave him the passport, nooo! Lovely hills, & hummus in Budapest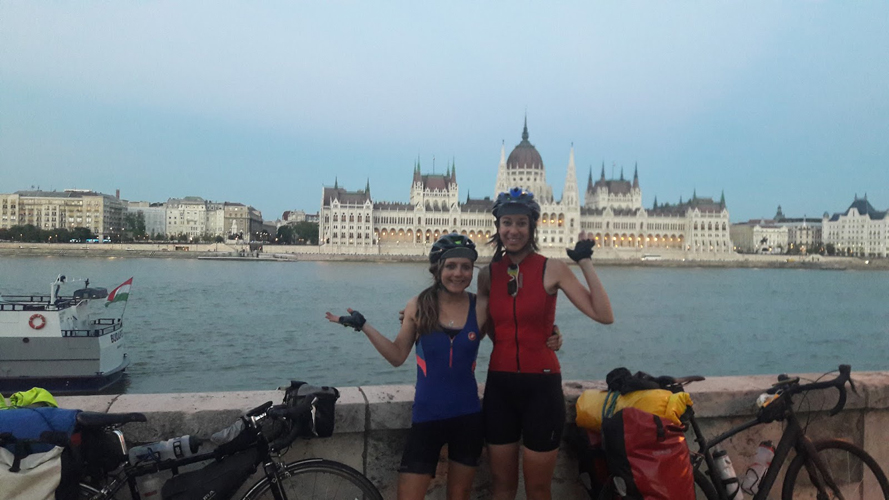 Getting ready to leave after a small lie in, Sonia came to find me in the toilet block, "Alaina the man just came & saw me packing up! He kept saying 9, 9, passport! So I had to give it to him!"
Moments later he returned & threw the cash back at Sonia, which we had paid him that preceding evening.
Oh God. Is he going to bribe us? He has her passport... we also have no proof that we paid, other than a plastic number for the tent pitch. Note to self, ALWAYS get a receipt.
Also, someone recently told me that in Hungary, especially Budapest, there is a saying, "no day is complete unless you have ripped off a tourist".
Feeling sick & scared, the two of us naive travelers couldn't even stomach our breakfasts, which we had looked forward to (I'd found pomegranate soya yoghurt for our muesli!).
I noticed a fellow cycle tourer packing up, & I approached him, asking if he spoke German or Hungarian (the campsite guy could speak both), & would mind accompanying us to reception to help us. He kindly agreed. This was Horst from Austria, he was traveling the whole of the Danube south to the Black Sea.
Our new buddy, Horst!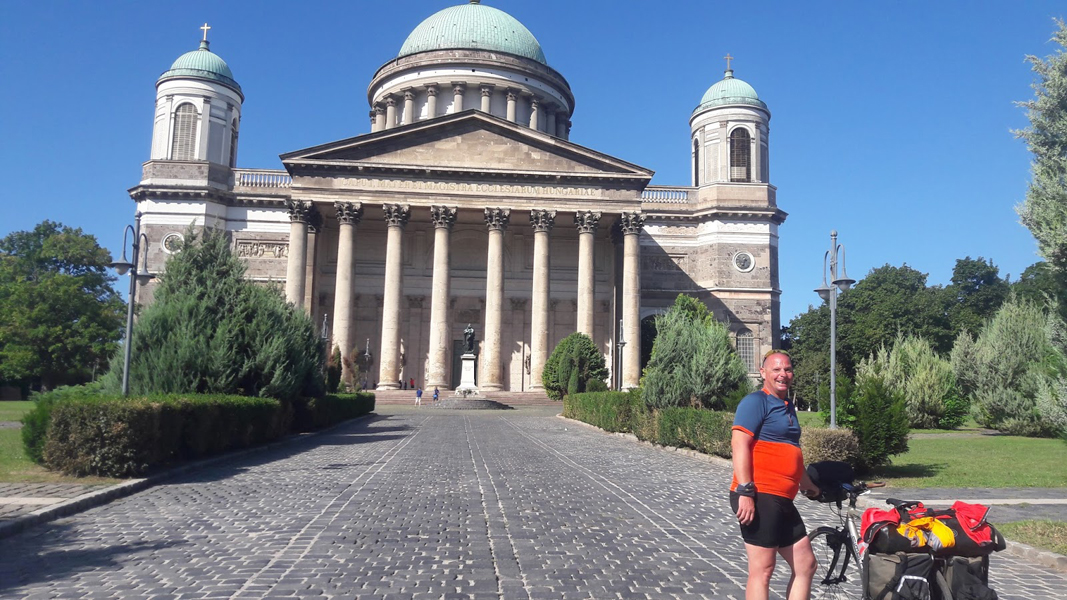 At reception we were delighted to meet a different manager, & one who spoke English. He asked us for the payment, & defensively denied that anyone would have taken money from us overnight.
"He is the night officer, & he would never do that. We also have cameras. No money was taken over night"
Horst interrupted, "I witnessed him returning their money..."
The guy continued to ignore us defensively, obviously in on the whole charade himself.
Horst told us that this even happens in Austria. A sneaky way for campers to have to pay twice. Outrageous! So we actually got away with it, by staying until reception opened at 9am. I don't understand, however, why he returned our money?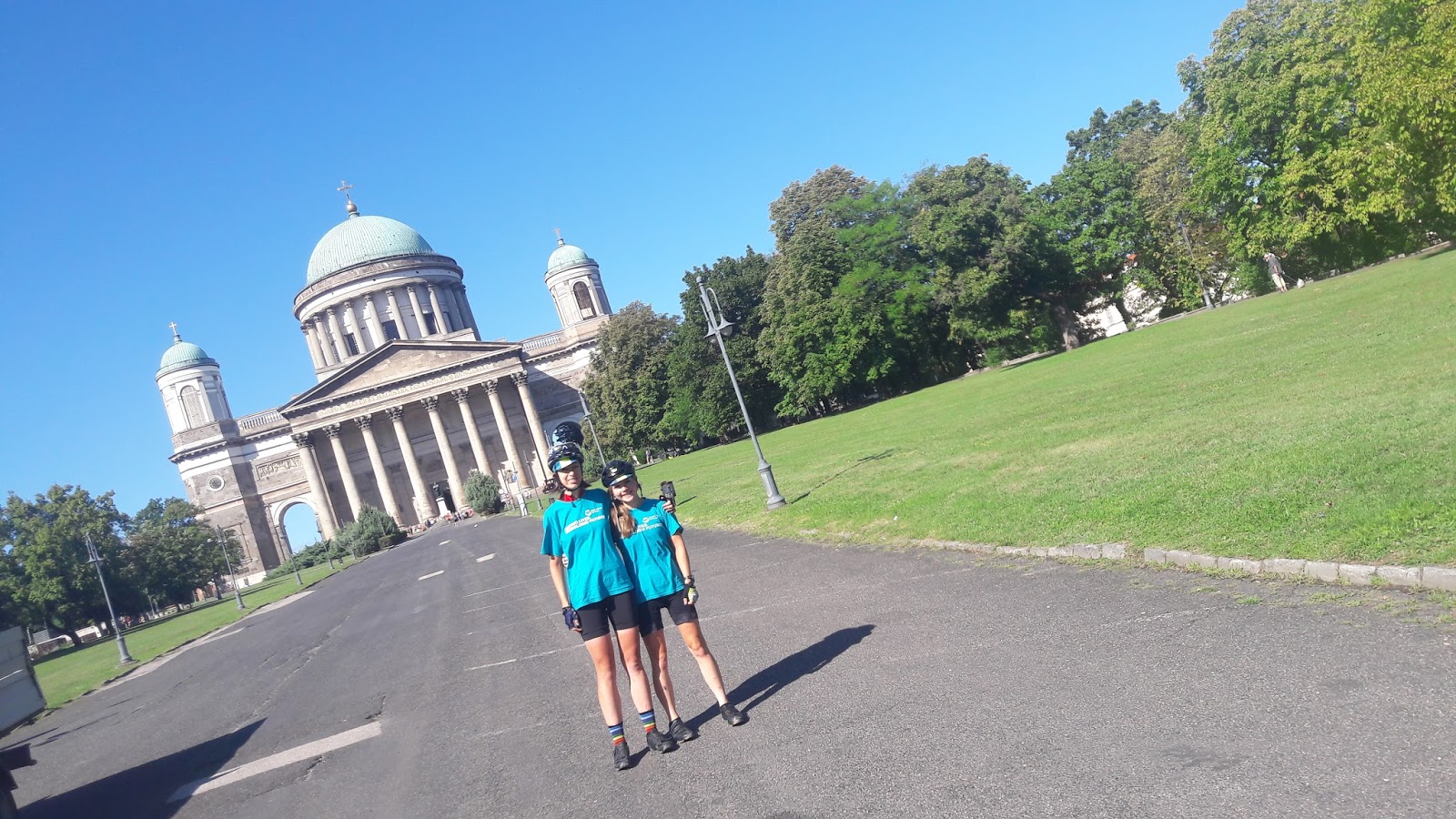 Right, we quickly visited the grand exterior of the largest Basilica in Hungary with our new Austrian friend. It would have been lovely to have spent the day riding together, but he surprisingly wanted to stick to the flat route, & not join us for a mountain detour (next time, Horst!).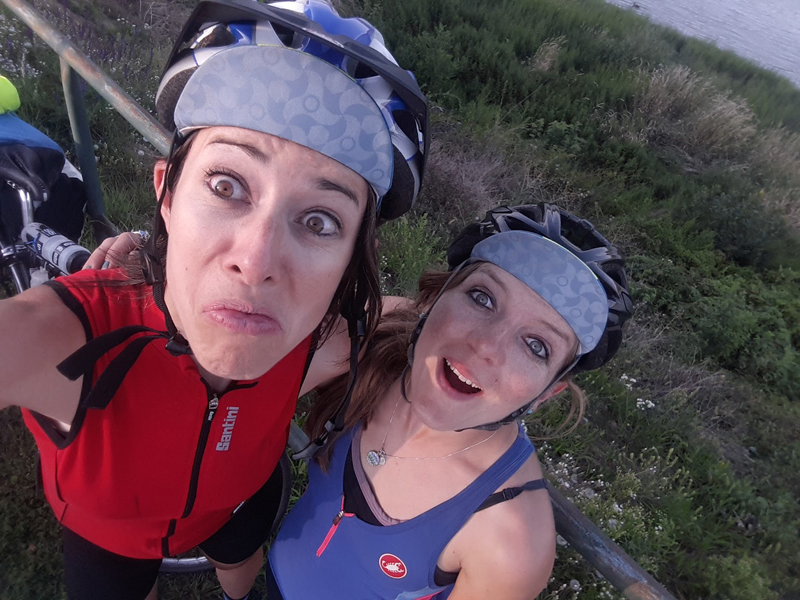 Oh cycle path! Oh wait..gravel :/
I also love when I told him of my goal to average 100 miles per day for the whole of Europe,
"you can't do that!" he said.
"I already have!" I replied.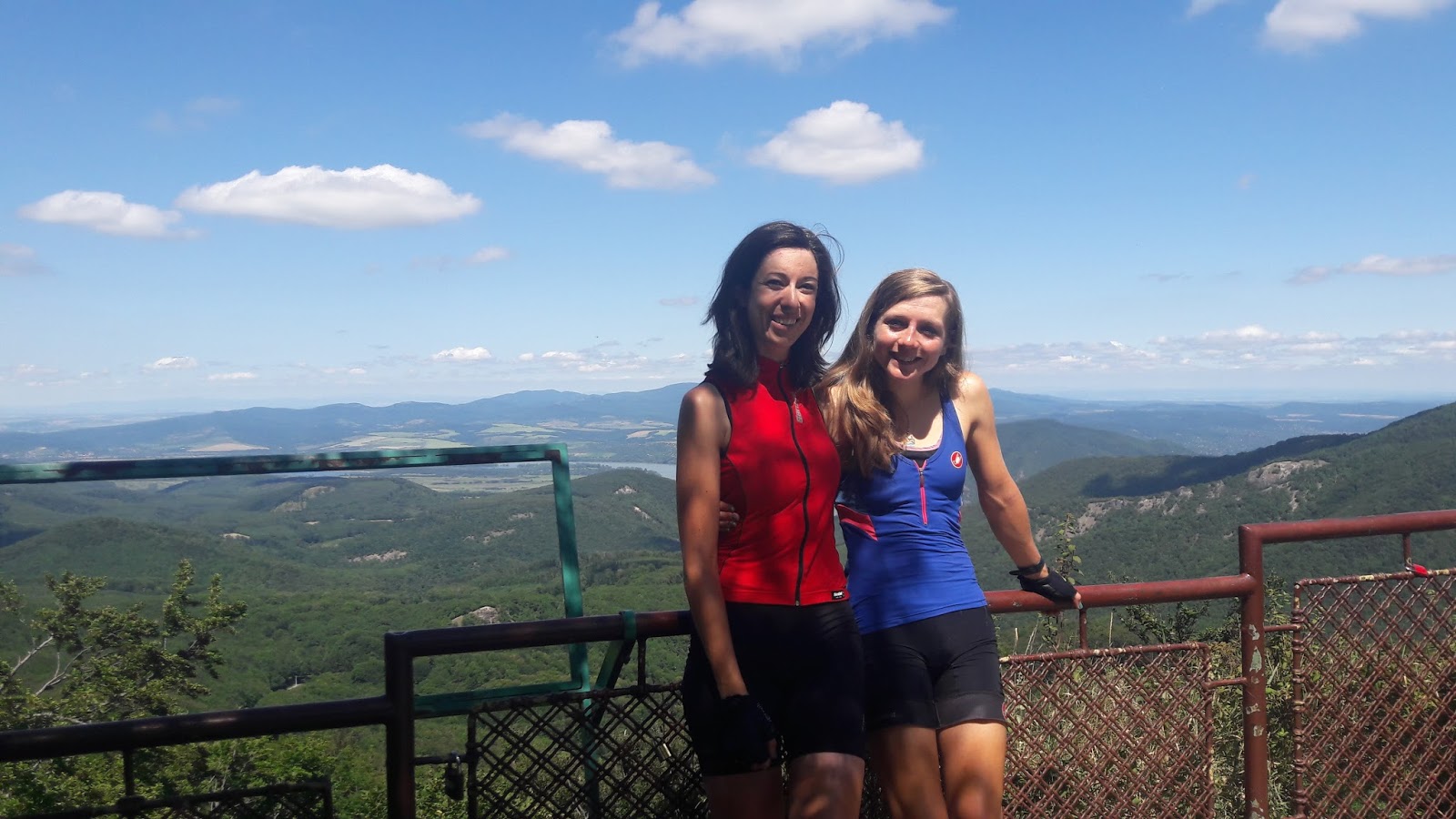 The forested Pilis mountains were a welcome change: it was great to get the heart rate up, & to experience some refreshing descents. Another benefit of choosing mountains is that they're a lot cooler!
View from approx 650m above sea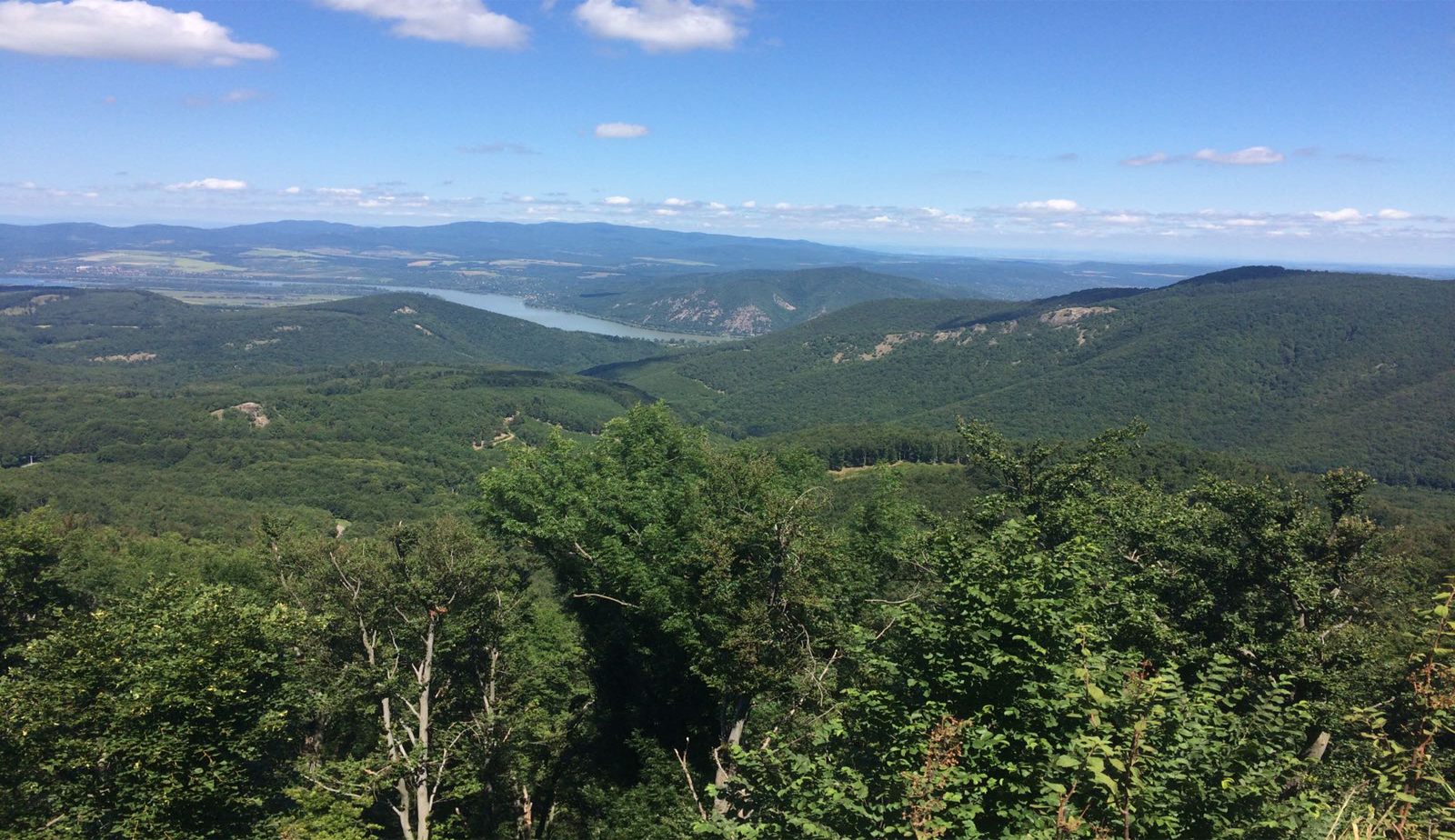 This shorter day meant that Sonia & I could actually CHILL a bit when we had stops, & even talk! Not constantly rushing or planning the next section or calling bike shops.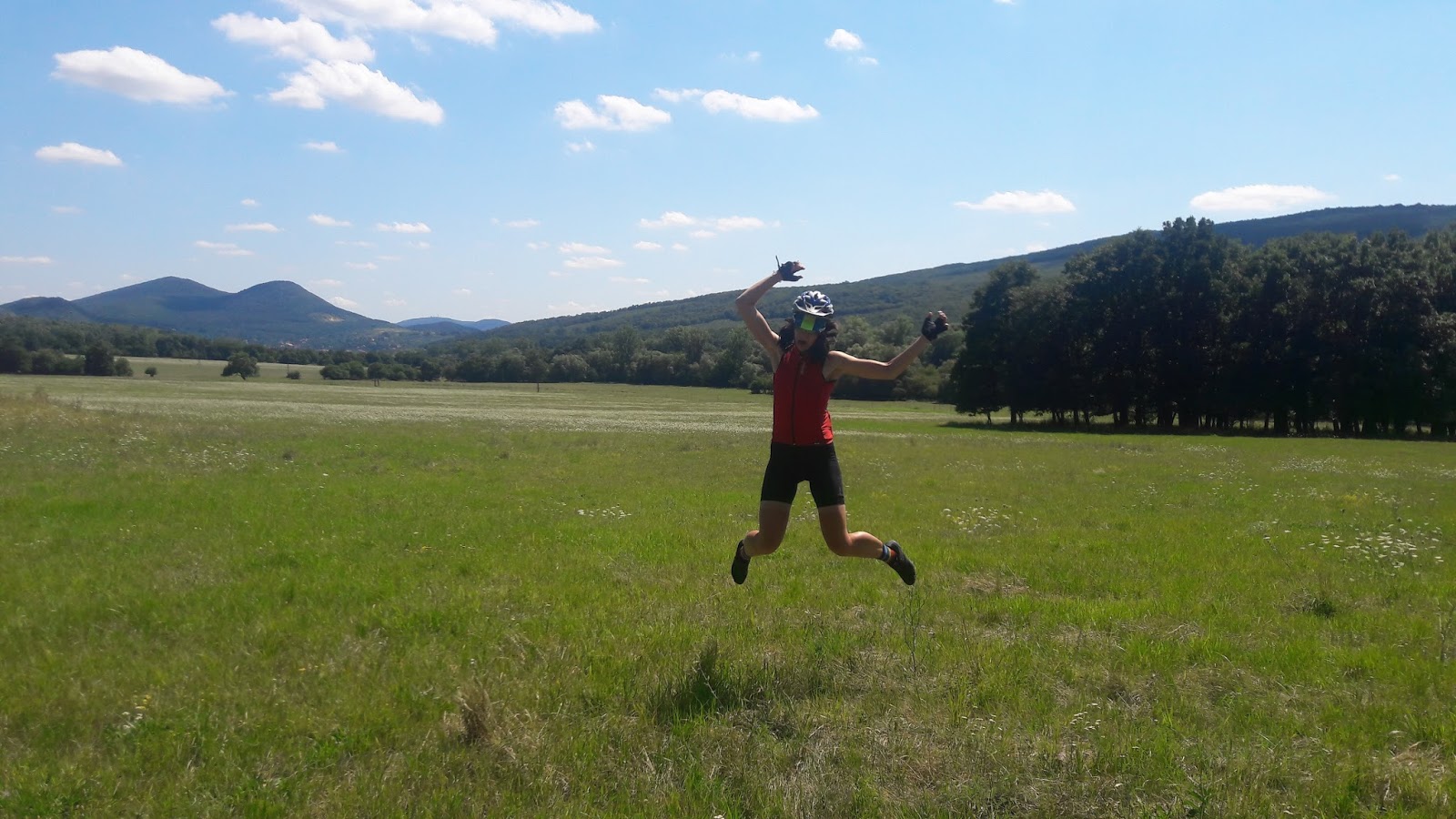 Relaxing ride = more time for photo poses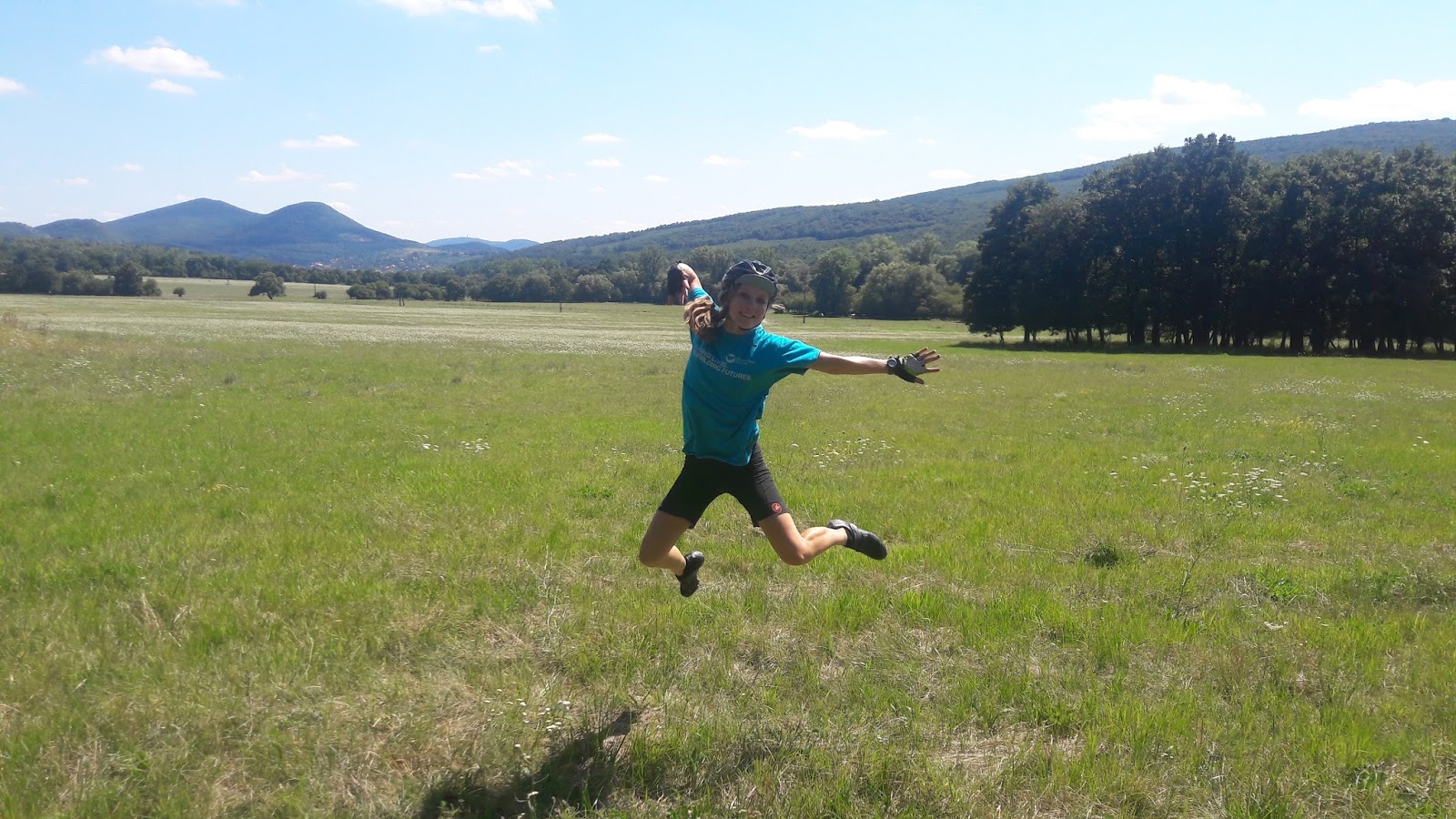 Unfortunately we ended up on the main road into the capital city of Hungary, which was pretty damn busy... a lot of cars & lorries got far too close for comfort, & there were some frustrations with trying to communicate with each other about where to go.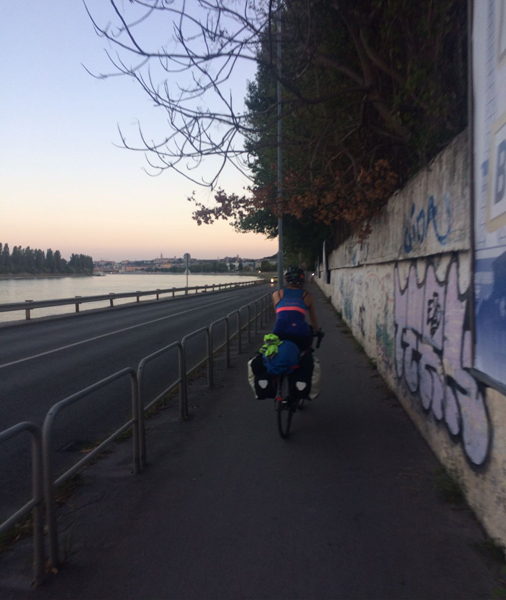 At last a short but good cycle path lead us to the distant vista of Budapest! How lovely it looked, beaming in the evening sun.
The interesting & extravagent gothic architecture of the Parliament building is the main feature that sticks out on the approach.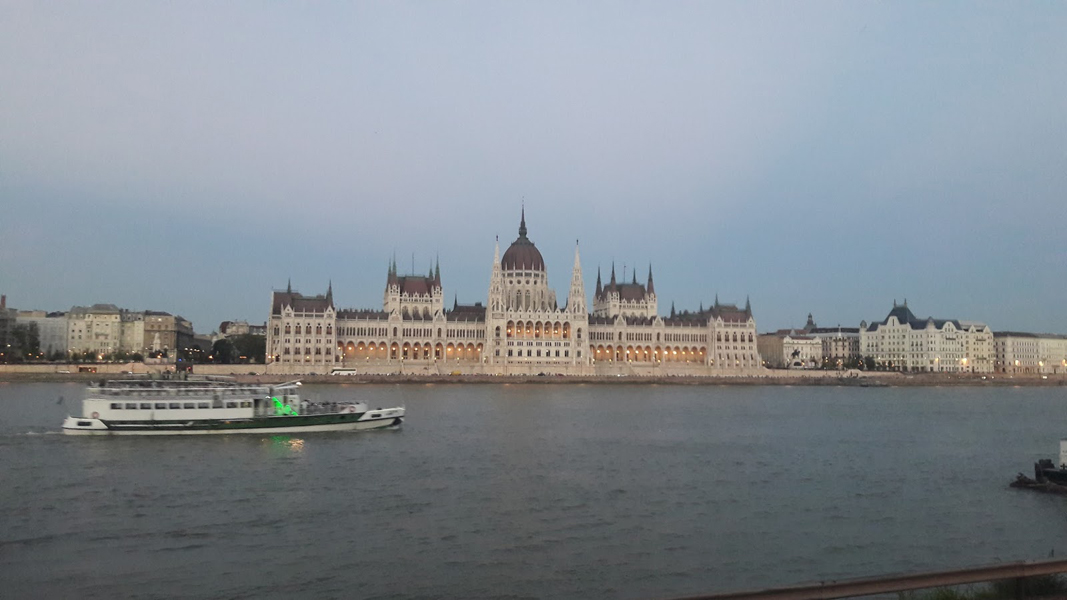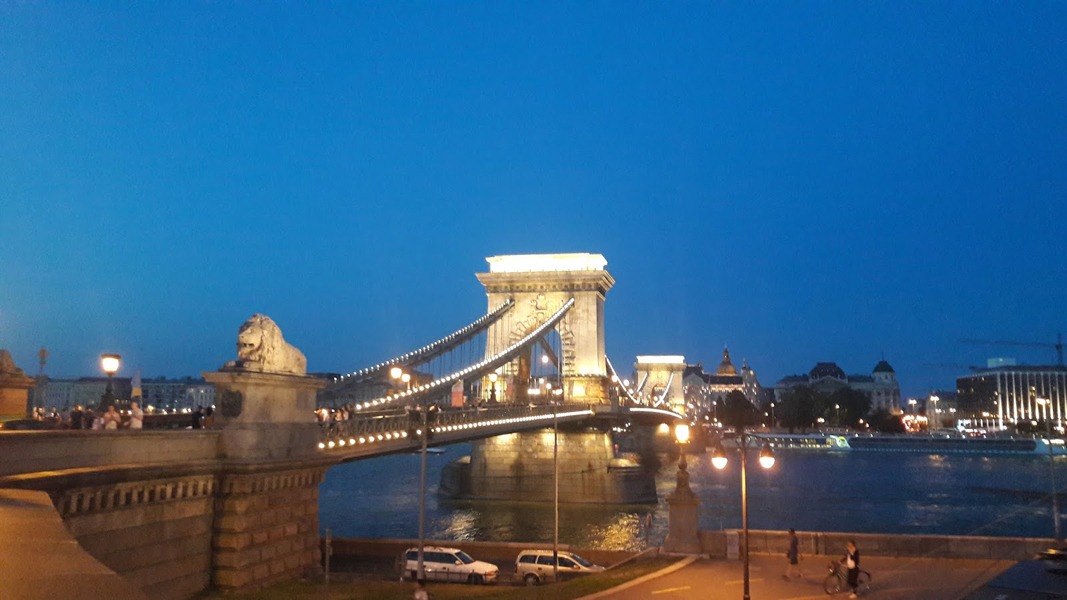 On our way to our accommodation we passed a Hummus Bar. Absolutely perfect. We had multiple dishes for only 7 pounds each, before being chucked out for closing, damn!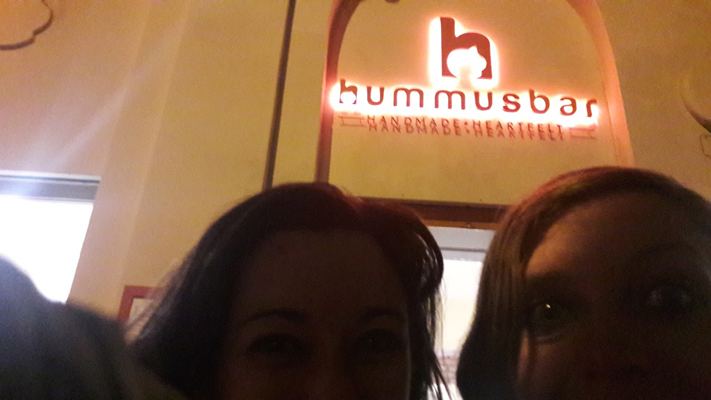 A struggle getting the lift to our flat!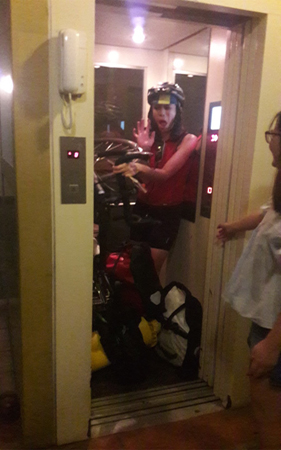 TOTALS
Days: 47
Miles: 4,655
Thank you for your interest! If you could kindly support the ride by contributing to aid in Syria, I would be very grateful - www.alaina.org.uk
Thank you!
Alaina Beacall
Return to Arctic-to-Med Blog contents
Return to Blog Main Page