Made it to Tromso - my first city! Another 80 miles down, and more ridiculously beautiful mountains. Total 330 miles, only around 4200 to go!
Day 5: Storslett to Tromso - 80 miles (130km)
Woke up super early, despite the late night, to have plenty of time to catch the ferry I needed! It was a pleasant 38 miles to Olderdalen from my campsite - only one real climb, which gave me a nice view of Rotsundet water, framed by mountainous islands. This then swooped me down along the Lyngen fjord. My God. The Lyngen Alps are magical.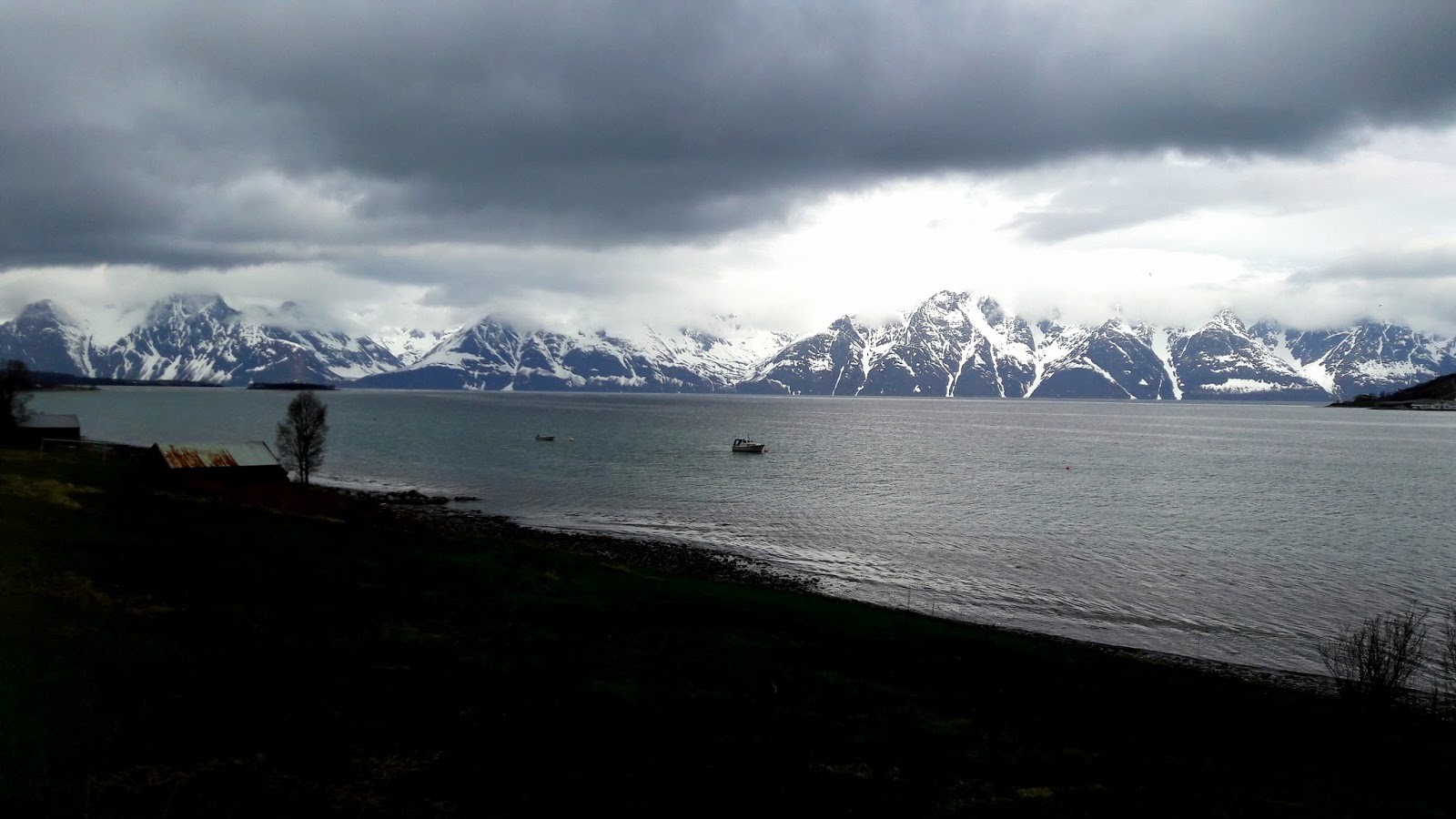 What looks like orderly rows of white mountain after white mountain, and it just keeps on going!
Scouser in Lyngen?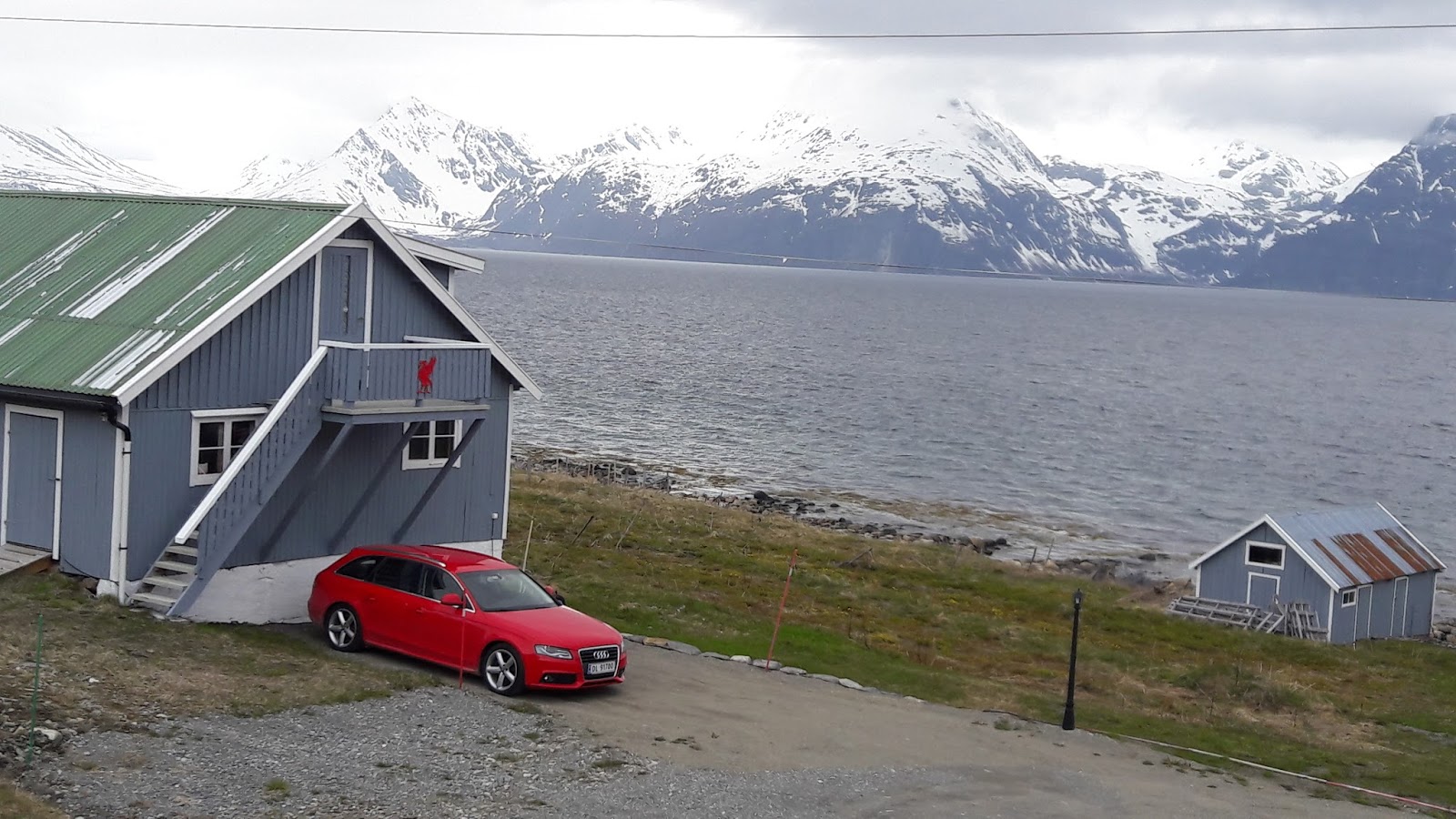 Got to the tiny town of Olderdalen with over an hour to spare, unfortunately as it was a Sunday, this place looked like no one had lived there for years. A group of Canadians showed up and asked about the ferry (if it was even going to show!), and then I told them my plight - toilet requirement, and ideally food top up. 5min later they ushered me over to an open tiny gas station, yay! Annoyingly it only sold chocolate bars and pringles, but at least i could pee in a dignified way.
View from the climb alongside Rotsundet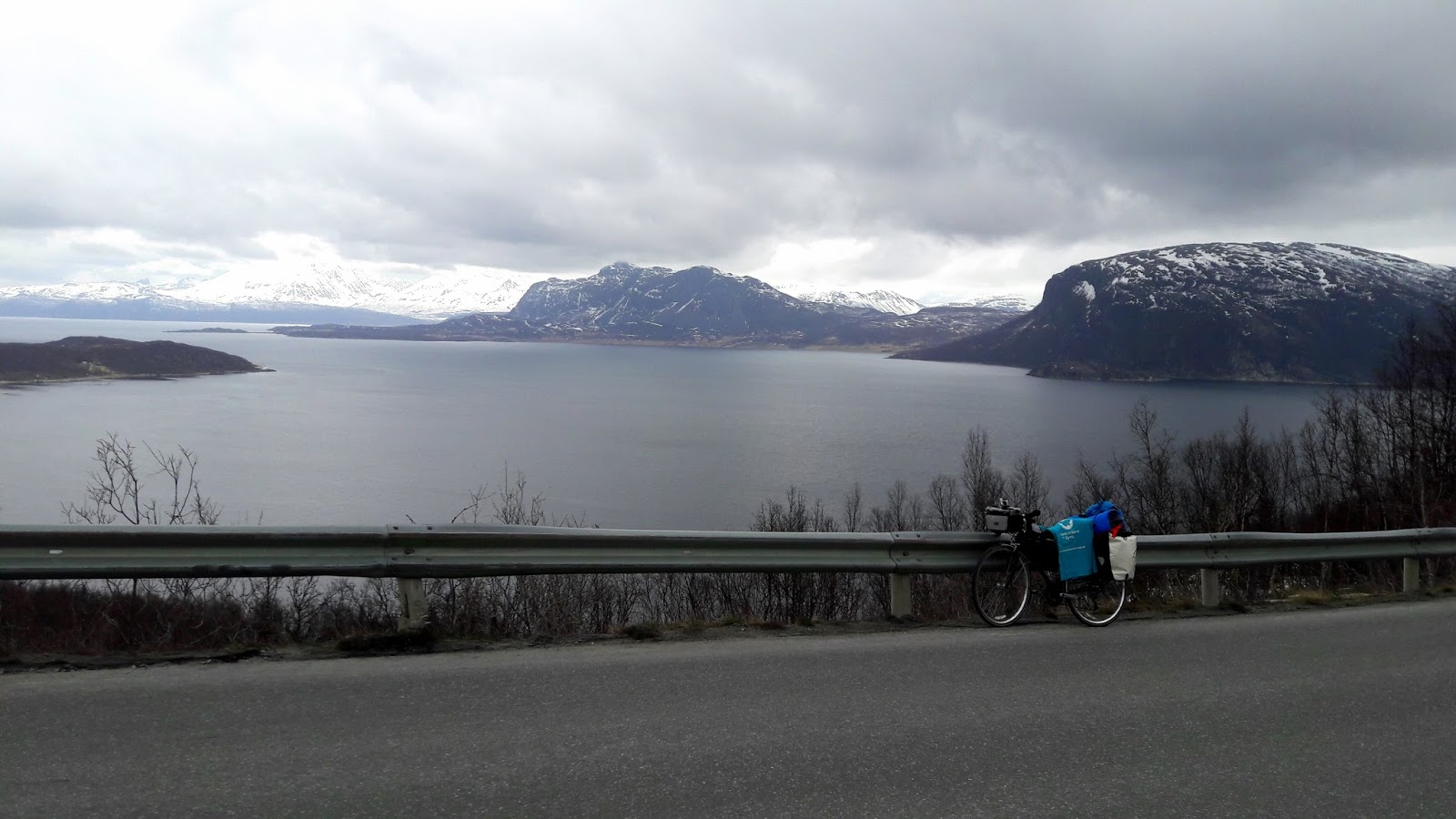 The ferry arrived, and was free for cyclists, woo hoo. 35min later I had a time trial (haha not quite) 14 miles to get across the Lyngen Alps road, to reach the other ferry. On this final ferry I met Frenchman Claude, who was a local cyclist, and had moved here with his Russian wife 30 years ago. Upon asking if he knew of any food shops that may be open in Tromso, he immediately telephoned his wife, and invited me to dinner!
Lovely Frenchman Claude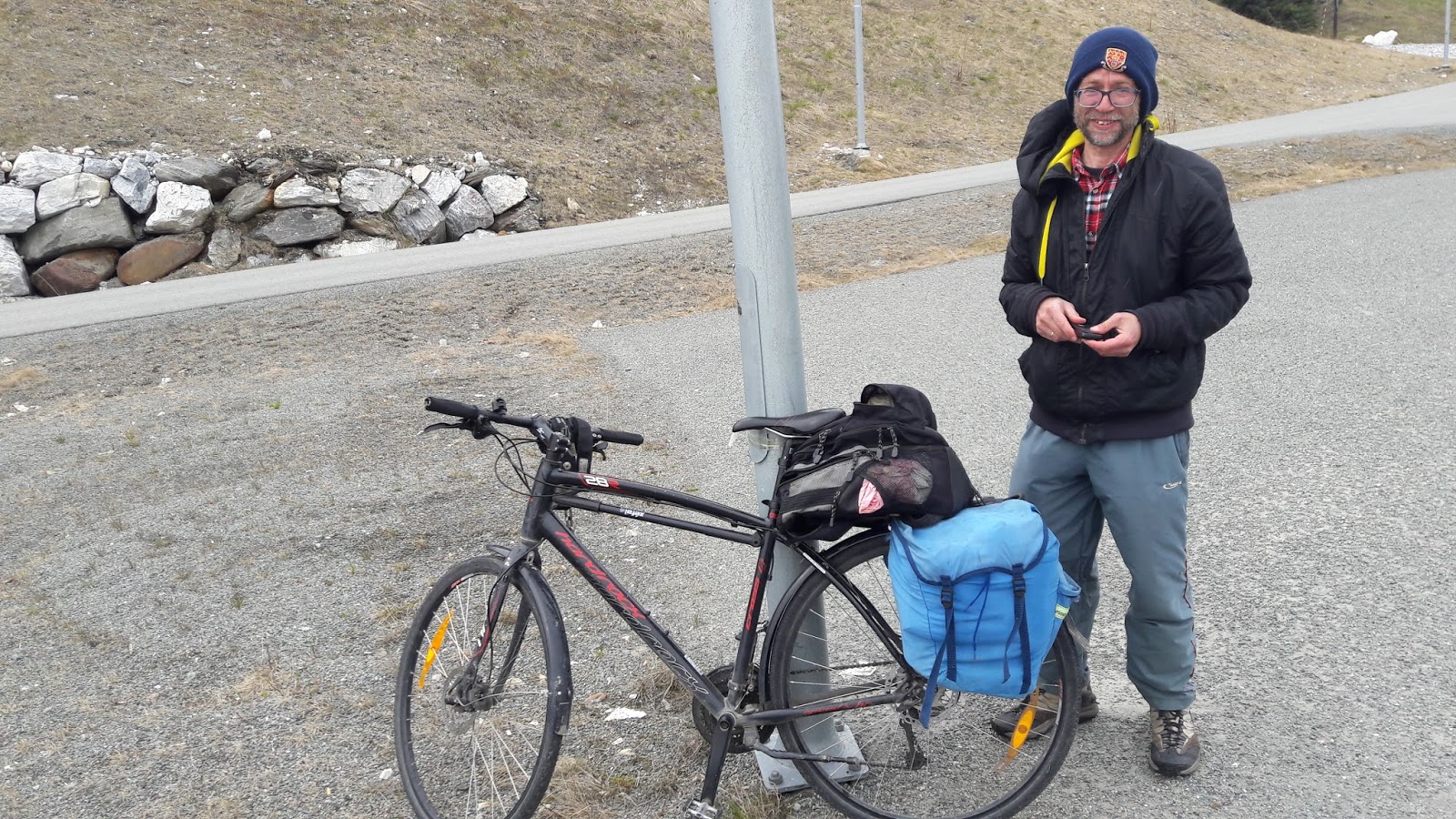 Dinner was meat soup... but he also partakes in 'Warmshowers', where local cyclists host traveling cyclists for free! Unfortunately with the panic of the long previous day, I had already booked myself into a hostel. I still had another 30 miles to do (and may have found a potentially open vegan restaurant to go to!). What an incredibly kind offer though :).
I should make the point now, that my days have been brightened by the people I have been meeting. Not only from chatting to them, but even on the road, as I share a wave or a thumbs up with about 80% of motorcyclists and touring campervans. This sort of kindness is so genuine, the only motive is to be nice. Right, gooey stuff over with!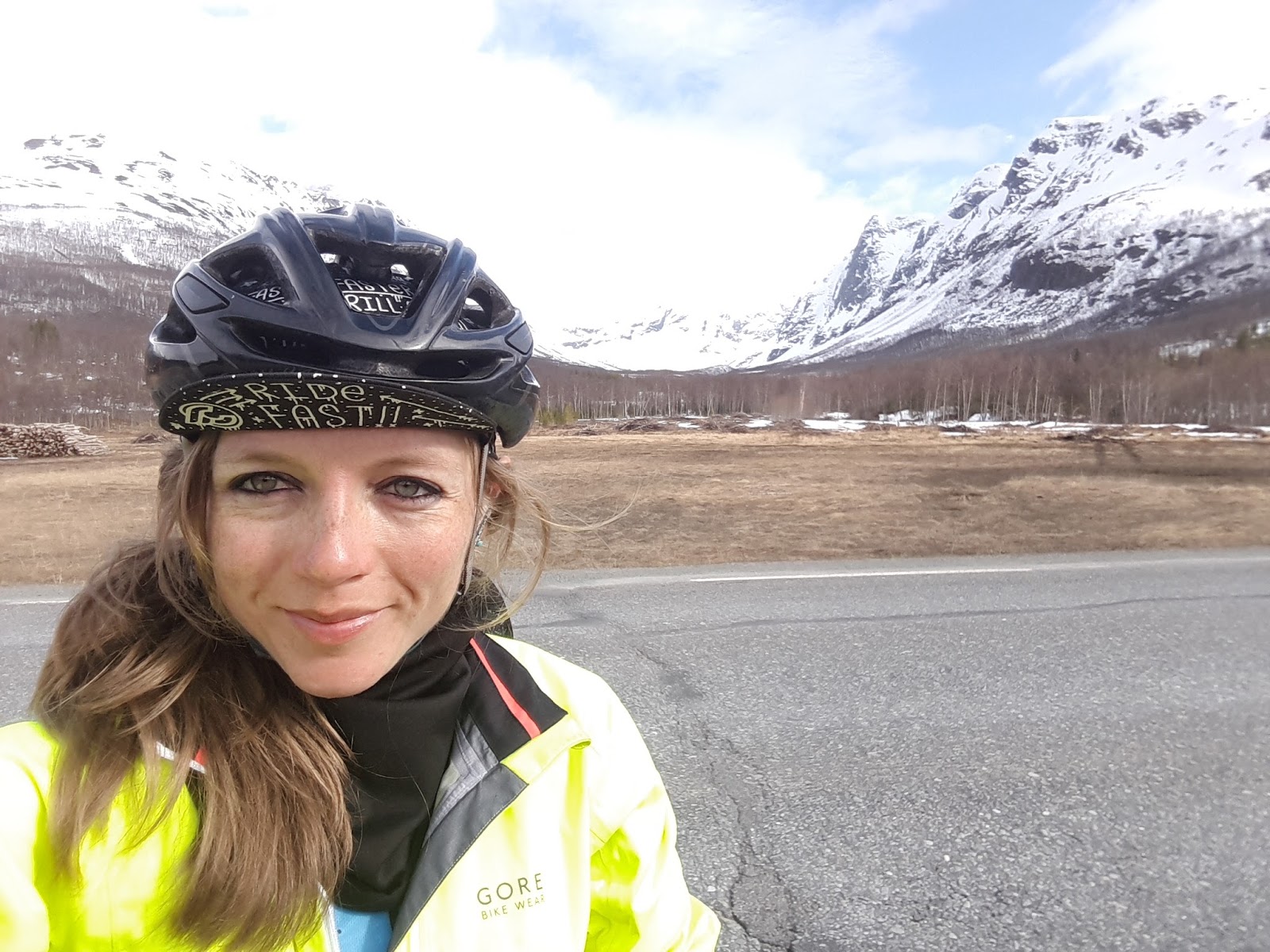 The 30 miles into Tromso was great. Some forrested areas running behind rows of curved snowtopped hills, led me eventually to an open and beautiful fjord scene (not another one!).

With good ol' Ed Sheeran and an evening sun keeping my spirits high, I rolled into the city of Tromso.
Tromso with its iconic bridge, and Arctic cathedral (right)
I devoured my first meal 'out': a lentil burger with wedges, at a vegan café :). By the way, if I haven't already told you - Norway is unbelievably expensive. Standard meal is £20. My apple juice that night was £4.50. Geez.
Will make tomorrow shorter due to my knees...
Video:
Alaina Beacall
Return to Arctic-to-Med Blog contents
Return to Blog Main Page