Waterfalls, no sleep and Norway's Amalfi coast
Day 22 of riding | Balestrand to Voss | 66 miles | 106 km | Ascent: 1,000 metres
Beautiful fjords, waterfalls & people, terribly unlucky night.
Waking up naturally & earlier than planned afforded me some extra 'chill' time this morning, so no rushing to catch this ferry, I thought. Of course an extremely sweet Dutch couple started chatting to me as I was packing up my tent; the guy even wanted to look at my bike to help with the gears. I realised I was now slightly late, & whilst whizzing to the taps to fill my bottles, a young lady from India approached me, "are you cycling around here?!". I wish I had the skills to not be chatty with people, in a polite manner. Or maybe I need to look more scary & unapproachable... I'll work on it.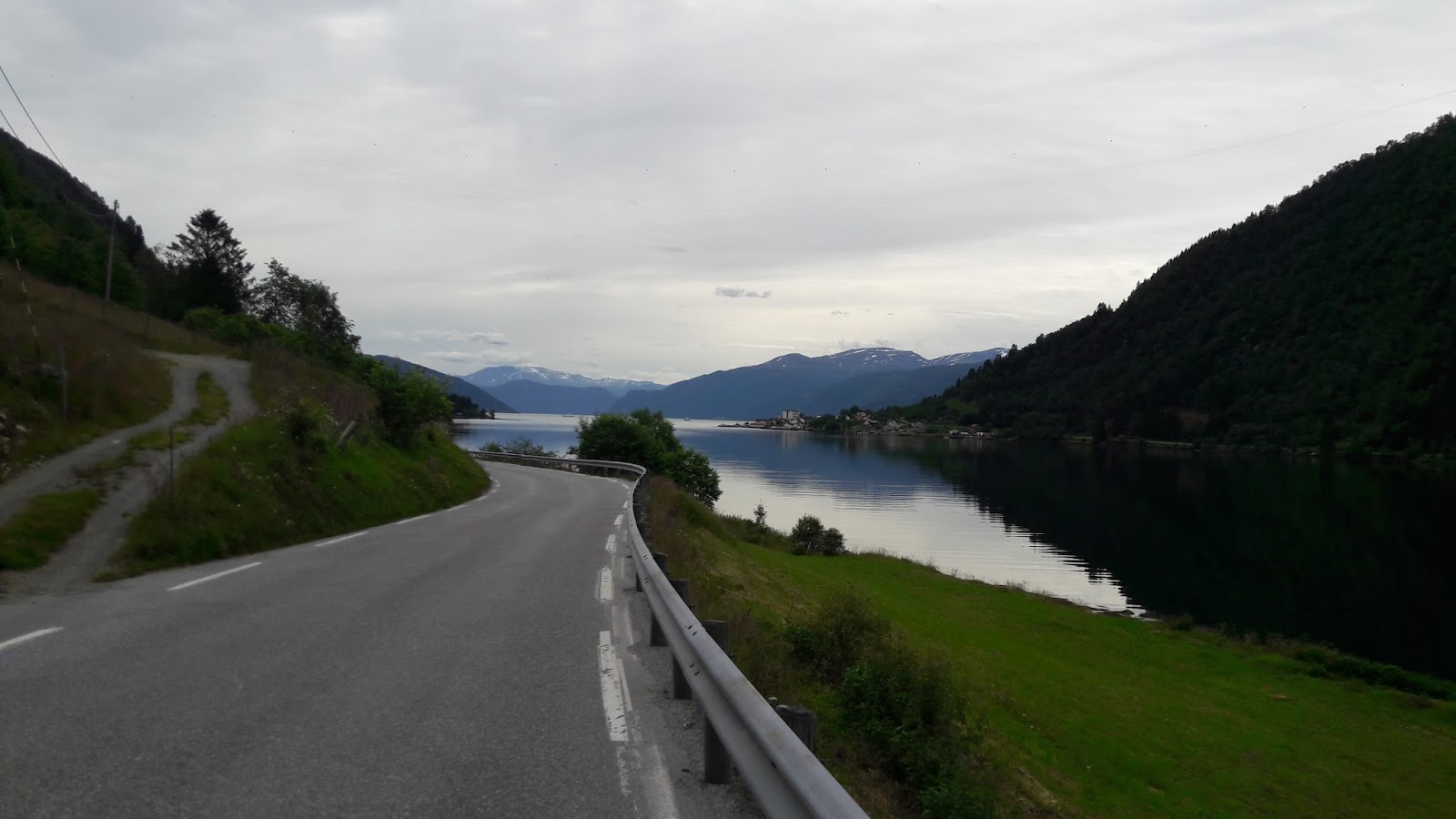 The bay between Balestrand & the ferry terminal at Dragsvik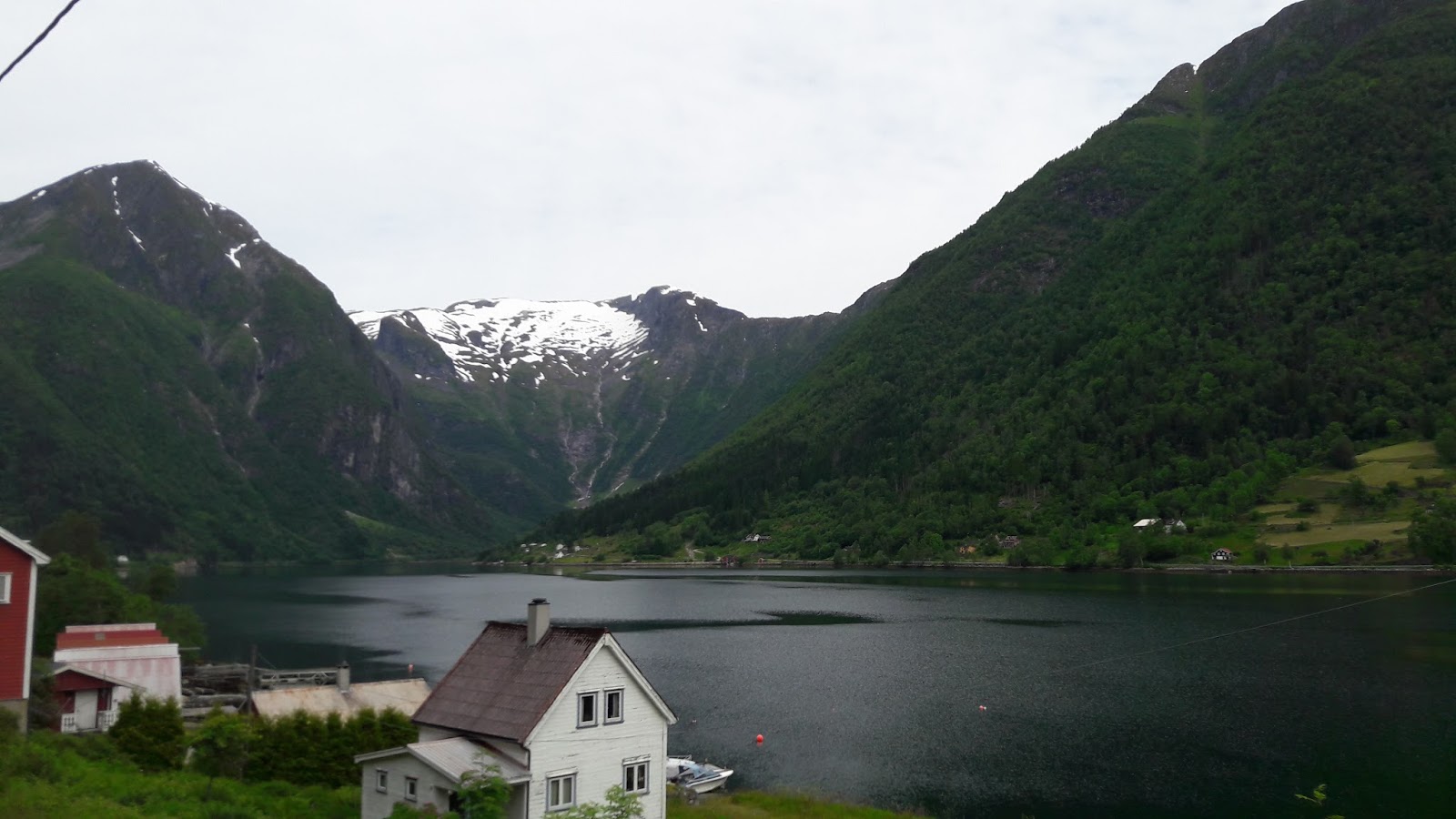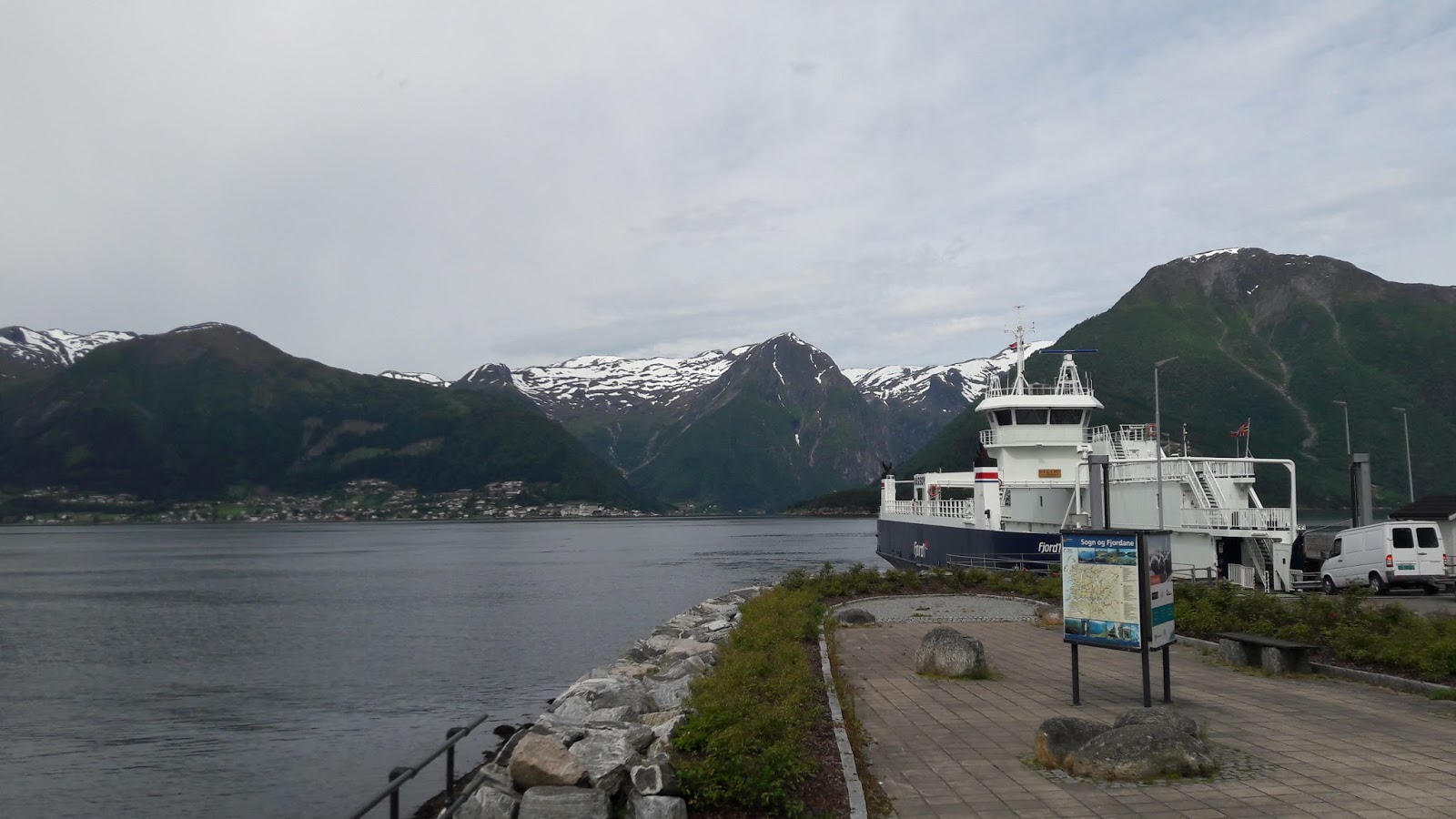 Ever so slightly stressed (as I had another ferry, only twice per day sail, to catch on the other side) I ripped that lumpy 10km coastal road up to arrive very early. Ohh yes!
Sognefjord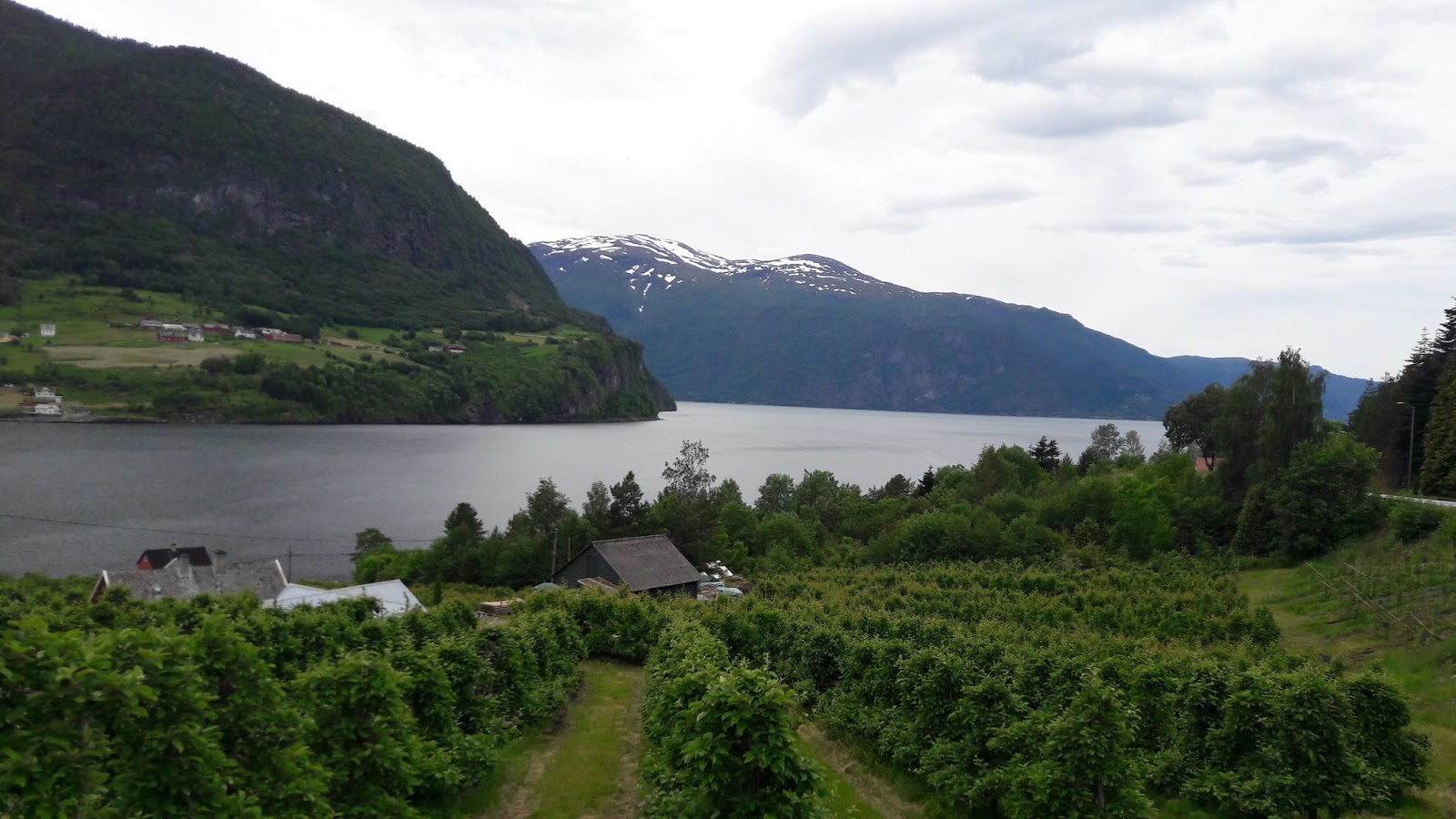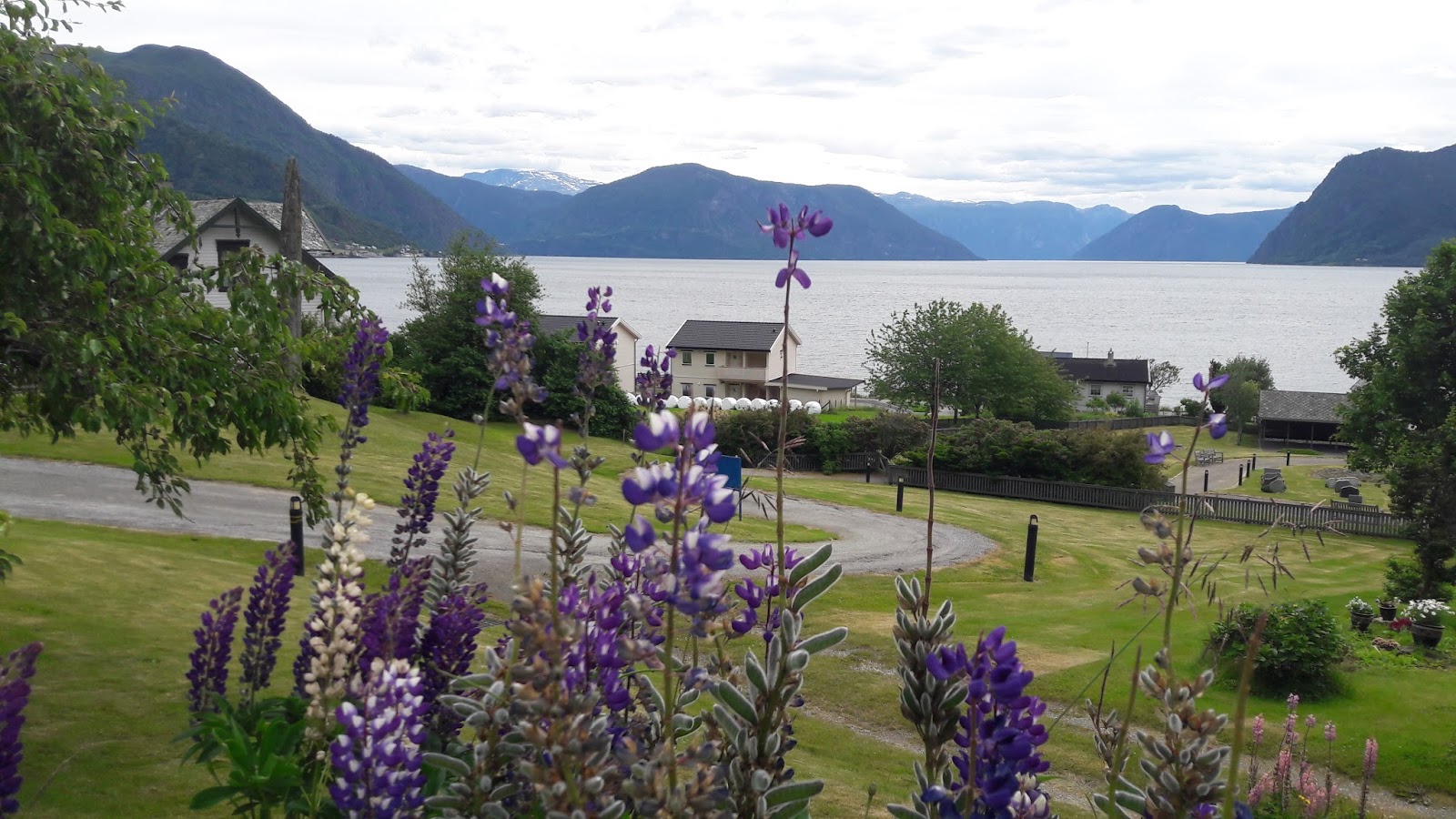 The next 30 miles were from Hella to Kaupanger, along the pretty northern Sognefjord coastline: Europe's largest fjord. Passing some small towns (espresso time!), & the roadside waterfall Kvinefossen.
I found a photographer, oh yes!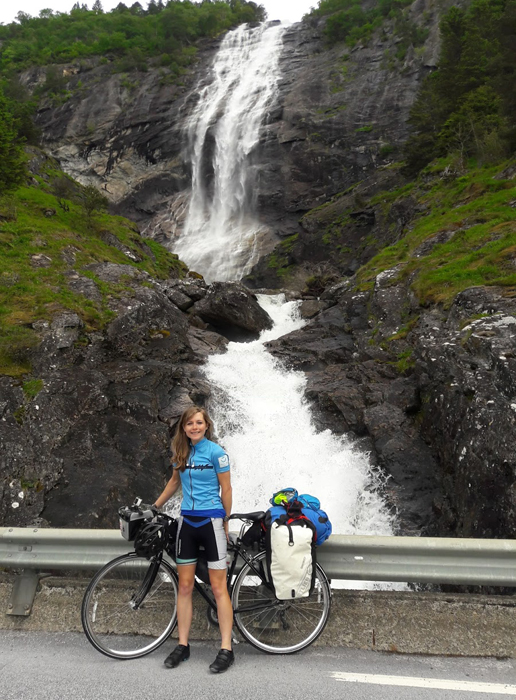 I easily caught the ferry that over 3 hours, takes you down the UNESCO listed Naeroyfjord. Sharing this boat with a group of touring Americans, I caused a little stir, "how old is she? She's doing this alone?" I overheard. The best was, "do you have a firearm with you?"
Ferry down Naeroyfjord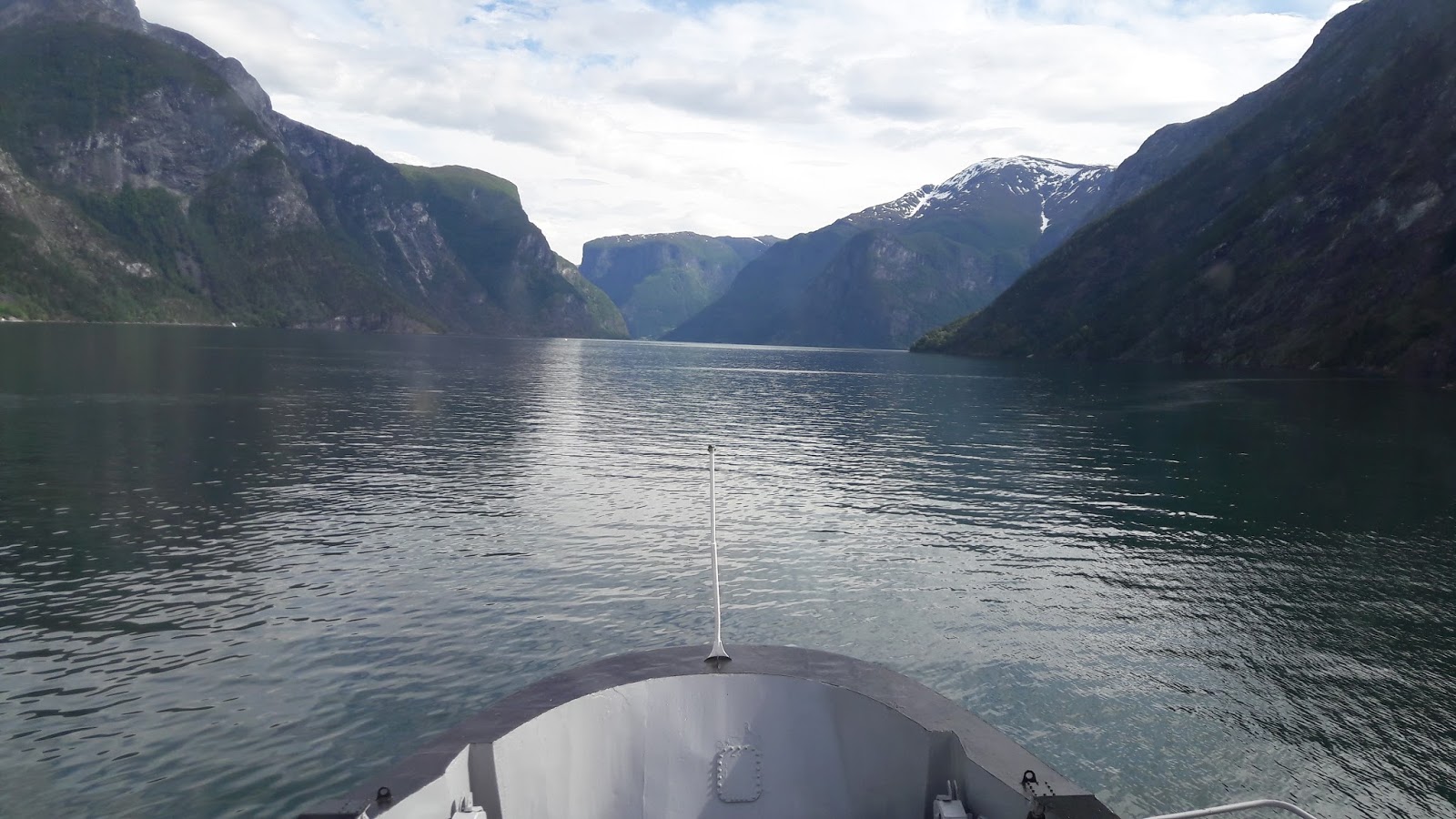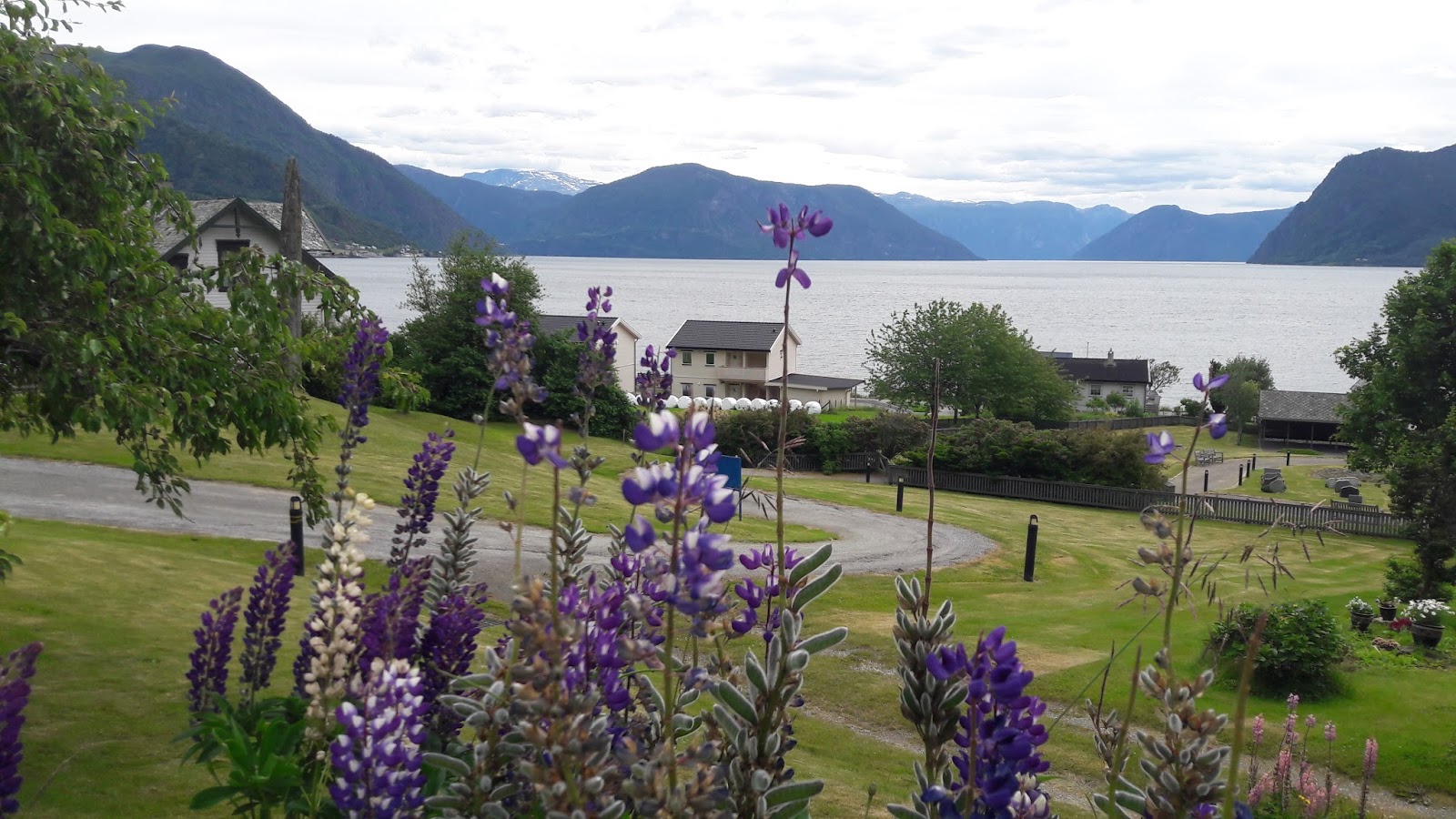 I enjoyed the company of a couple from Seattle: Pat is an artist who produces textiles by working with an almost fairtrade-like company, shopvida.com: they highly & fairly involve people in the third world for the product manufacturing. Her Greek husband enthusiastically invited me to stay with them when/if I go to the states. So nice!
My Seattle buddies!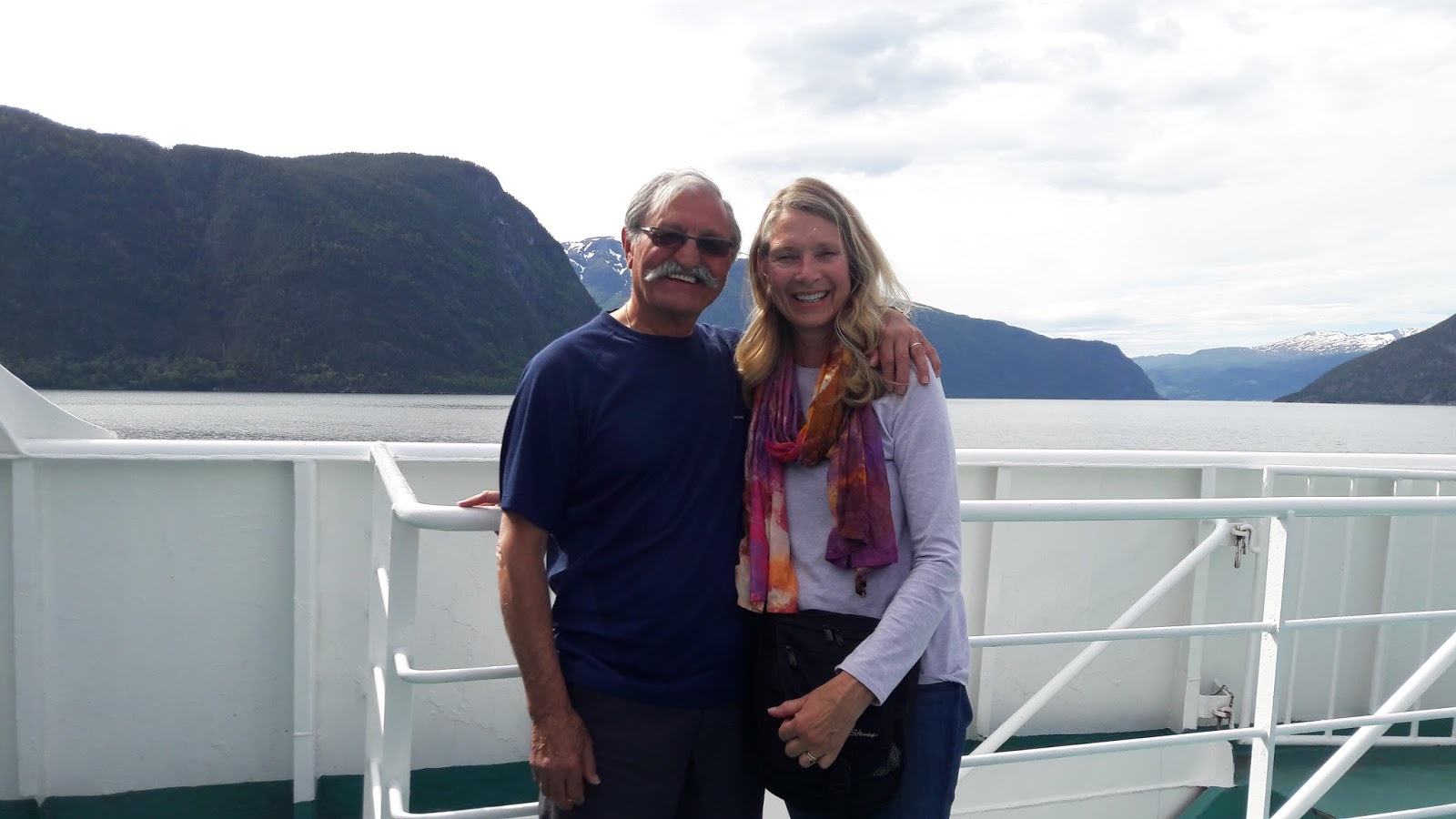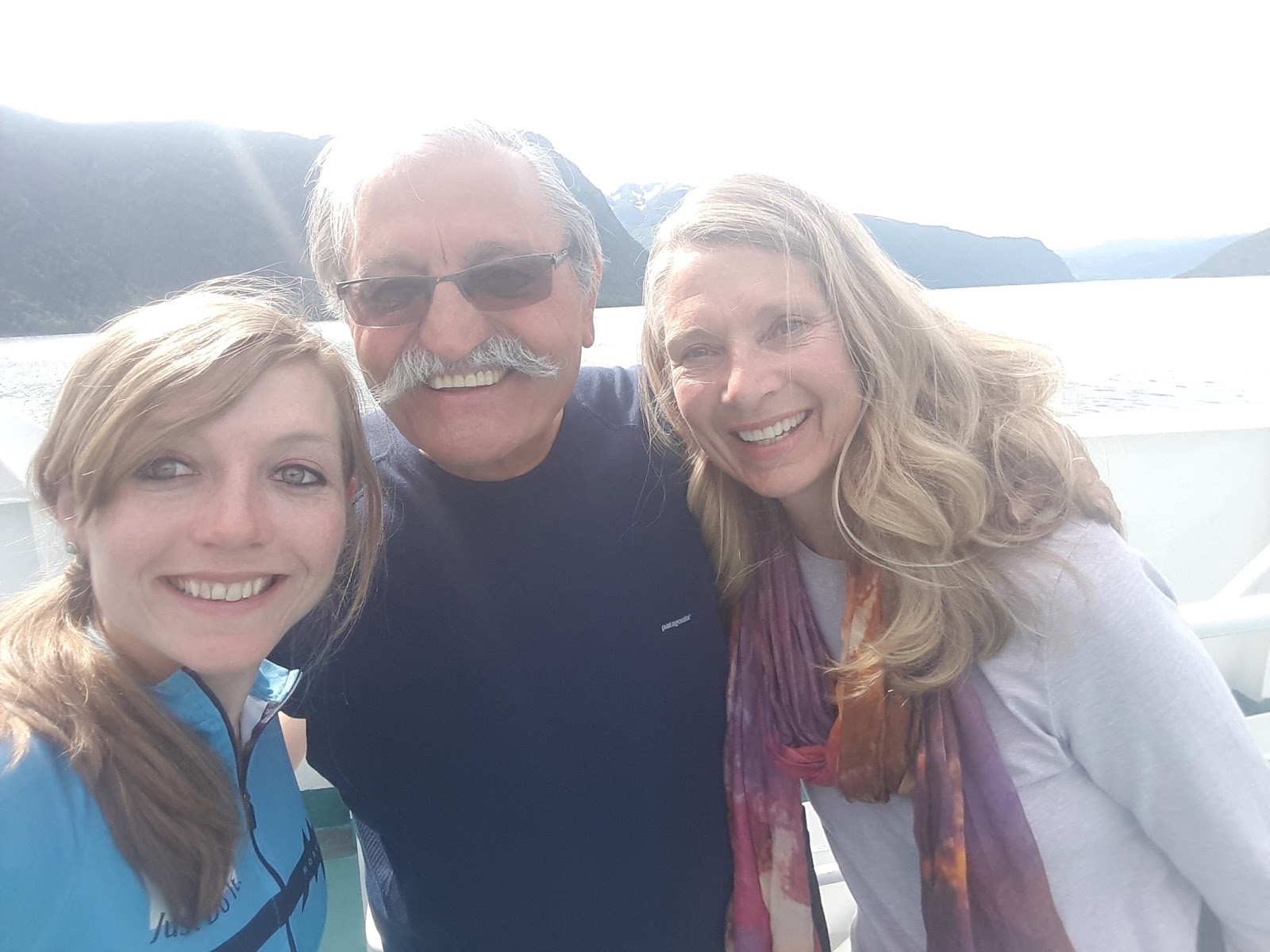 The fjord was as mystical as ever: steep thickly vegetated cliffs dramatically dropped to the deep blue waters, every so often laden with white veins connecting the snowmelt to the fjord. Naeroyfjord is quite narrow, so the jutting out rock faces act like curtains, hiding & building your anticipation for the next fairytale scene.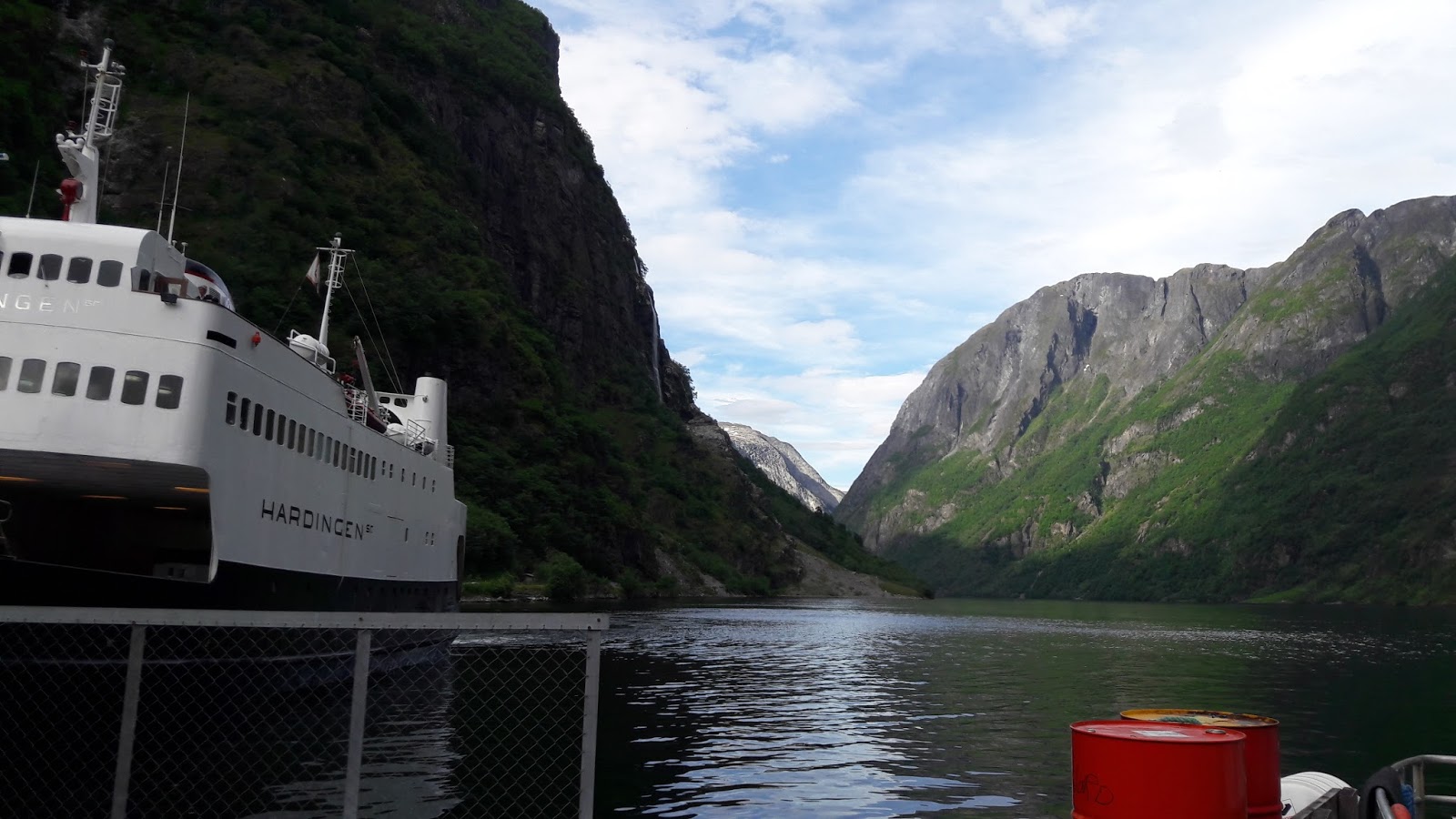 Ok, so it was just after 18:00, & I disembarked at Gudvangen; lying at the mouth of a steep valley, absolutely teaming with more cascading falls. I took a moment to appreciate their difference in character: whilst the angry almost impatient power of a big fall is impressive, I quite like the delicate nature of some, as their lifeblood can look like powder falling through the air. I think one could become a waterfallologist living in this country!
White powder falling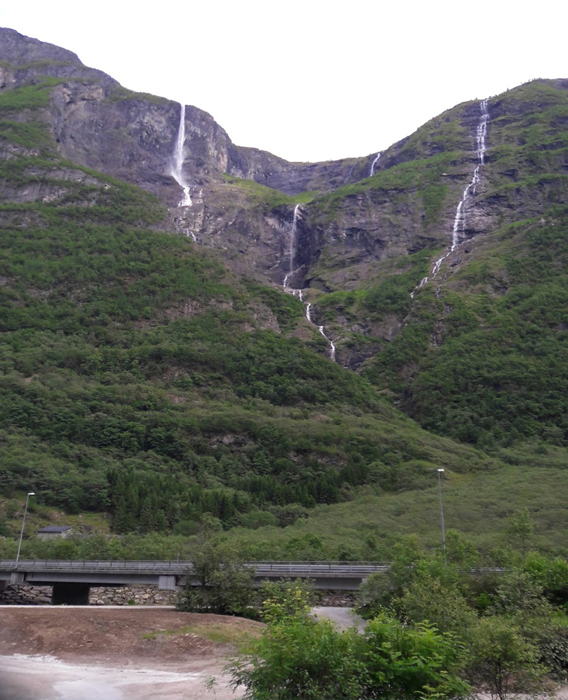 Despite my surroundings I was feeling pretty tired, & unhappy at the prospect of another late arrival, especially as there was a big ride the next day. Keen to avoid any unnecessary hills or diversions, I stuck to the main road, avoiding any cycle signs. Unfortunately that lead me to missing a stunning waterfall viewpoint (& apparently a great cycle climb dubbed as Europe's steepest Km), & instead, took me through one of the longest, most exhaust-filled uphill tunnels I've experienced yet. There was no distance sign outside, so I think the fear of the unknown really got to my head in there, " is this even legal for cyclists? This could be up to 10km long, I have no idea! Just stick to the edge, but don't get caught on the lumpy bit on the roadside as falling off into traffic is not a good way to go..." were some of my thoughts. I obviously made it out alive, & a good thing too, so I could enjoy the spectacle of probably my favourite waterfall so far: Tvinefossen!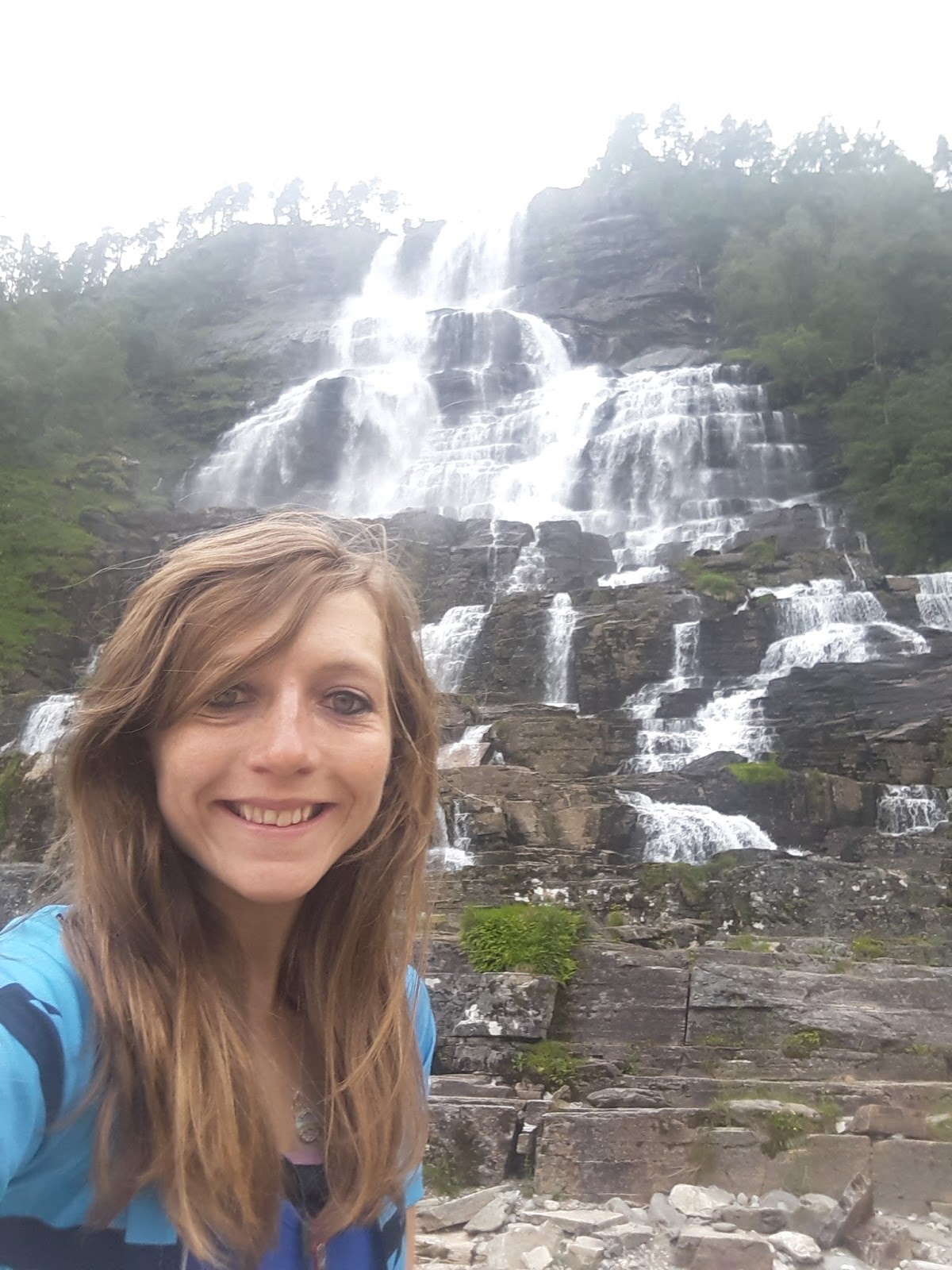 A good thing to make it out of a tunnel alive for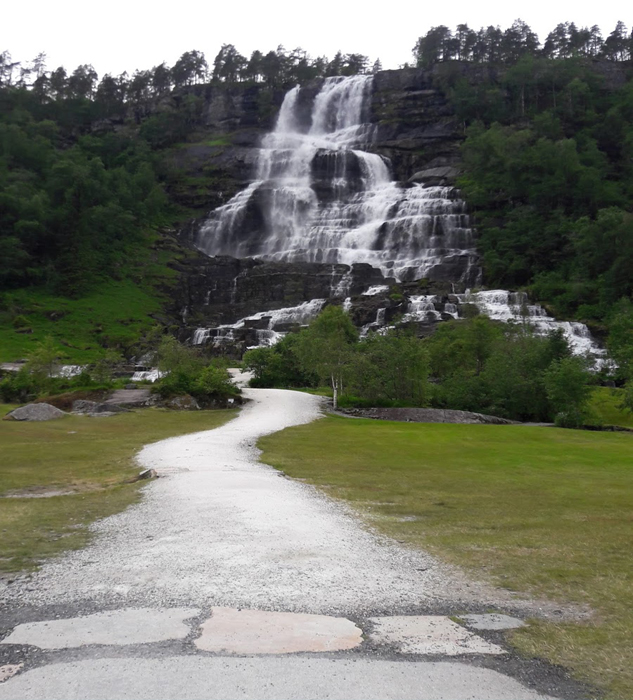 I couldn't wait to try to catch up on sleep. I finally arrived at Voss, Norway's 'adventure capital'. Of course they were currently hosting the world's largest extreme sports festival. This would have been so cool, under different circumstances. Instead, I had to pay around 30 pounds for the privilege of camping there, to not even get any sleep. Even better, my tent was pitched on a very down-sloping patch which I kept falling down during the night, next to partying tents & cabins.
Also on arrival, my shoe was stuck to the pedal! One of the bolts had fallen out, so the cleat (metal that attaches the cycle shoe to the pedal) had twisted. Took me a while to retrieve. I had to laugh at this situation (always better than crying, eh?) whilst tired, smelly & hungry at 2200.
Ha ha classic!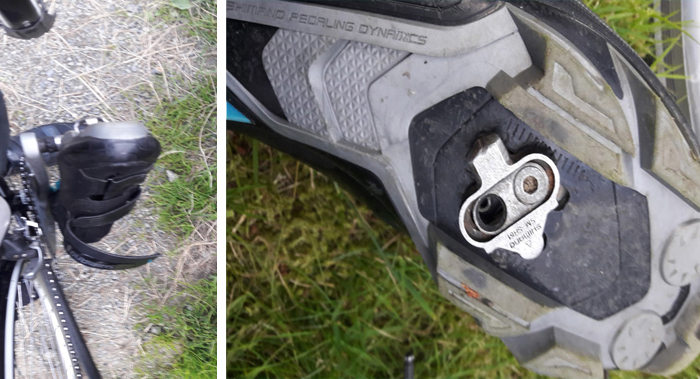 Not that I've even had any major 'disasters' yet, even when my cable snapped in the mountains, but I'd like to think I'm quite good at coping with problems. In my past it's been noted that I've been quite unluckily laden with mishaps, but this has just served to make me not dwell on things, & just focus on a resolution: a useful mentality for trips like this.
In case you're interested, I even wrote a song about a hilariously unfortunate week I had once, called "It's Fine!"
Voss to Bergen (along incredible Hardangerfjord)
Day 23 of riding | 103 miles | 166 km | Ascent: 1,880 metres
A shame the music that kept me up until 4am was quite good, I should have joined the party!
Groggily got my stuff sorted to be on the road just after 10:00. The sun was blasting, wow, it's going to be a beautiful day!
Oooh Hardangerfjord, ain't you a beauty!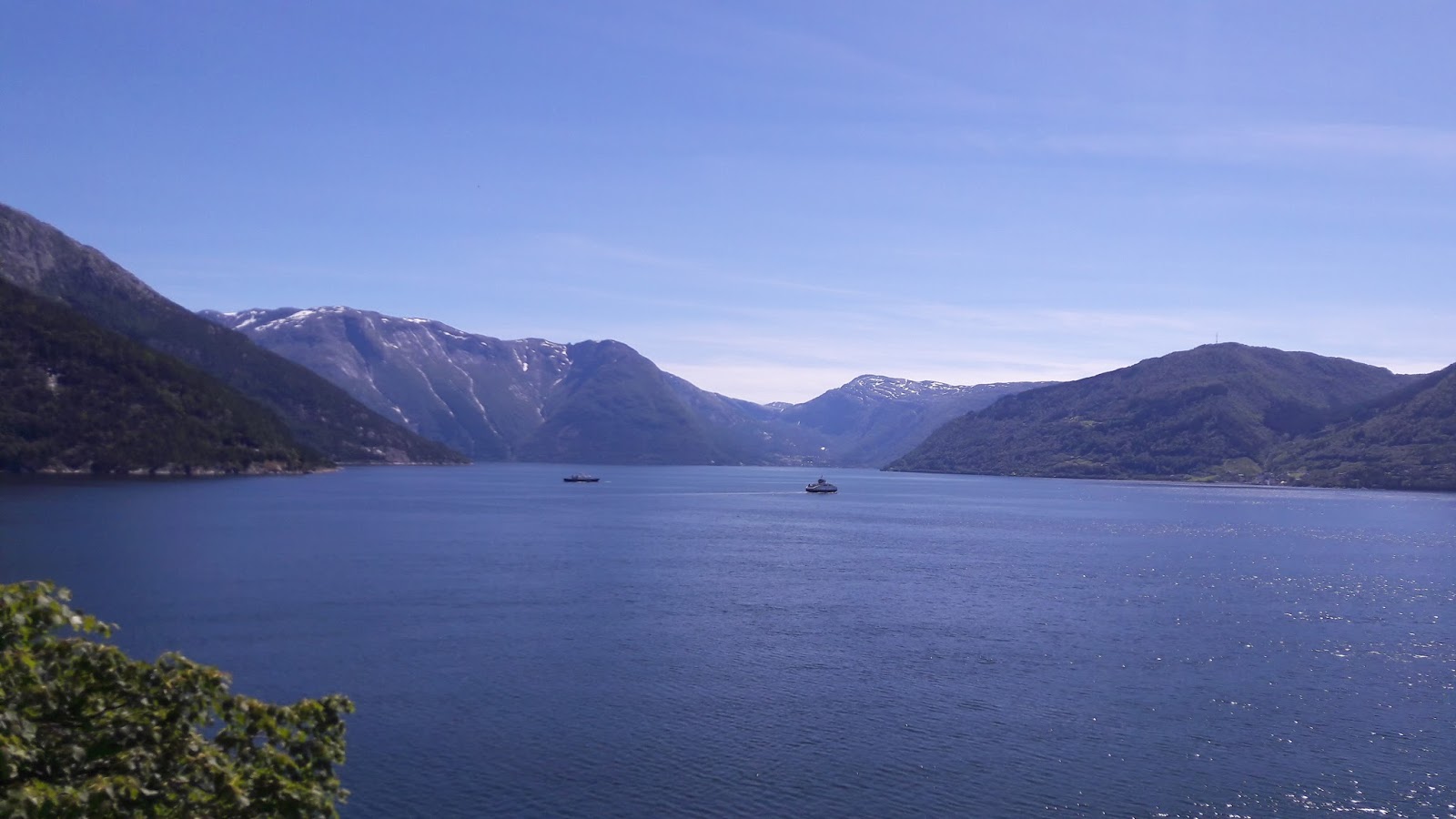 These views & 30°C heat...is this really Norway?!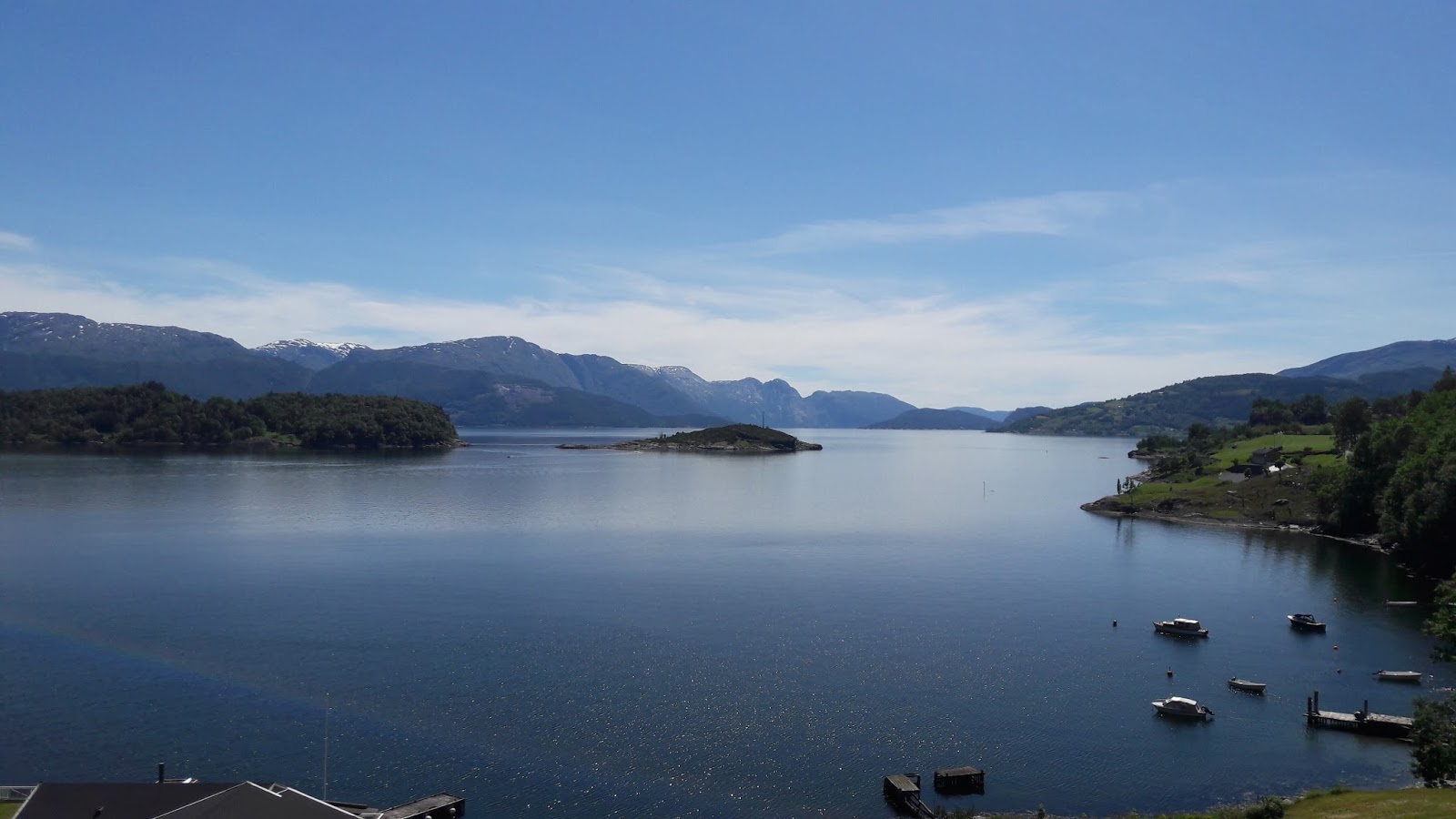 Temporary fix - a bolt from my rack. It stuck into my sole a bit...but at least it kept my foot on the pedal :D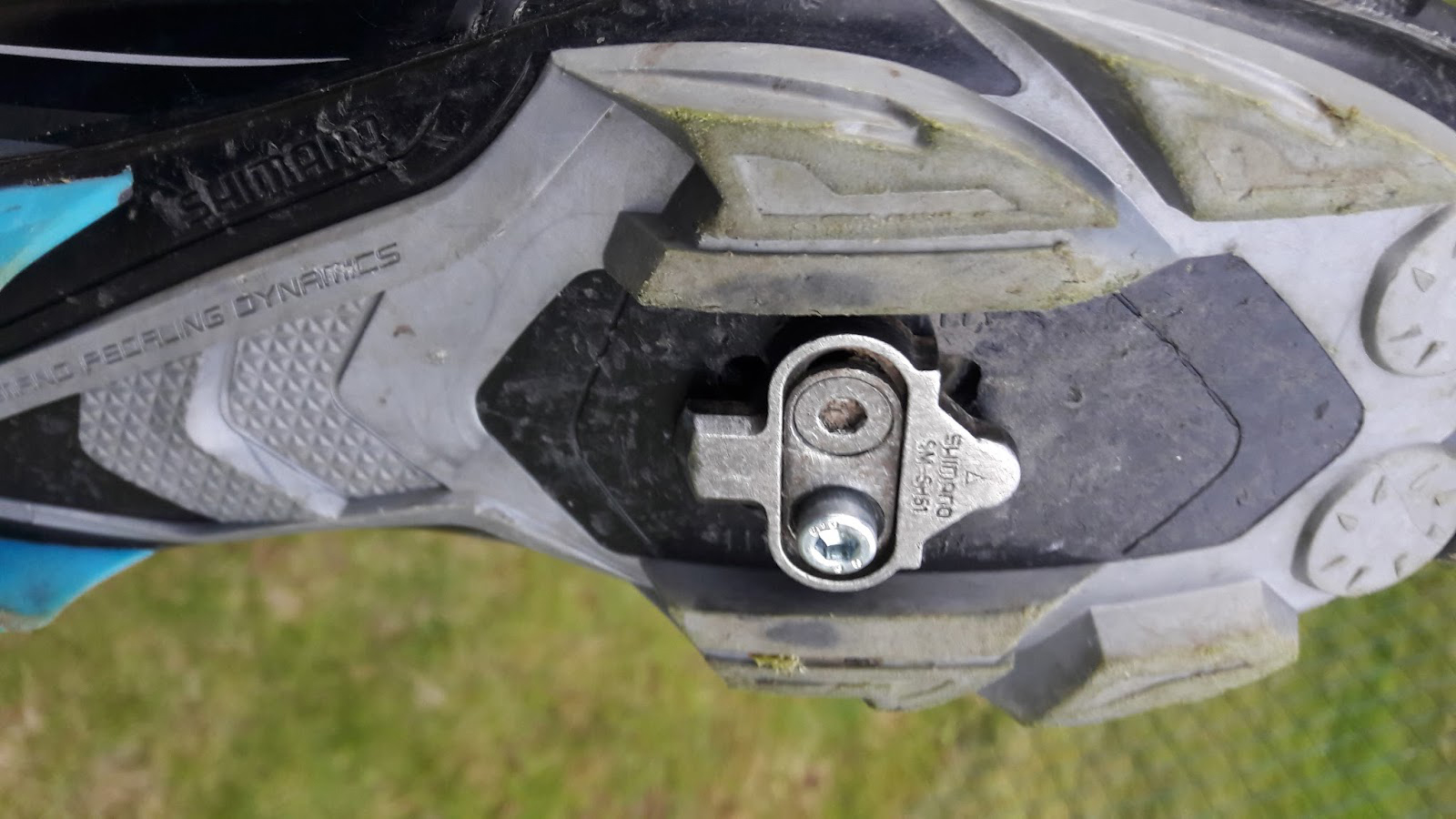 This was my original route plan, & included a very famous road. On top of that my gears were still not engaging despite multiple adjustments, so a wise plan was to resentfully have another day off to sort the bike out in Bergen. My visiting friends, Emma & Amar, had recommended their airbnb flat, particularly as the host's boyfriend was a keen cyclist & good with bikes.
Nice cycle path out of Voss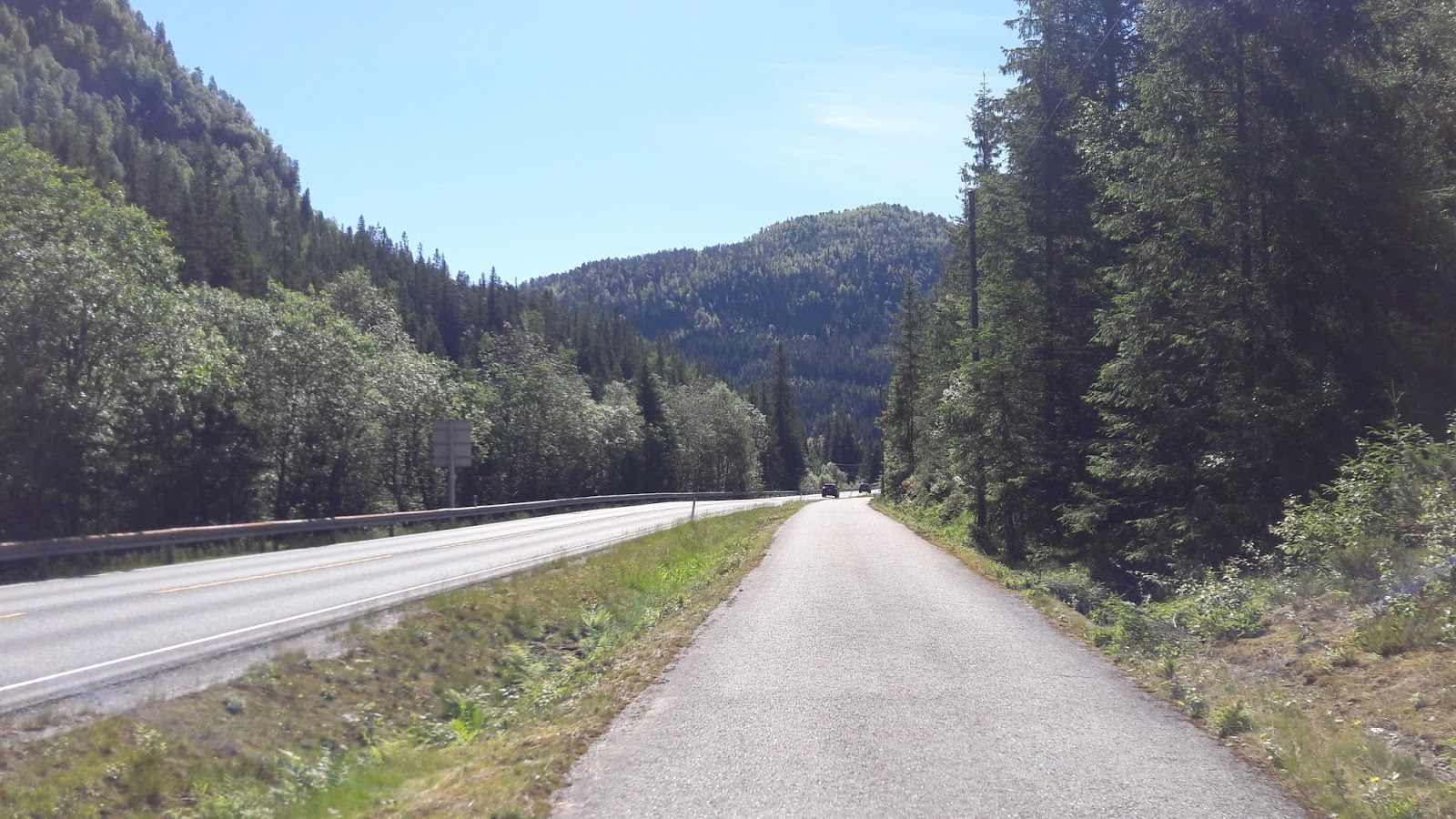 Public loos with a river view - only in Norway!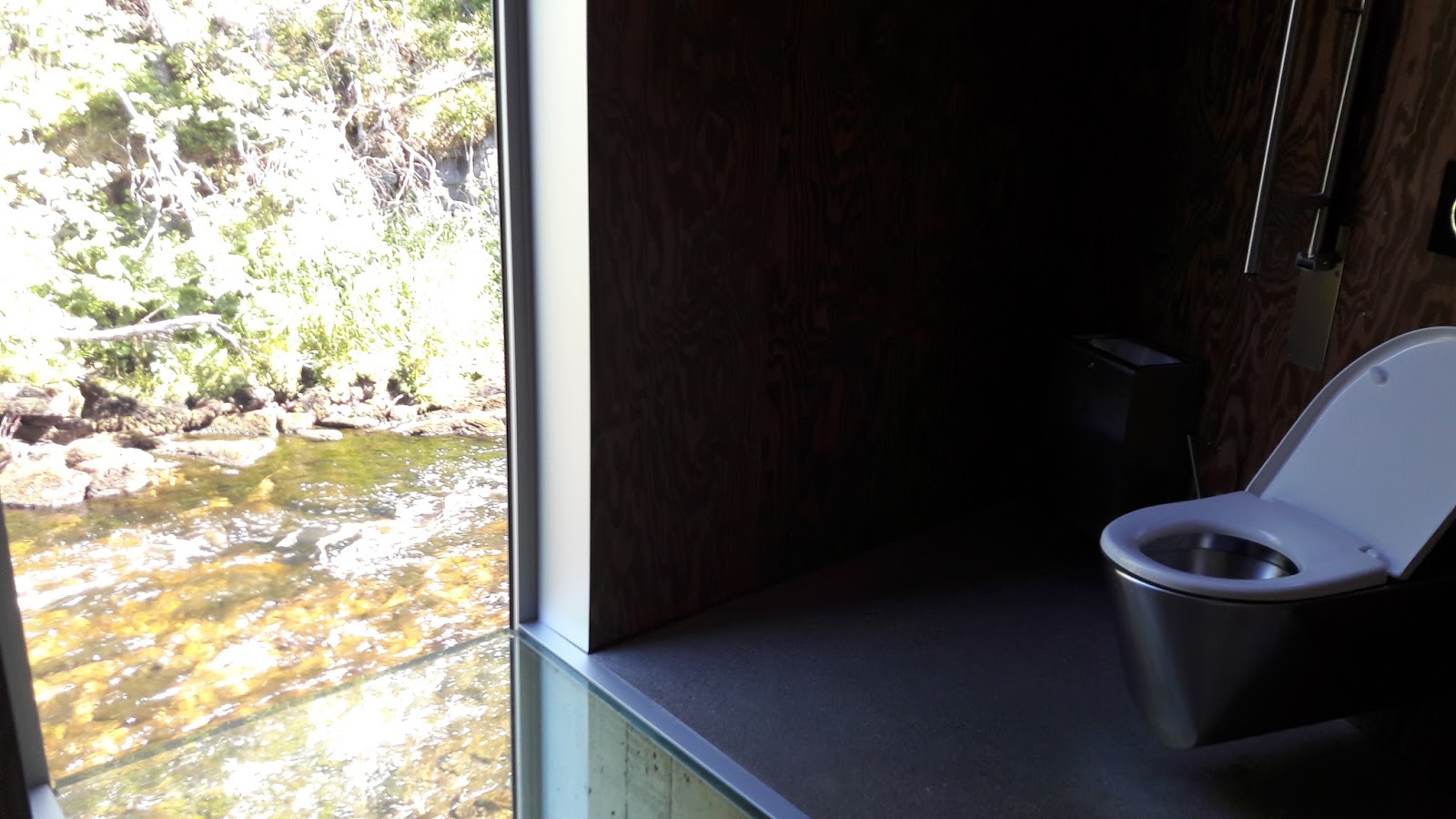 A great separate cycle path through forests lead some of the way out of Voss. At one point the old '13' road weaved away from the illegal tunnels of the main road, taking me to a waterfall beside a beautiful descent of hairpin bends. It was actually in use for the festival - skateboarders were dropping down this spectacle of a road; they kindly let me use it too, so I fled down on my drop-bars amongst them. It was a pretty cool atmosphere.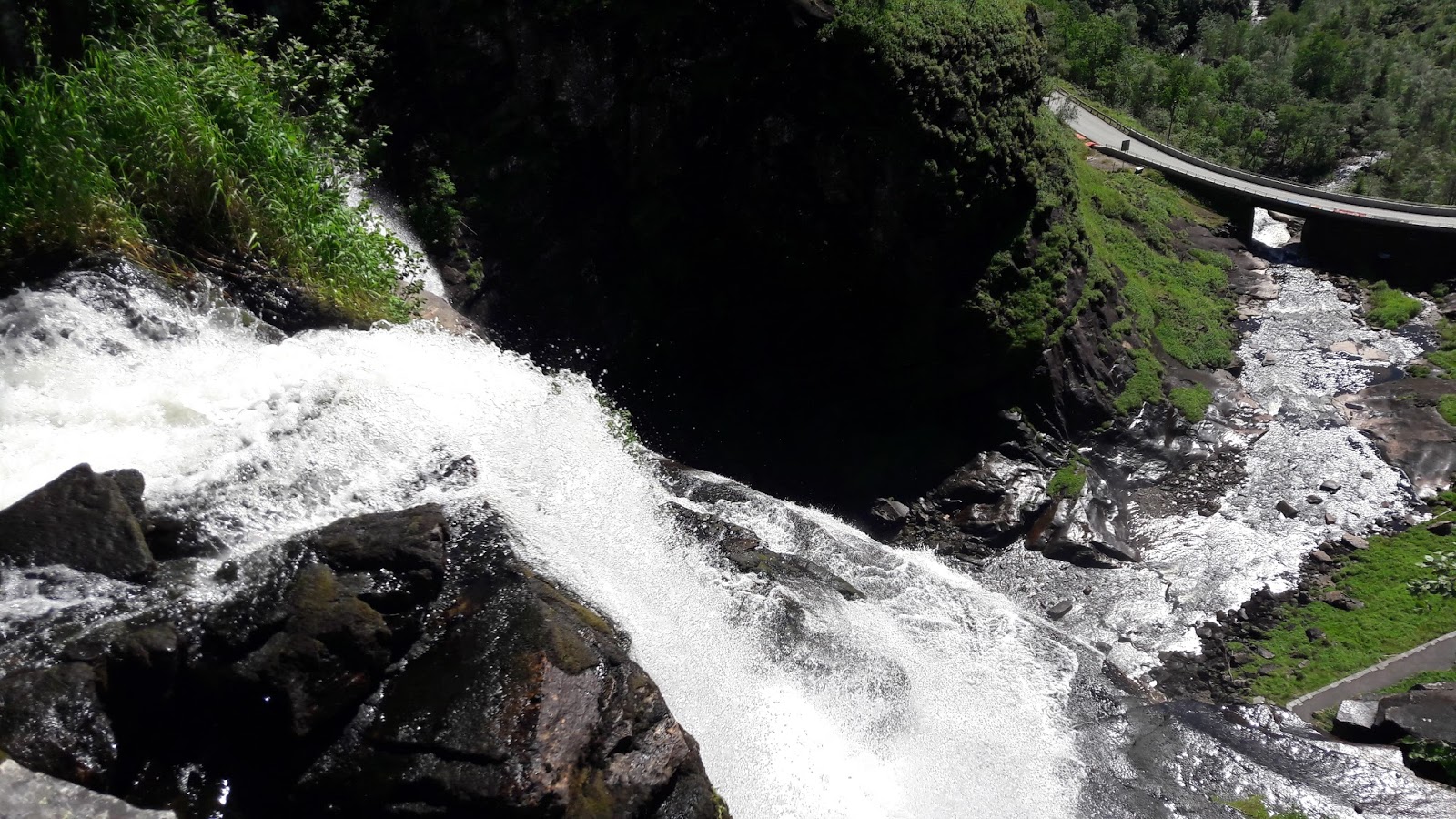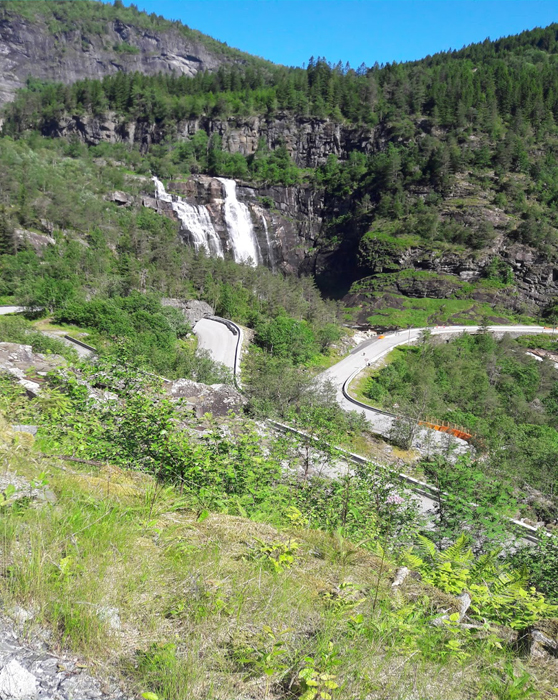 From Granvin you hit the national tourist road 7, running along Hardangerfjord. Seriously, on a hot day (like the 30°C of today), this gives the Amalfi a run for its money.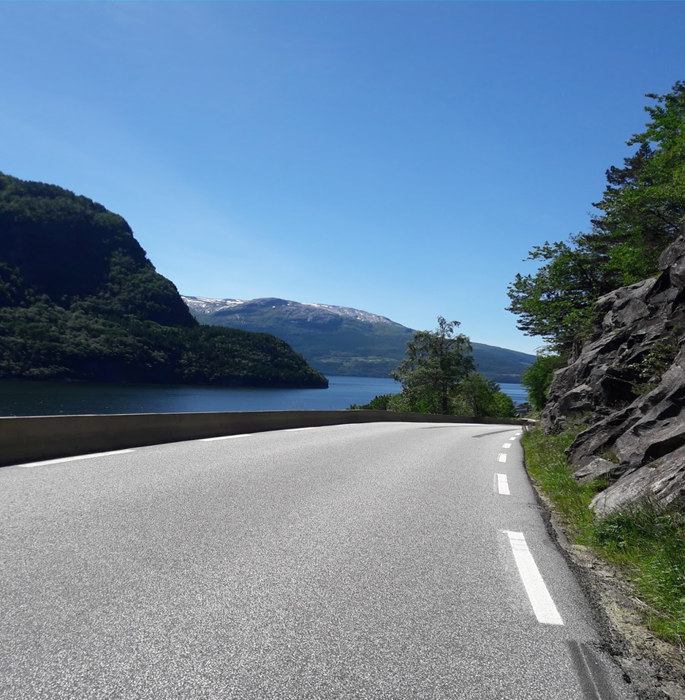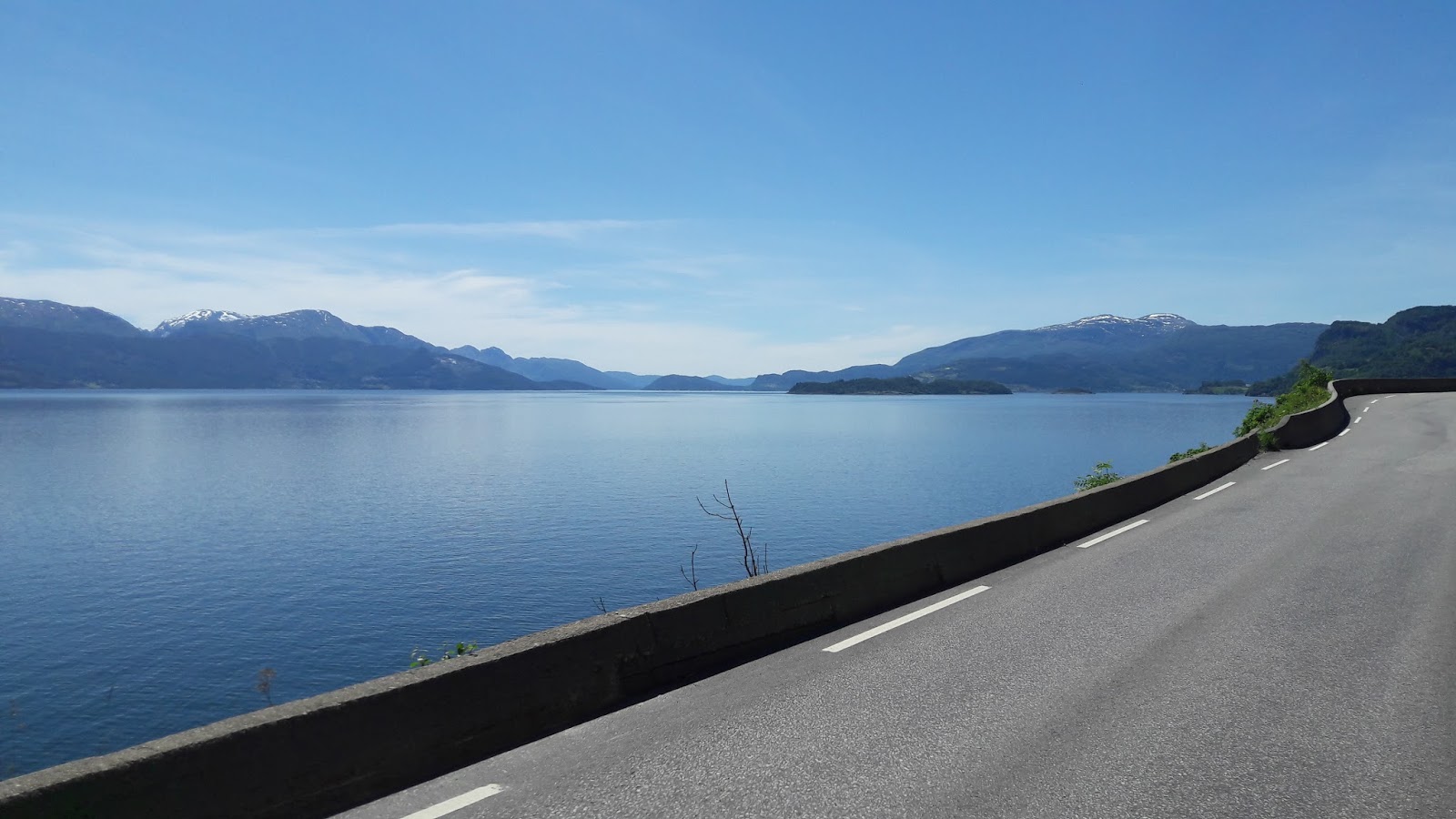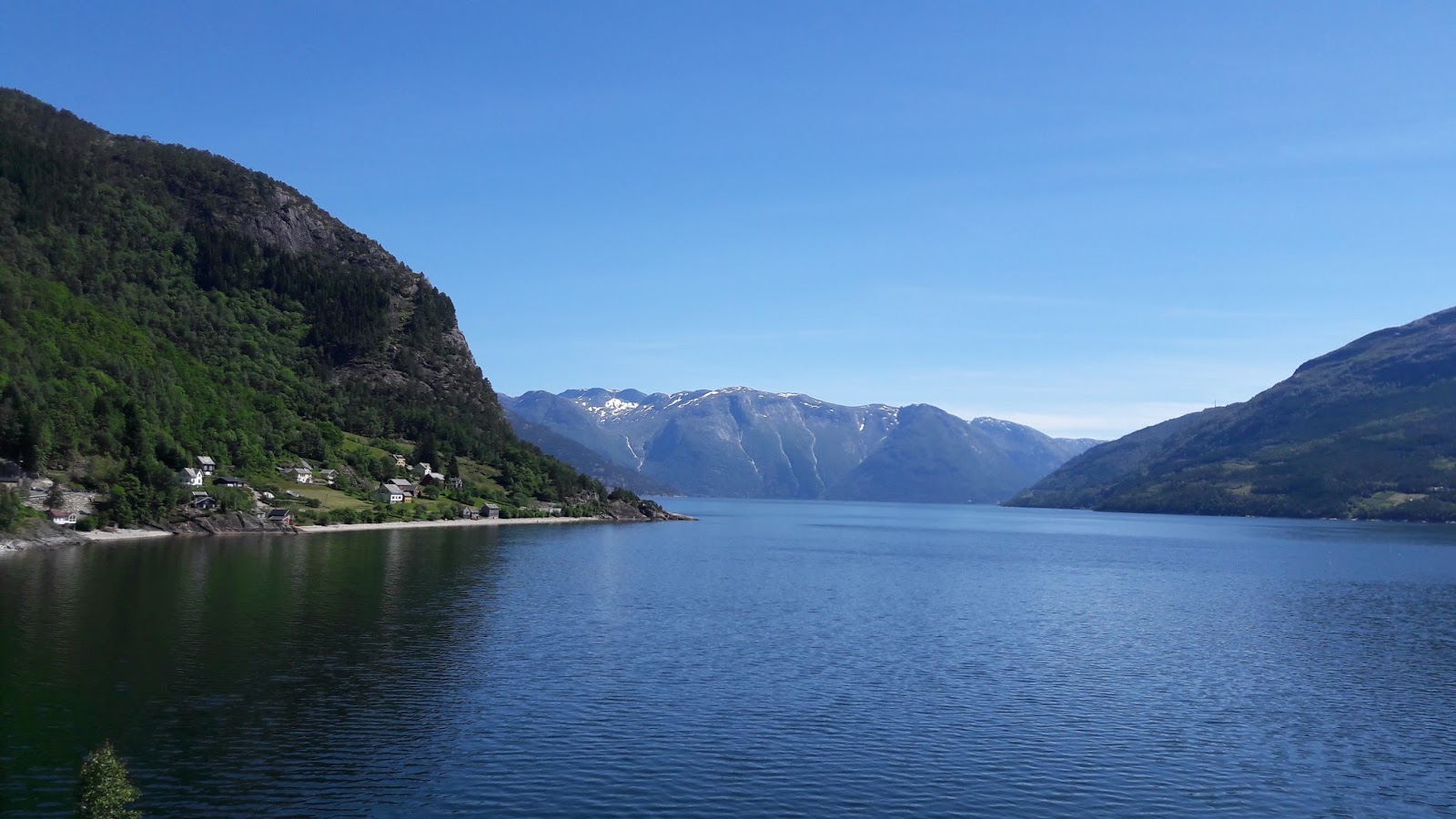 The sleekest, & lucky for me quiet, of roads curves & waves around the land, with nothing but deep blue expansiveness by your side. The backdrop of hazy purple mountains, & the occasional richly vegetated island complete the scene.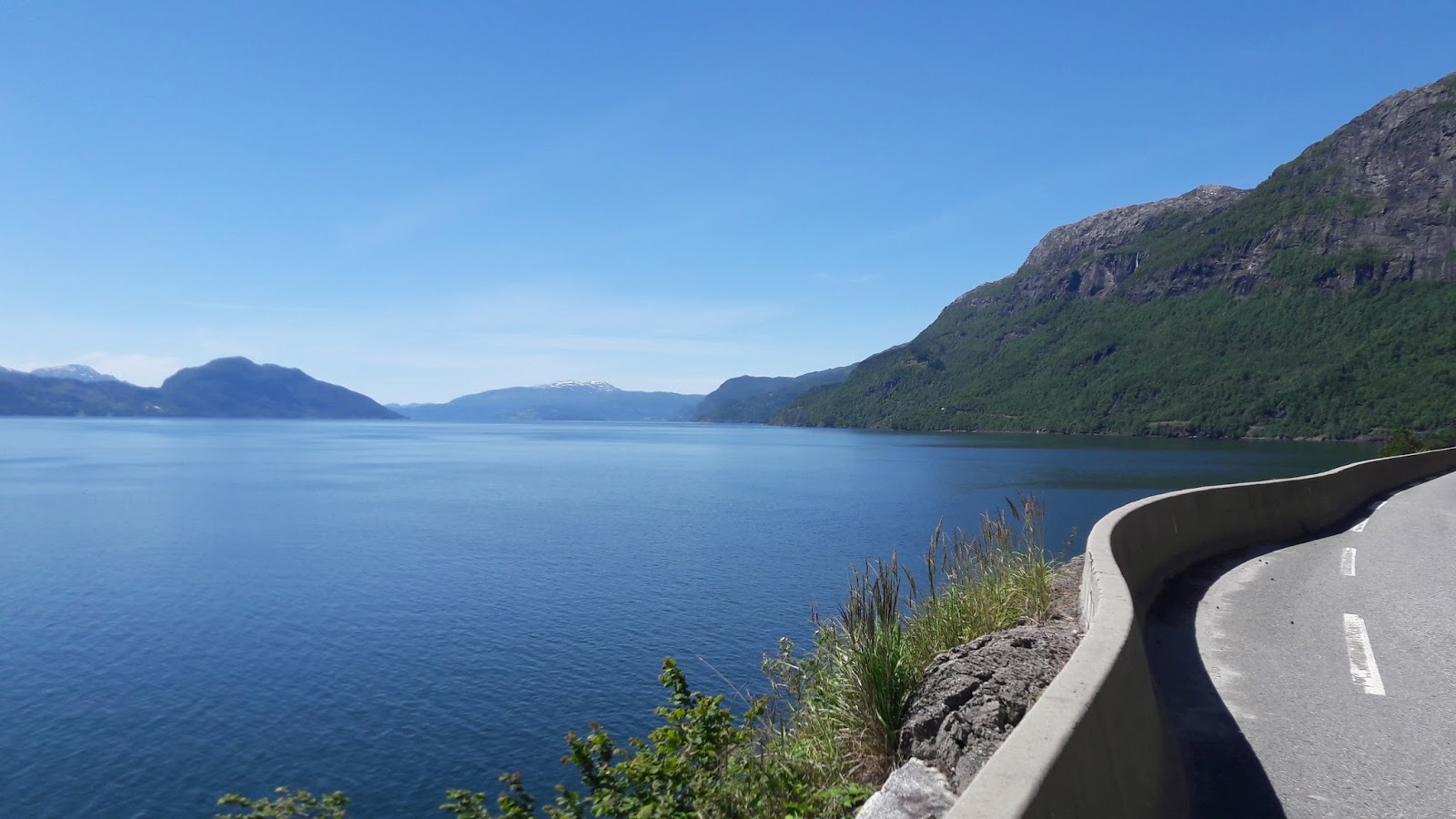 At Oystese town the little white fjord beach was packed, & despite my many remaining miles I allowed myself a moment to get a snack & a coffee to enjoy the ice blue waters lapping this bay.
Beach at Oystese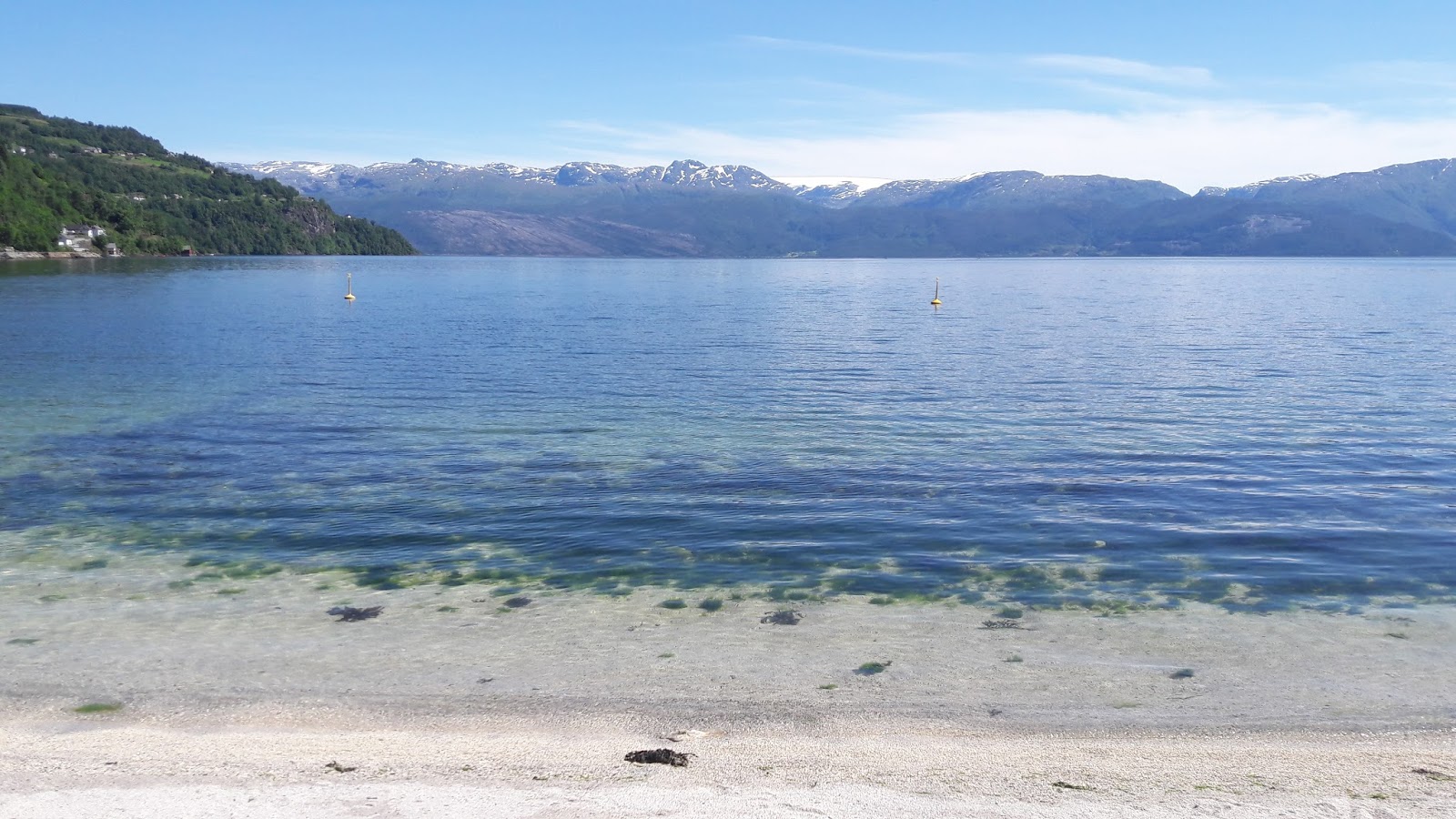 Yes, these are ducks. They were mingling with seagulls - what a crazy/interesting ecosystem a fjord is!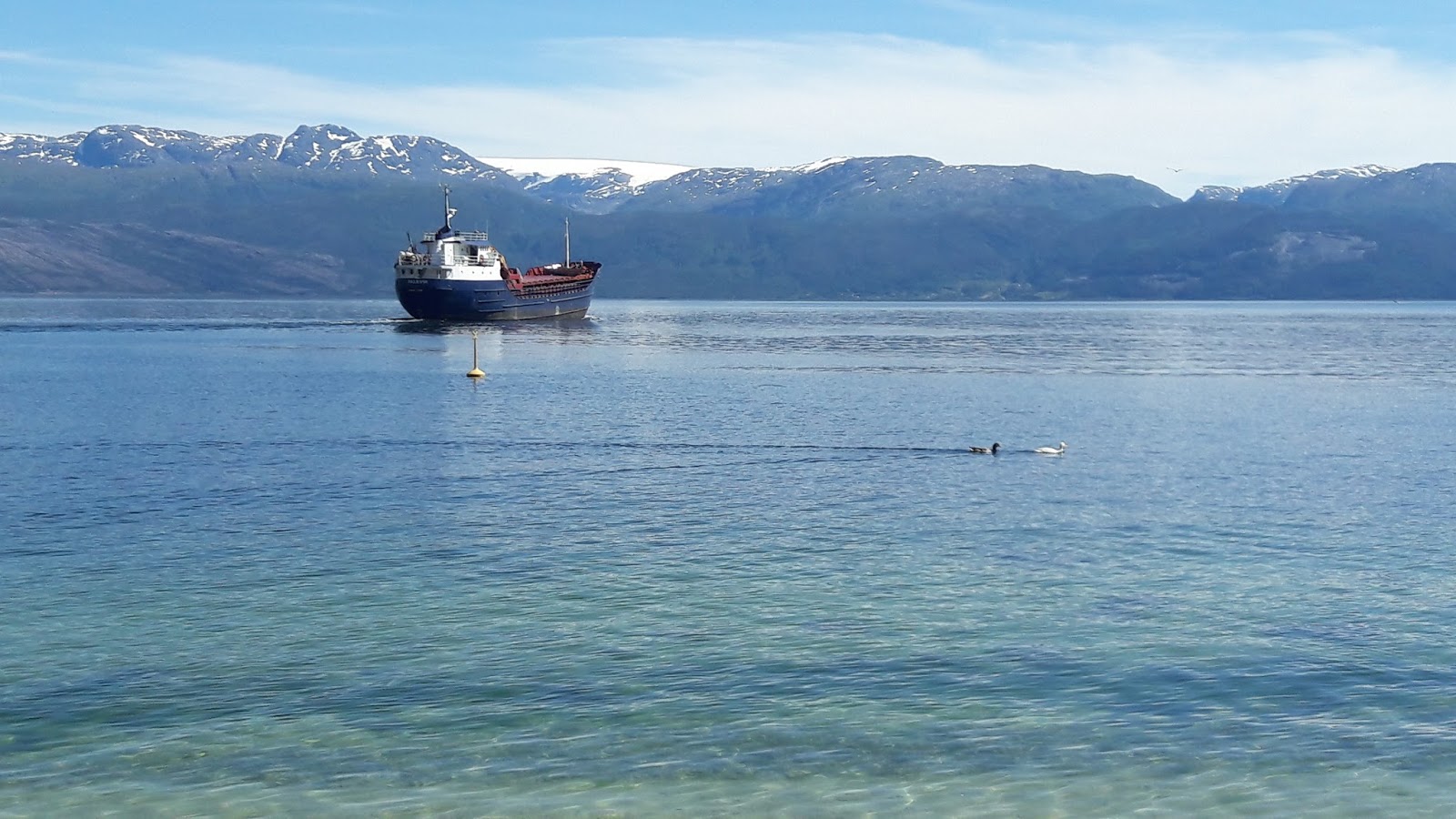 The next town of Norheimsund displayed a colourful quaint harbour, & was only a mile or so from the large & popular Steinsdalfossen.
Norheimsund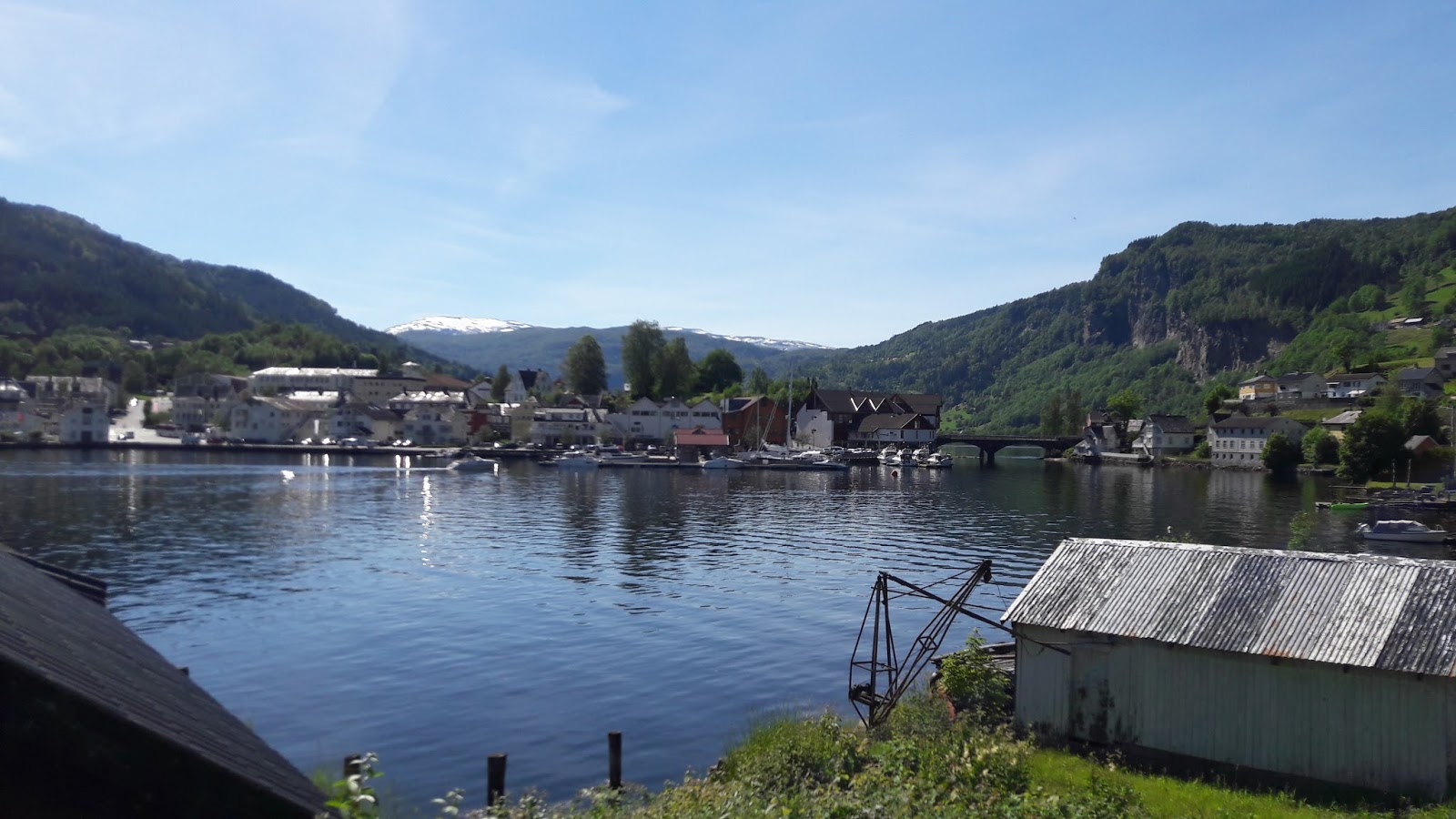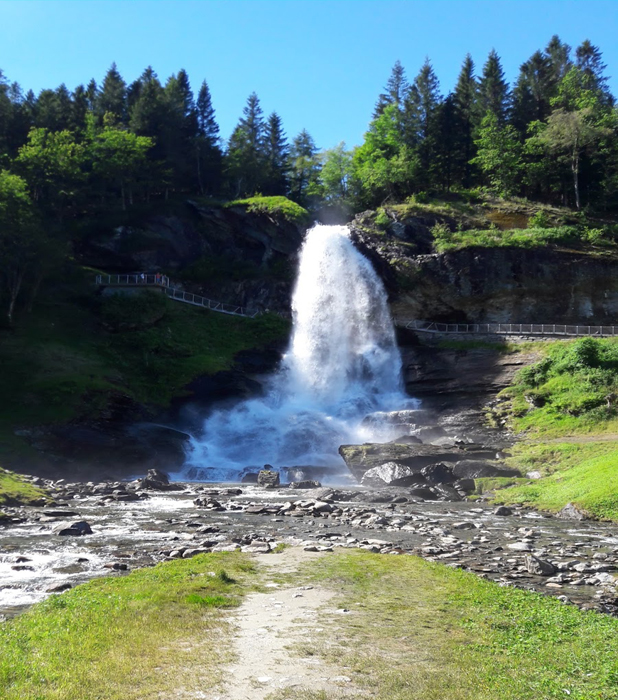 Steinsdalfossen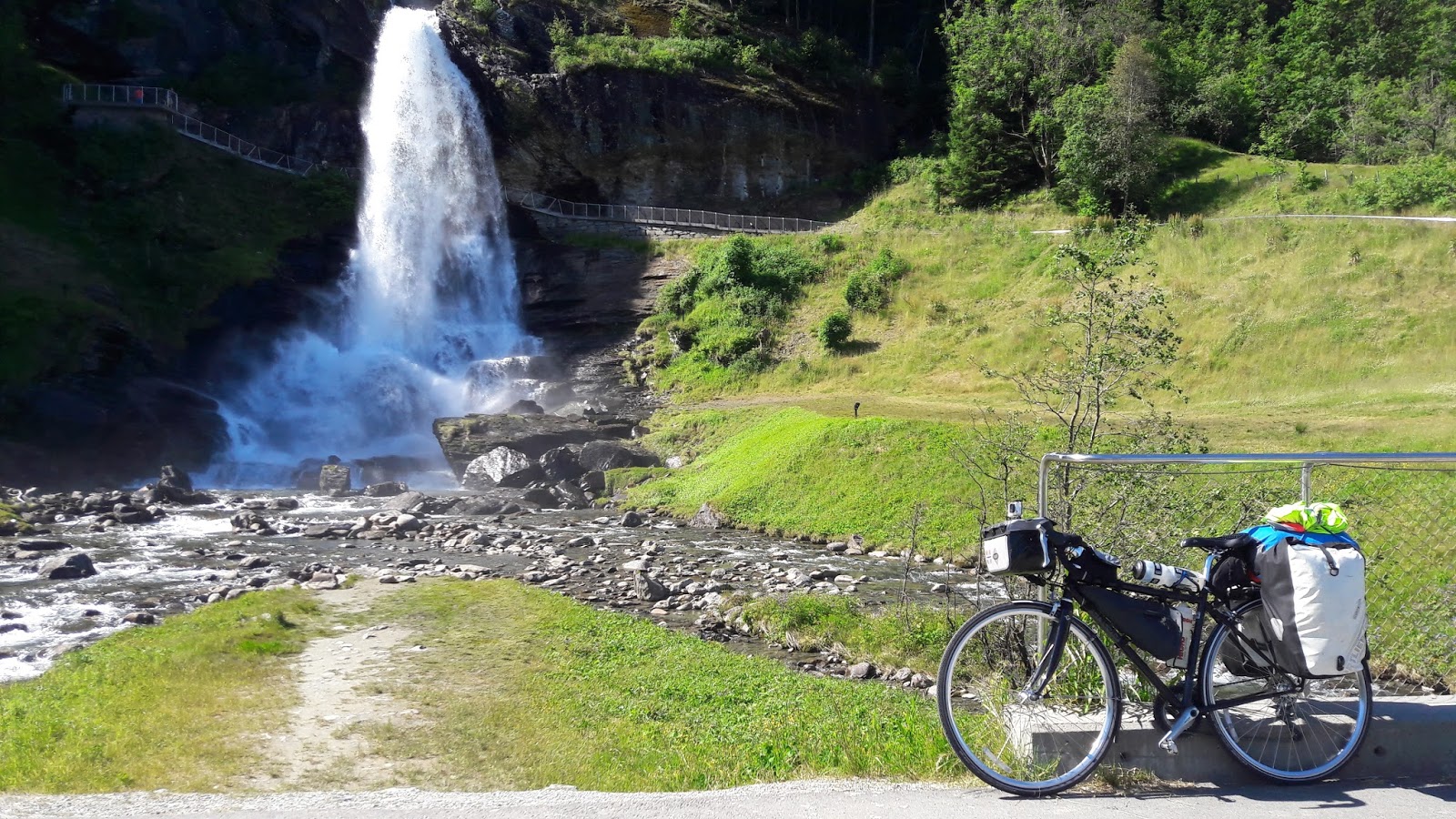 Next came a tough climb up to Kvamskogan; mainly because it was just so damn hot! I had to stop 3x to reapply sun lotion, as you're totally exposed for 12 hours or so, & are quite usefully just sweating it all off. I've learnt after gaining a lobster face after even a cloudy day in the north.
Another waterfall? Yawn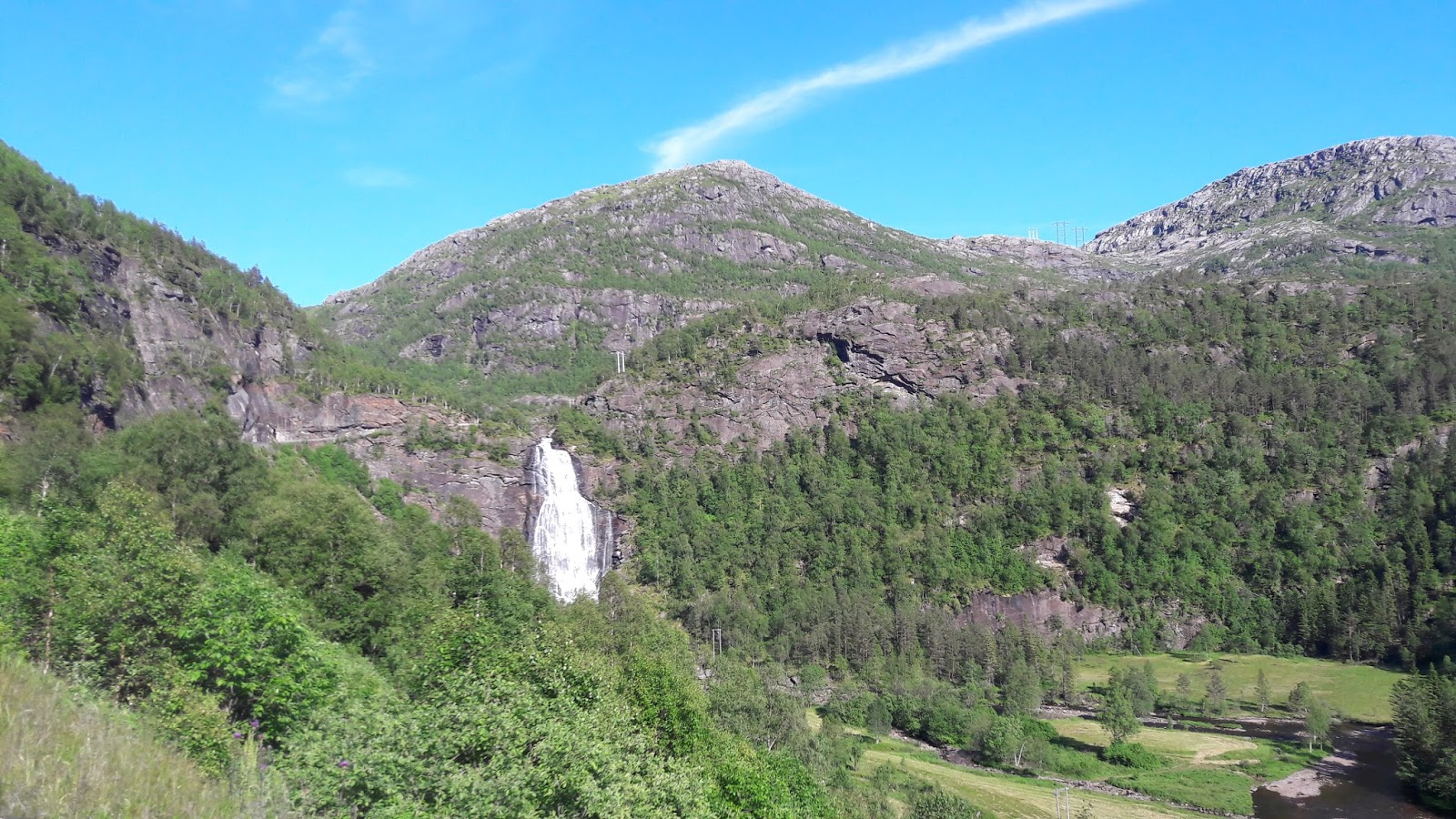 Reaching the city's outskirts at 1800 ish , I still had around 30 miles, & was feeling tired again. More high calorie food & another coffee! My fleeting high spirits took a plunge when my direct route was met by the ill-fated sign...
NOOOO... the thing of nightmares!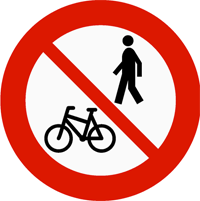 Now what!? An earlier cycle sign had displayed a distance from Bergen about 10 miles longer... I realised I had no choice but to now find & follow this. Resigning myself to the fact that I would arrive extremely late, I tried to just let go & enjoy the evening sun/scenery, & remember that I had a bit of a rest the next day. I put on my music, & felt more at peace whilst gently riding  through the quiet suburbs.
Classic understated roadside waterfalls, again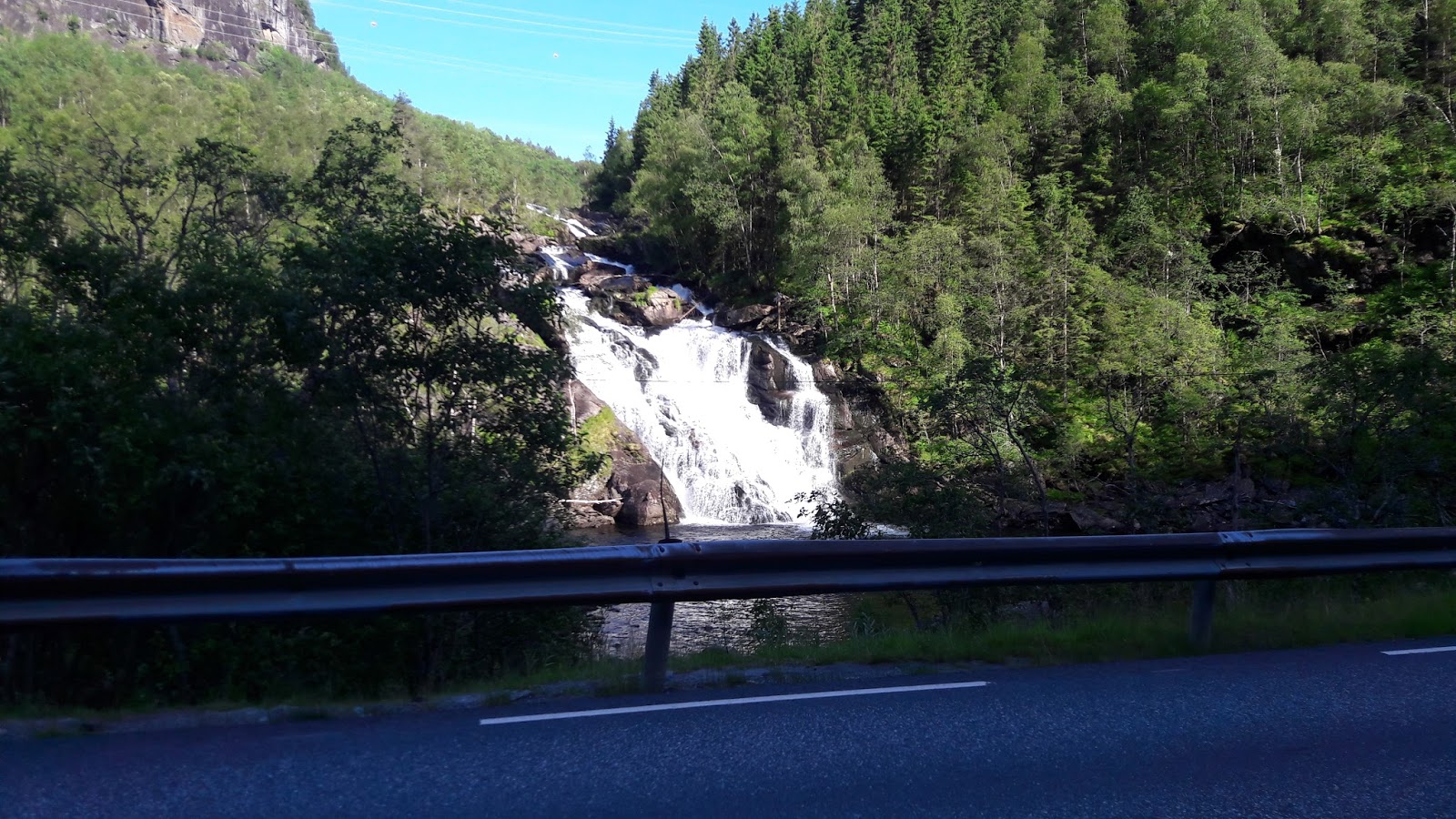 I met my host around 2230 where she was enjoying drinks with some friends (isn't that the sort of thing I should be doing with my holiday time? ha), & she took me to her place; conveniently located next to a few bike shops!
Drained & about to go to bed, her boyfriend arrived, back from a few drinks out. After chatting a bit about cycling, he asked to look at my bike to see what the problem was... nearly midnight & he announced he had fixed the gears, & was going to give it a whirl! Um, he seemed lovely & clearly a very kind & helpful man, but do I just let a stranger take my bike out!? I think we British are a little more cautious, as a nation, but whilst traveling you seem to throw caution to the wind a little. Anyway it's a good thing I did, as the dude had fixed my bike!! Some issues with the derailleur that he sorted (the thing with two little wheels at the back, which moves your chain to change your gears).
My saviour! The dude, not the dog. Although he was pretty cute - buries his head in your legs when he wants his back stroking...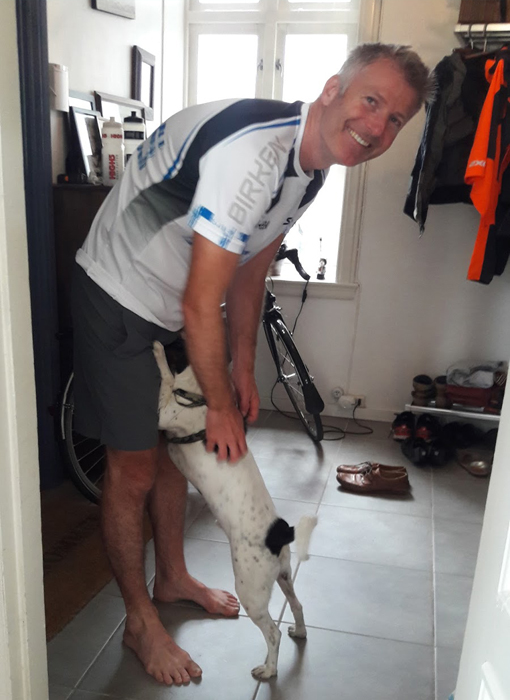 REST/MECHANICAL DAY IN BERGEN
My chain-checker revealed I did indeed, after over 2000 miles, need a new chain! So, still a good thing I could go to a bike shop.
I also stuffed my face with plentiful calories (cycling so much is great!), could get vegan delights from a health food place, & of course spend hours writing this blog!
Here I am again!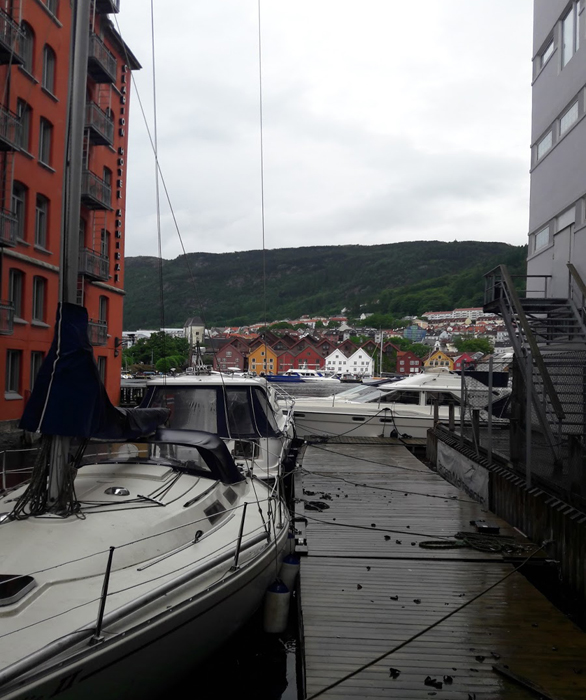 TOTALS
Miles:  2,030
Ascent:  32,159
Ride days: 23
Thanks for your interest!
www.alaina.org.uk - please help support aid in Syria if you can, thank you!
Alaina Beacall
Return to Arctic-to-Med Blog contents
Return to Blog Main Page