Day 9: Stokmarknes to Valberg, Lofoten
91 miles | 147 km | Ascent: 1106 metres
Words will never adequately describe the beauty of this place. Unbelievable.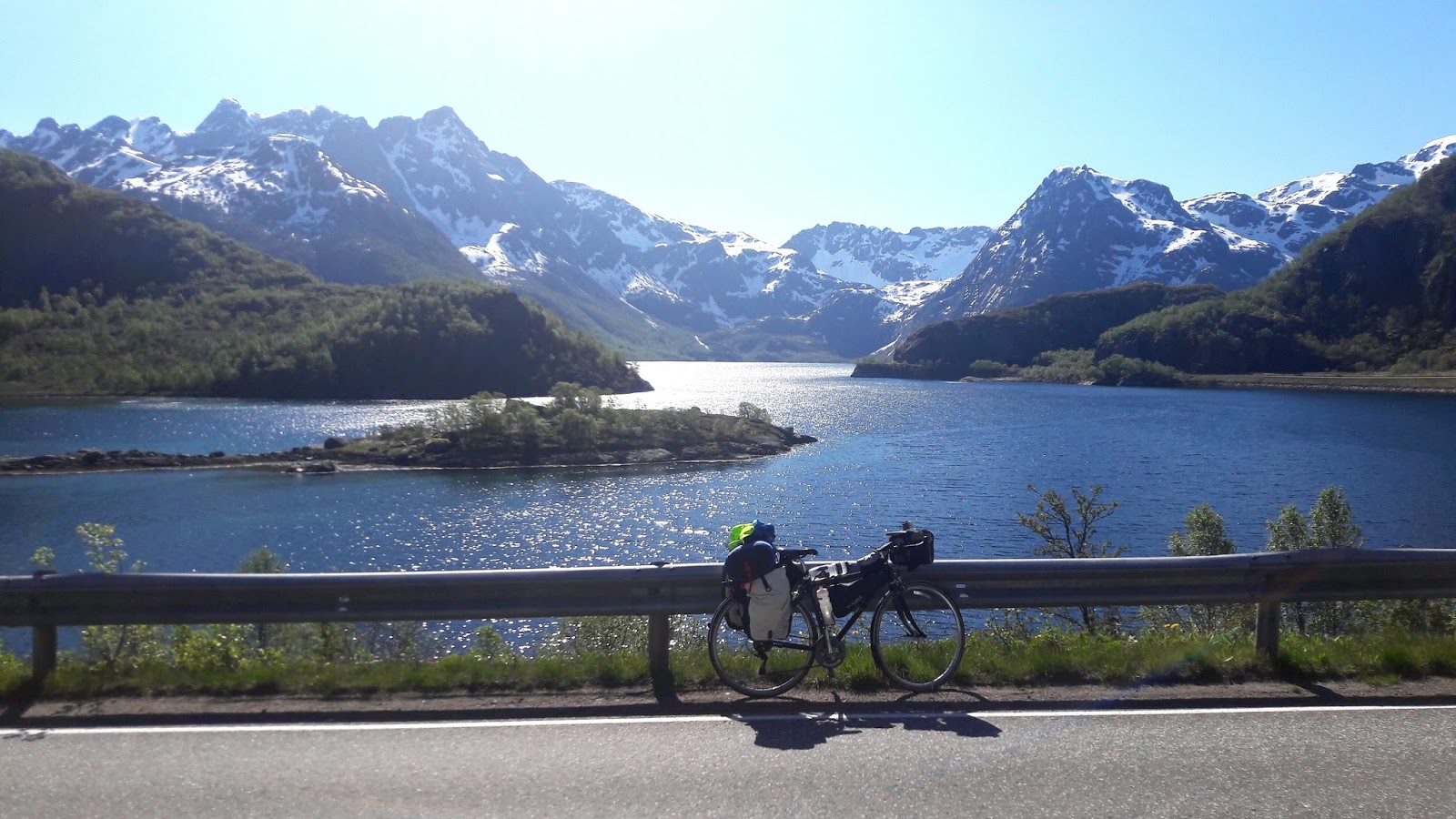 I like to leave plenty of time with catching ferries/planes etc (as things often, and do, go wrong. I've missed a flight previously, don't you know!). Sadly packing everything up took longer than planned, so I had less time to do the 10mi to catch the ferry to Melbu, the northern entry port to the Lofoten islands. Ahhh! I raced around the flat smooth tarmac, alongside the constant companion to my left of stunning white mountain after mountain - can't wait to be with you Lofotens!!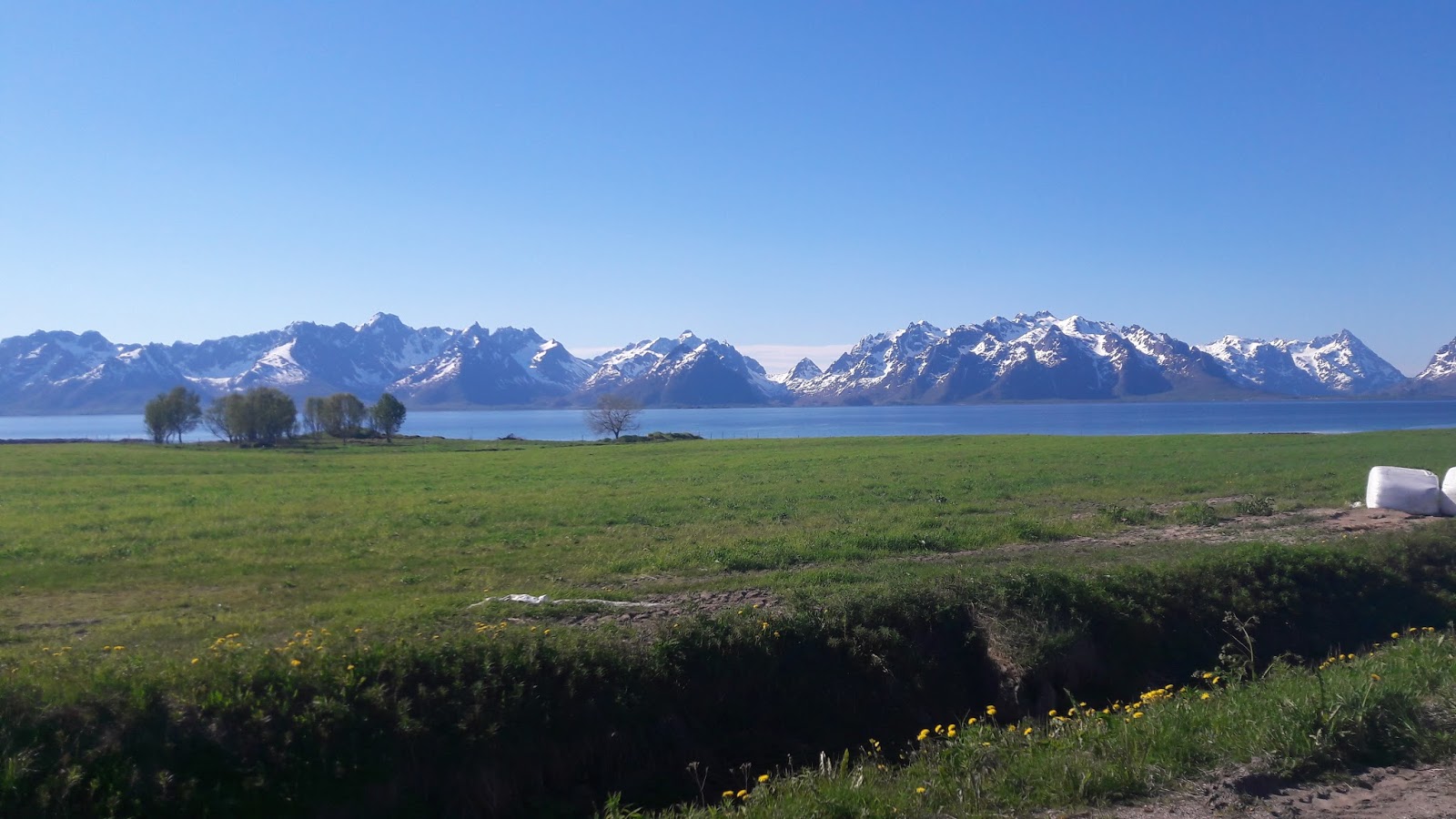 Passed a lot of school groups cycling. Kids don't say hey back - rude!
Made it 30min early, no way. I can clearly make up speed when i need to!
25min ferry journey later, I hit the main Lofoten road (E10), & within 2min I couldn't believe my eyes. They got quite wet.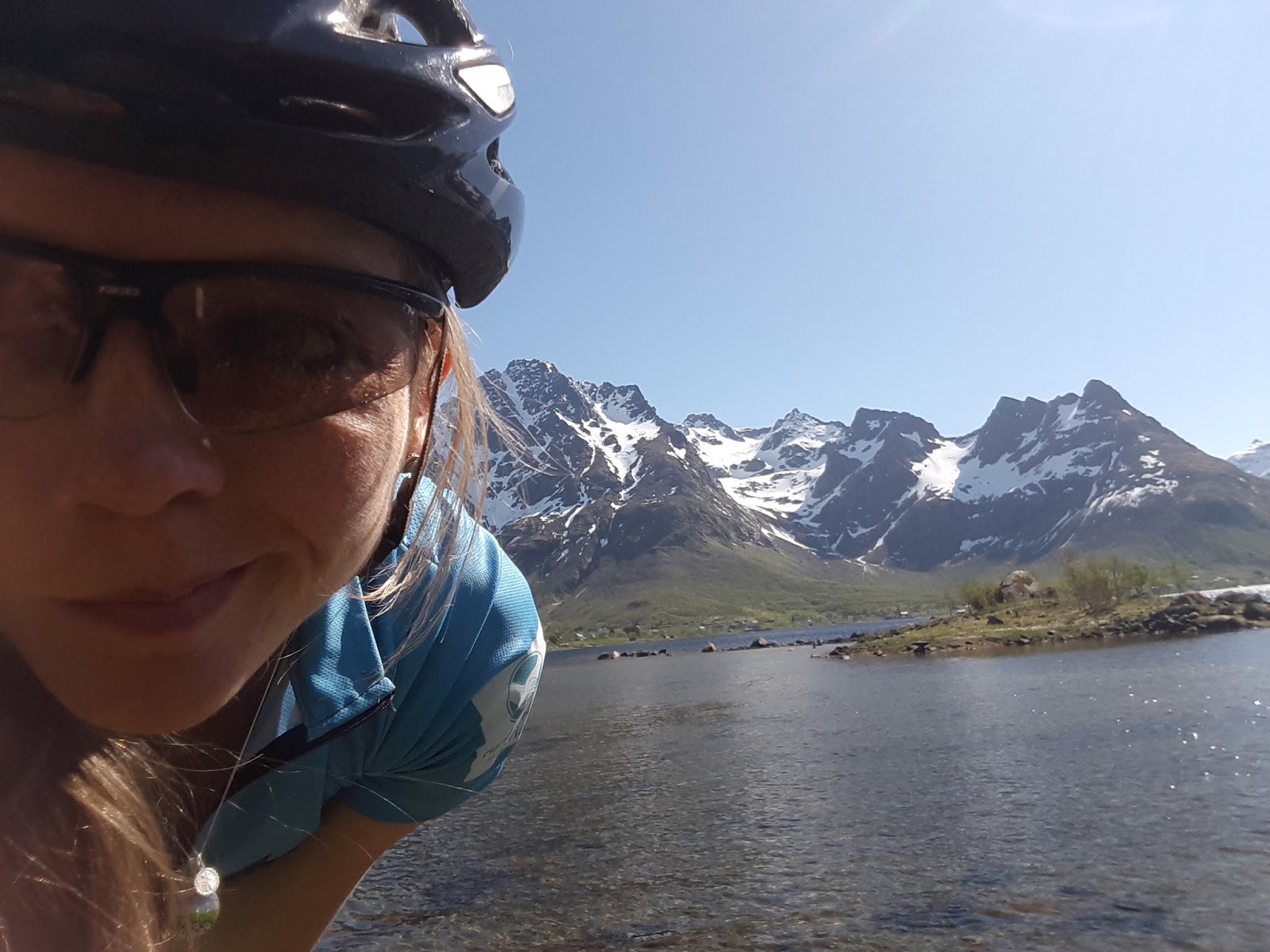 Winding around the hillsides, I was passing each perfectly painted scene - deep blue waters, rising a mystical haze upwards to the jagged peaks framing them. Each mountain's snowy hairline was now receding with the heat, resulting in roaring waterfalls all around. Finally rich greenery dressed the banks of the water & the mountain edges, as if spring had just arrived.
I think I've found my new favourite place in the world.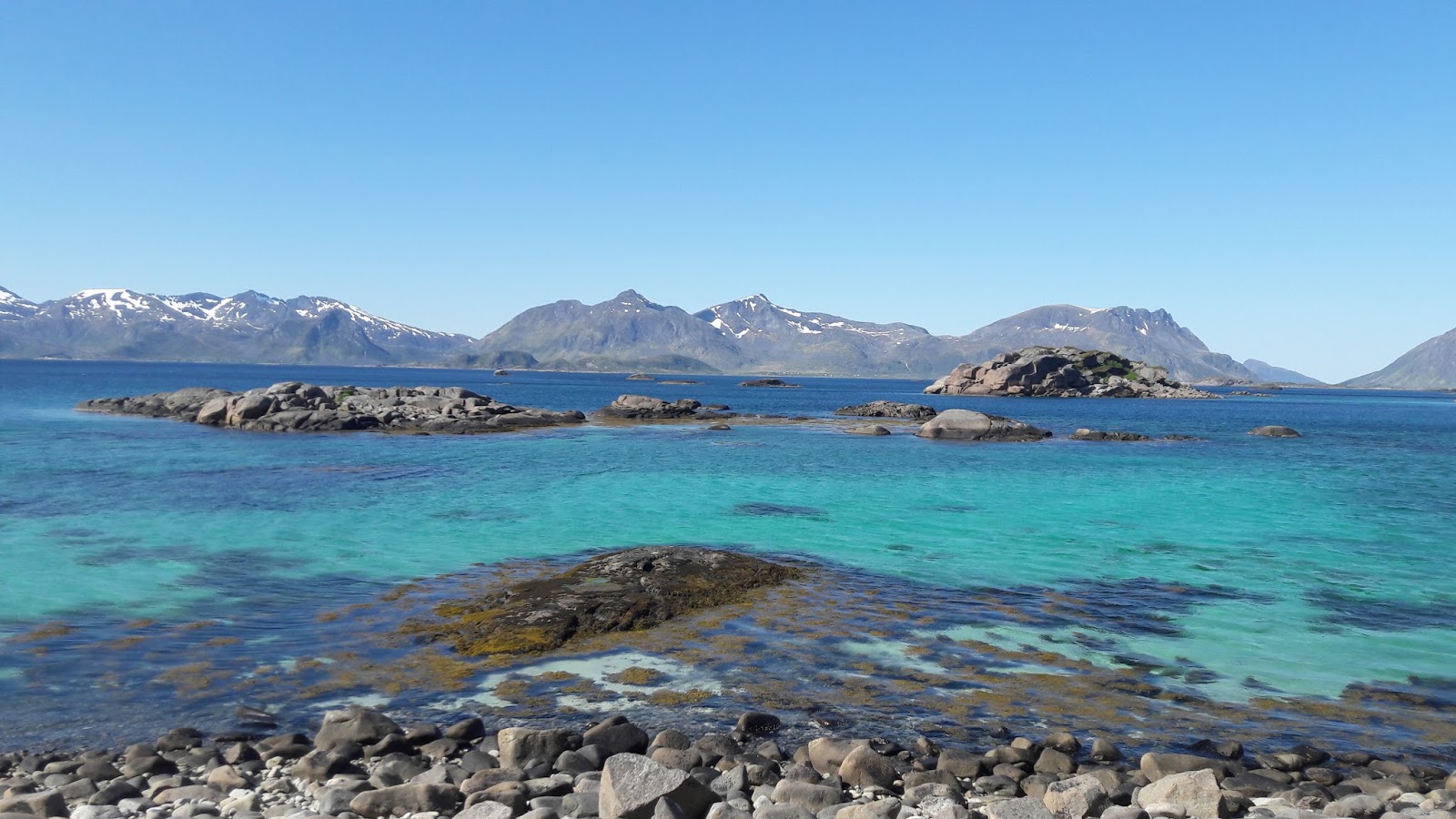 Through to Svolvaer, one of the biggest towns, to get supplies for the day. Unfortunately I'm sometimes having to accept the odd non-vegan snacks for easy calories whilst on the road. Surprised my body can take animal products ok.
I'd chosen to split the Lofotens into two days, instead of one crazily long one. As a direct route, it'd only be 100ish miles. So because I felt I had two 'easy' days, I felt like I had the time & freedom to actually explore, & see the place. How exciting! Like on a 'real' cycle tour.
This meant that I inadvertently racked up the mileage...but in the most enjoyable way, & even with lots of little breaks!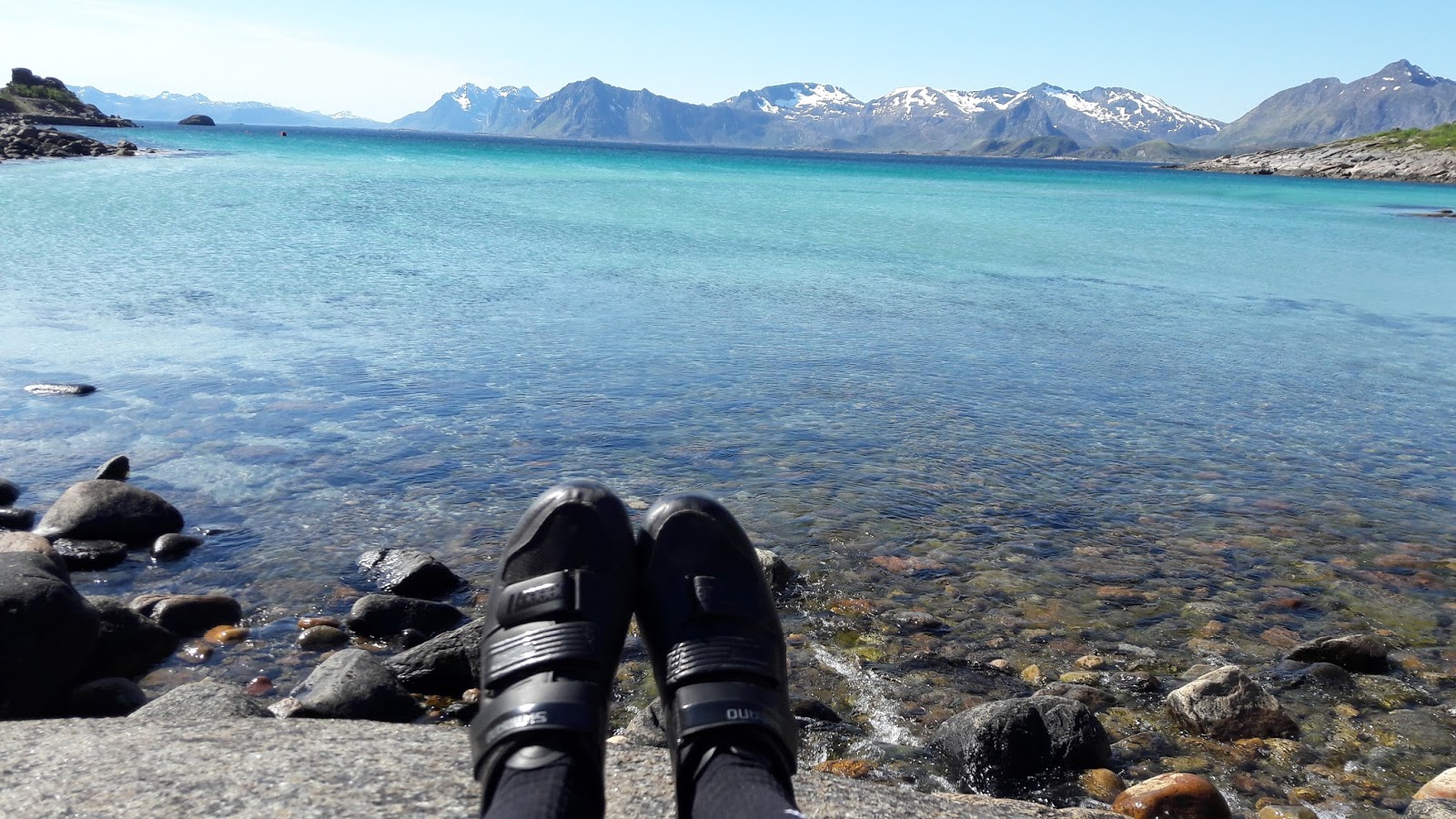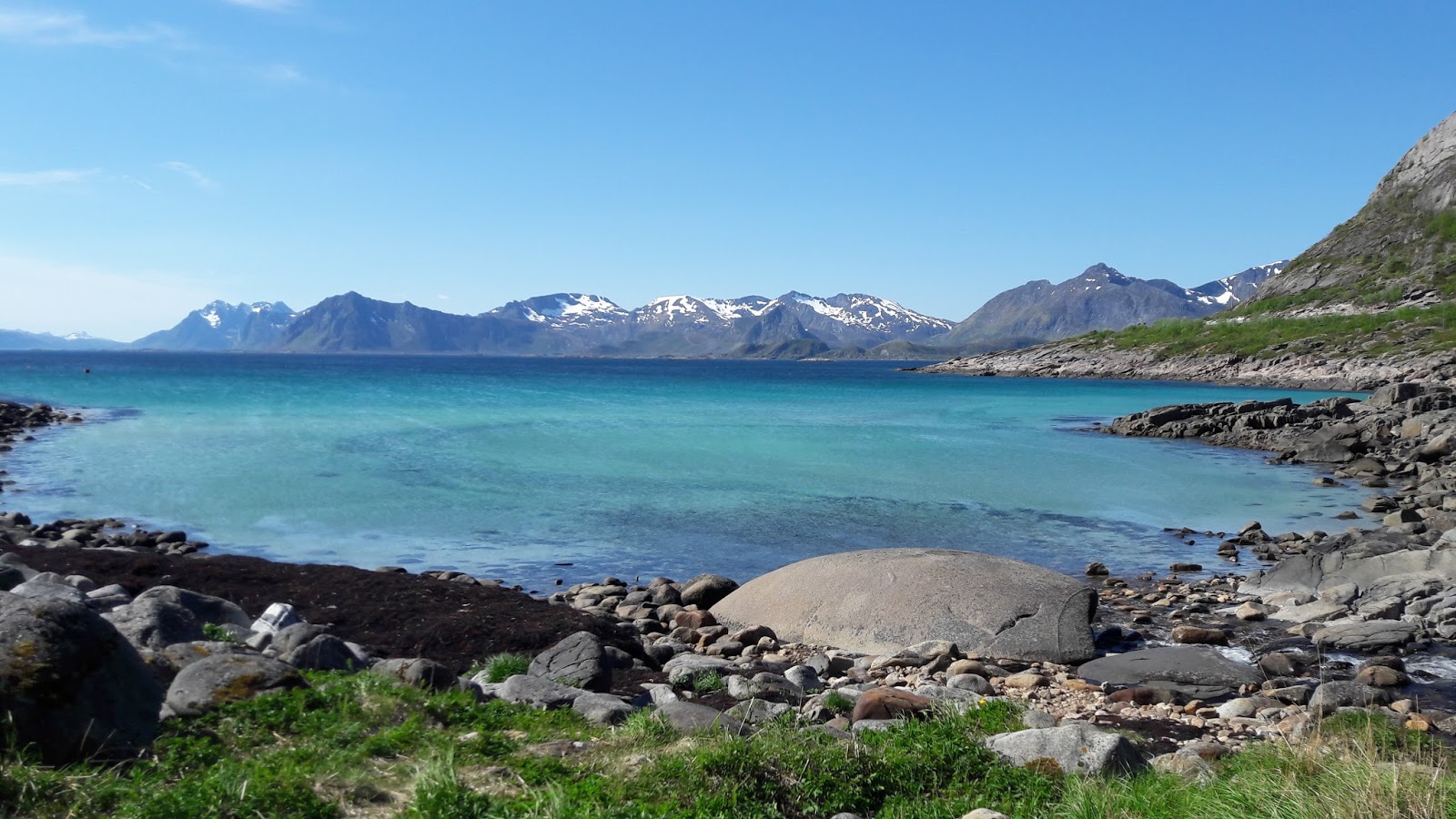 I found the first of many a stunning beach, Rørvik. Then wound along the smaller roads to a fishing village, & apparently Lofotens climbing mecca (I'll definitely be coming back): Henningsvaer. Here I had a lunch stop with a Polish guy, he moves countries every 4-8months. He actually lived in Liverpool for a bit, & beamingly kept repeating how it's the best city in the world.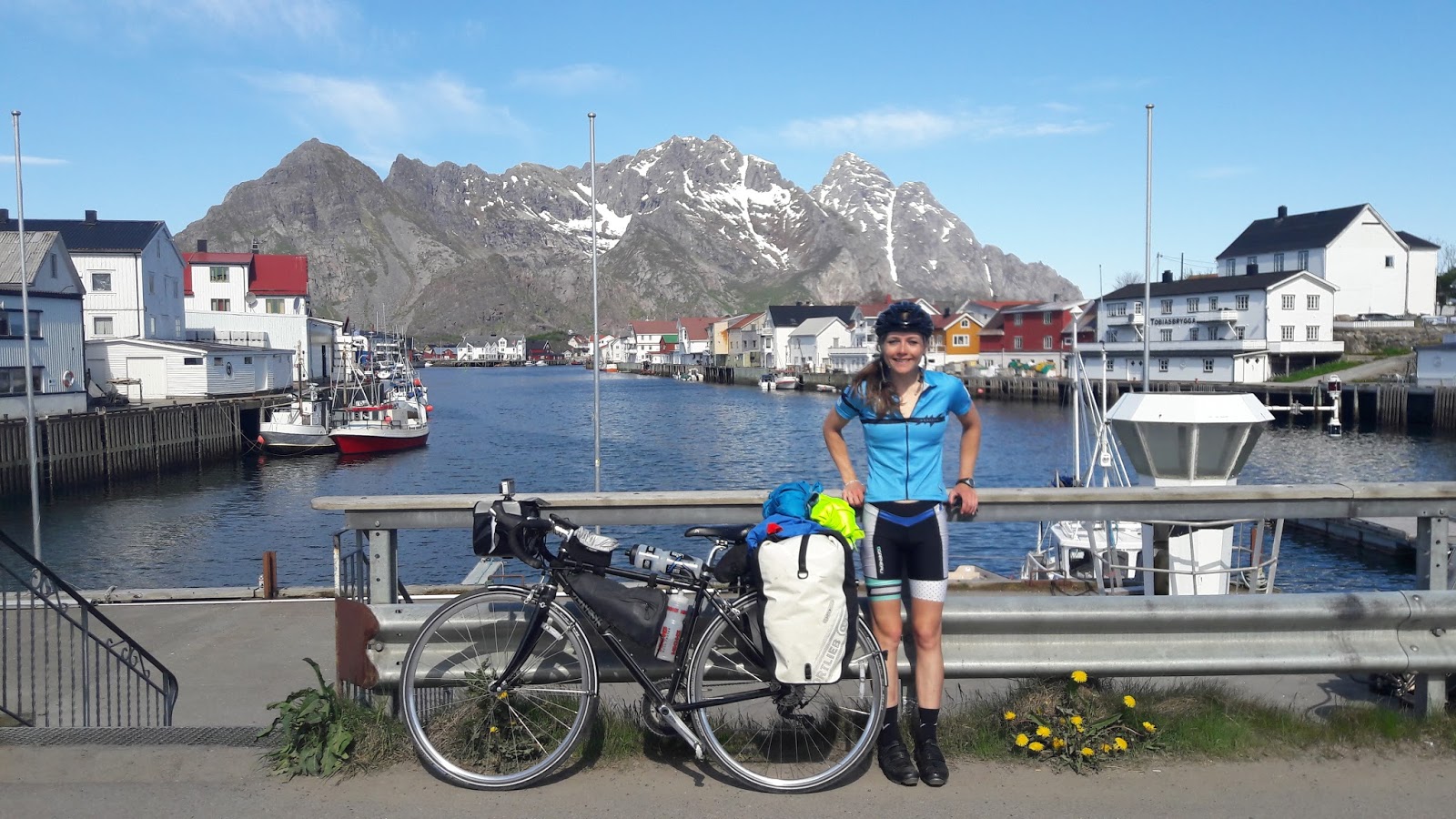 "Stockfish" - the process of hanging fish to dry, then ferment with bacteria. Can = a little smelly!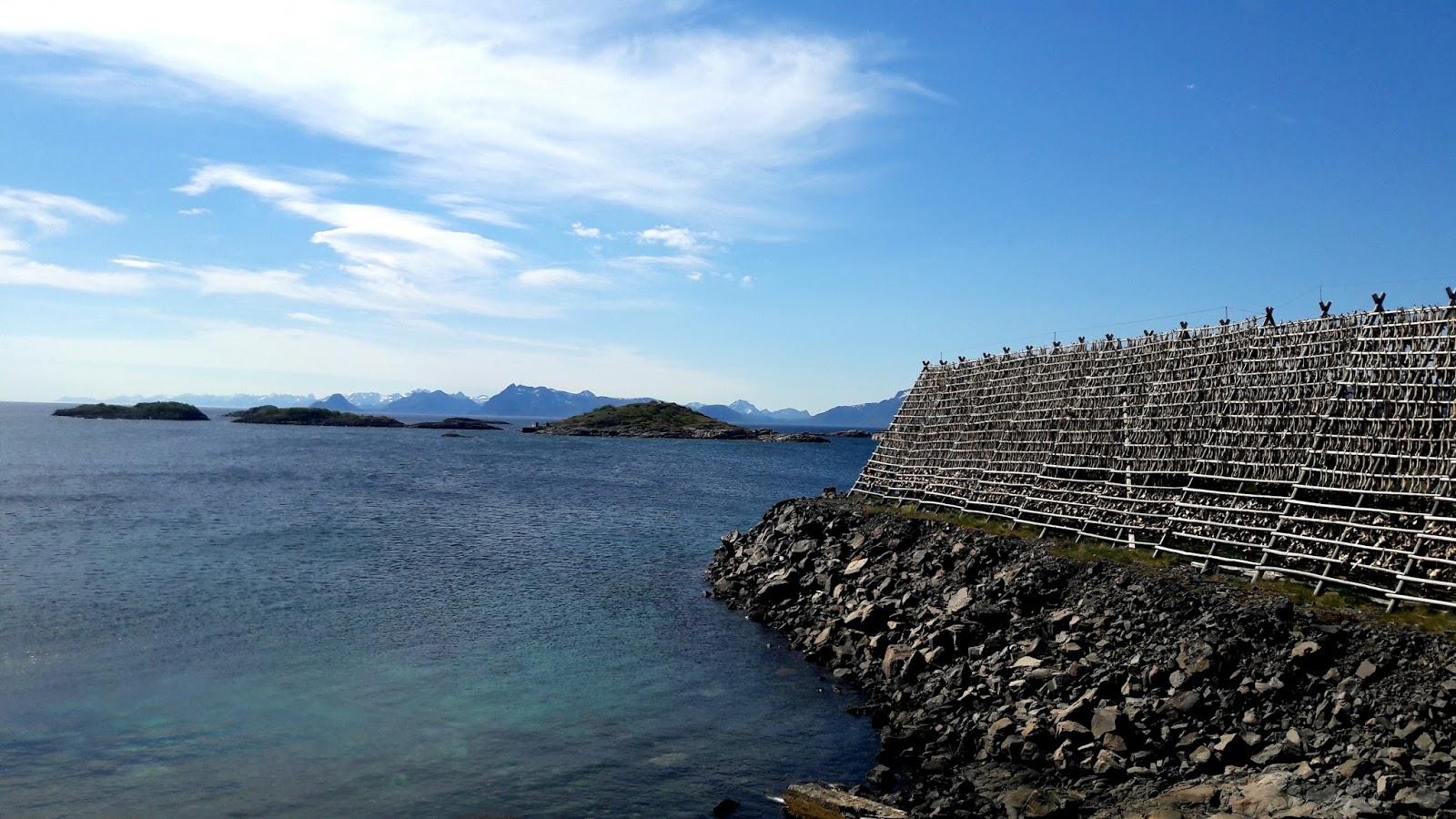 Back to the E10, I had an option to do a 20mi detour around the circumference of a smaller island...hmm..it's 1700... I'm in no rush, & have another "easy" day tomorrow- let's do it!
Circling the quiet island of Gimsøya, I saw a seal after meeting a nature photographer (with a camera which I thought was a car engine!), more incredibly perfect deserted white beaches being lapped by bright aqua waters, & met some interesting looking birds in the hidden marshes on the back roads. Nearly out of water, & still in 24°C heat, I found their one shop, 15min before closing time- get in!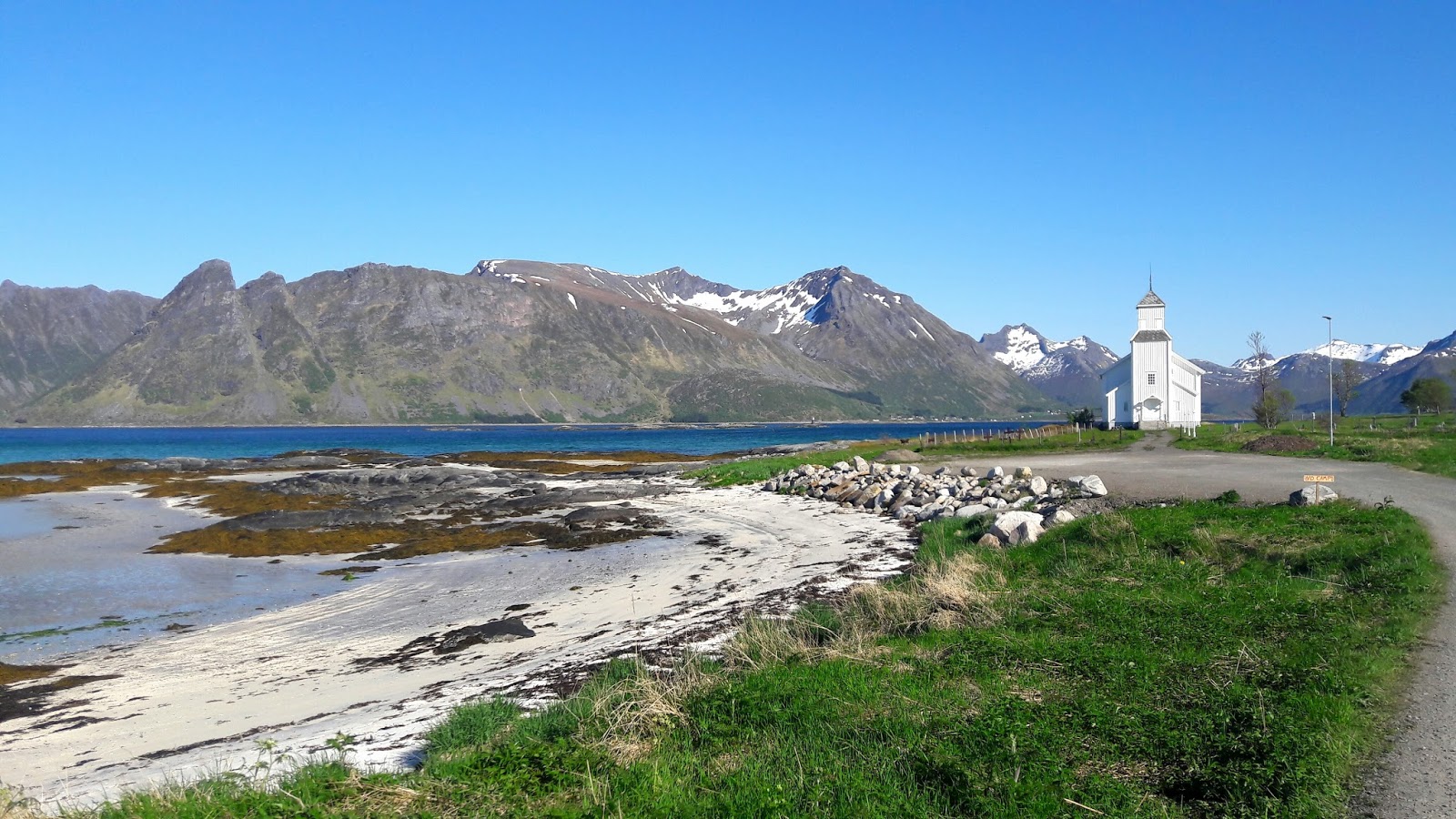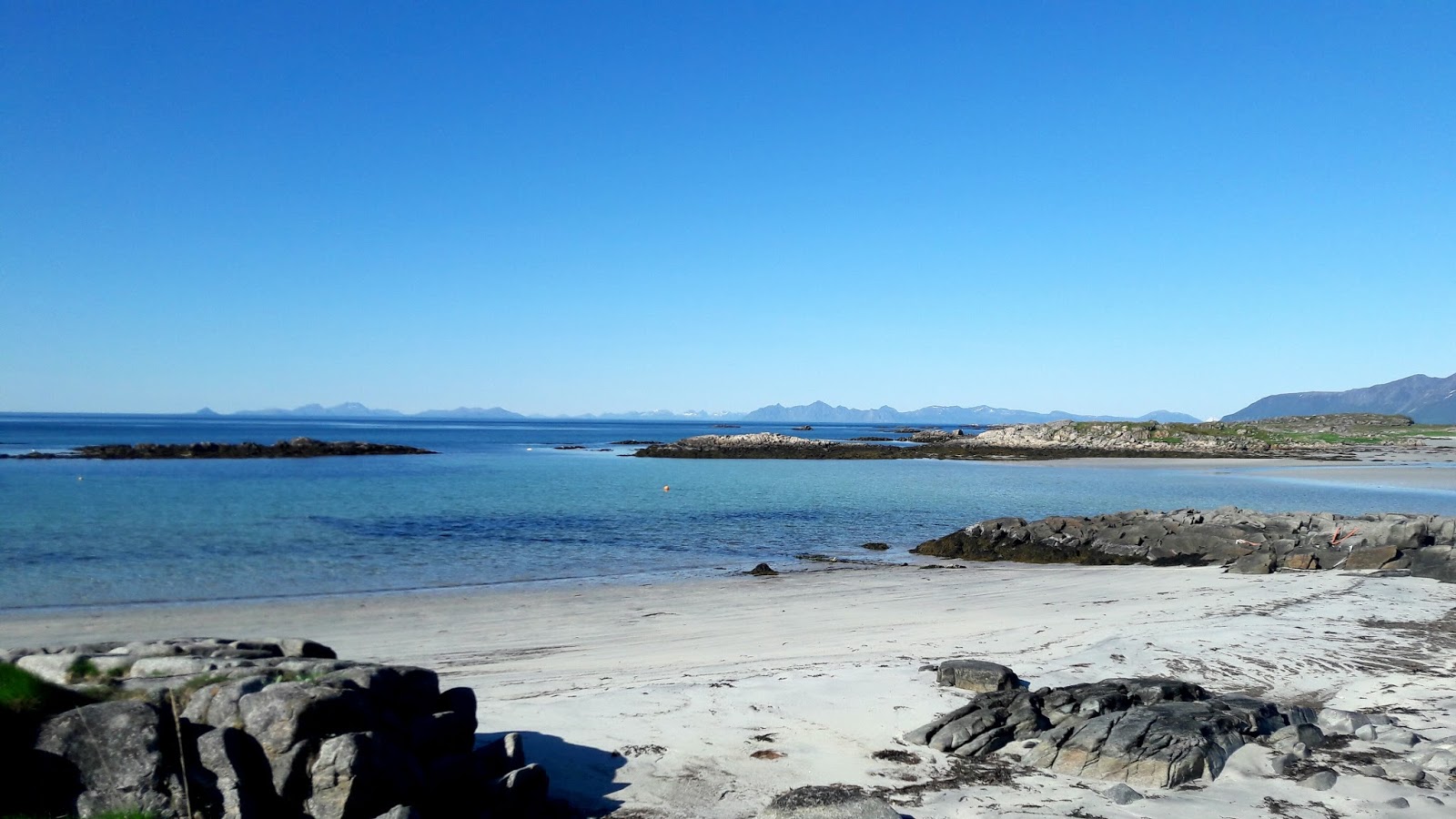 Finally onwards to my campsite for the night, where after setting up camp in the wind (that was difficult), & meeting the first english people this trip, I enjoyed my last packet of beanfeast (eh oh!) & pasta at around 2100.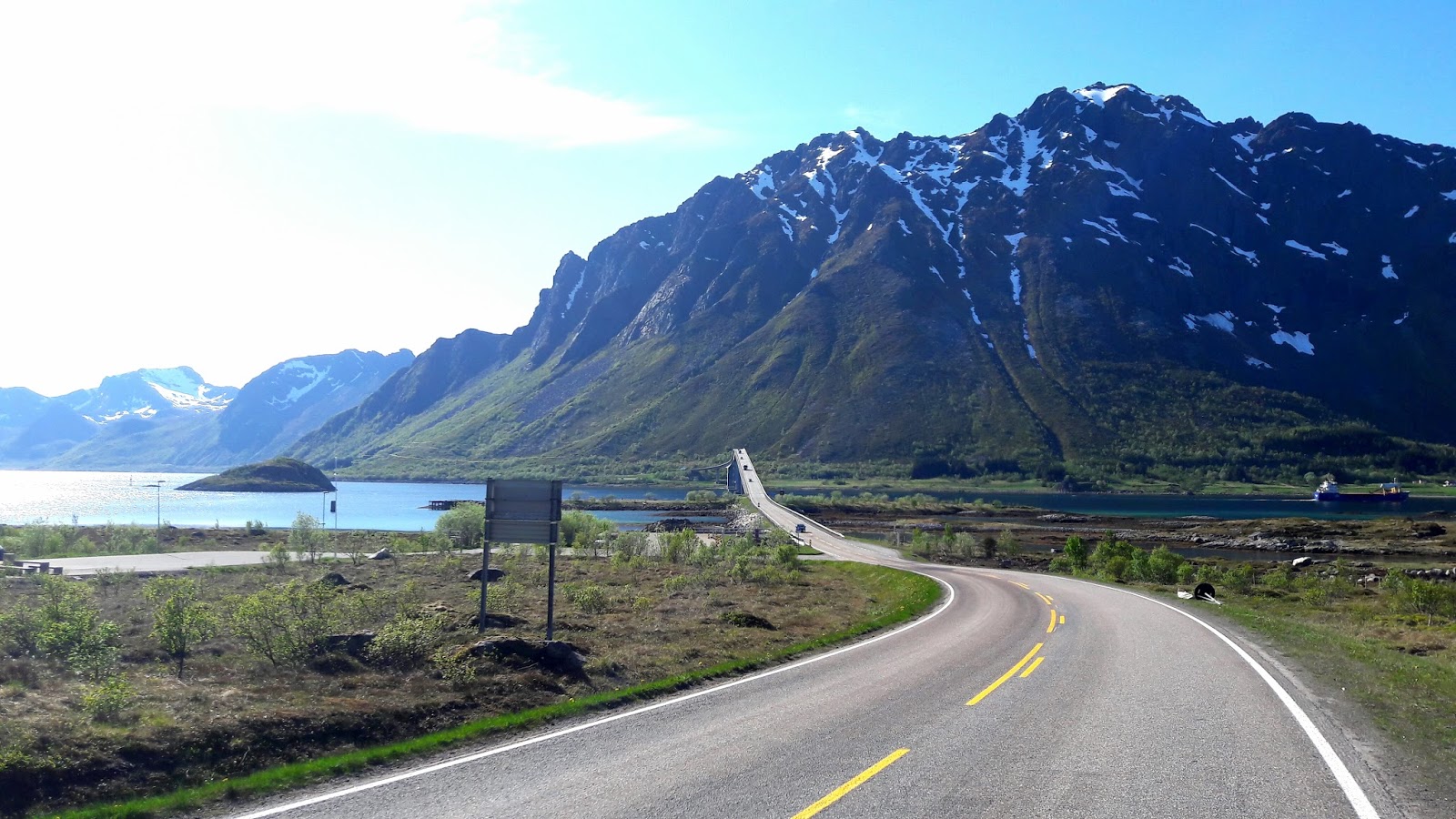 Alaina Beacall
Return to Arctic-to-Med Blog contents
Return to Blog Main Page