'Easy days', the Troll's path, & the beautiful Geirangerfjord
Day 15 of riding | 49 miles | 79 km | Ascent: 864 metres
The UNESCO site Geirangerfjord. Supporting Hand in Hand for Syria - Alaina.org.uk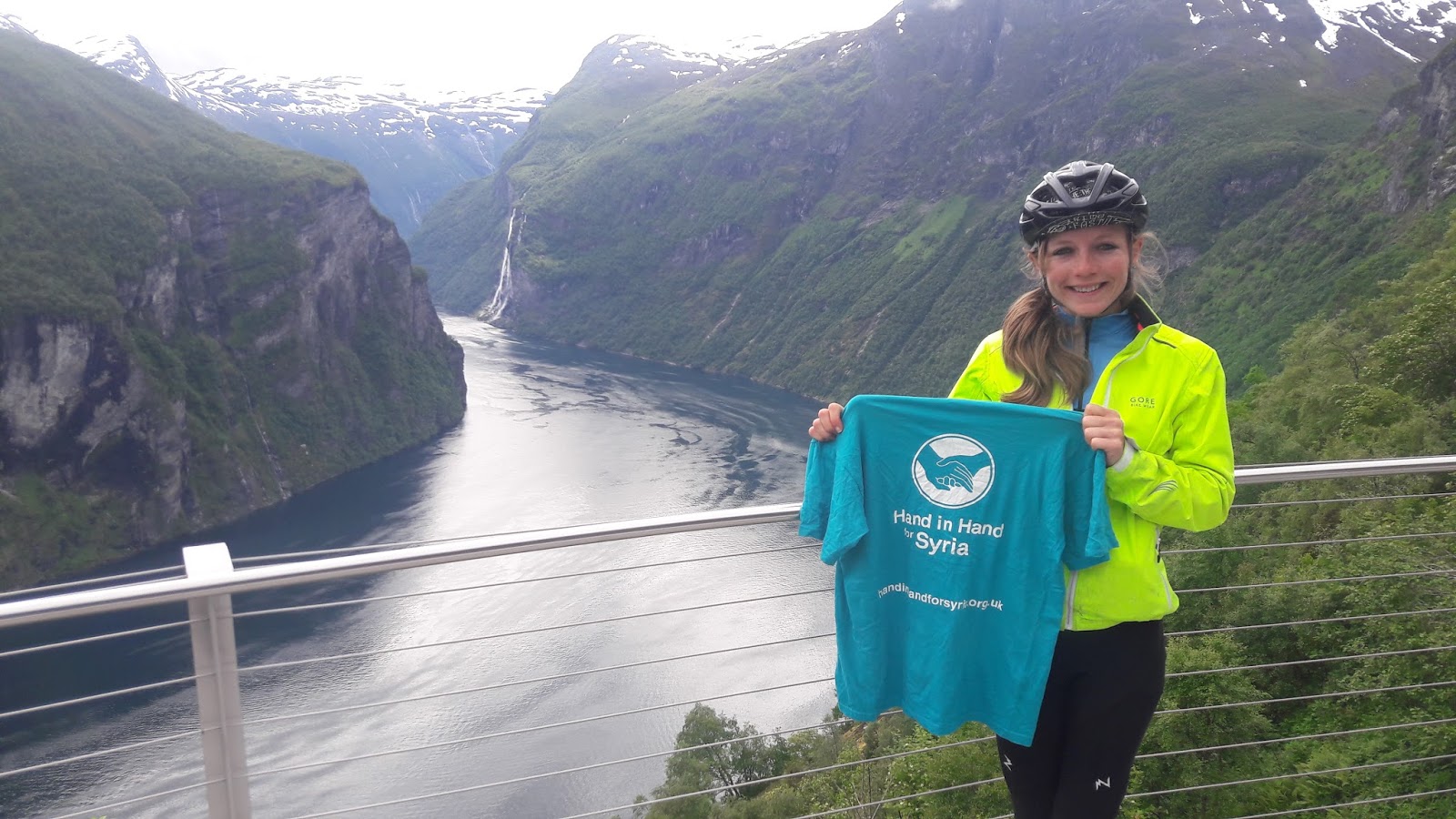 Damn you wind - this is my 'easy' day!
Doing my mega day had afforded me time to split the next hundred miler in half. Knowing I'd be going over the place pictured above, I thought it's not something I want to rush or be feeling horrific for!
Atlantic Ocean Road...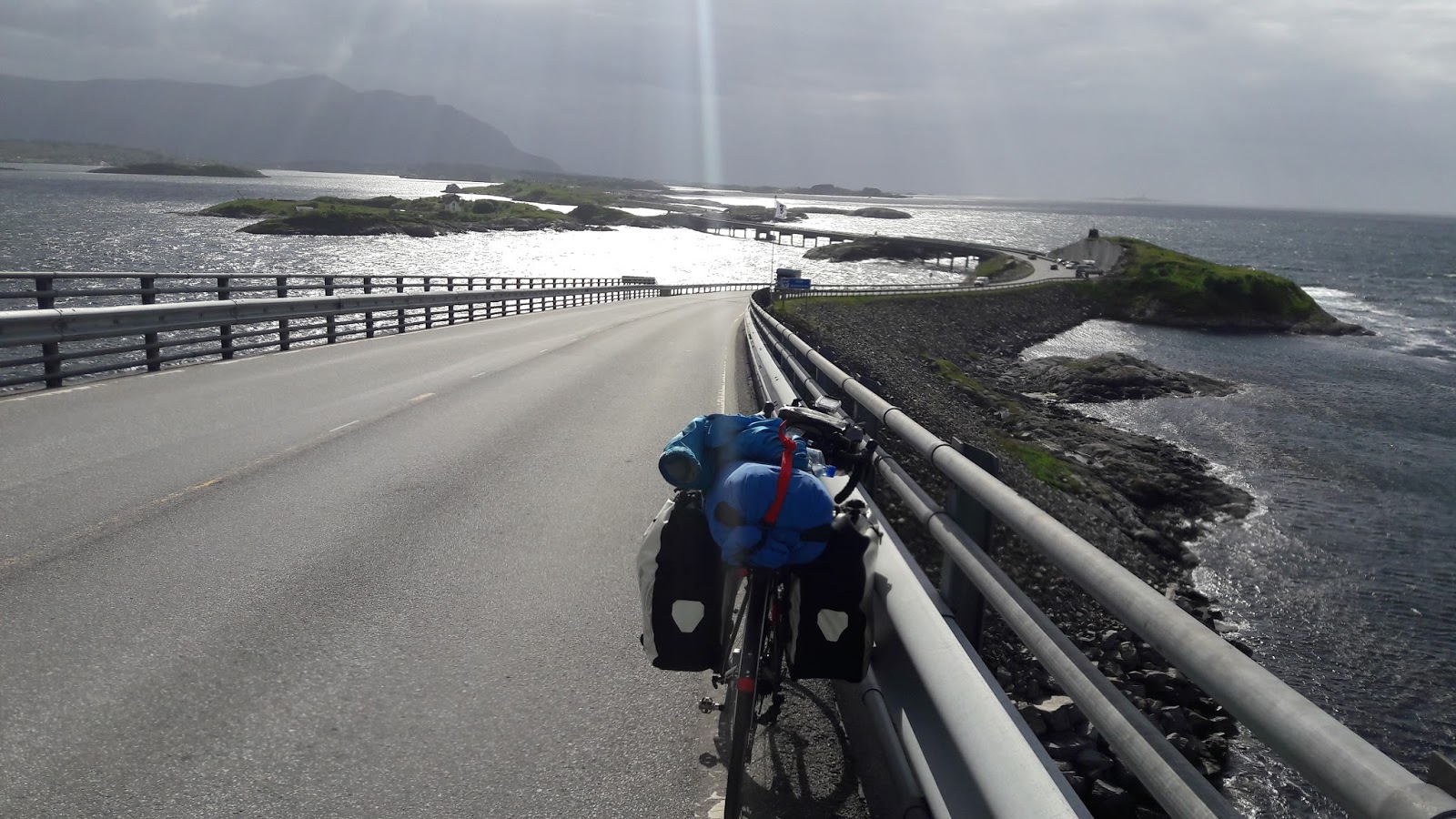 30 minutes of sun!? Quick! My gear may go from soaked to damp! :D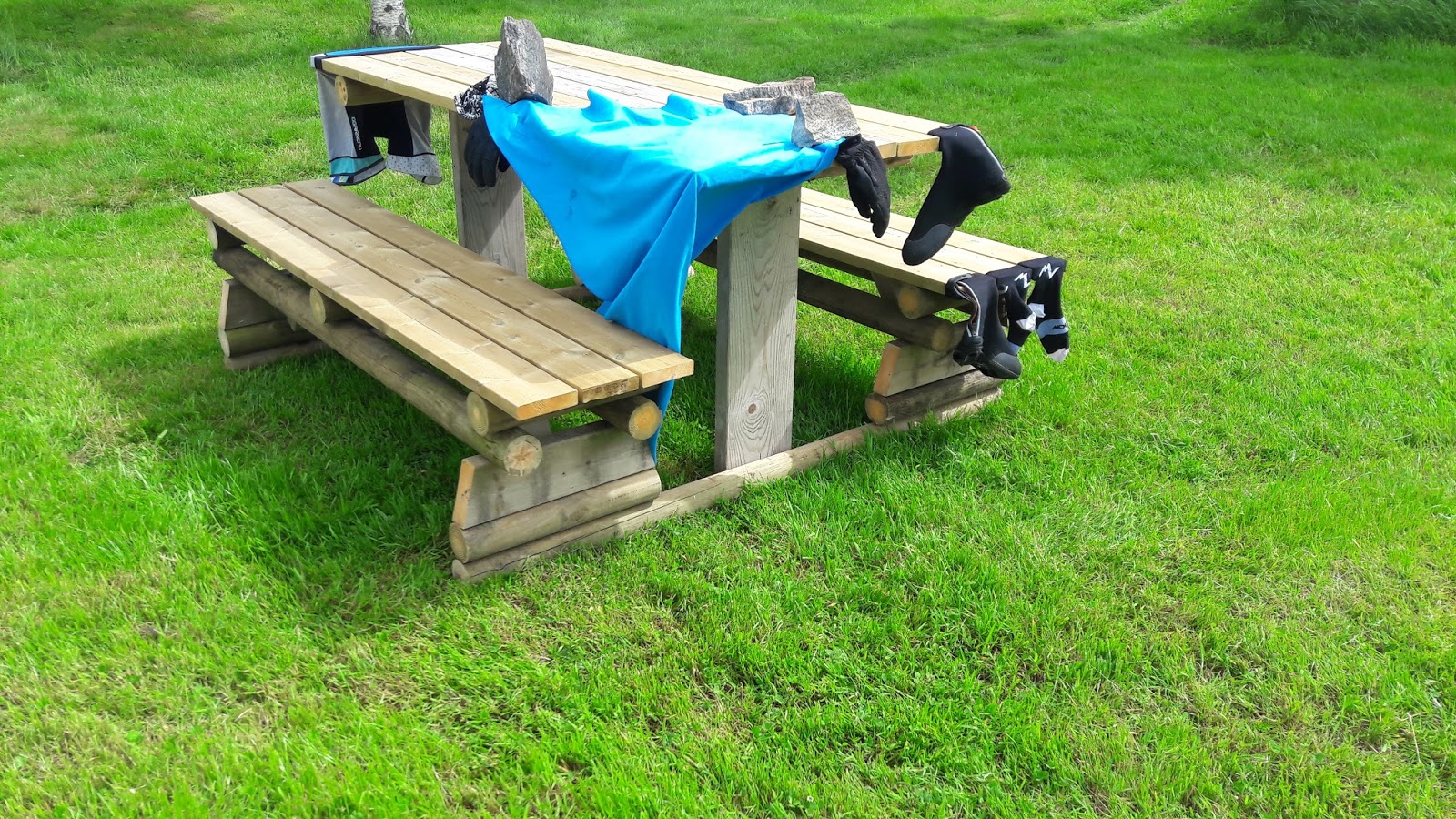 Feeling leisurely, I took my time with getting ready, & met another lovely German couple touring in their campervan.
My route south began with a tunnel illegal for cyclists, & it seemed the ferry I planned to take actually no longer exists!
Fortunately buses were running on Sundays, albeit quite infrequently, so I had to wait until 3pm for this.
A part of Kristiansund called 'Grip Island'. I'm actually having some chill time to admire the view!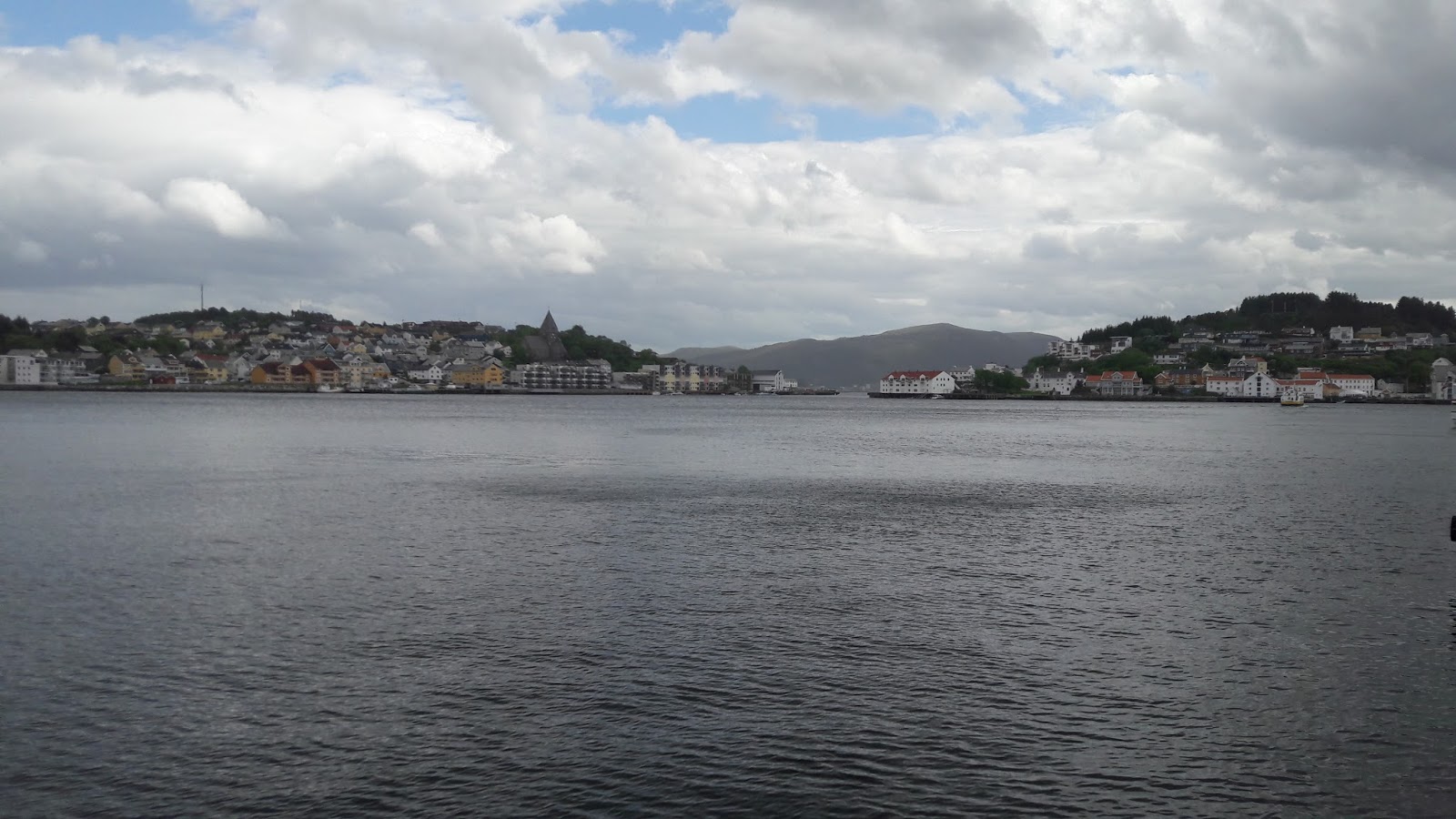 On the road 20km later, I arrived at the famous Altanterhavsveien, after passing two French cyclists who advised "you're gonna have a headwind the whole way...", pah, I thought, I'll be fine!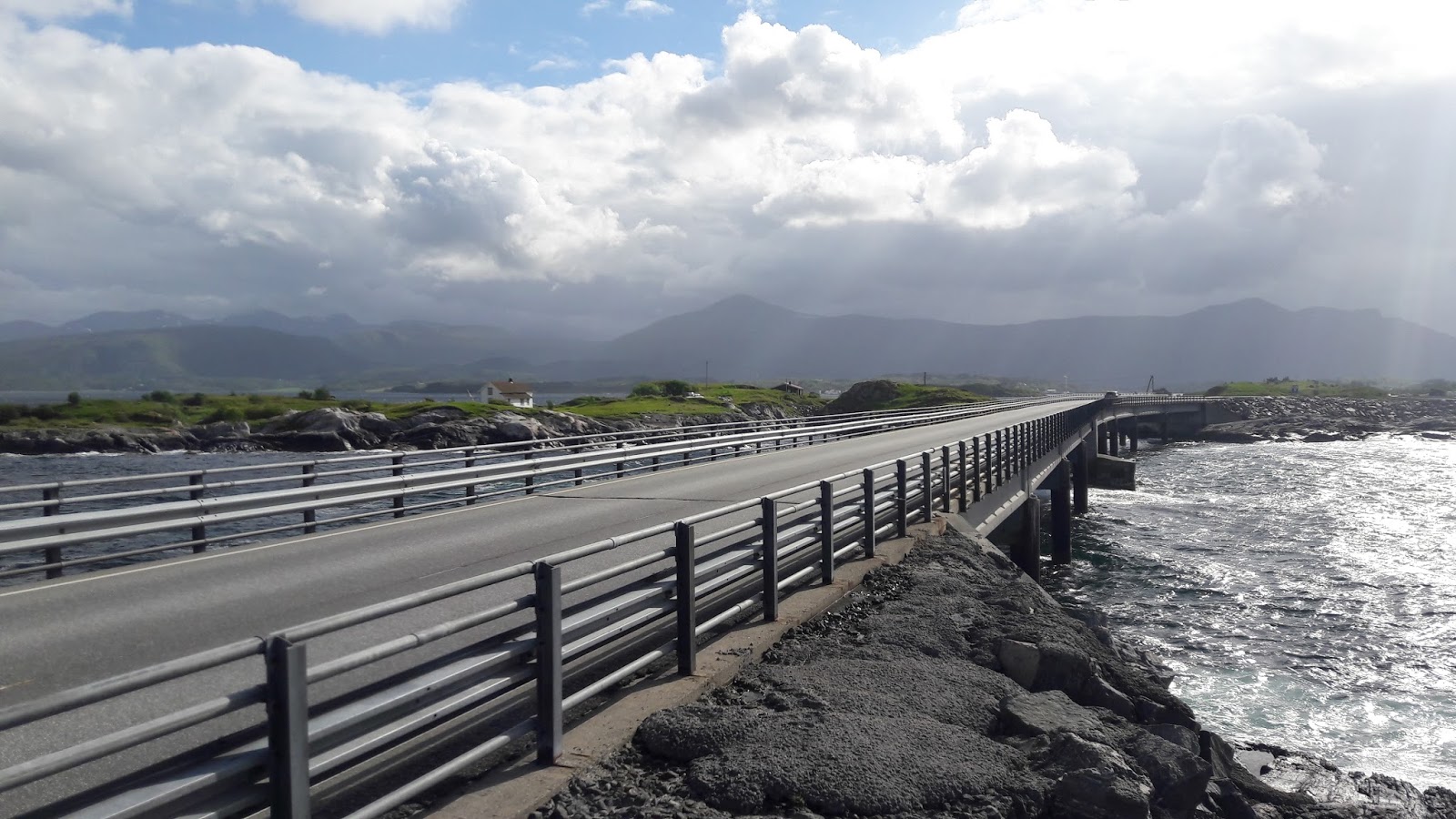 The Atlantic Ocean Road, as it translates to, is an 8.3km long marvel of engineering & beauty. The road includes 8 bridges & traverses countless lush green islands.
Turns out it's also very, very windy...
Storseisundet bridge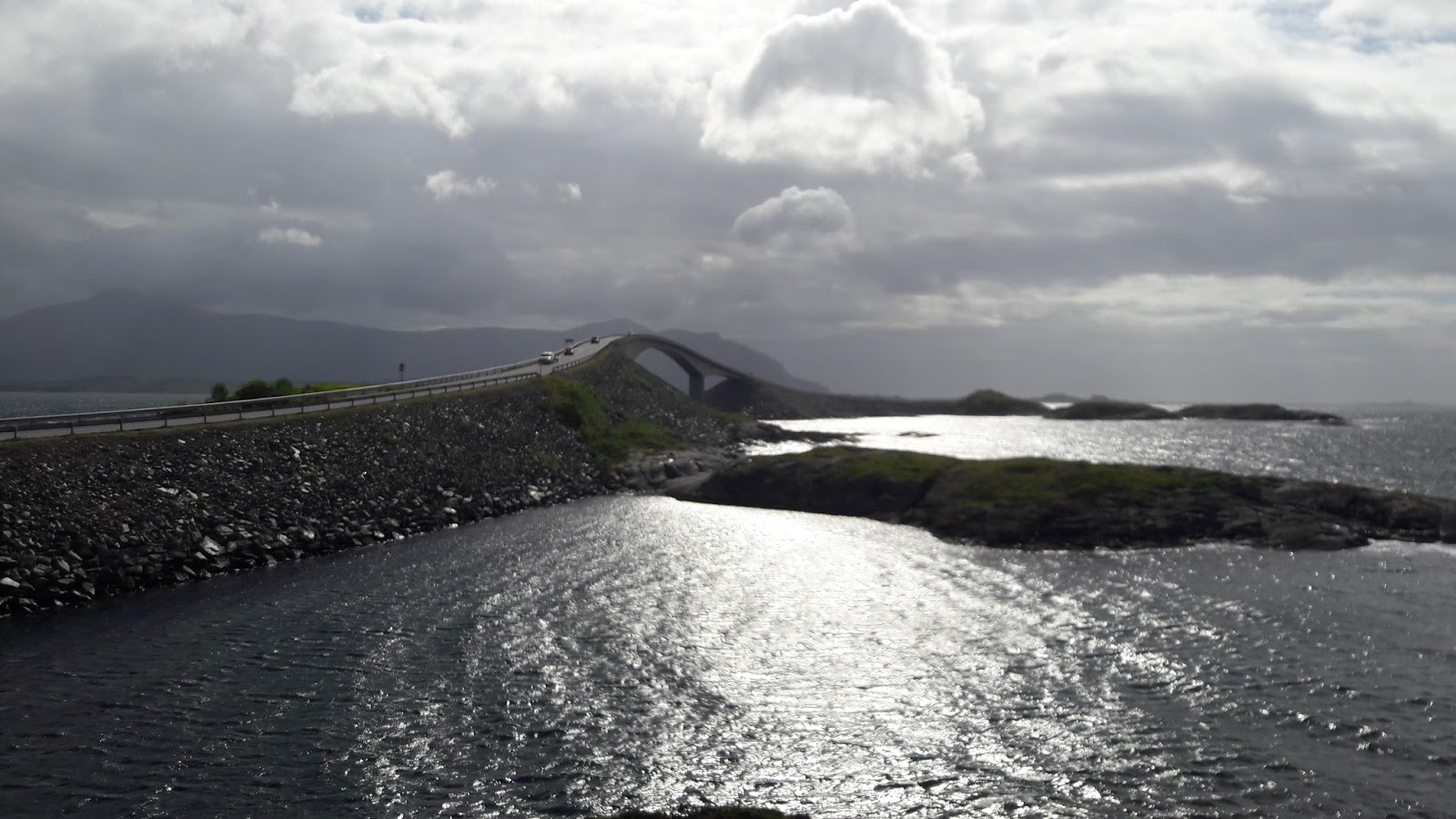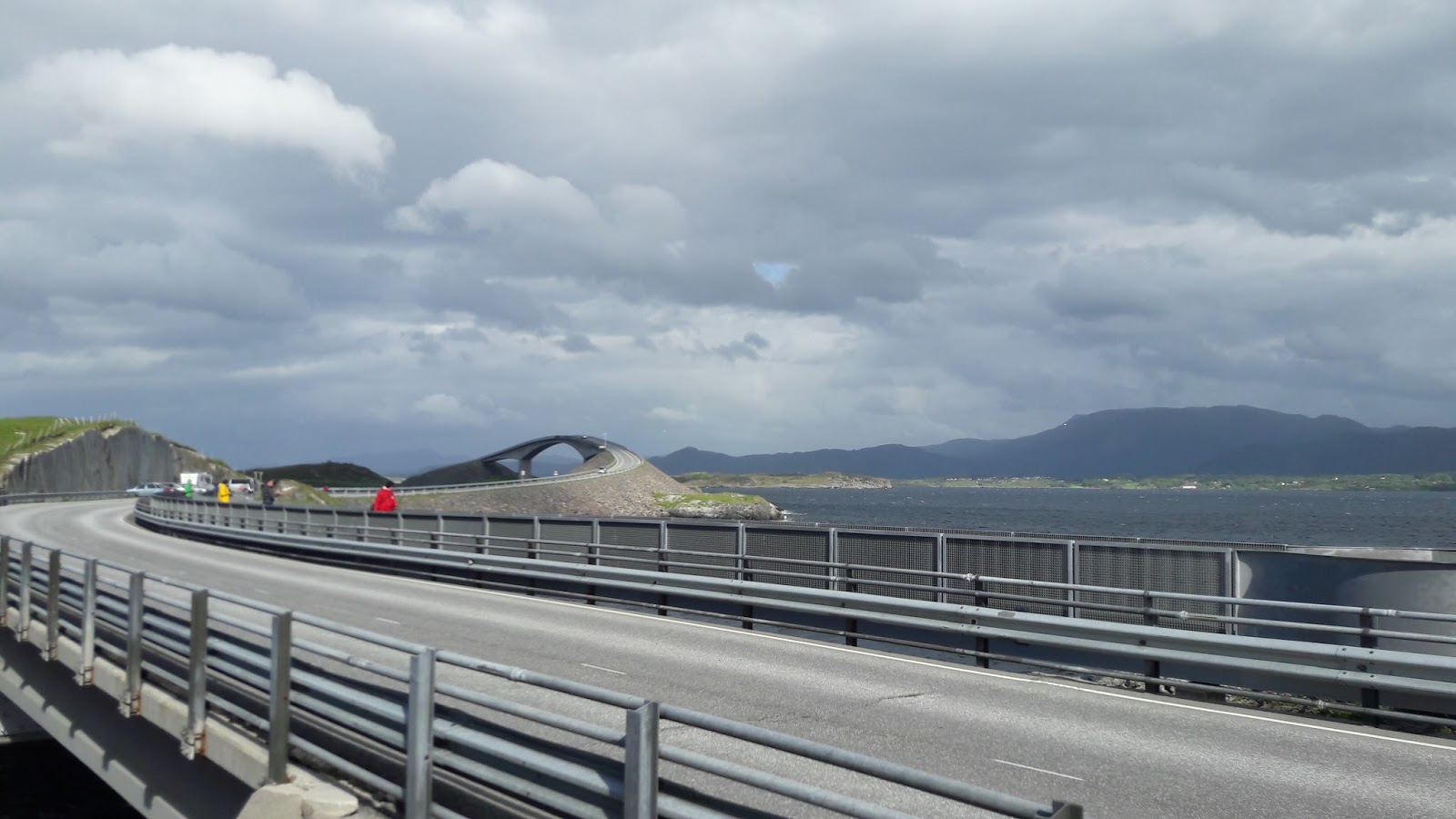 Storseisundet bridge is the most famous & acutely arched: 8% incline each side. Here, I struggled to fight the gales & was actually thrown into the barrier, agh! Thankfully I didn't fall off into the path of cars, & I continued, even struggling to walk with my bike for around 10 minutes. Geez, those French people weren't joking!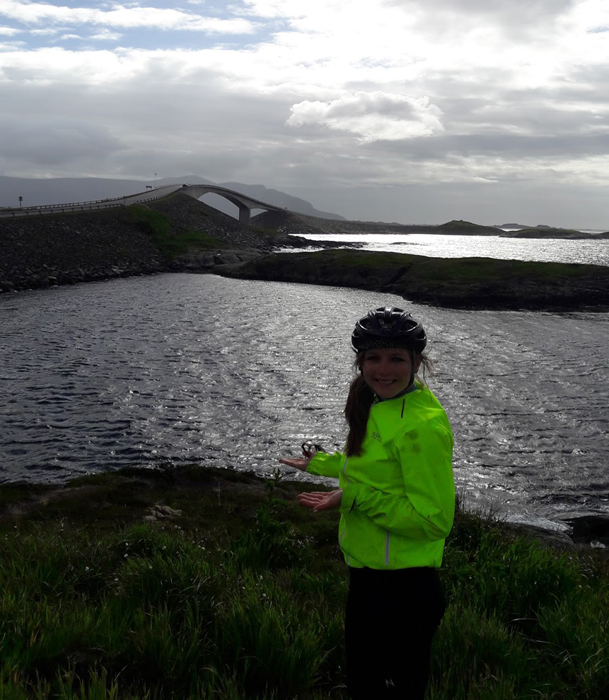 The remaining miles were probably some of the toughest I've ever done. At least hills are predictable, & visible... whereas this invisible force was pushing me so hard, that I felt exhausted, mustering every ounce of my energy just to manage 6-8mph of speed. Insane. Especially after my epic hilly 140 miles yesterday.
How I'm managing that cheesy grin, I don't know.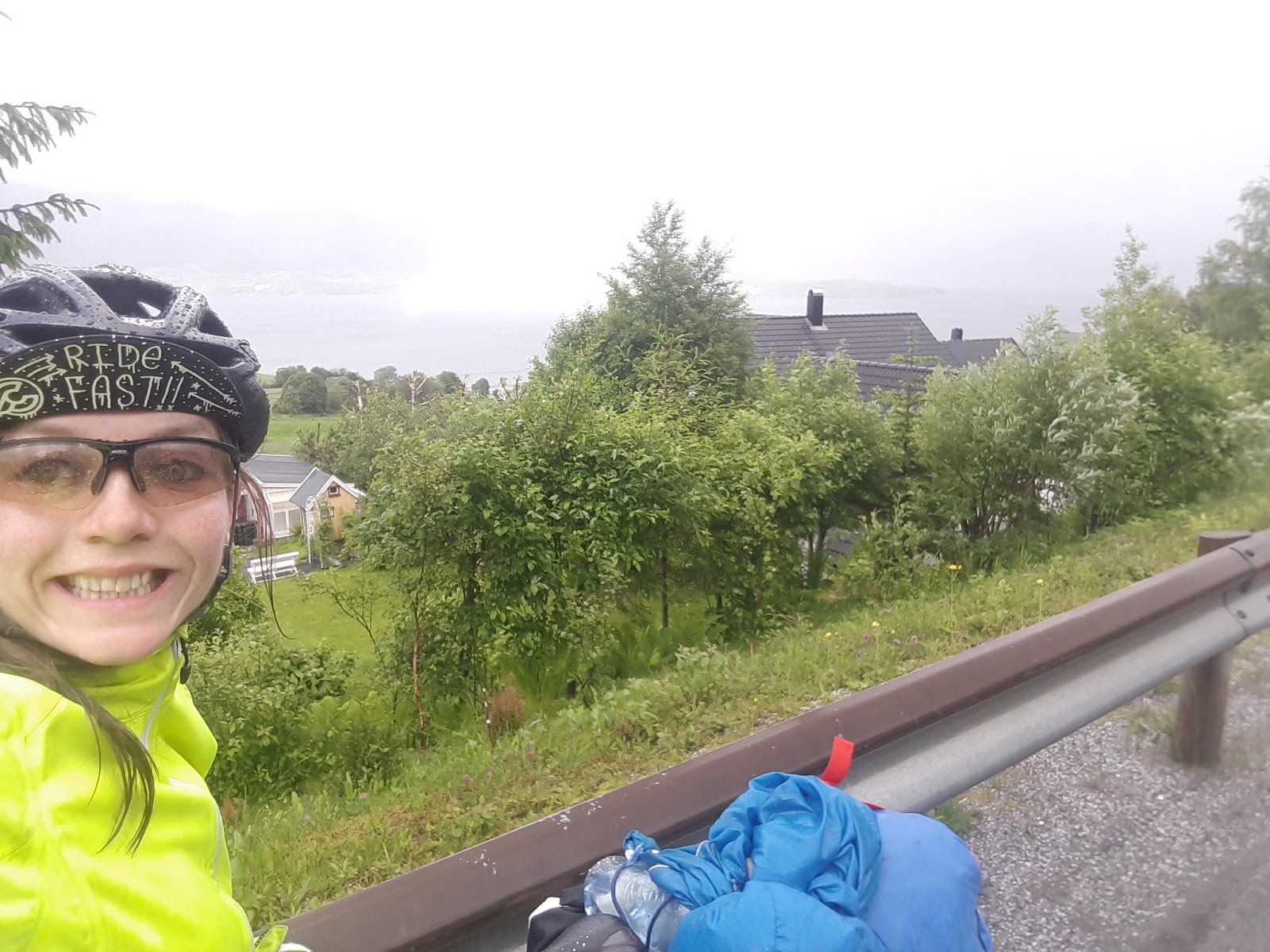 The wind was westerly, so, like a true experienced rider (oh yes!) I tried to alter my route slightly to avoid the current gales. I soon realised that my final destination of Molde was actually to the West...damn.
At least you get this beaut after a storm :)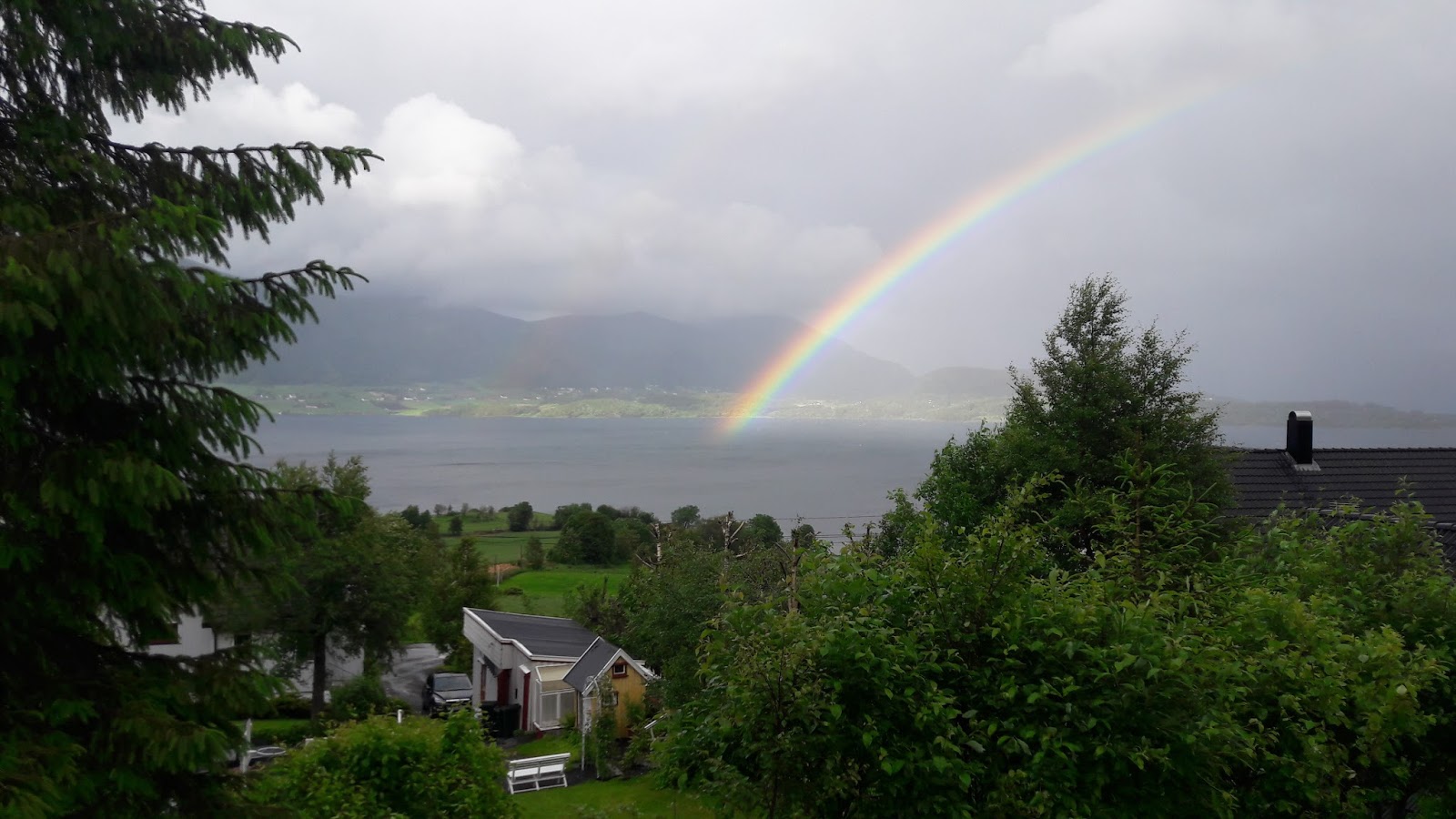 No rain briefly, woo! Now the only remaining mental barrier was a tunnel. Yes, this nice direct flat road to Molde is illegal for cyclists, so very kindly, we are offered an alternative route. Up a longer hill around the outside. My God, it really doesn't help your psyche when it's pretty late, raining, windy, and you have to ride away from your destination up an extra hill.
Anyway I'll stop whining now, it wasn't that bad!
A bit of sun & views...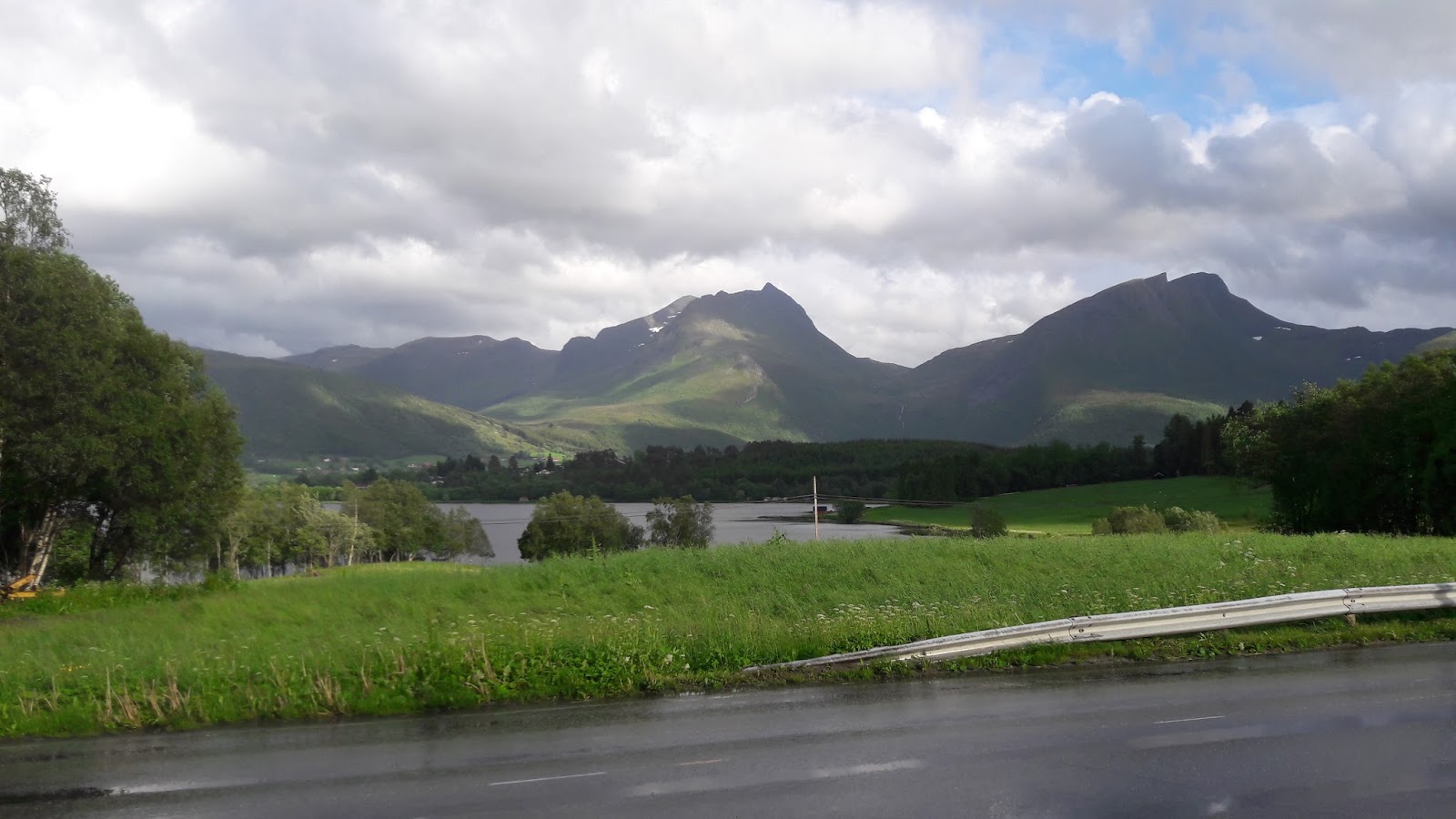 Arrived around 2100 at a campsite, & set everything up in the continuing rain. Also thinking how my friend Jin during his visit said "we're lucky it's never been raining when we get to a campsite!". Now it's just the norm!
A true 'easier' day and the return of mountains
Day 16 of riding | 63 miles | 101 km | Ascent: 741 metres
In the camping kitchen, as always, I met a very nice couple of cycle tourists from New Zealand! They have 8 months to cycle & hike around Europe, for now heading northwards to Nordkapp. They're also vegan! Whilst getting ready I had a great time chatting with them about our experiences etc. Unfortunately they ended up grounded in Molde for a few days, as the spokes had pulled apart bits of the one of their wheels! Thankfully there was a bike shop nearby, & I know they're now back on the road.
Ah, this is the Norway I know and love!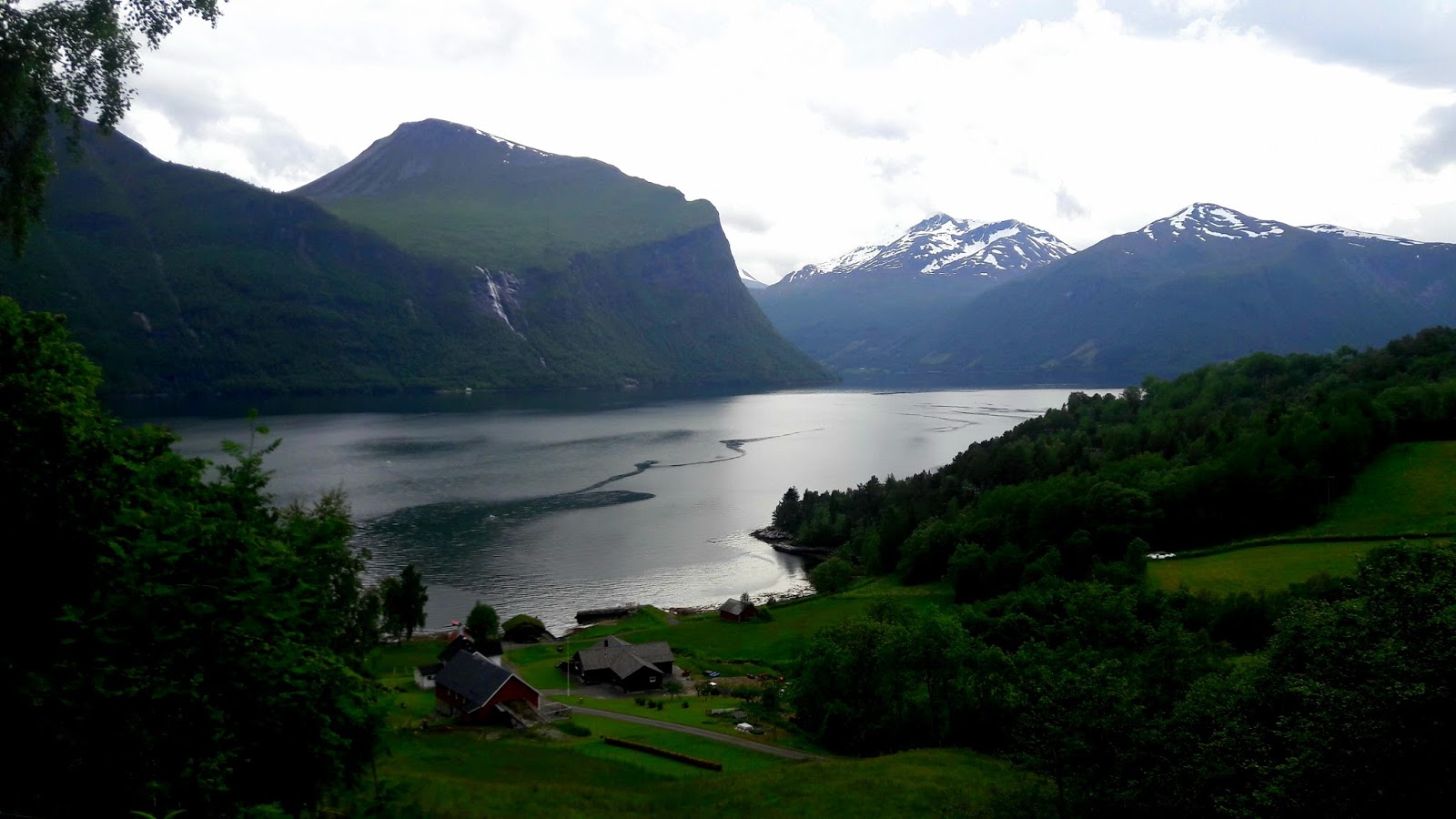 Must take photo when sun appears!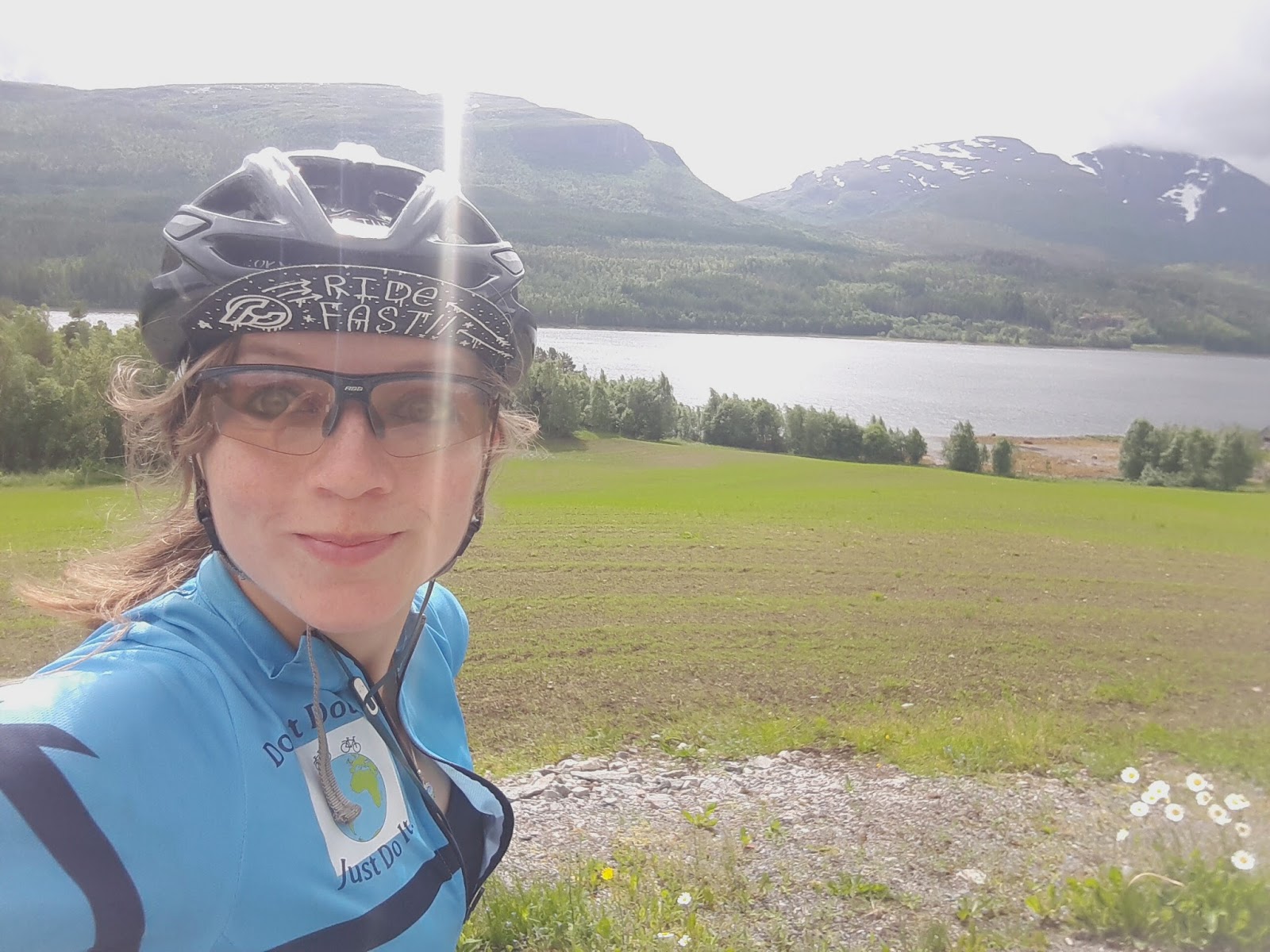 Feeling leisurely again on this shorter day, I took a brief detour to check out Molde town centre. I also capitalised on being in a big place by buying tofu for my dinner - woo!
Anticipating a flat day, I loaded up with not only breakfasts & lunch, but lots of heavy ish dinner items. Thai curry night!
The pretty Blåveis flowers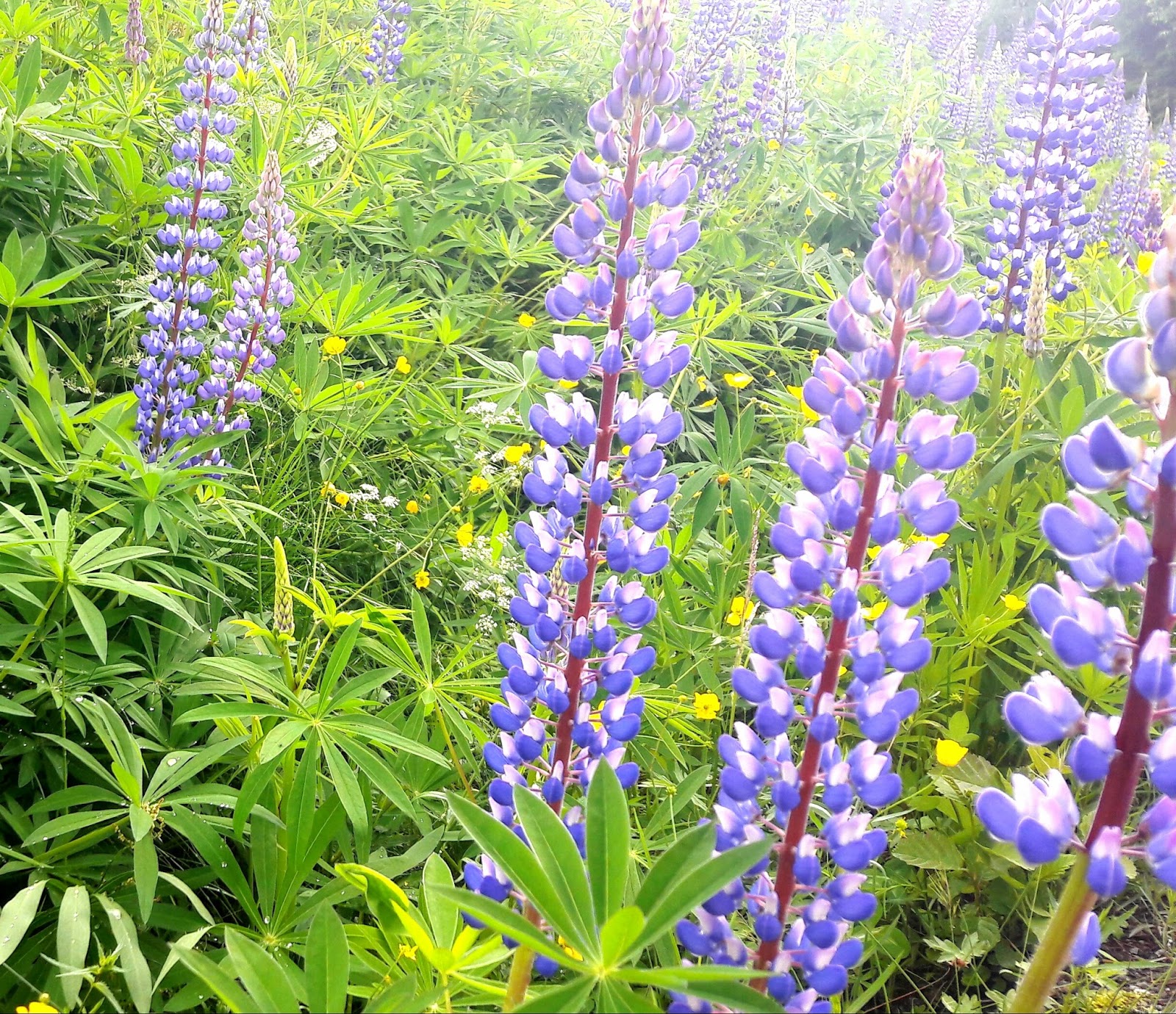 What a lovely, straightforward and flat day today was!
I wound my way around a minor road that lined the rim of 'Fannefjord', going via a quiet forest, & eventually up a small hill.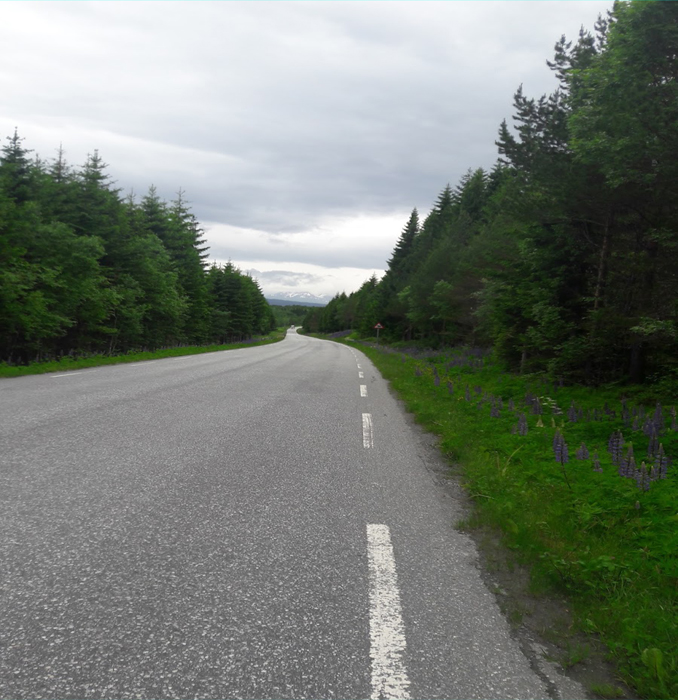 That thing definitely scares more than crows...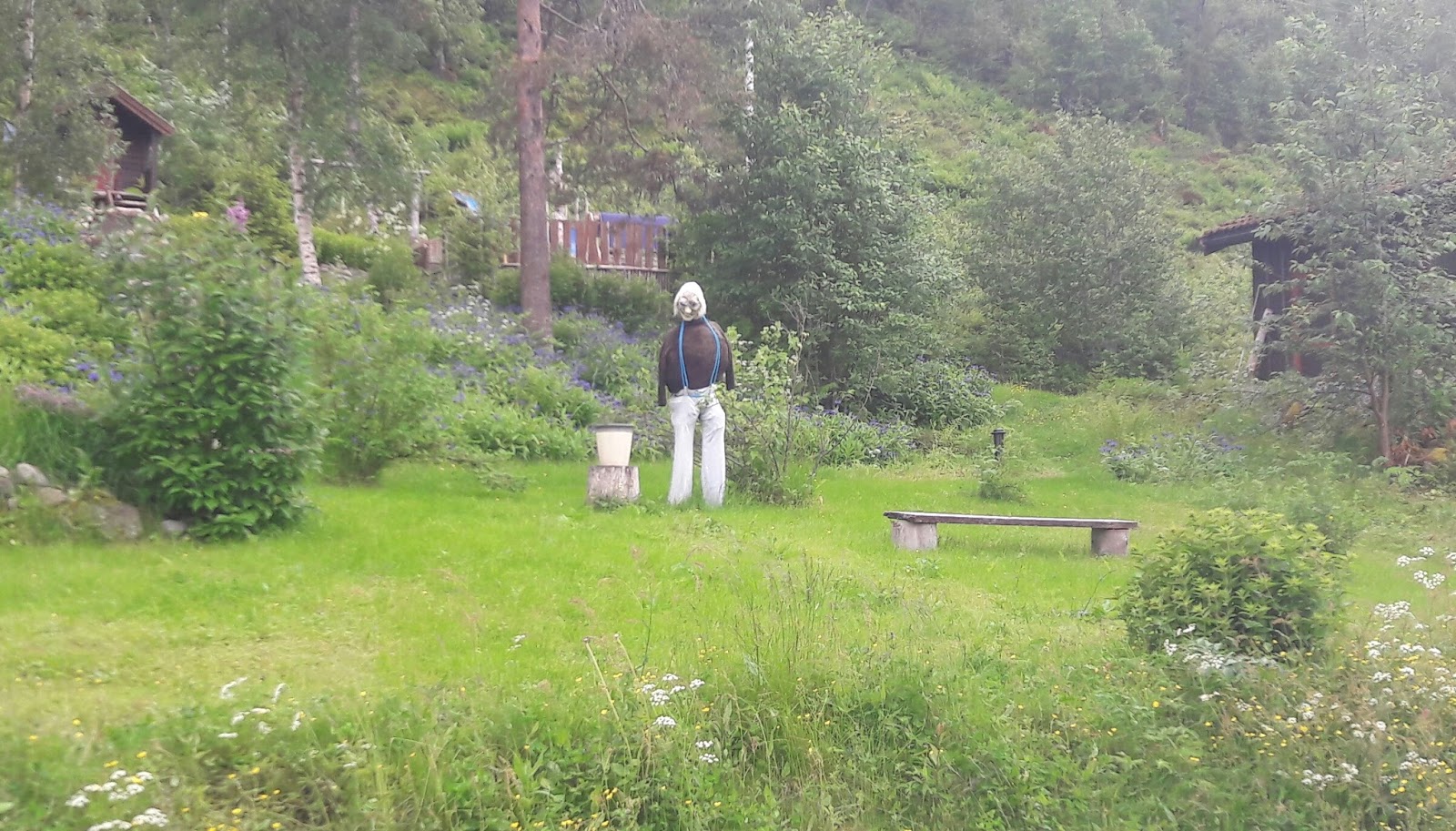 I actually felt slightly fatigued trying to head up the incline, & so as I passed a very elaborate post box house (yes, you heard right, Norwegians have houses for their post boxes), I thought on this shorter ride, I may even treat myself to a sit down!
Exuberant housing for local post, complete with a bench - where I enjoyed some snack time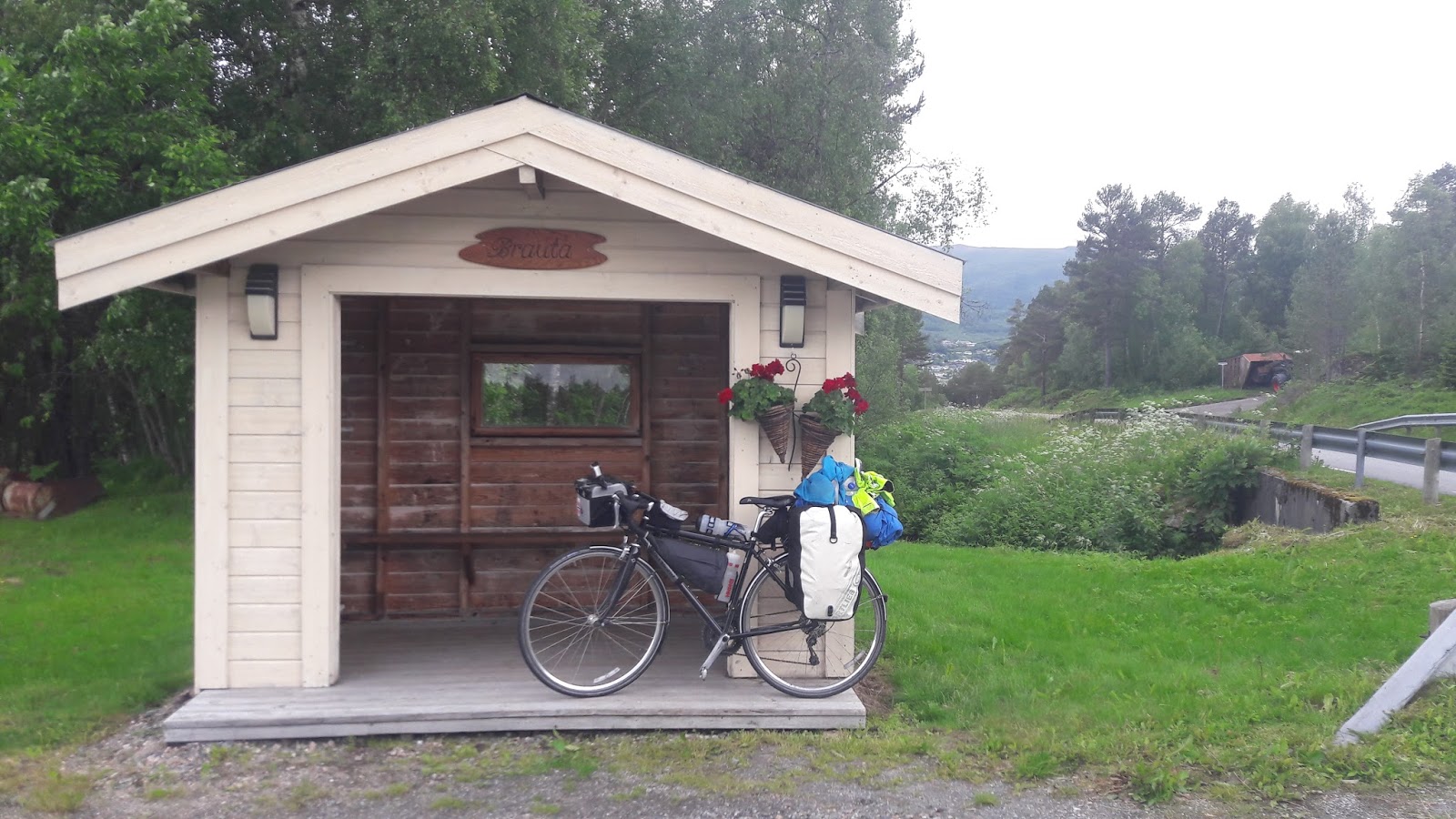 I guess that recent big day has started to take its toll on my legs.
After consuming more vital calories, I continued around the rim of a further peaceful fjord.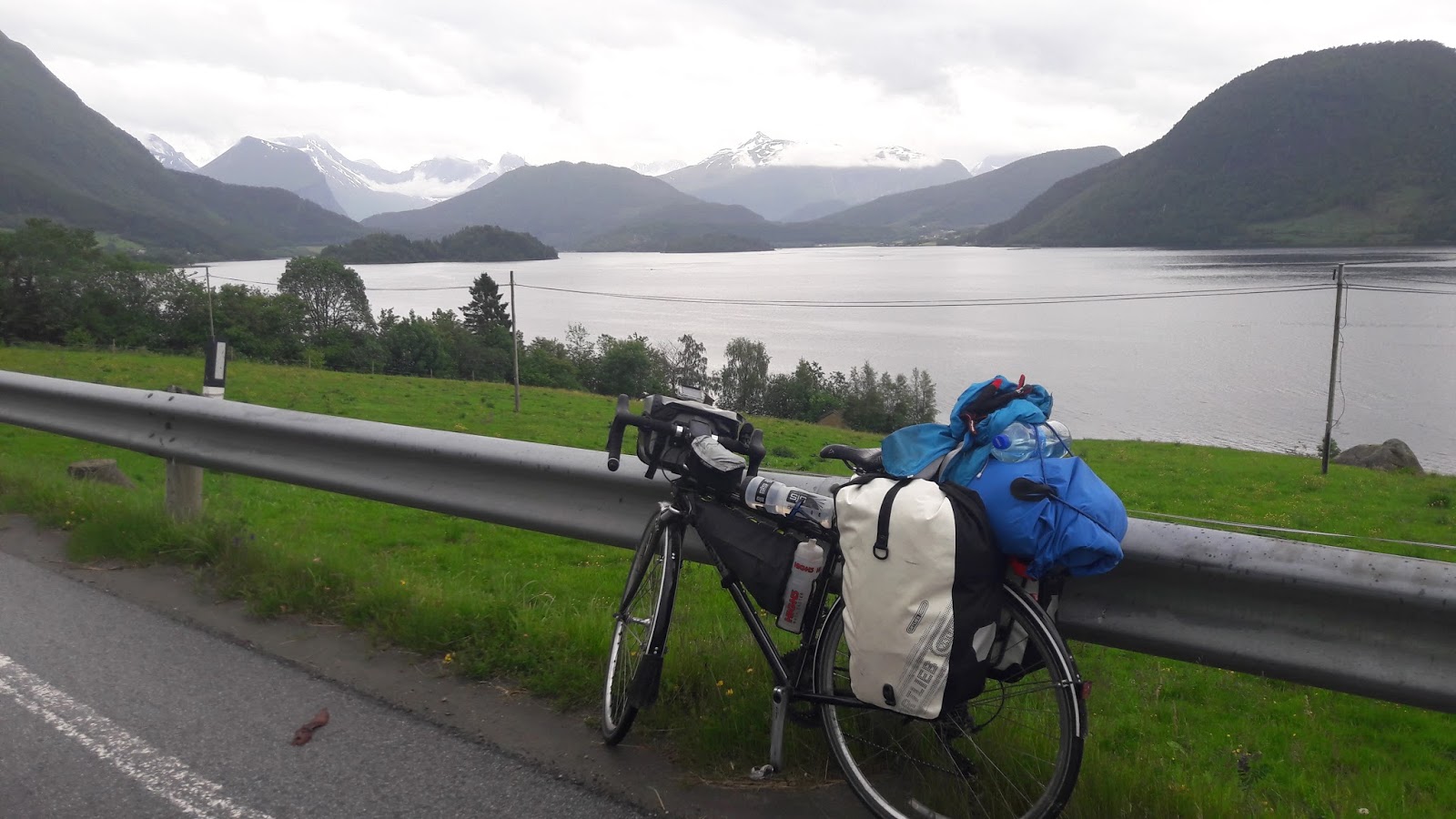 After a 20 minute ferry crossing, I entered the fjord where my destination resided - Åndalsnes.
Absolutely beautiful. A panorama of mountains, once again, after quite a stretch without.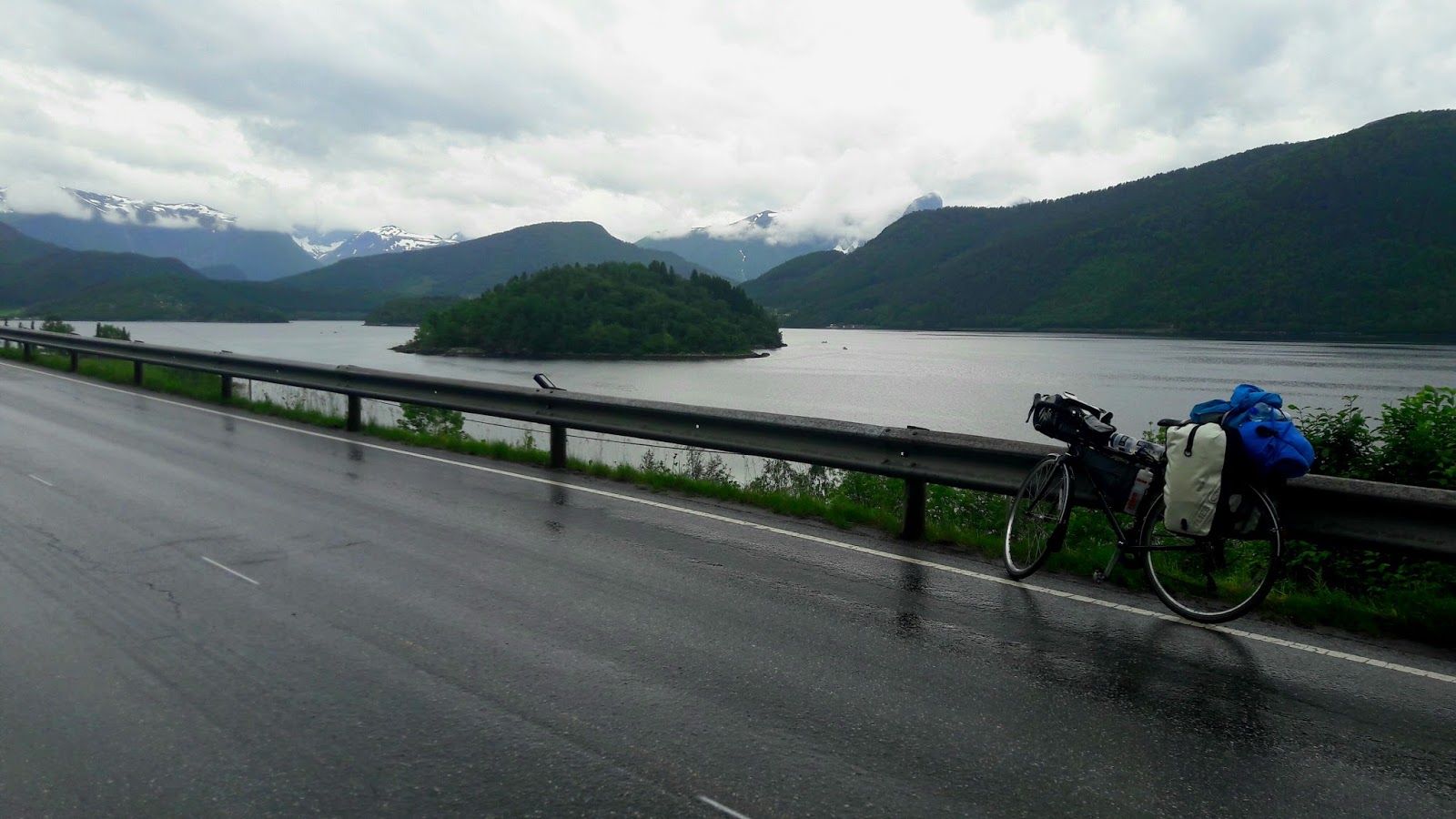 Arriving at the campsite, I considered the next week of heavy mountains I'd be facing, & how unfresh I felt. Maybe it's time to be sensible & have 1 rest day before tackling them? Then make up the time later on a longer day.
So, once again in the campsite kitchen (where all the cool kids hang out, obviously), I was approached by a very sweet Dutch couple who recognised me from the earlier ferry. We had a nice chat, & later I continued chatting to the gentleman, who very interestingly is a sports coach for vulnerable children & adults. He even got to run with an Olympic flame in the UK!
Note from my new dutch friend, ah! :)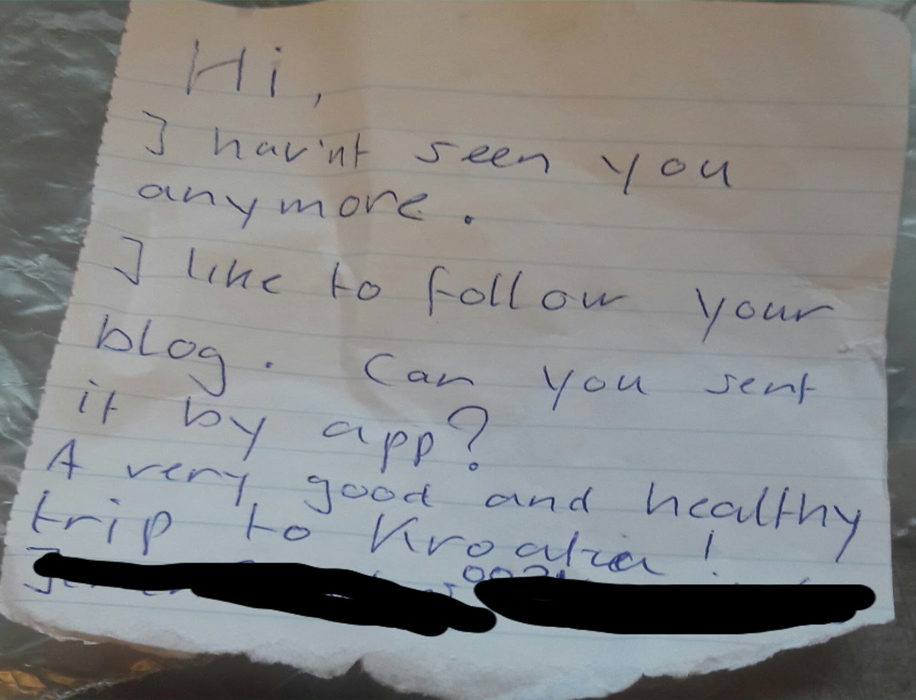 I then chatted over dinner with a group of French hikers travelling north, & a Swiss cycle tourer, also headed south but with a more generous timetable.
The best toilet signage - couldn't agree more.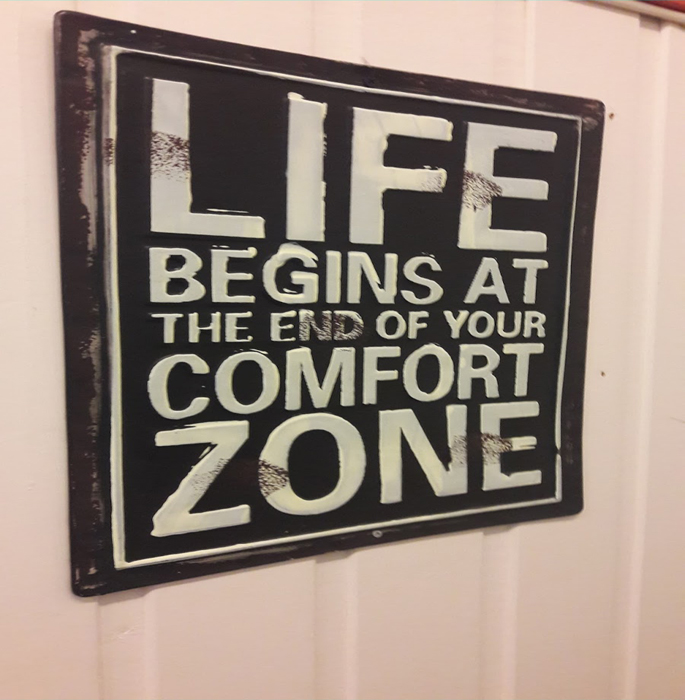 TROLLSTIGEN!!!
Day 17 of riding | 53 miles | 85 km | Ascent: 1700 metres
After a much needed day off, in literally the heaviest & constant 24 hours of rain I have ever witnessed (thank God I avoided that), a legendary day of riding arrived!
Julian, my new Swiss cycle touring buddy, wanted to do the same route that day, so we set off together. Our destination was the UNESCO christened fjord of Geiranger, via the spectacular "Trolls path" mountain road.
Julian and I joined forces to scale this dream of a road!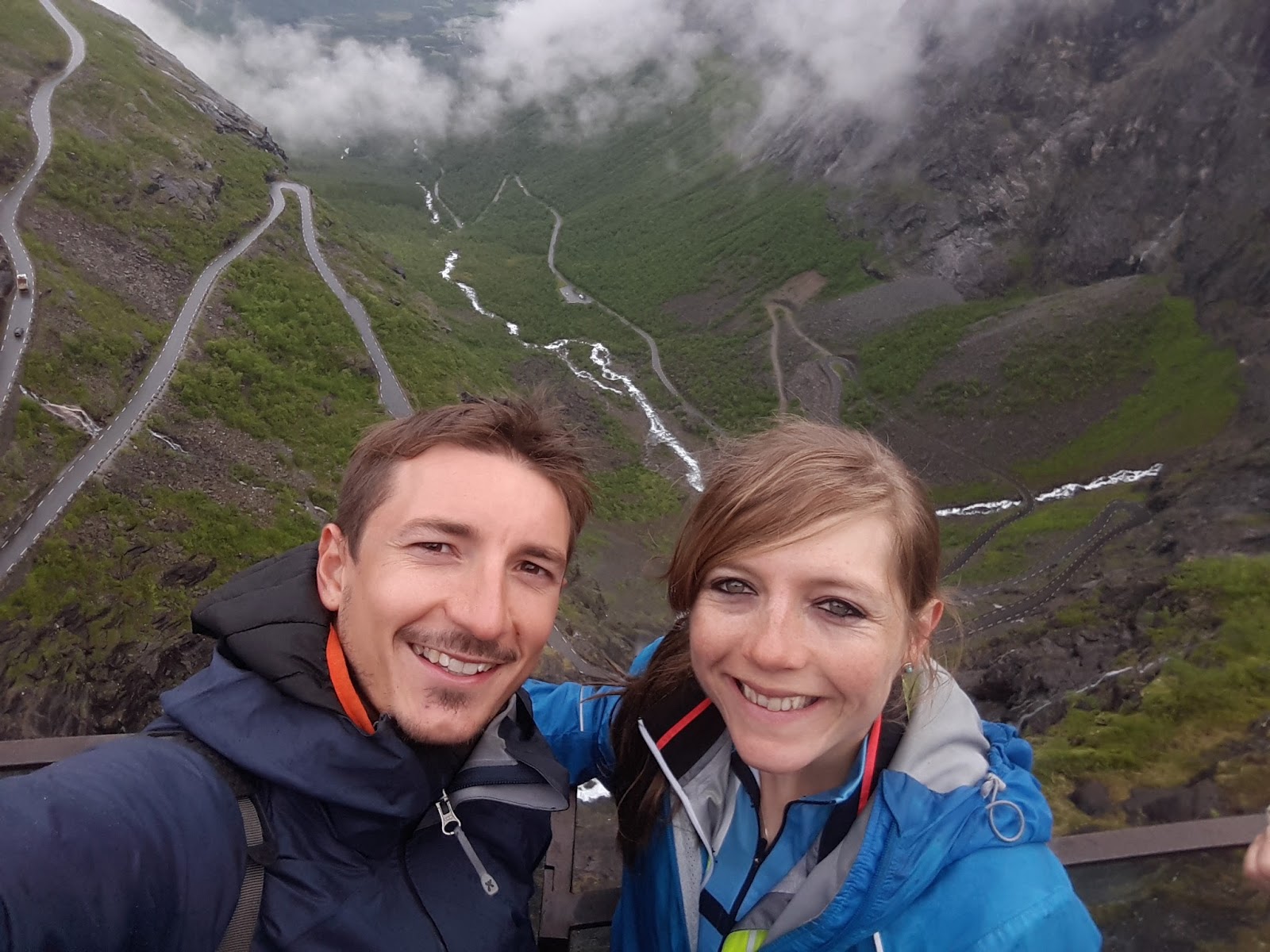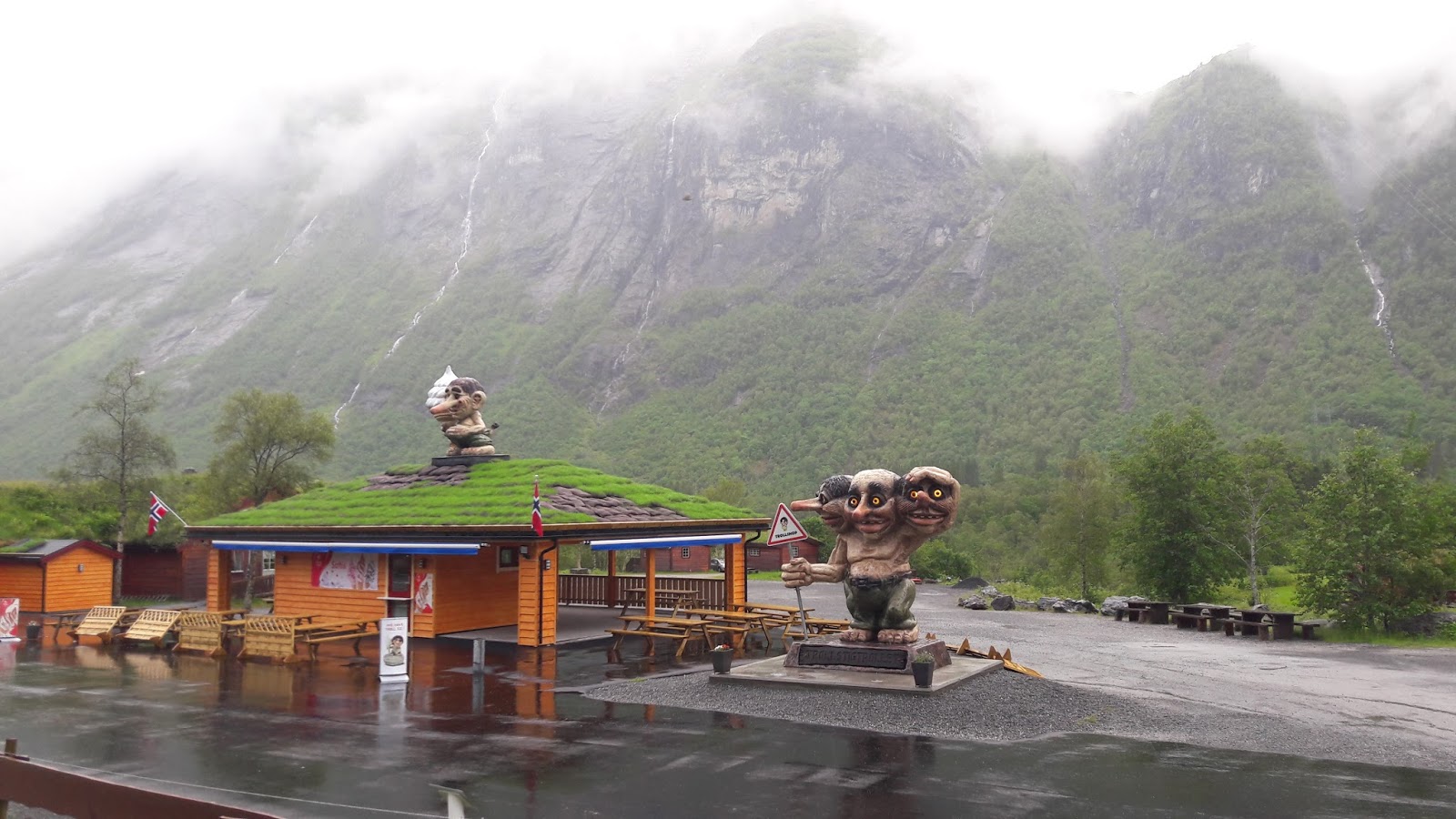 Warning of the many 10% inclines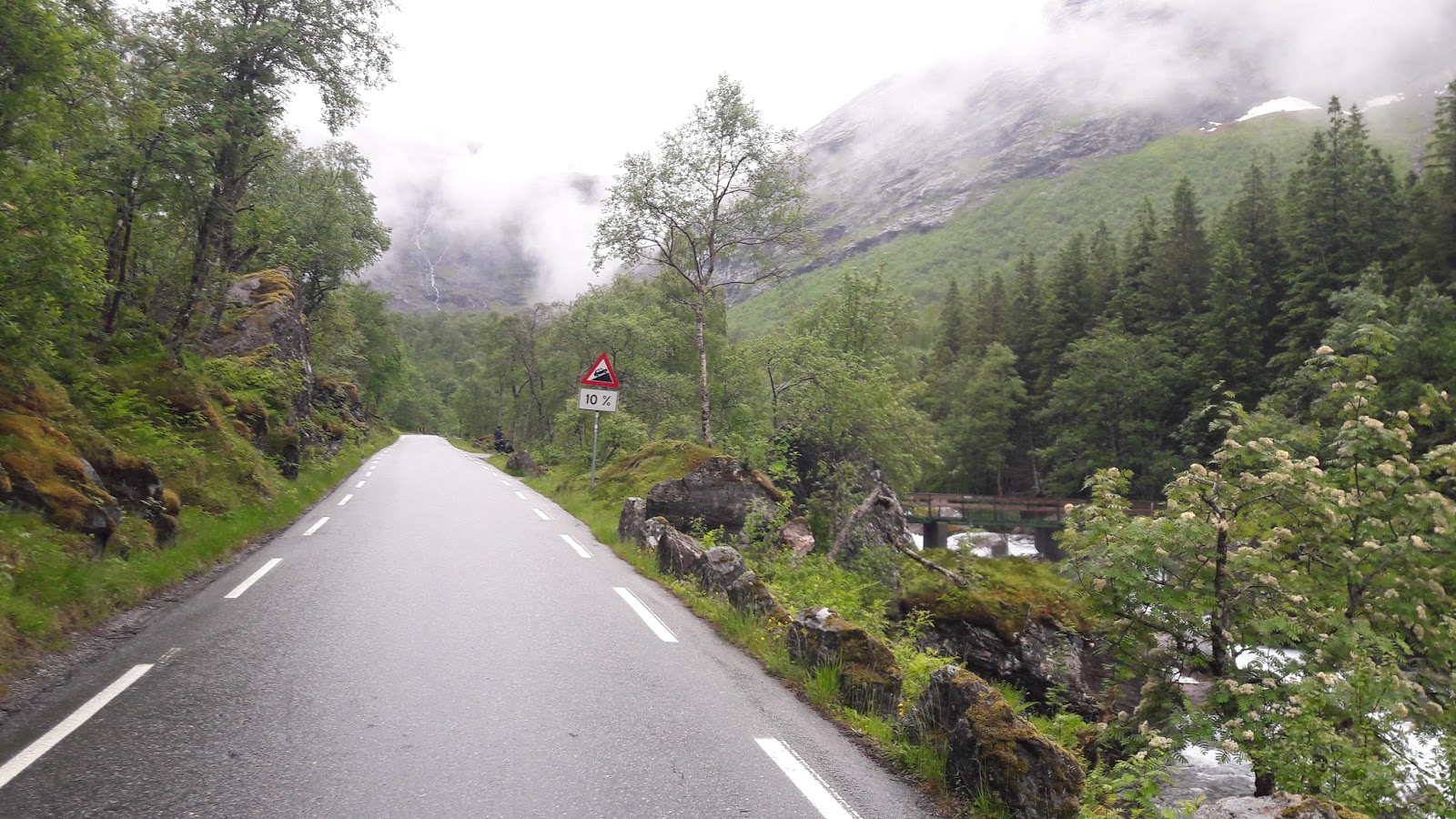 Entering the wet & mystical land of the Trolls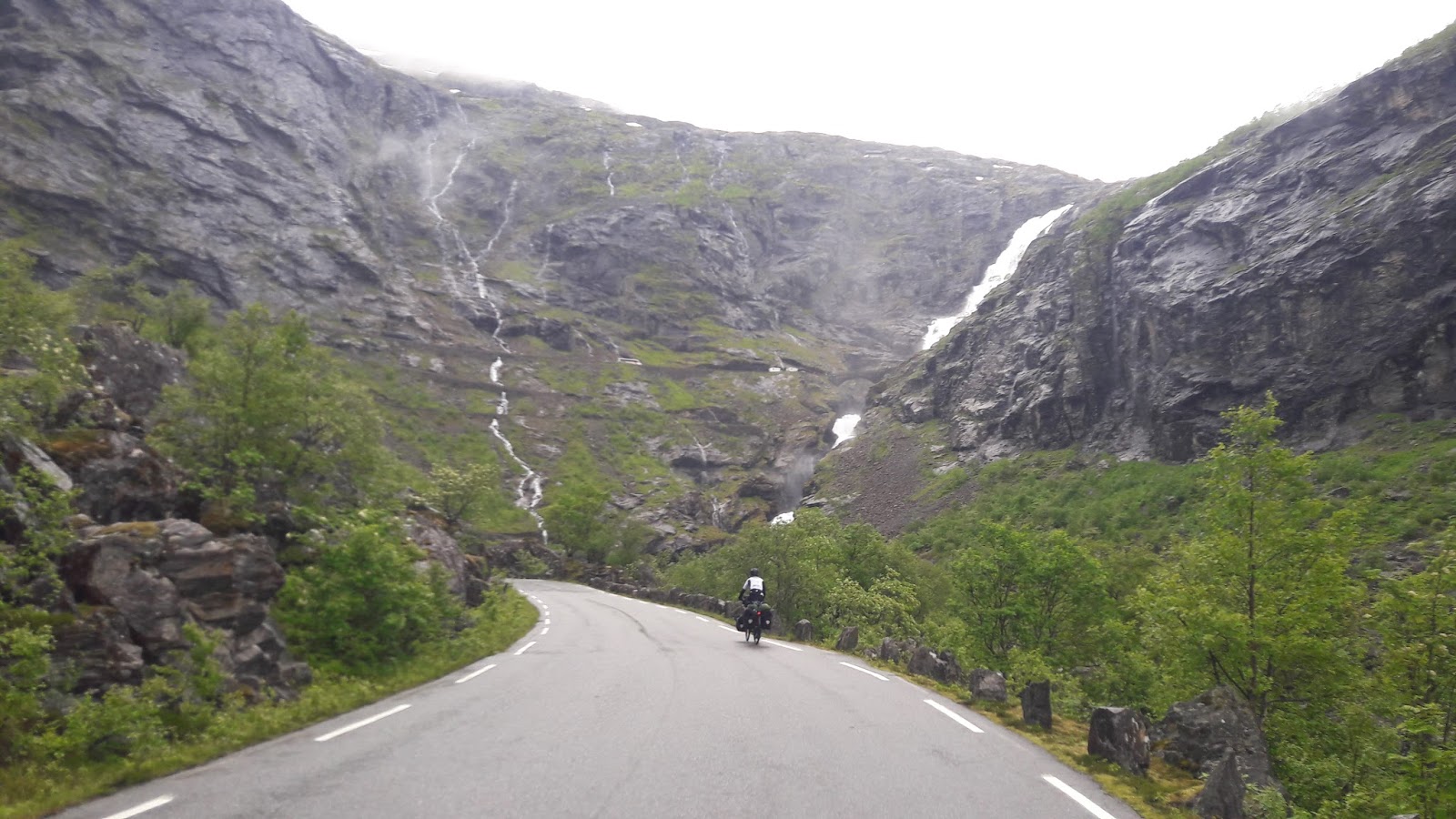 I received another stark reminder of the ineptitude of my bike on hills, as Julian's perfectly geared touring bike whizzed on ahead - his pedal rotations about 20 to 1 of mine.
Please, nobody ever tour Norway, fully loaded, with only a 32t cassette. Unless you want to damage your knees, & feel frustrated when holding up people on fully geared bikes!
At least being slow lets me get away with more photos!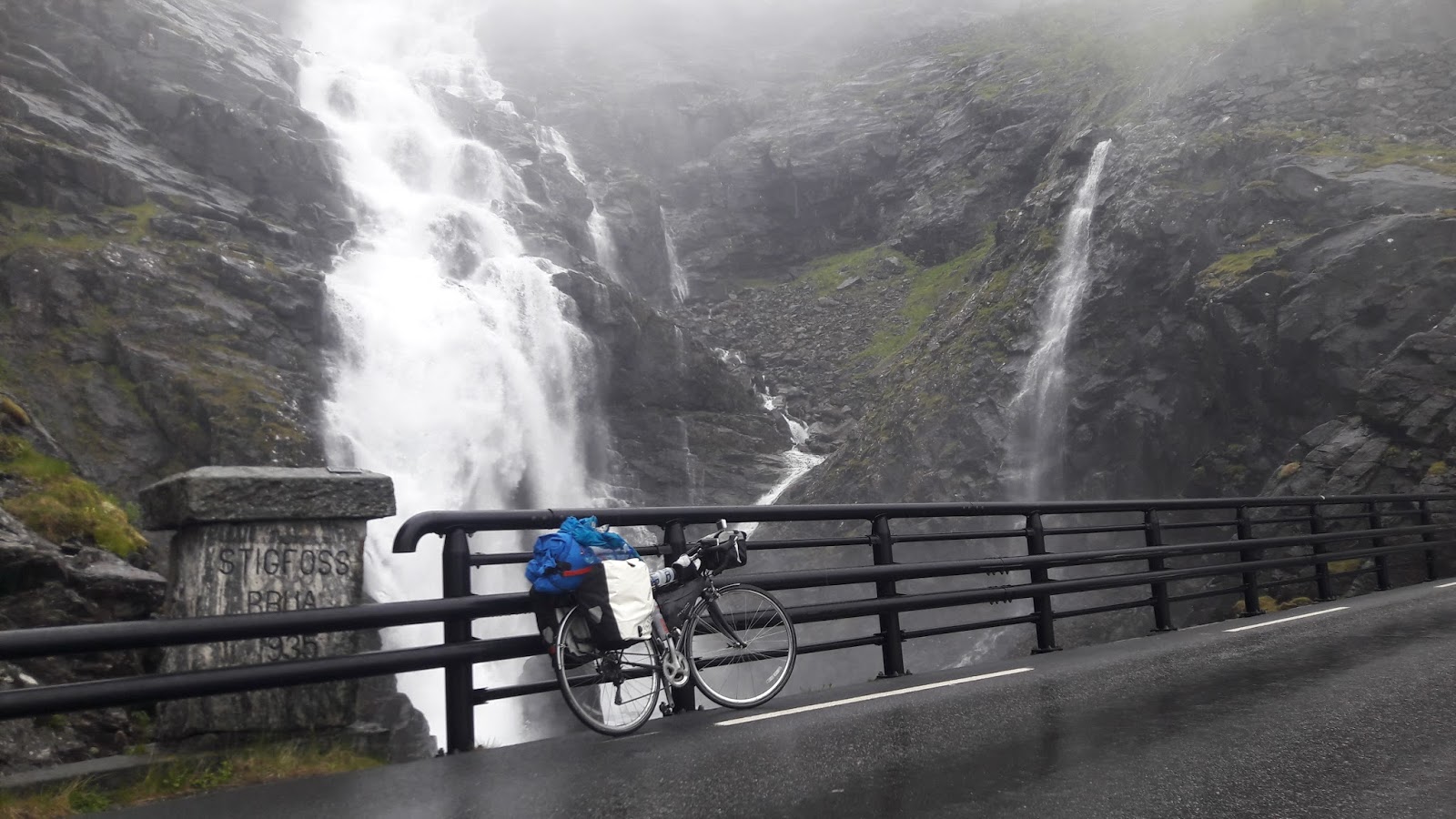 Another waterfall going through the road? Yawn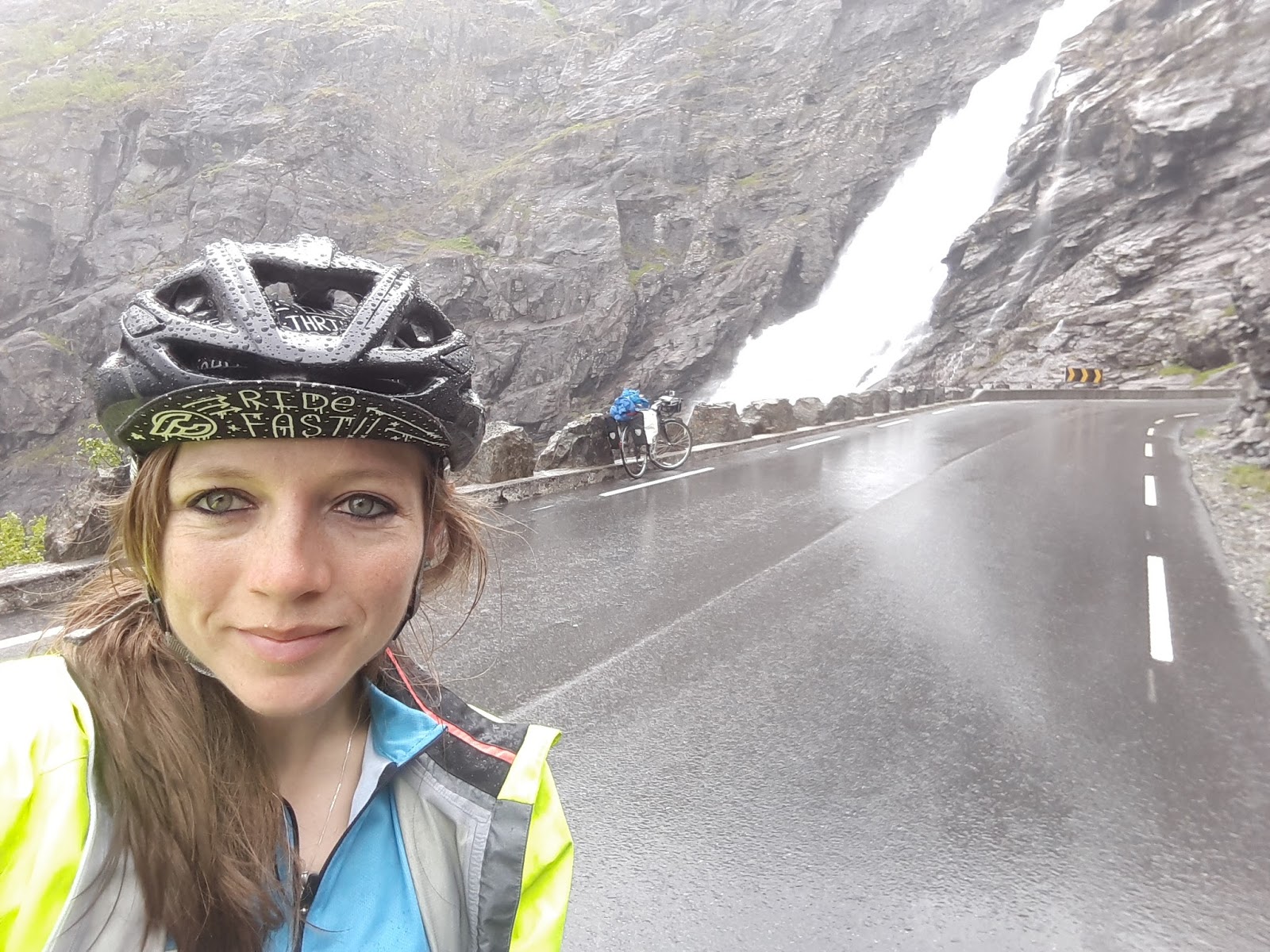 Cloud finally lifting - magical.
Tourist traffic wasn't as bad as we'd feared, although I still earned a few angry beeps whilst stopping for photos. Whoops.
Insane, right?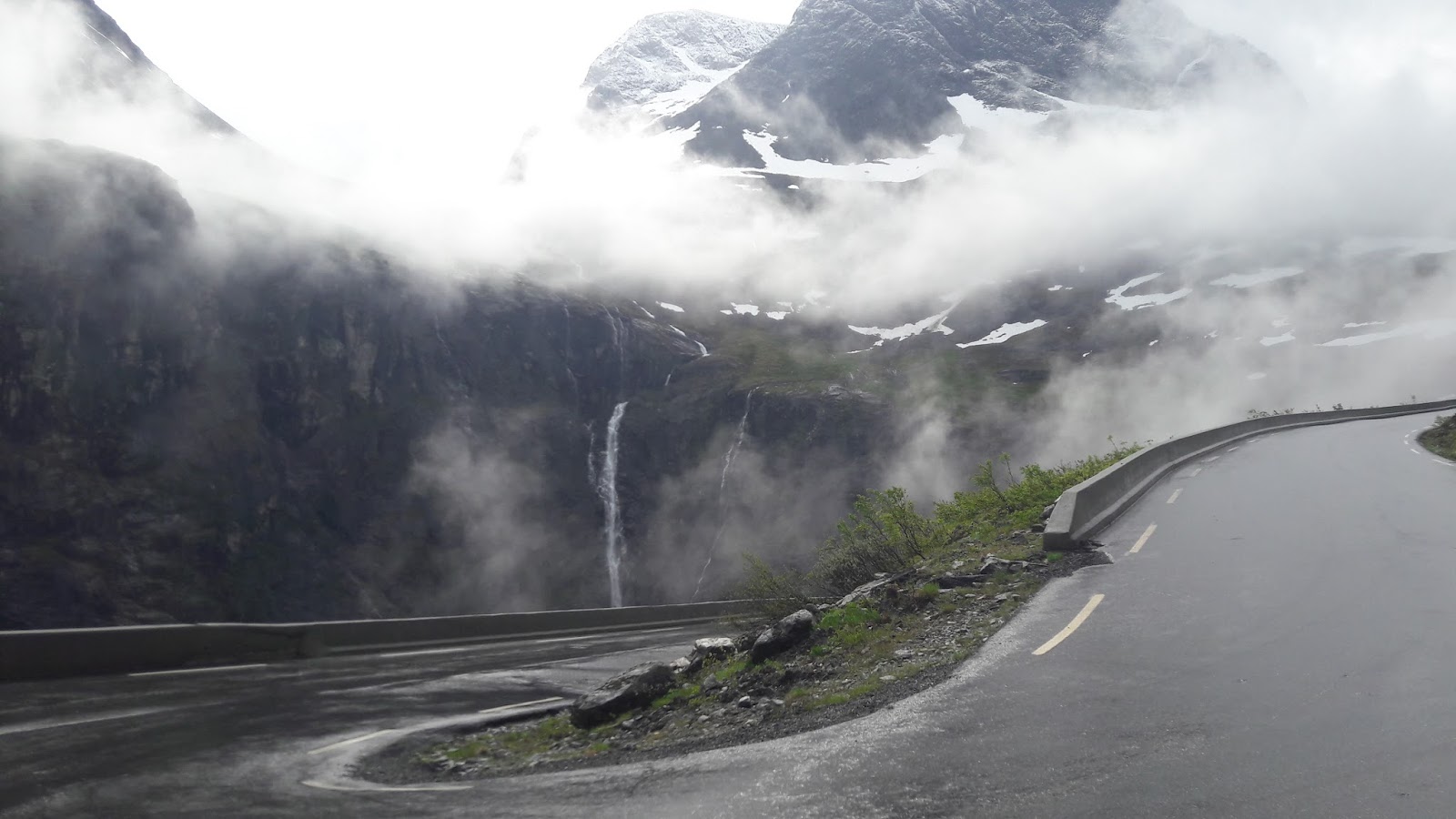 The valley opening up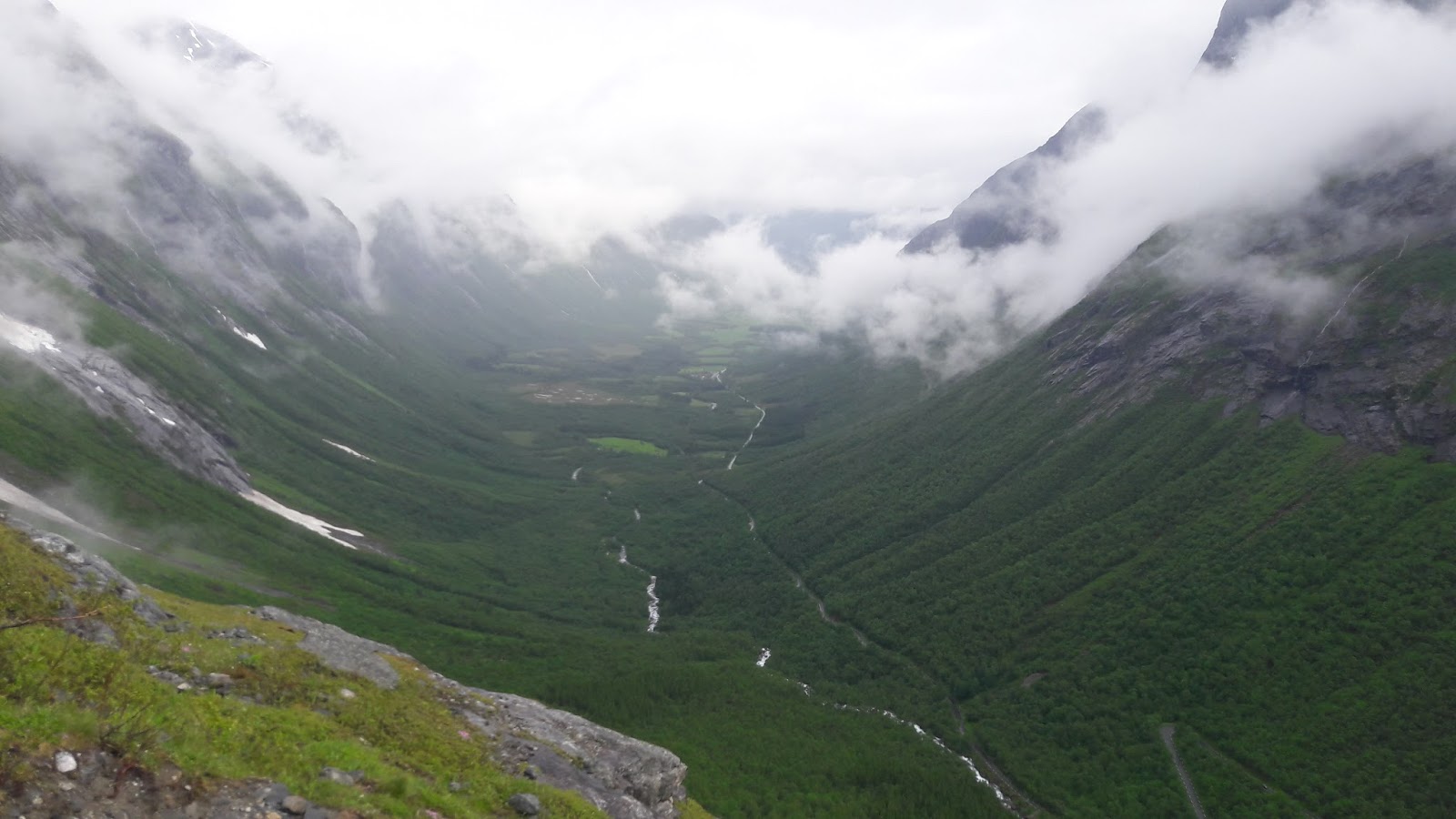 More fellow travel friends beeped & waved as they passed me on the incline, & I met them later at the tourist viewpoint.
The sweet Scots, Bruce & Cathie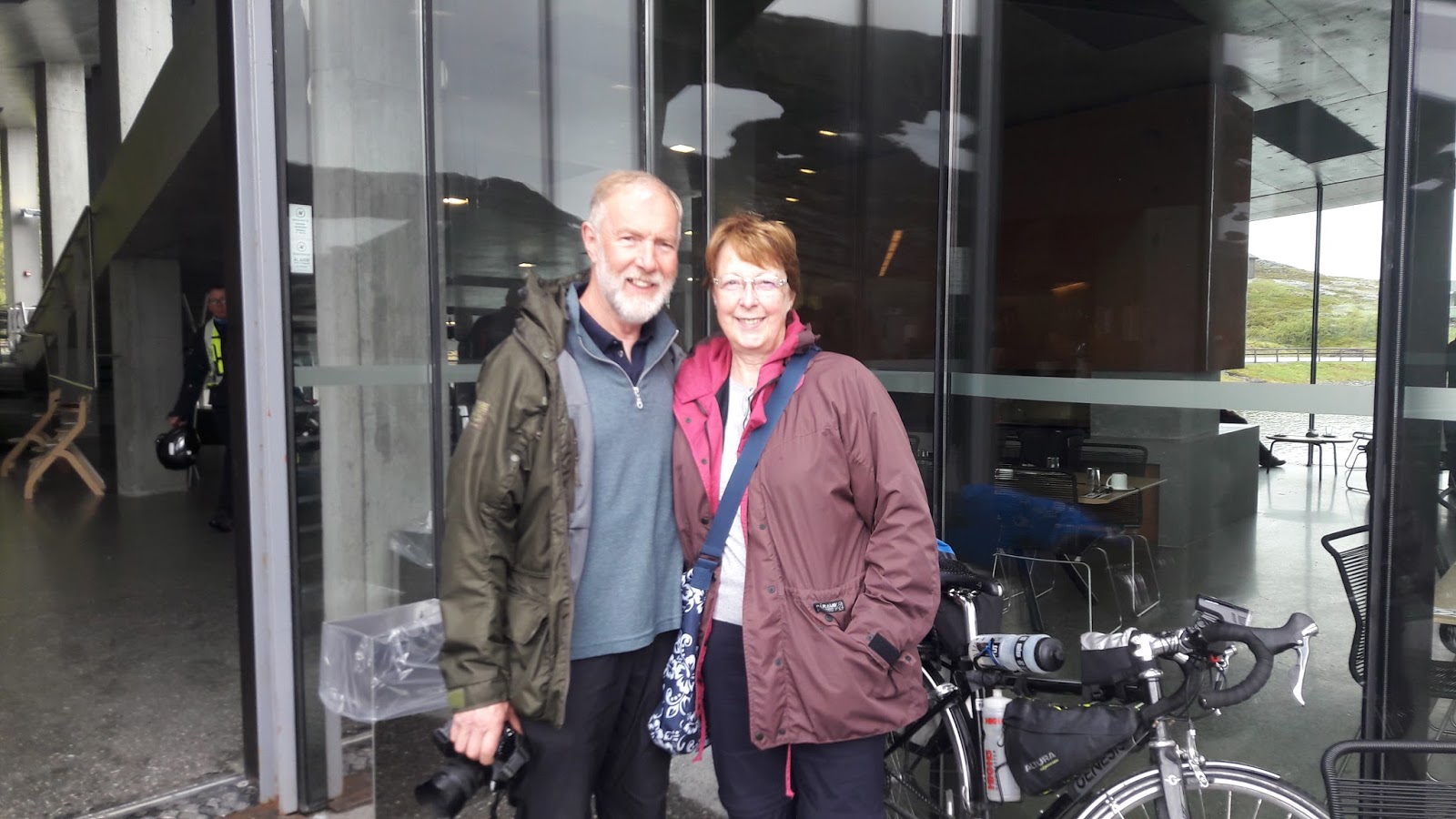 The viewing platform is at around 650-700m (not the actual top...those mean road planners), but it's a definite moment to stop & take stock of the incredible road you've just ascended.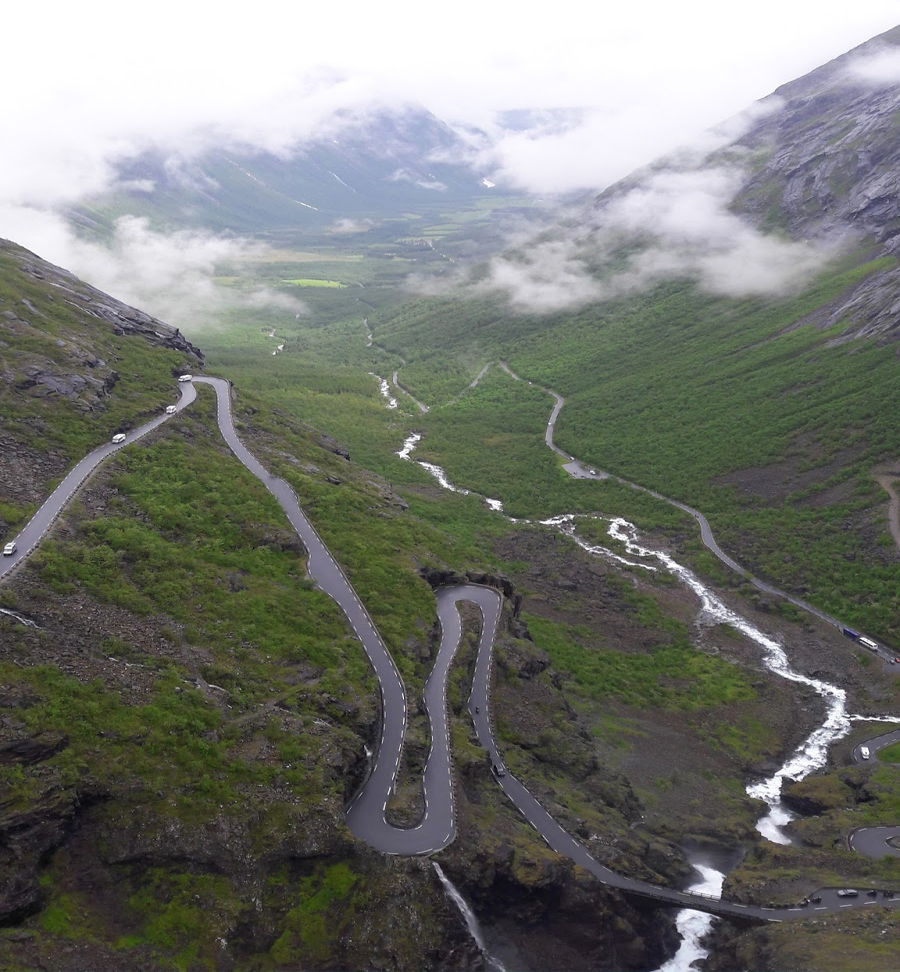 Despite being a relatively small day in terms of mileage, ascending Trollstigen & then another mountain pass before Geiranger actually made it quite tough - 1700m of climbing in only 50 miles is quite crazy!
The actual road summit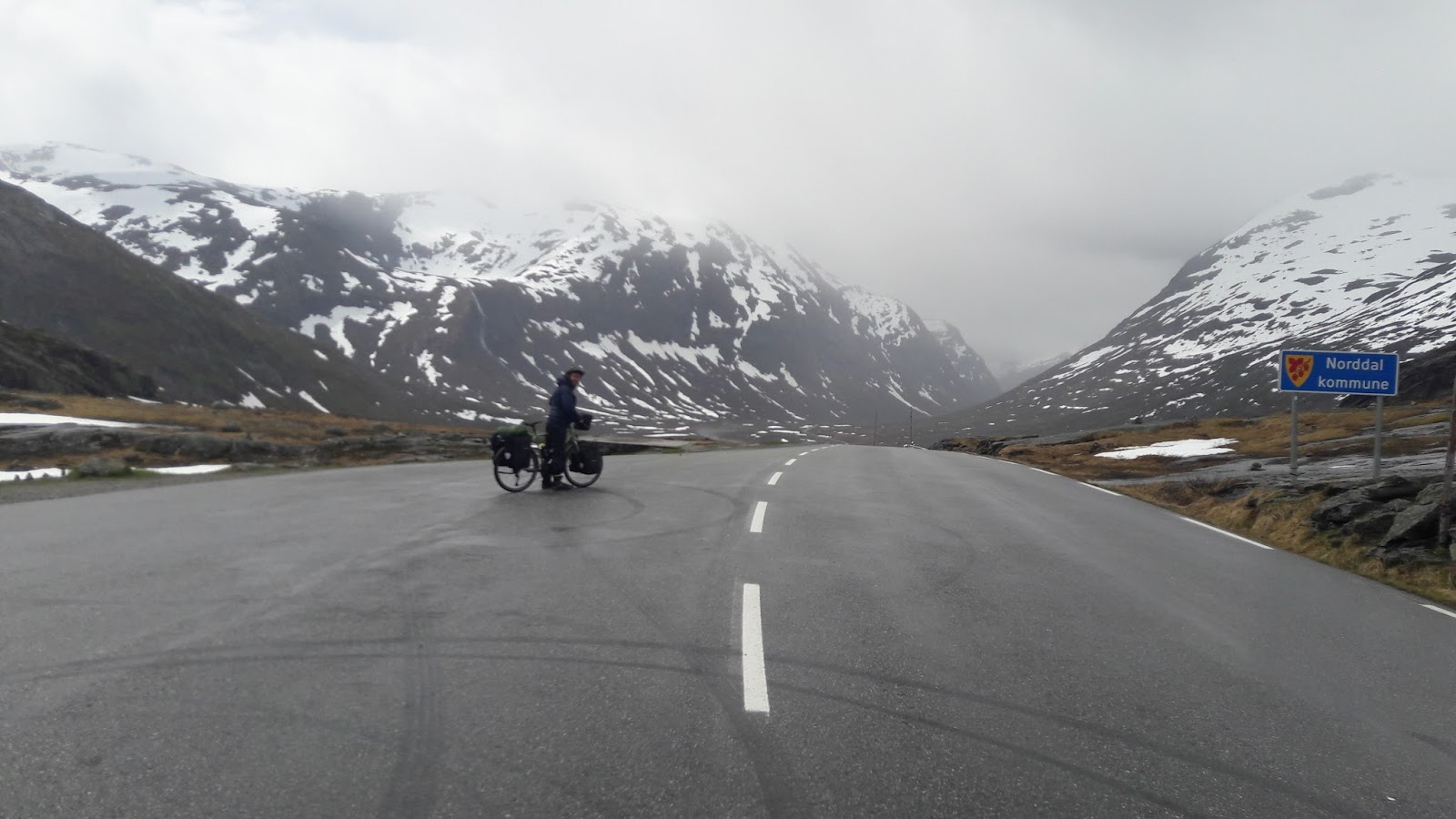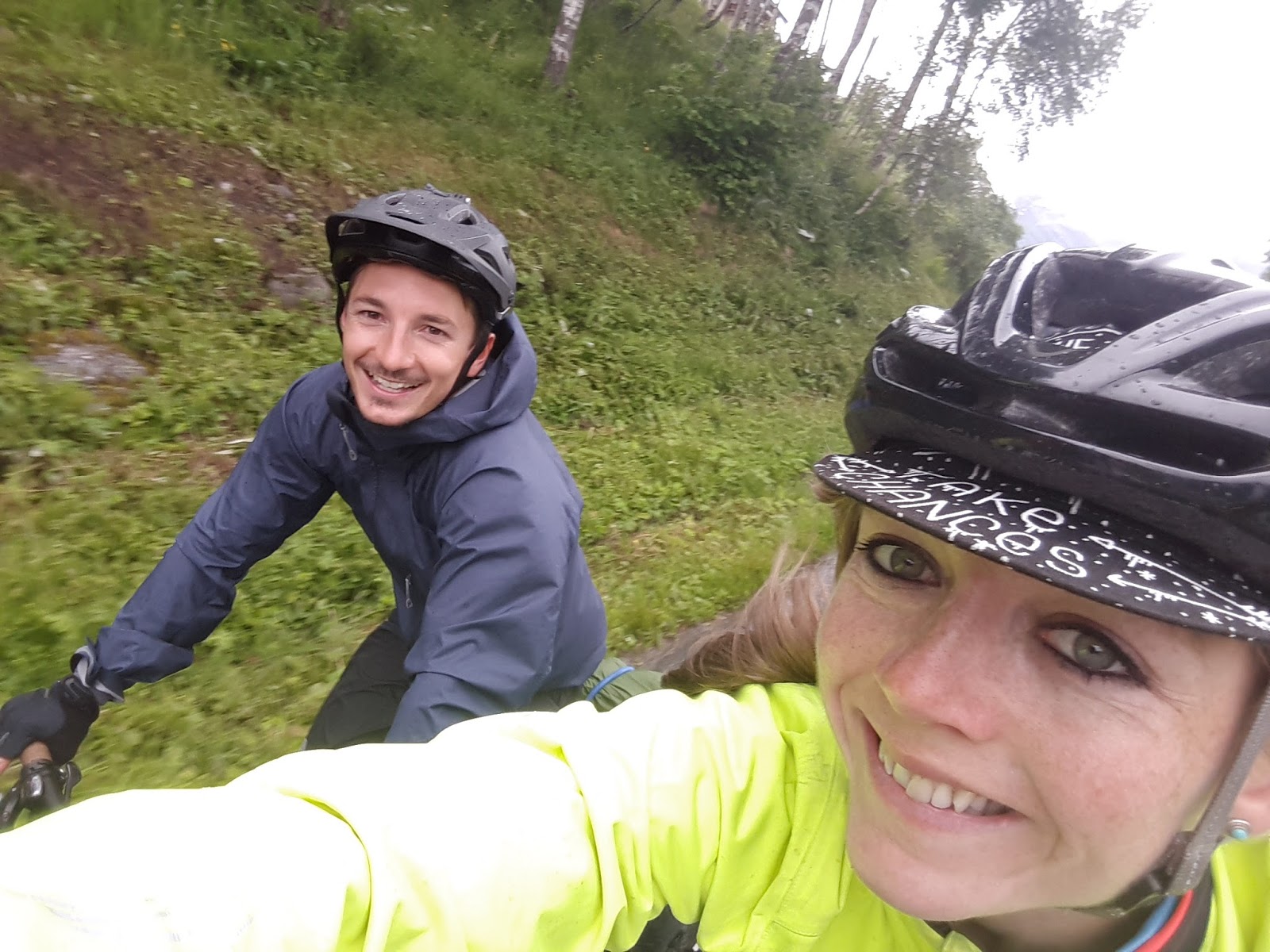 This second mountain pass was very gradual, and eventually lead us to just above the breathtaking Geirangerfjord.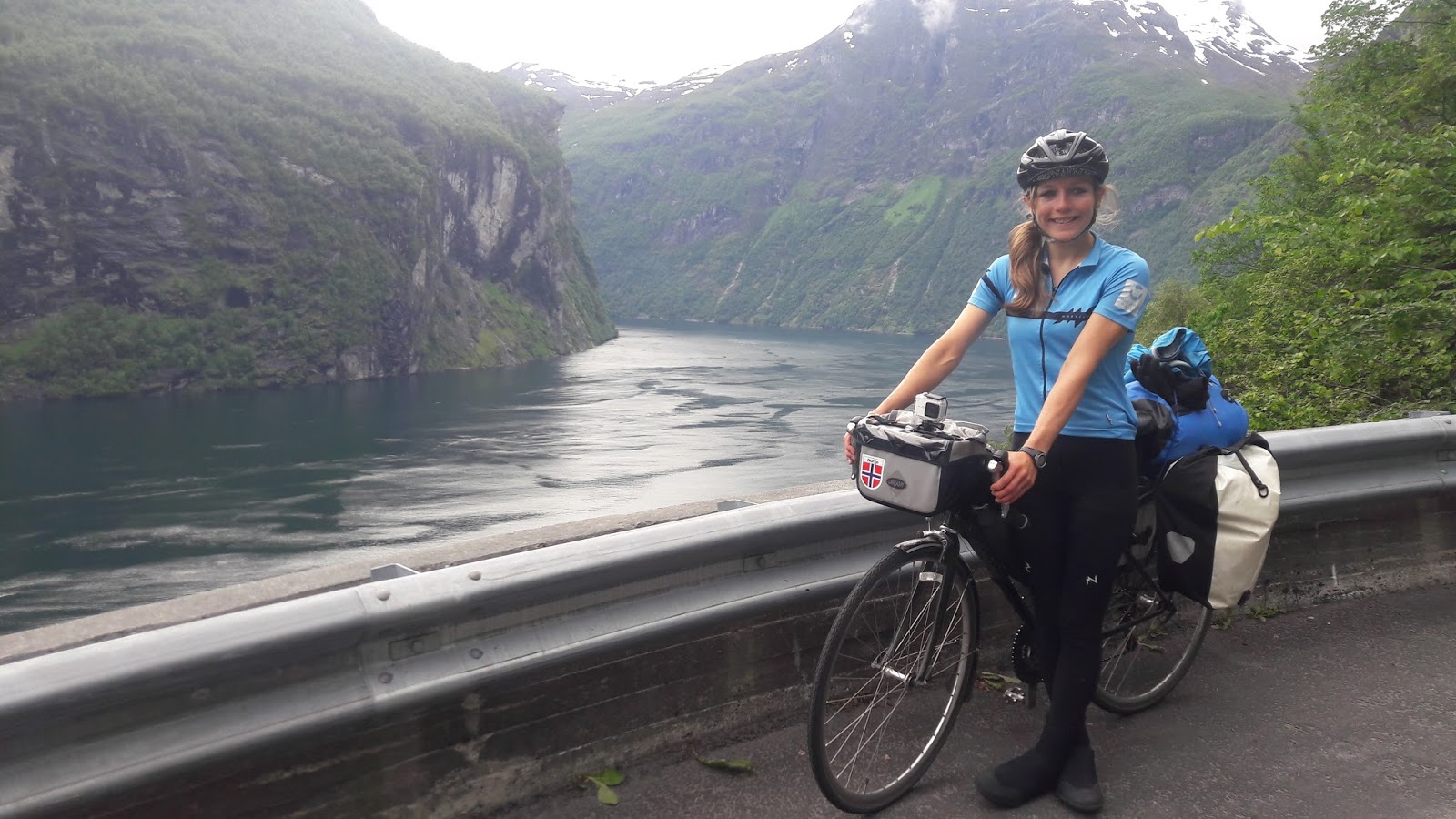 Perfect tightly formed hairpin bends let me stretch my legs & go as fast as I've been yearning to go!
My rear brake begun to feel slightly lax, so I slowed a bit, & tourist traffic started littering the road.
Descending around one bend, a bus came up simultaneously, yet had to fully drive on my side of the road just to turn around the tight bend. As the bends are so short/acute, I barely had time to see the bus before I was sat face-to-face with its front, about 1 foot from hitting it head on.
I was as sheerly shocked as the driver.
I can't believe buses are allowed on this tiny steep road. Close call.
Home for the night
We got ourselves sorted on the busiest campground I've ever seen, & shared tea & stories with Bruce & Cathie in their campervan. I then headed off to bed, hoping for a big 100+ miler the next day.
Total miles 1,518
Total ascent 22,772 metres
Thanks for your interest!
Please help support aid in Syria if you can - www.alaina.org.uk
Thank you
Alaina Beacall
Return to Arctic-to-Med Blog contents
Return to Blog Main Page