Day 11: Å to Krokstranda
Day 9 of riding | 113 miles | 182 km | Ascent: 1609 metres
A long day into remote snowy moorlands, leaving the arctic, & caffeine-overdosing
The quiet & cold Saltfjellet road, 700m high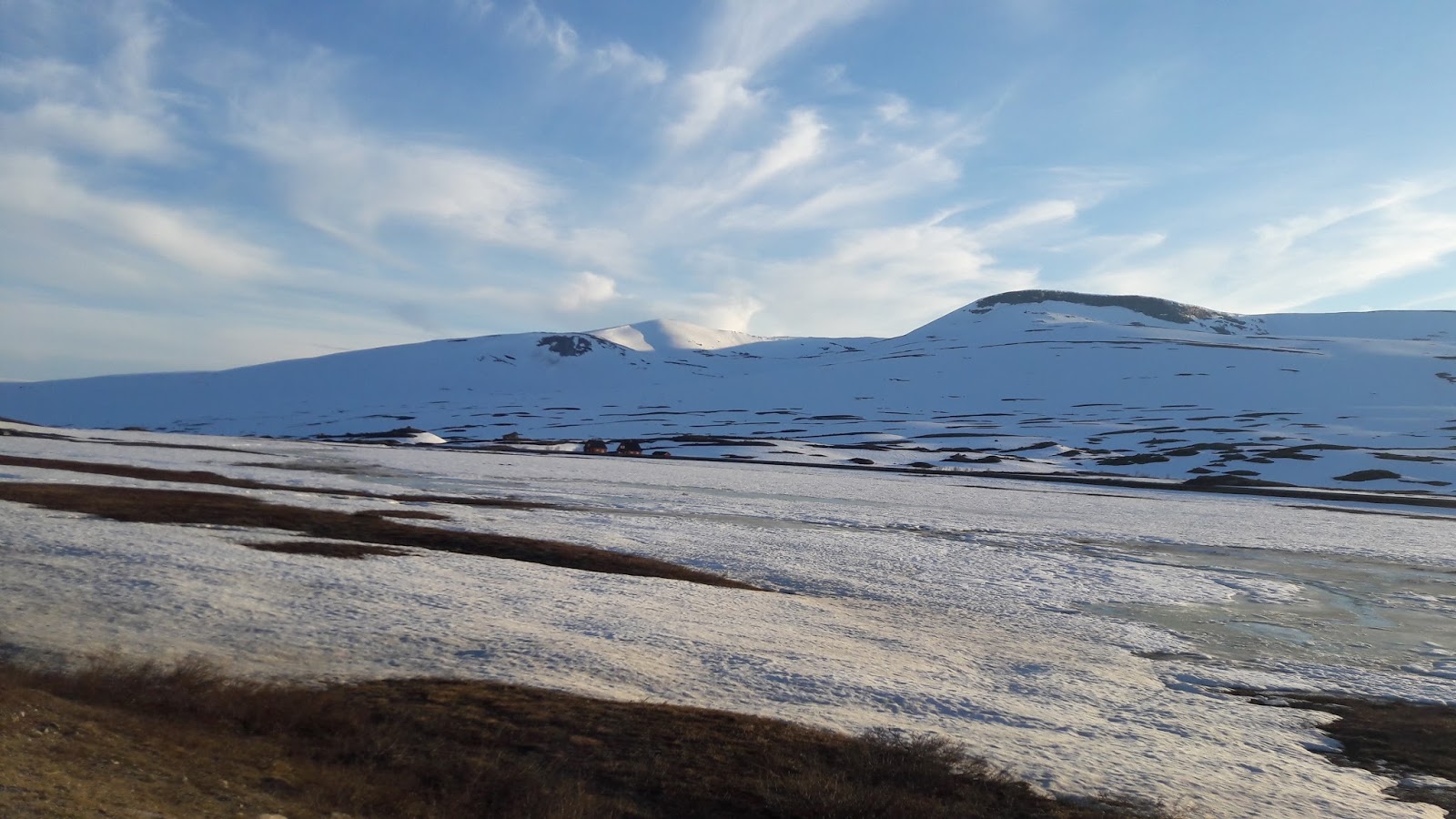 Up on time at 5am (ouch, this trip isn't all about fun times you know!), I caught the early ferry across to Bodø on the mainland, not getting me there until after 10am.
I stocked up on much water and food for the day, including a vegan dinner that would require zero cooking/effort, expecting to finish the day extremely late.
FYI, this was cartons of lentils and passata, and lots of bread & hummus (love the big supermarkets here - a rare find in smaller places), and many nuts, fruit and bars.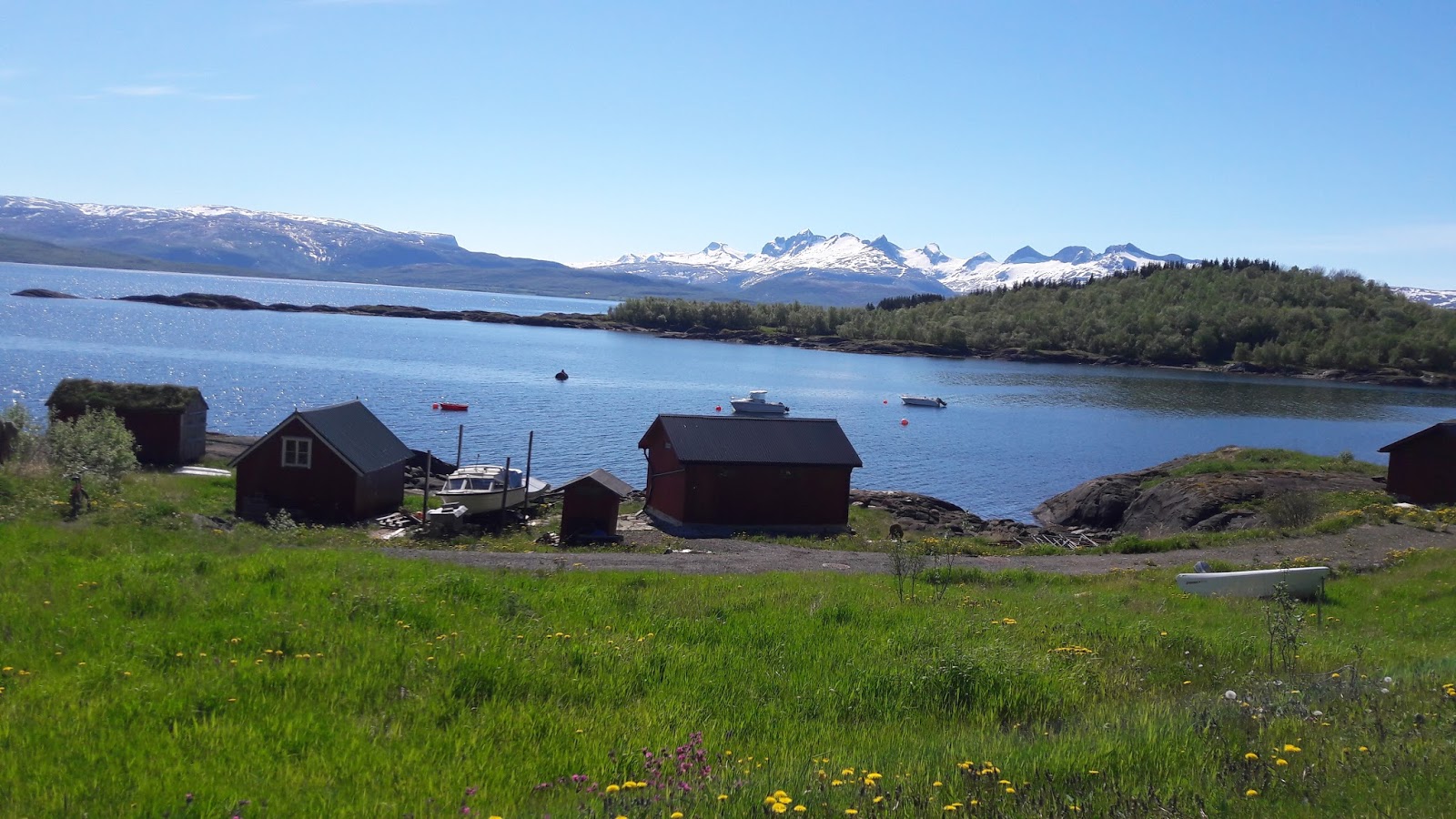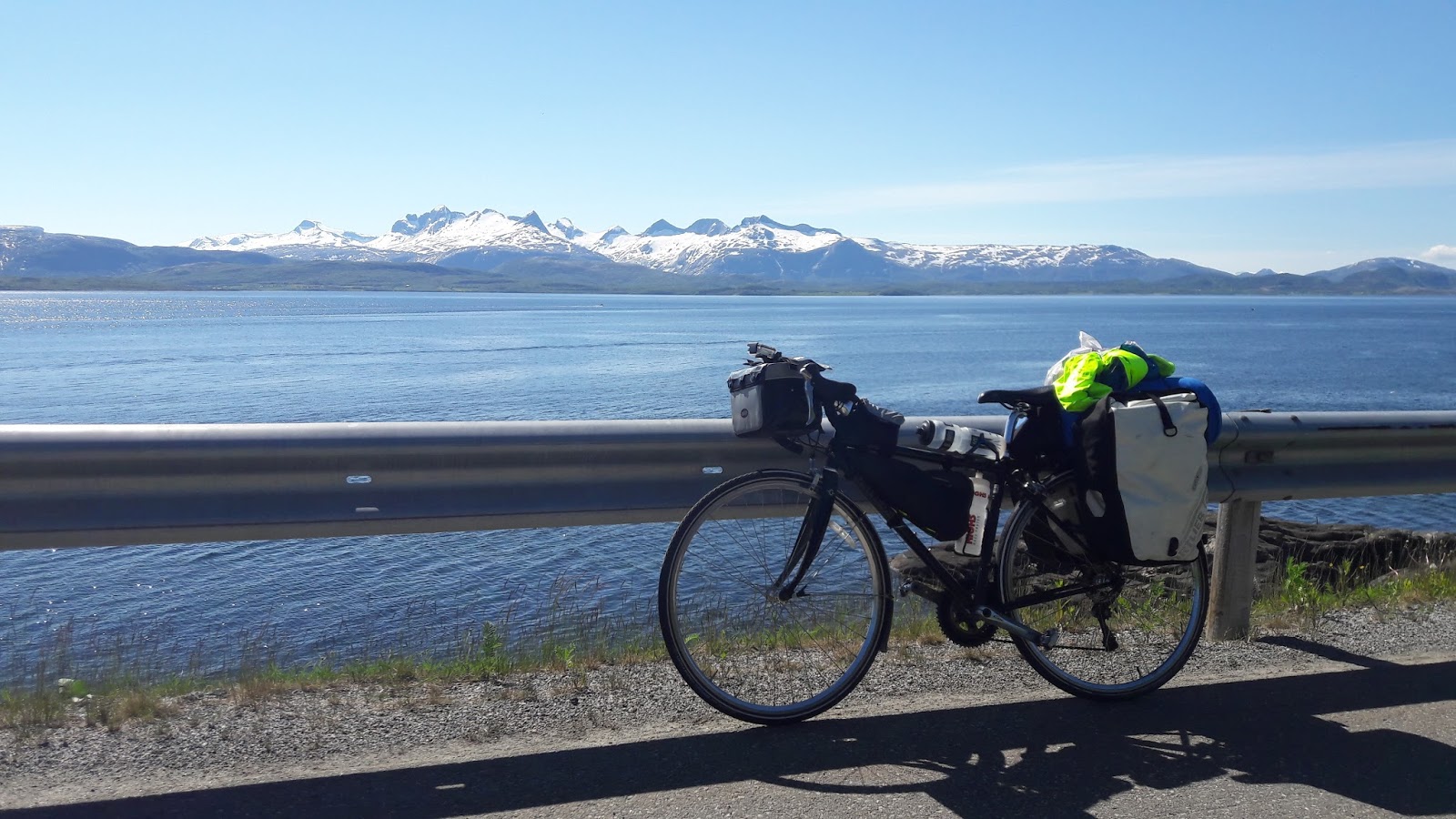 A pleasant surprise was to find the main road through these large towns, was complemented with a cycle path, and views over Skjerstadfjorden and the Klettkovfjellet mountains. 20-30 miles between the towns of Fauske and then Rognan, I ensured I had overdone it on the red bull, water & food, before continuing my journey down the E6 of doom. Ha, basically into the remote forests and eventual climb to 'Saltfjellet'.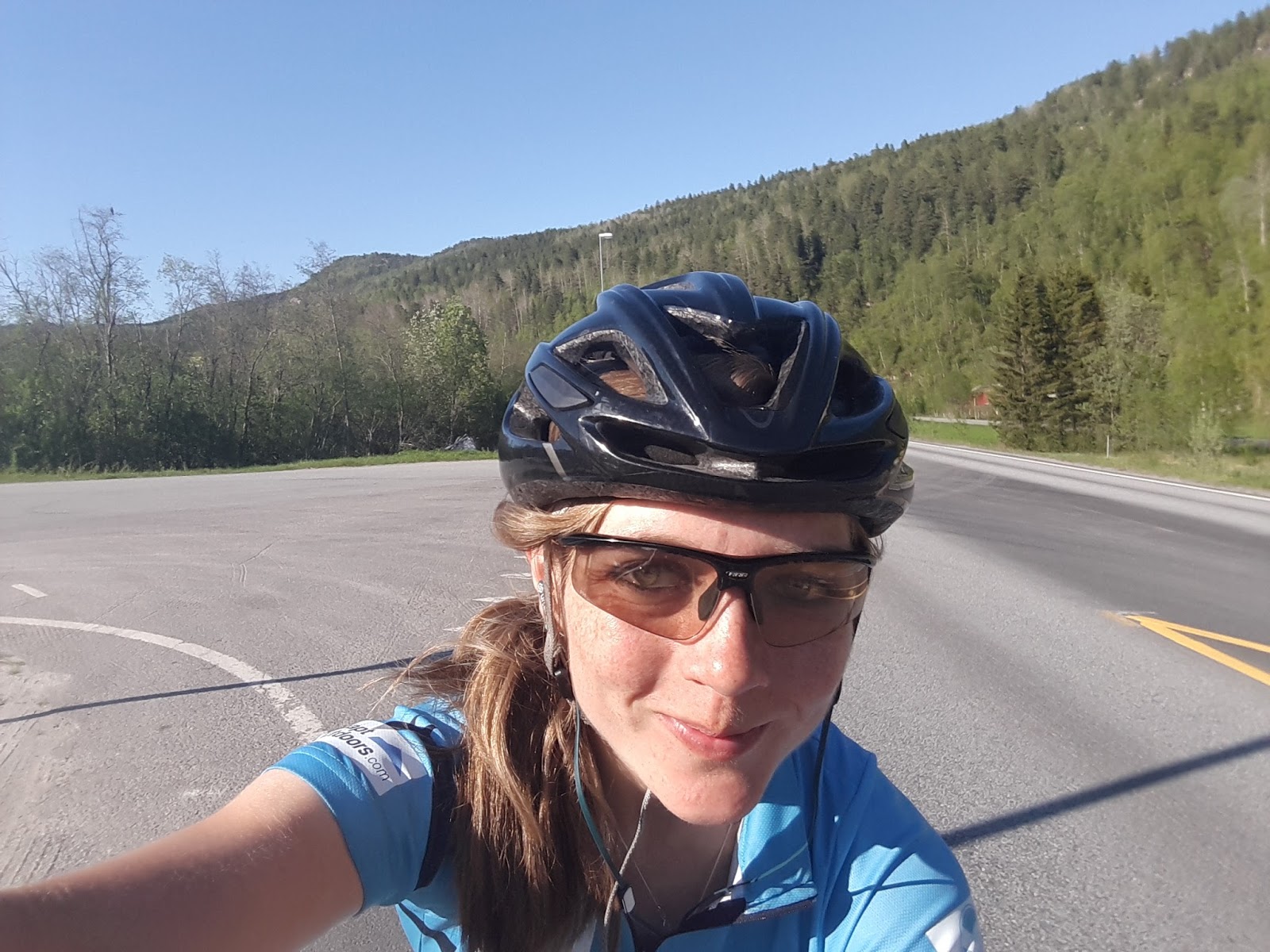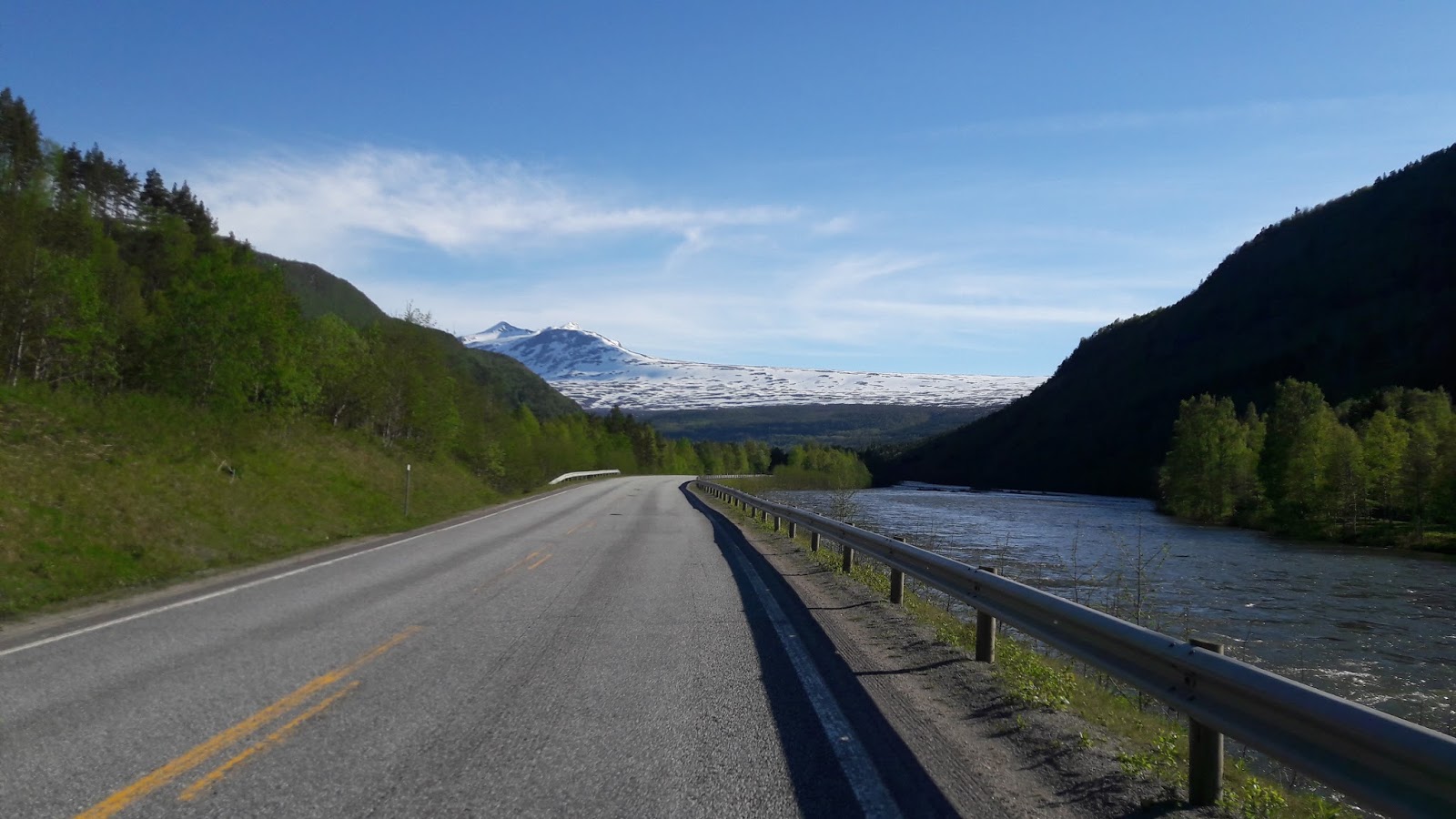 Oh, I should mention that I passed a Norwegian sign that looked as though it warned of E6 tunnel closures...yikes, I thought, there is NO other way south from here... & I will have just cycled 60 odd miles for nothing.
Spotting a house, I approached a couple who at first said I would have to go back on myself the whole way (my God.), but then considered that since it was a Saturday, I could probably just sneak through. That, I did (as did all the other road vehicles). How amazingly lucky, that I happened to be riding through here on a weekend!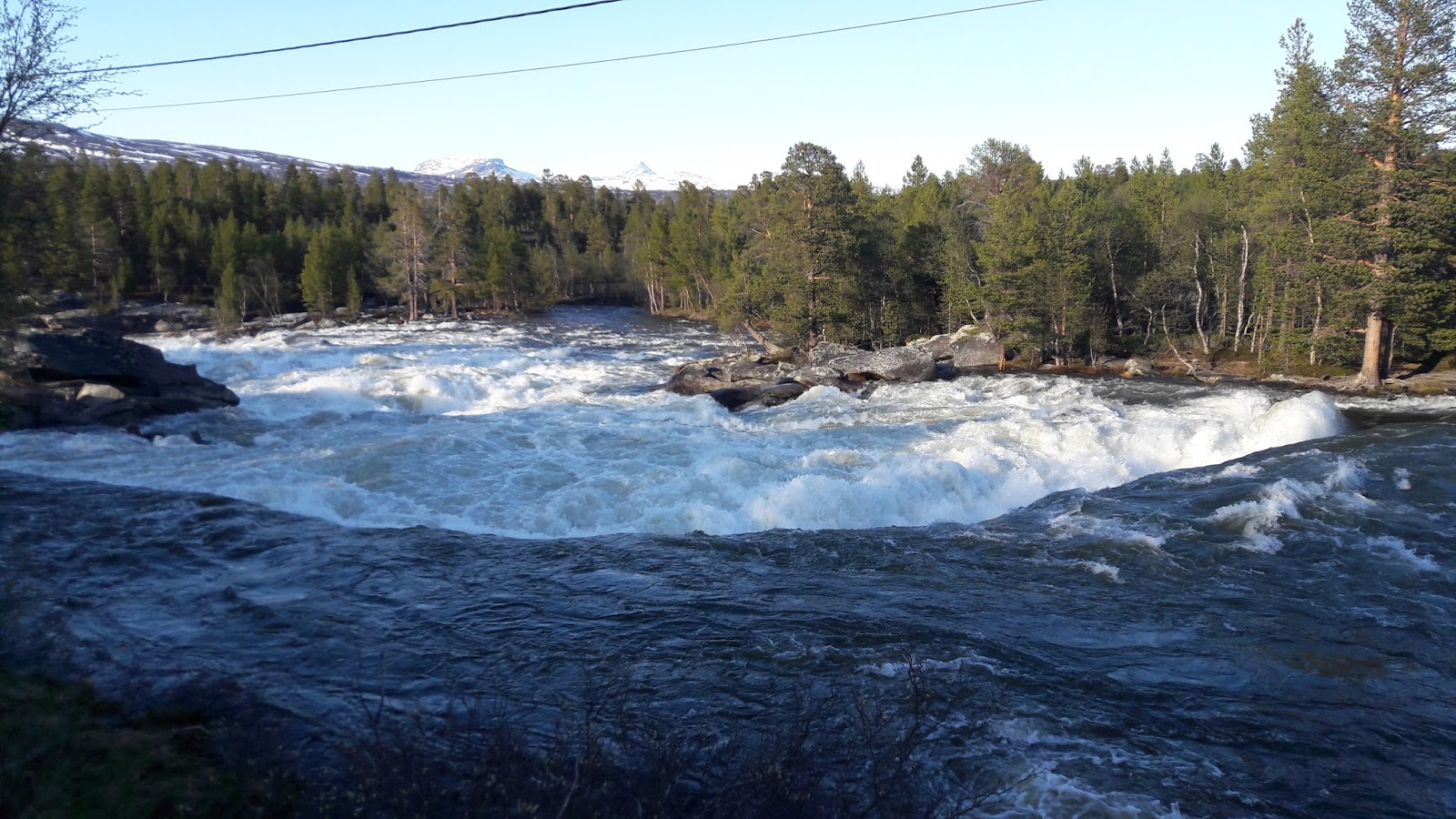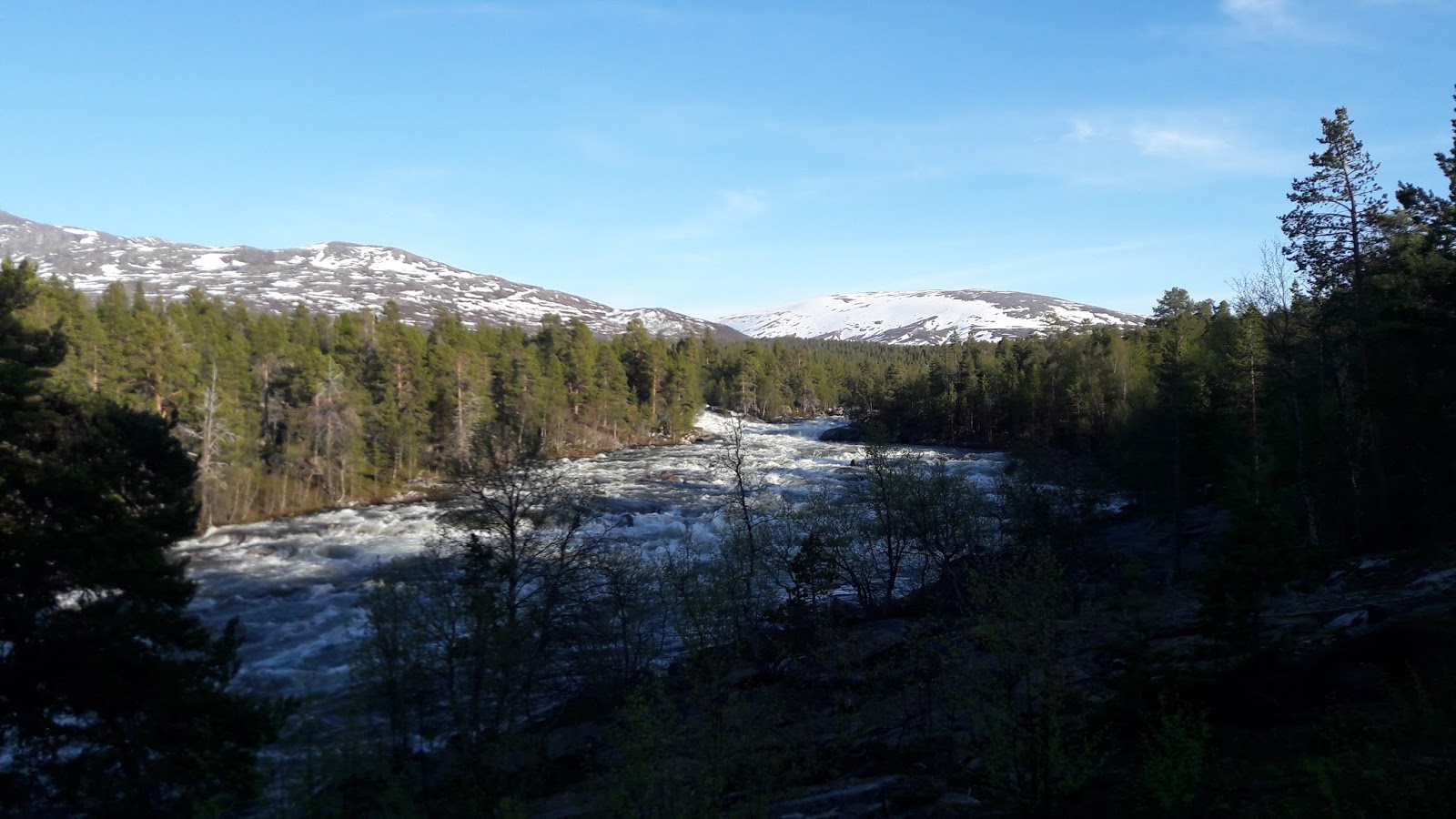 High on caffeine & music, I was enjoying riding into the evening accompanied by an energetic river of snowmelt, giving me views of aggressive waterfalls and rapids every so often. Nothing but alpine-style trees lined my sight now, and the climbing soon began. Being described as 'not difficult, but very, very long', this hill stayed true to its reputation. Around 15 miles later I was finally up in the bare moorlands, re-acquainted with my cold white buddy from the start of the trip, and reminded that an increased altitude means a massive drop in temperature (wearing only shorts, & leaving your warm gear inaccessibly at the bottom of your panniers is a stupid idea!).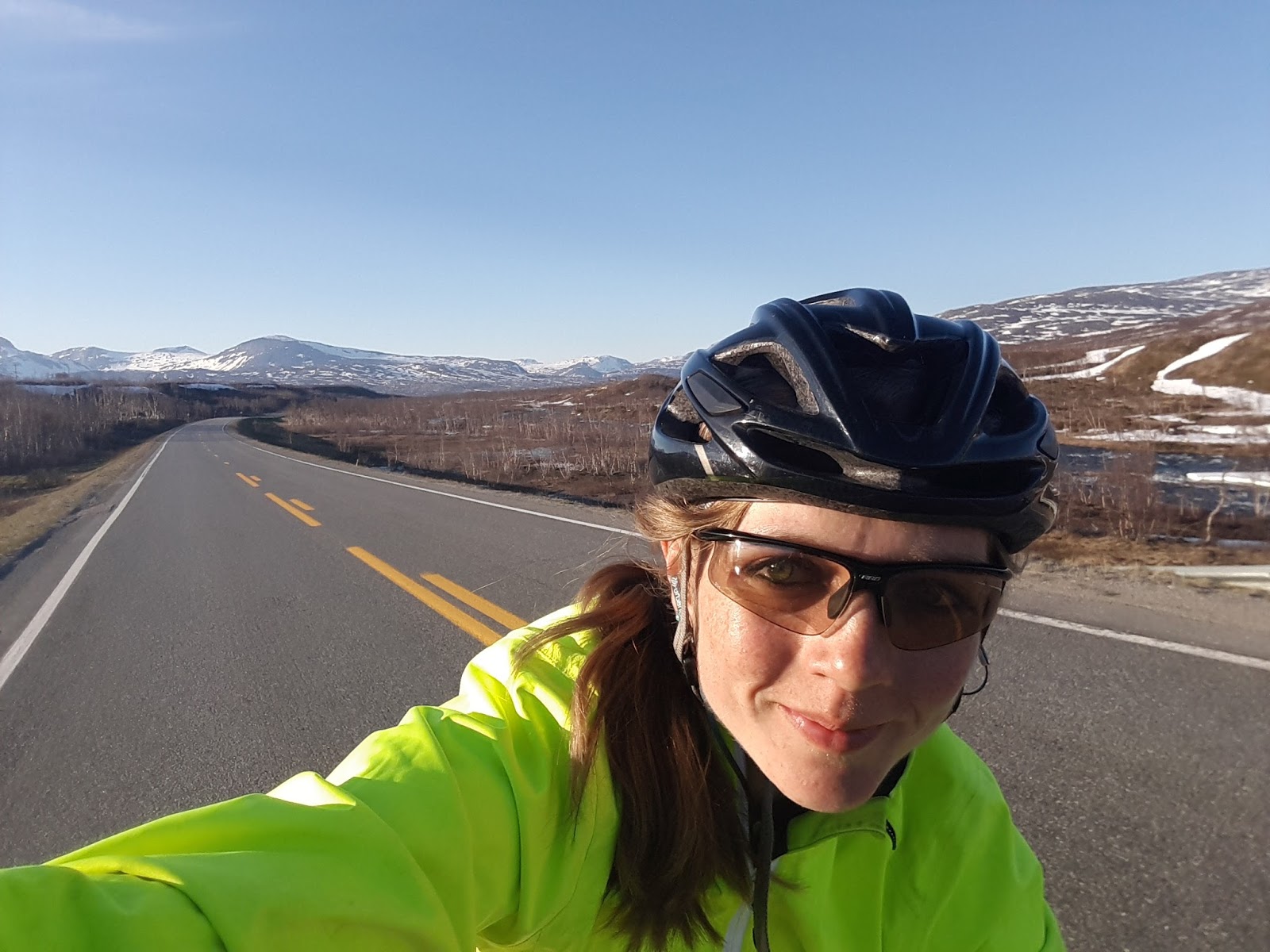 The stubborn mule I am, I continued in my shorts, despite my Garmin displaying a temperature of 3 degrees, and kept expecting to head downhill at any moment...
Ahh if I wasn't such a sucker for schedules, I'd have so slept in there!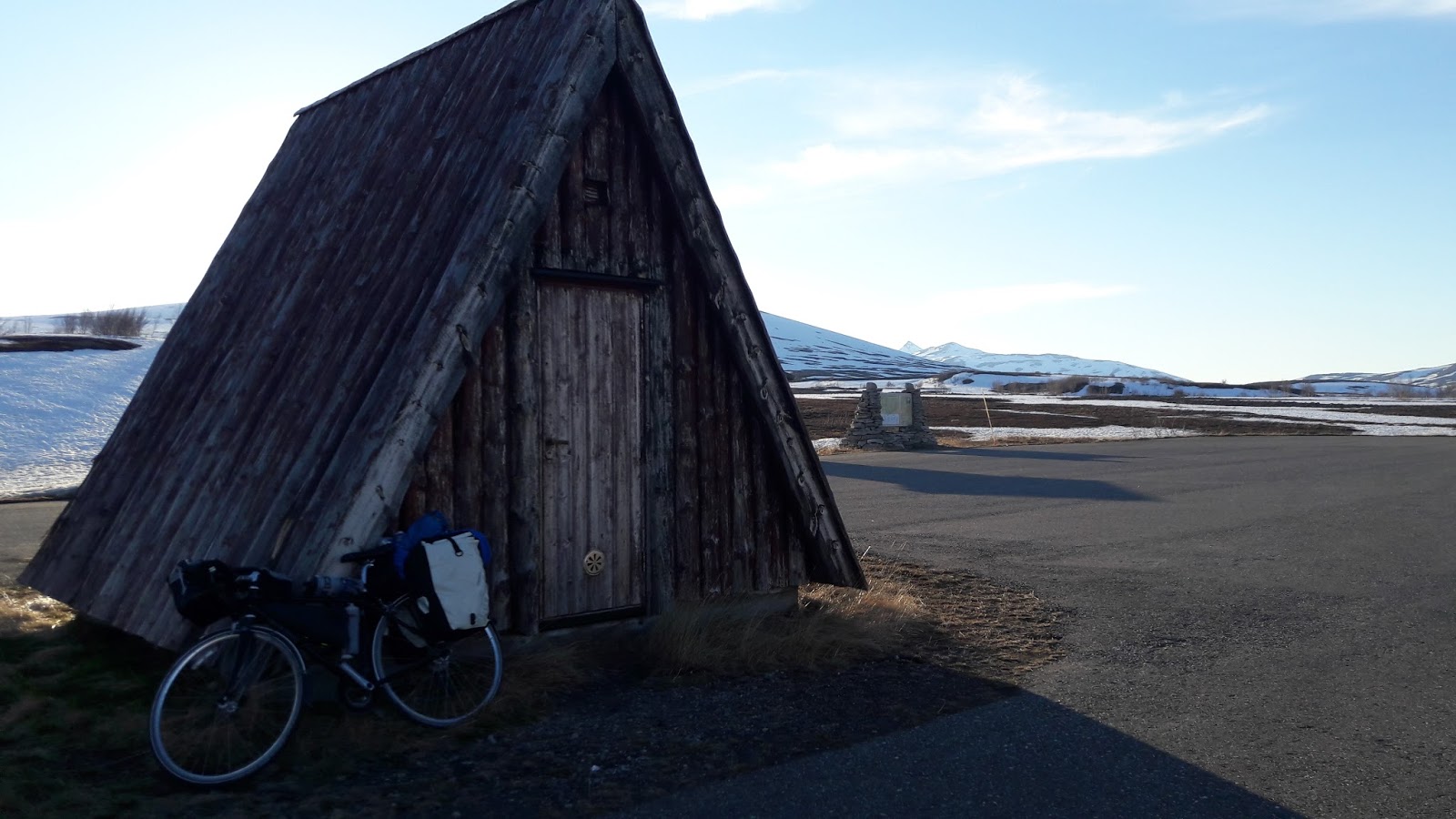 Now at mile 91, and 9pm at night, I could see no sign of the hamlet and campsite on my Garmin's map. A wooden cabin on the roadside was amazingly unlocked and revealed a cozy carved table & set of benches - amazing! I briefly snacked on hummus & bread, finding that I still had 20 miles to go. Gah!
Rushingly I headed back out, and the moors extended even further ahead of me.
"Alaina, just enjoy and embrace - you will never be here to experience this again!" I told myself, and so I became contented and appreciative for a while longer.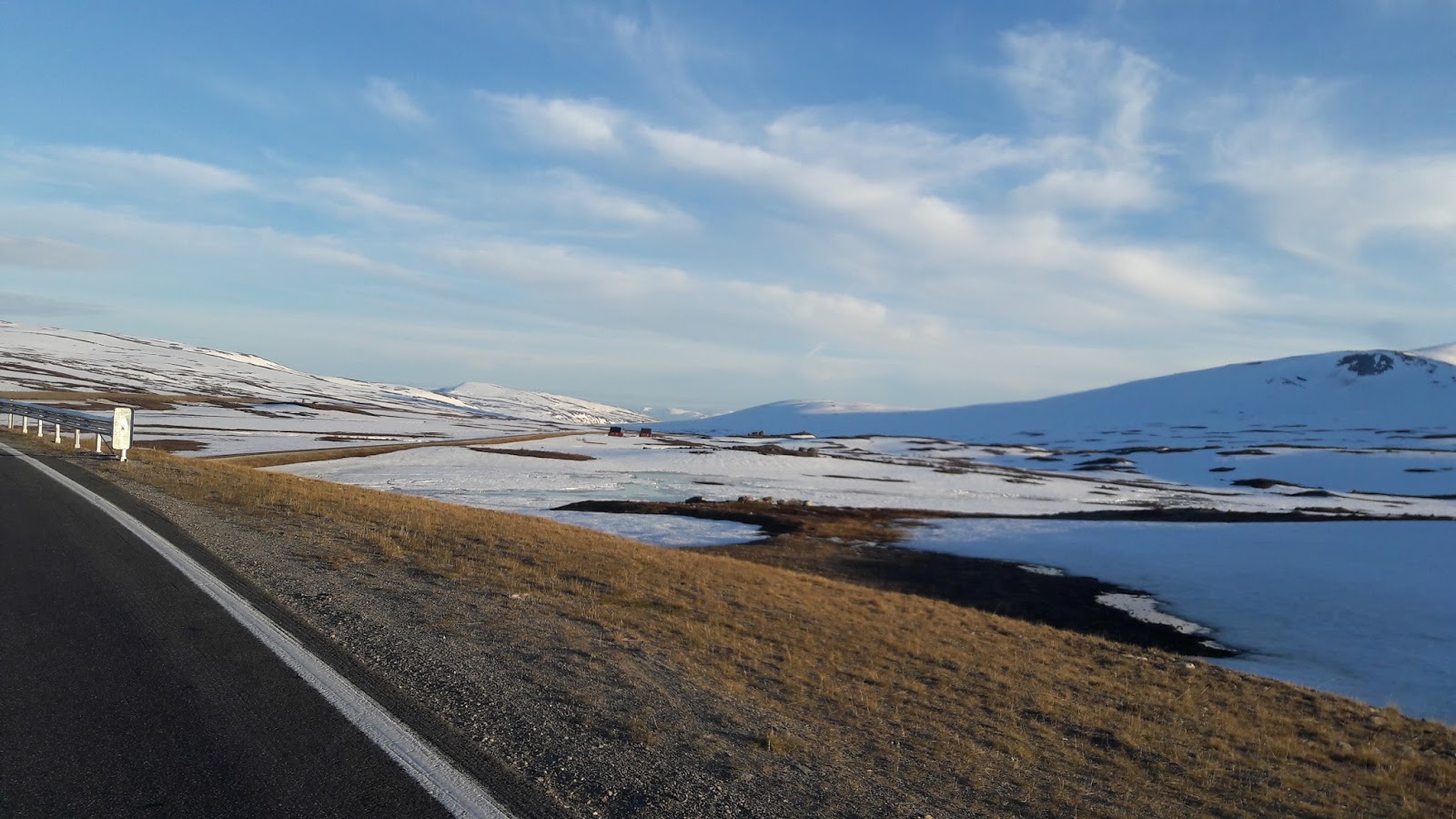 FINALLY downhill, and into an absolutely freezing icy wind, I proceeded. Eventually passing the Arctic Circle visitor centre which marked my official leaving of this part of the world. Slowly feeling stupidly cold, I gave in & found my base layer leggings which I shoved over my shorts - perfect.
Mile 113, longer than planned, and at 22:15 the sign appeared for Krokstranda camping. Awesome!
I wolfed down my foods, and thought I would leave showering and other 'essential' errands until the morning... I need some rest!
Alaina Beacall
Return to Arctic-to-Med Blog contents
Return to Blog Main Page