Chiemsee to Vienna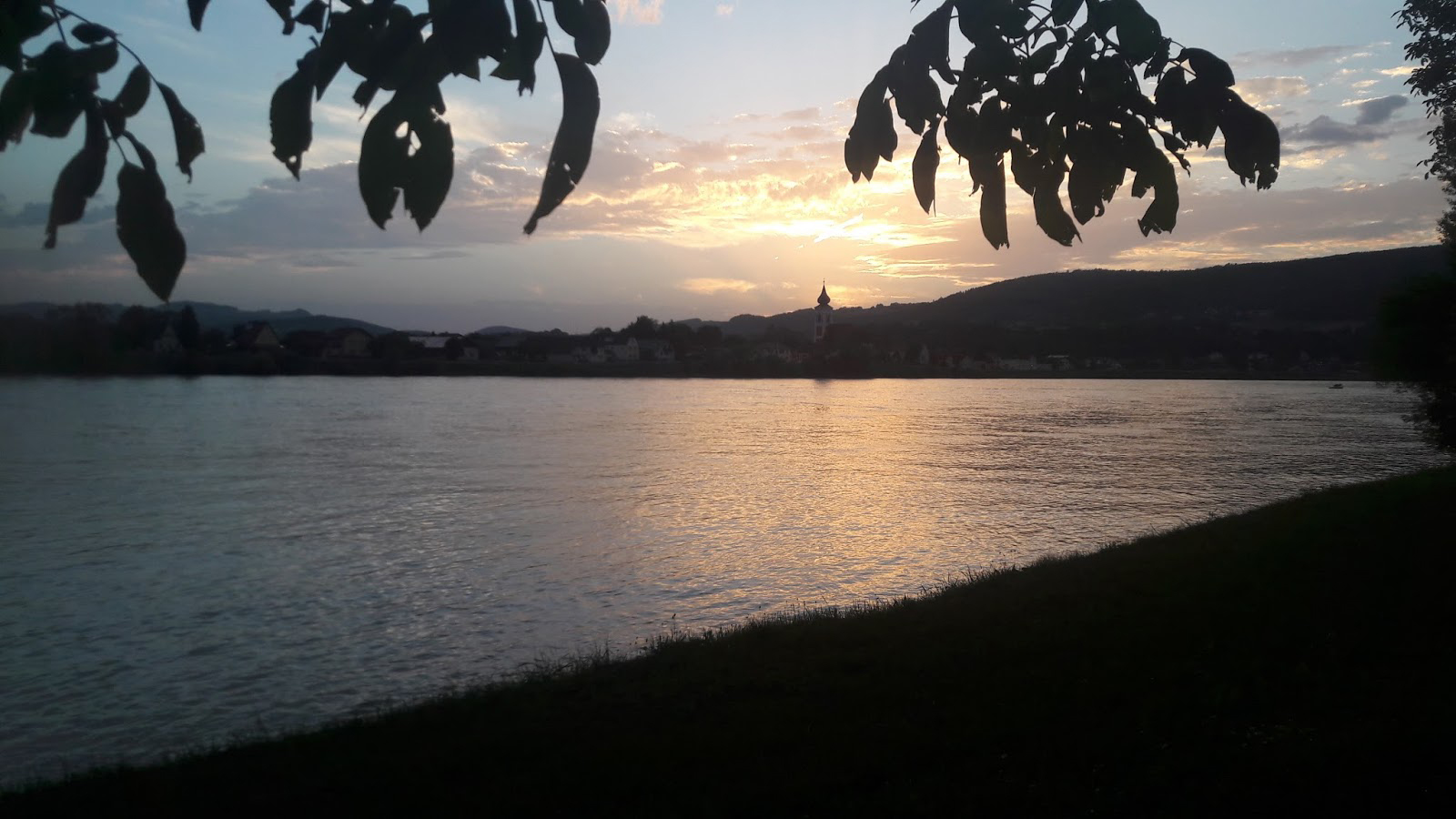 Lake Chiemsee to Raab, Austria
Day 42 of riding | 104 miles | 167 km | Ascent: 1,606m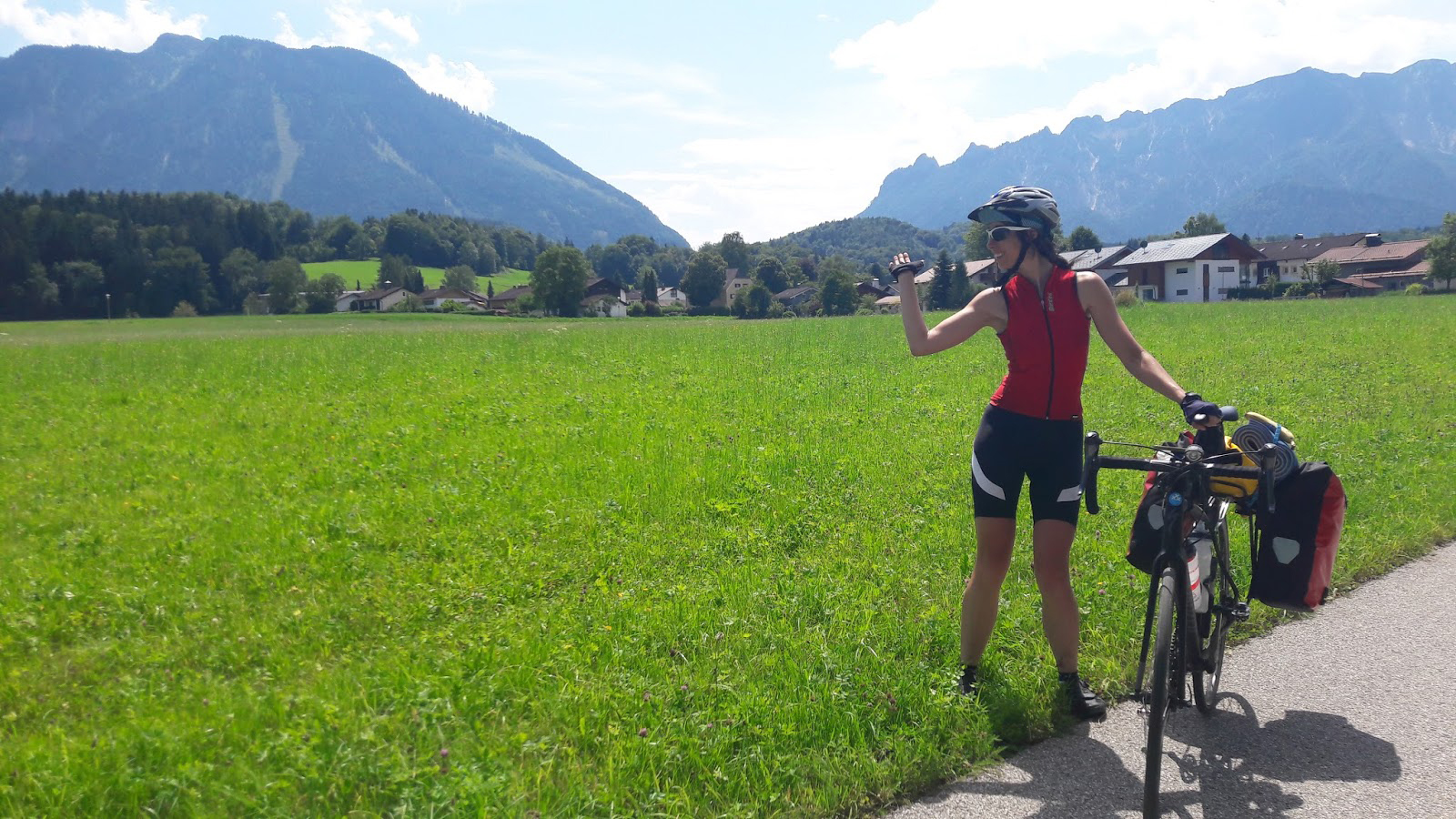 Bavarian beauty, a broken rack, & rural Austrian perfection
We left the luscious lake in a downpour, which surprisingly disappeared after 10 minutes - yay!
Always attacked by wasps!
I may have trapped one in a bag of jam...mwuahaha (very un-vegan like, I'm sorry)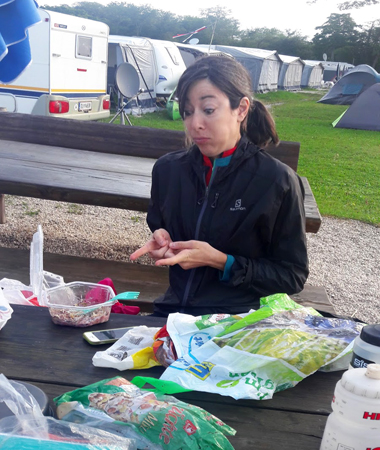 Still town-hopping but not knowing an actual cycle route, we experienced the contradiction of stunning mountain views to our right, whilst inhaling exhaust & being passed very closely by annoyed fast cars.
Last view of the lake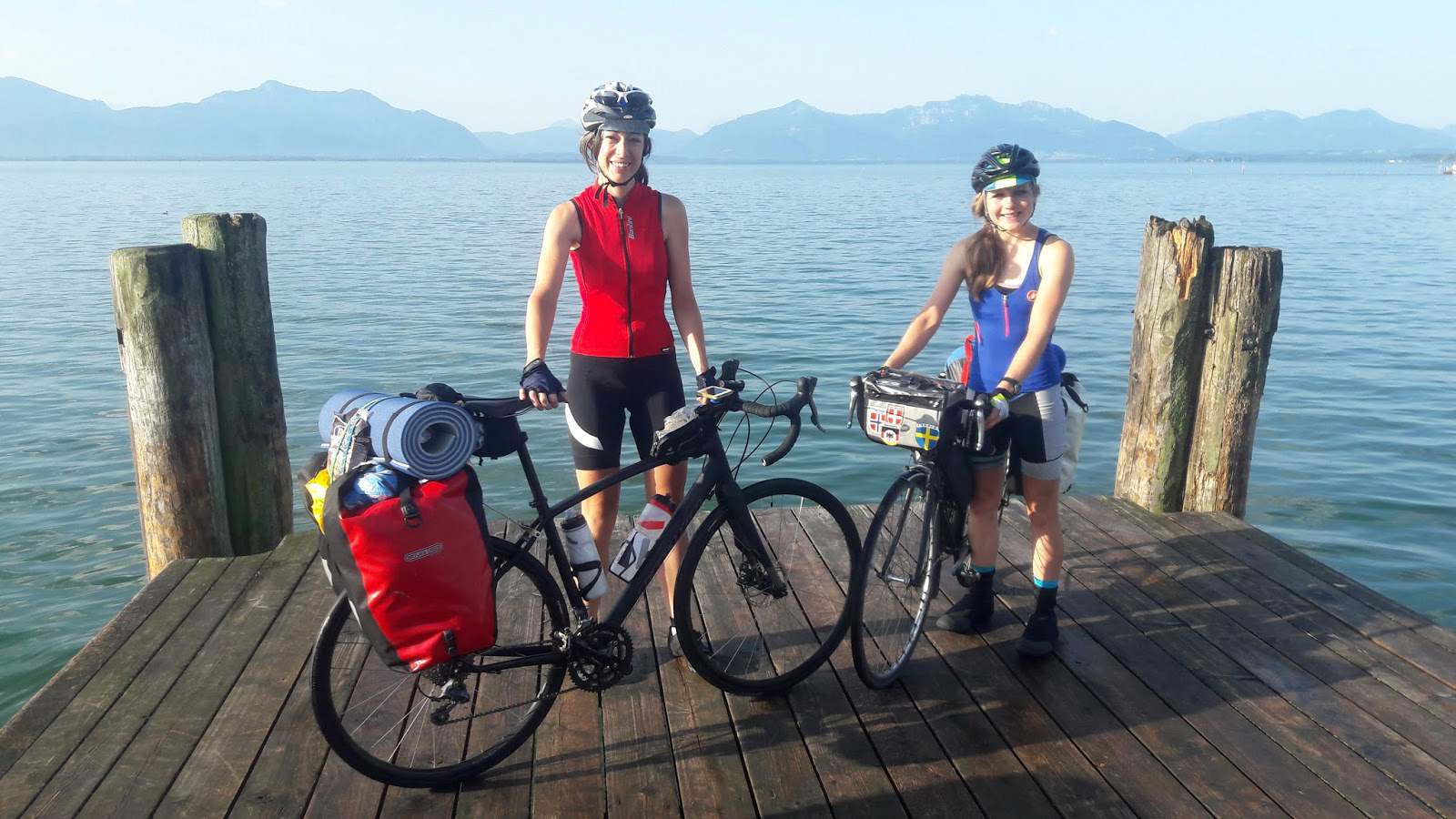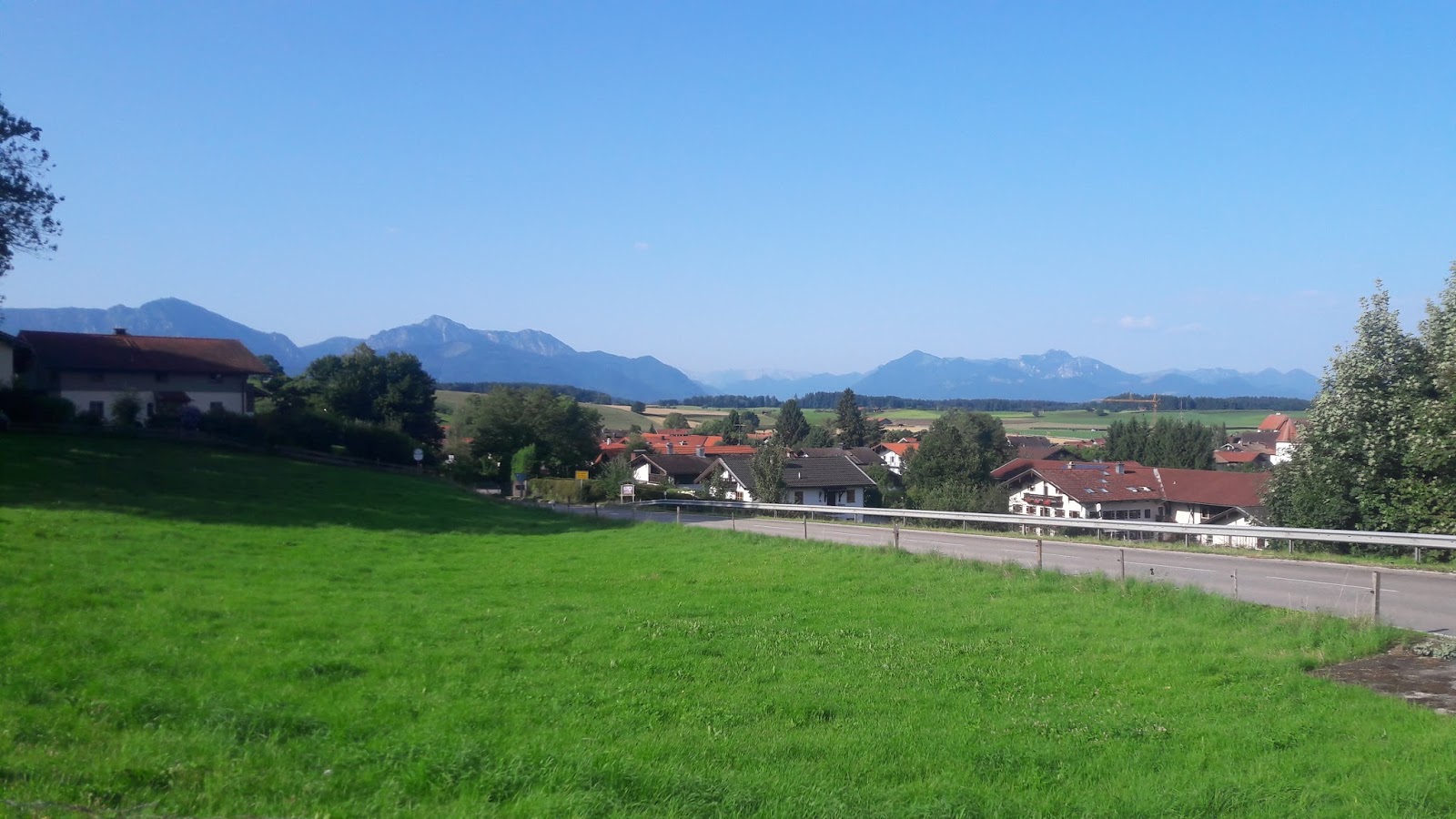 Still, the surrounding landscape was so incredibly green, & we could now make out the craggy limestone that characterised some of the peaks. We tried very hard to resist the temptation of throwing our plans to the wind, & crossing south into the Alps. Save that for another trip, with less luggage maybe...!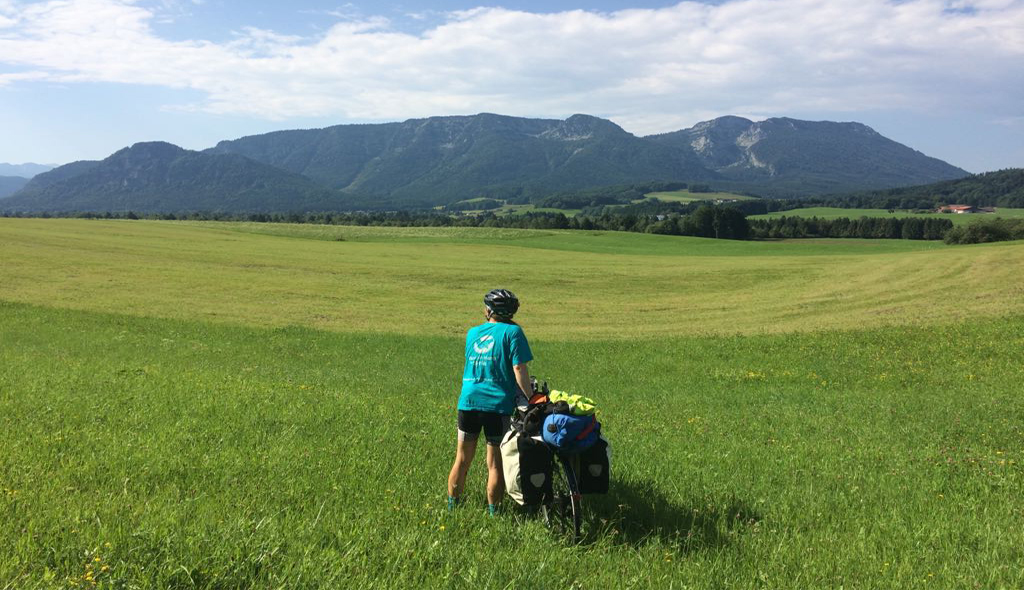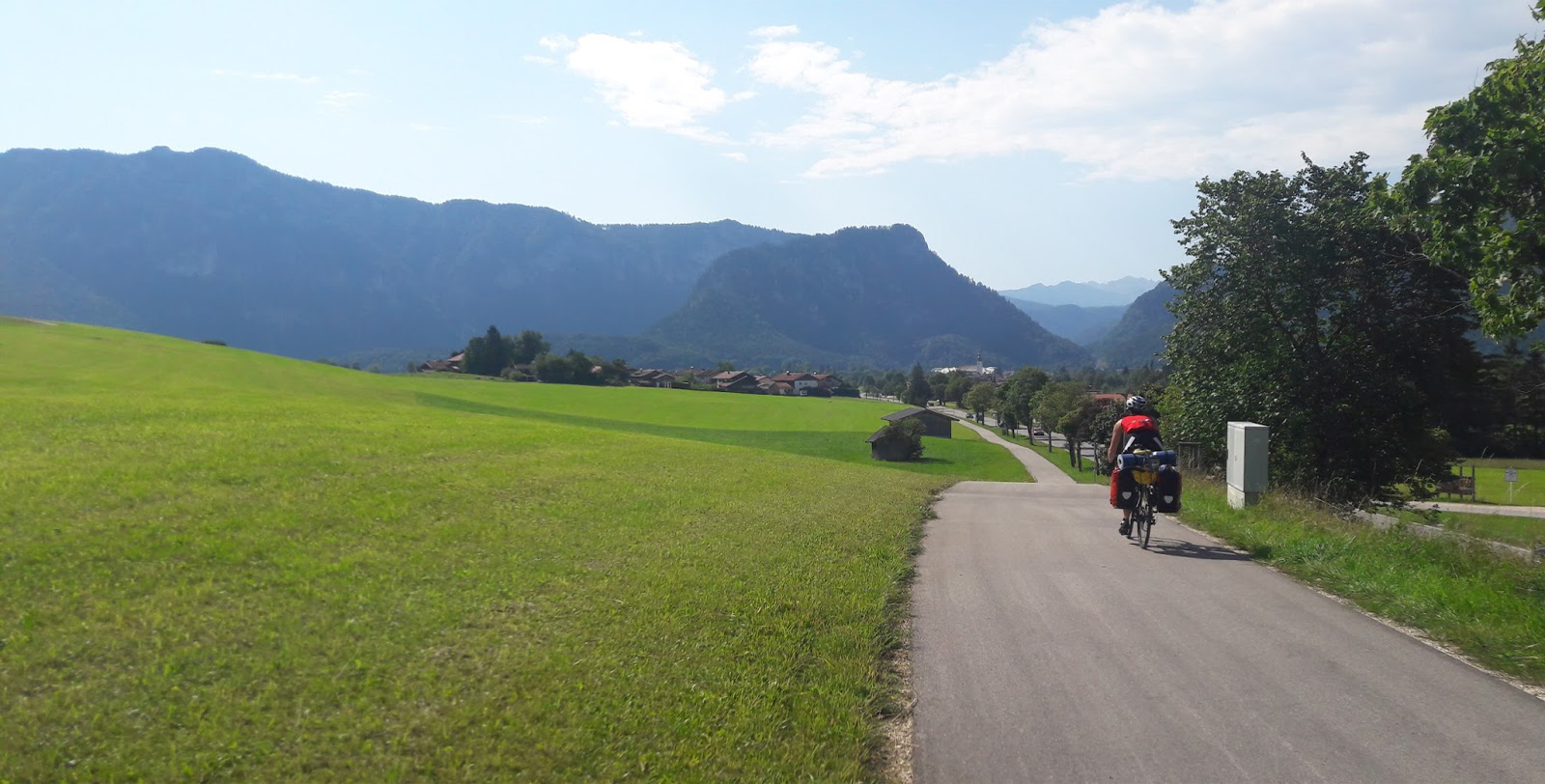 Still no replies from Vienese bike shops about a rear wheel for me, & further calls got me nowhere. This is unbelievable!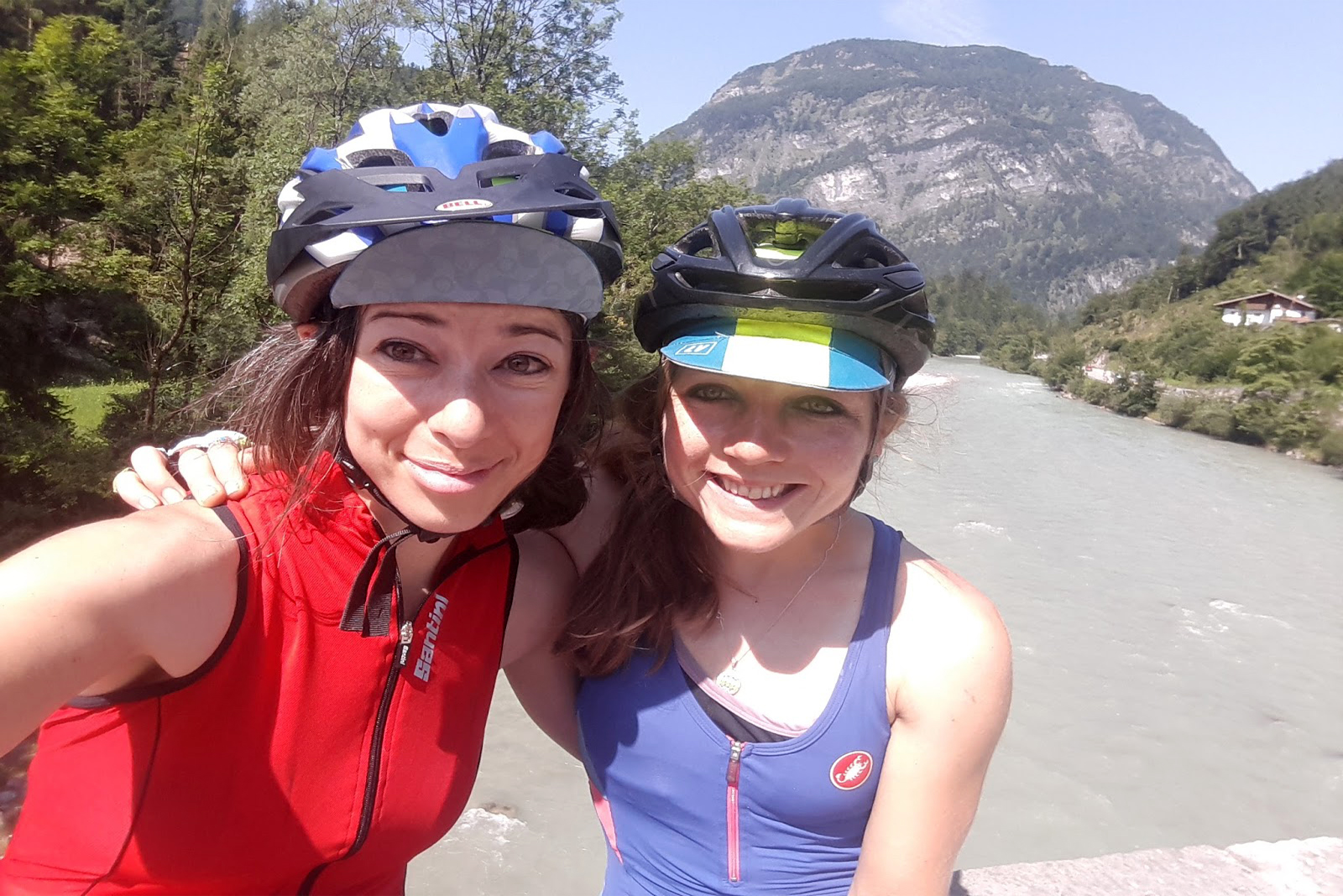 I concur!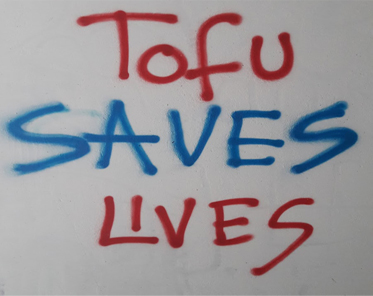 Upon going behind my buddy, I noticed her whole rack was lob-sided... oh dear. To not panic her on this extremely busy road into Salzburg, I saved it until we could safely pull over. Turns out one of her rack bolts had snapped, leaving a chunk stuck in her bike. Oh dear, this may be unfixable unless we can get a drill!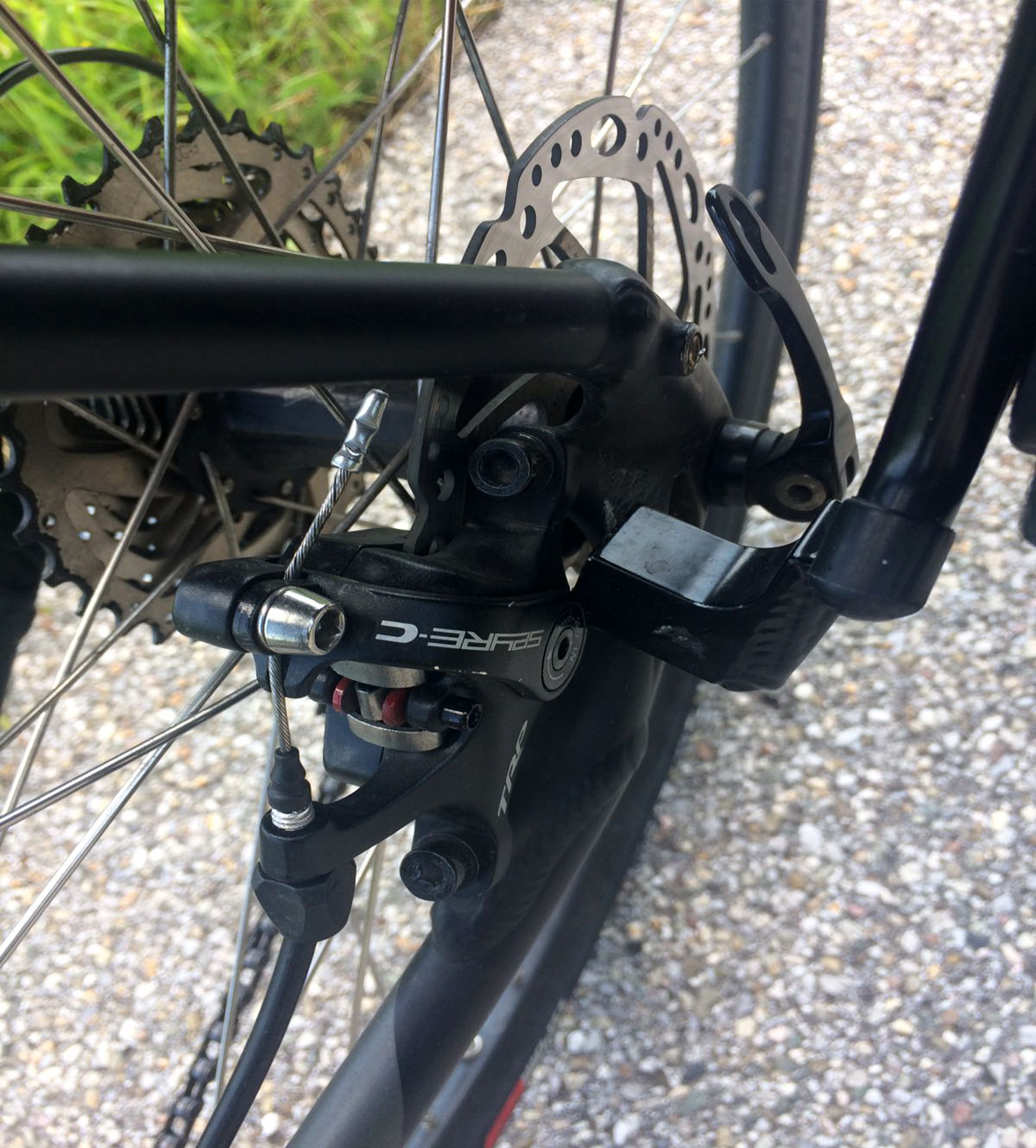 4th border crossing!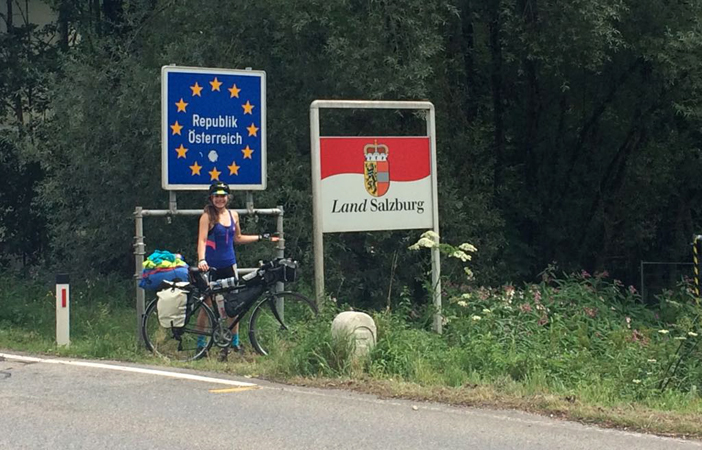 We carefully continued to Salzburg, Sonia's rack wearing the rubber off her rear wheel, & were amazingly lucky - the Specialized shop there sorted the bolt immediately! Drilling the old bit out & replacing it with much longer ones. They obviously had no rear wheel for me though.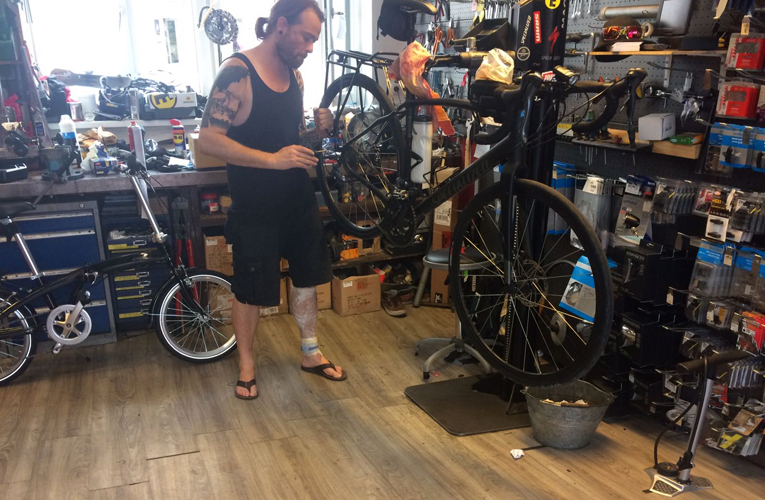 Seriously behind time, we had a further 65 miles to go & it was already 15:30. We remained on this awful road for half of it, until gladly turning off into the most amazing rural landscape.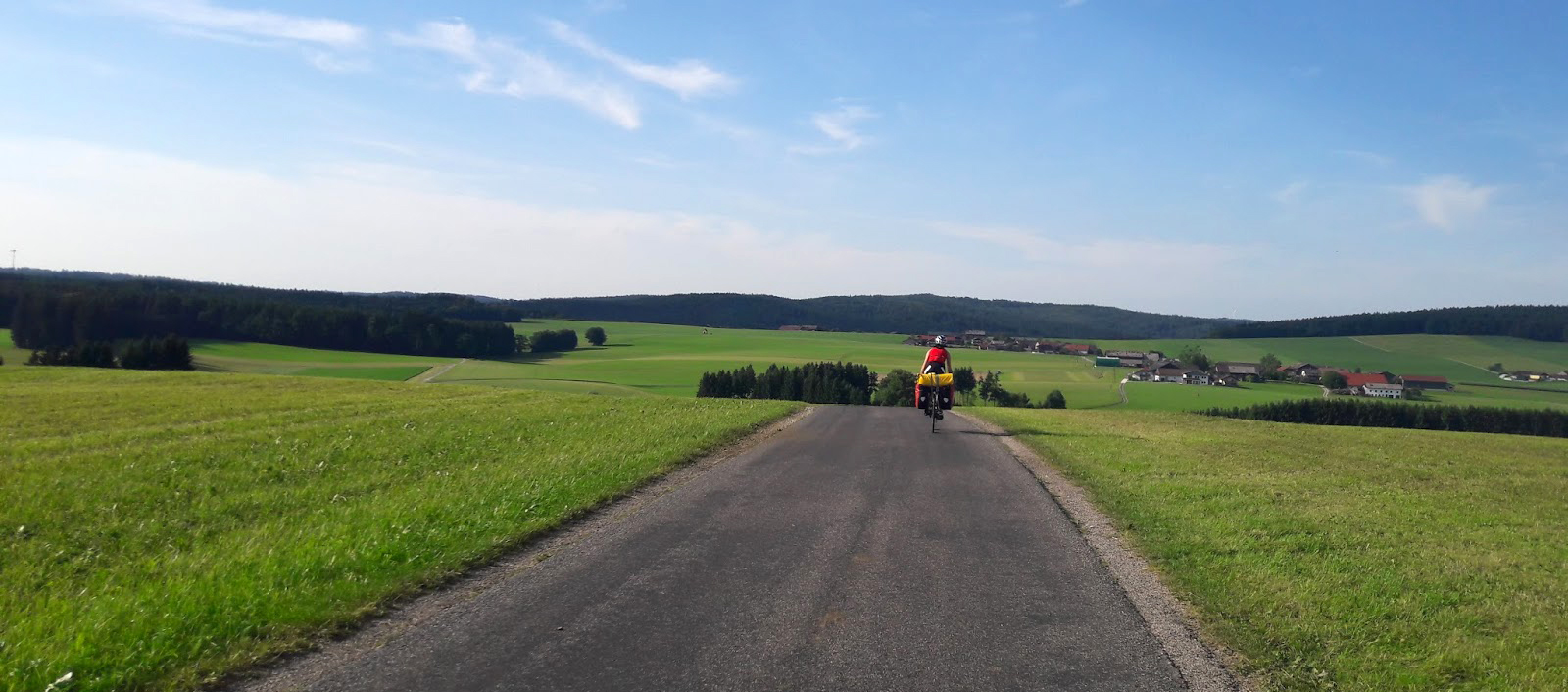 Now, I don't normally rave over fields (sorry if you do), but, wow.
Immediately we were flung down the smoothest of tarmac lanes, downhill towards a view of undulating greenery. Each hill was perfectly rounded, stitched with the freshest of green grasses & toy-like miniature Austrian towns. The sun was setting, leaving that quiescent evening calm & gentle lighting to complete the scene. This was beautiful riding.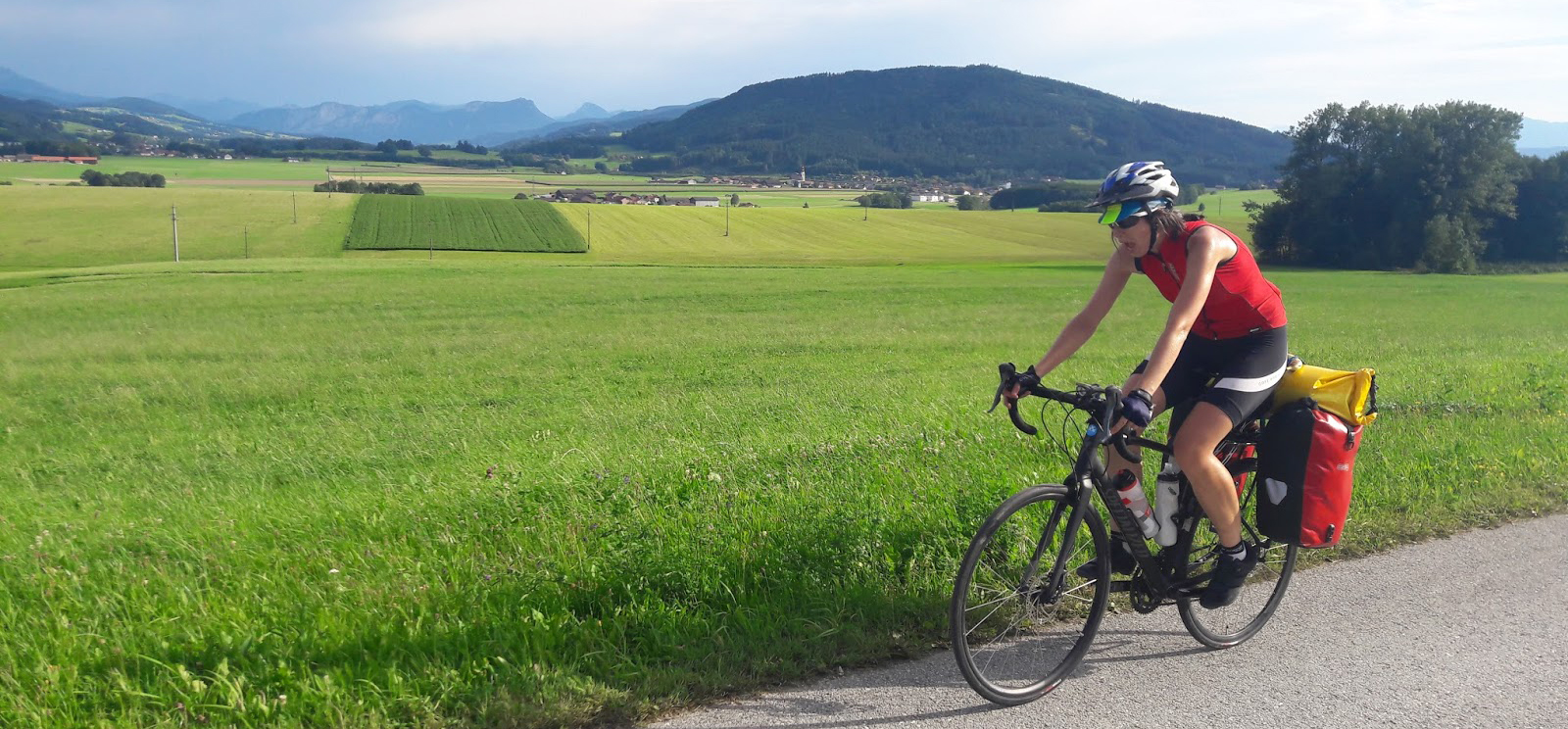 Nightfall arrived, & in our chattering excitement we obviously missed the signs for our town, whoops. A short while later we rolled into Raab to find a campsite. An empty field with a single touring van greeted us. 2 German ladies informed us that the campsite was closed due to non-functioning showers, but that the manager had said they could still stay there. Since the loo block was going to be empty all night, & clean...why should we bother setting up our tents so late?
Ahh, a safe home for the bikes...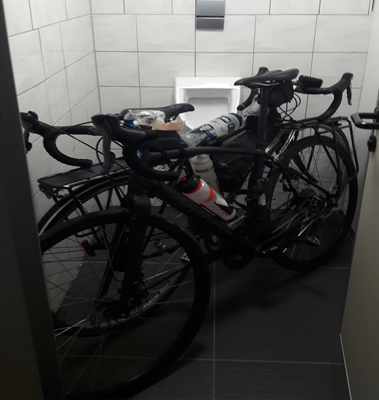 Raab to Melk
Day 43 of riding | 131 miles | 211 km | Ascent: 640 metres
Cycling on the richly beautiful Danube, then offered food like hobos!
Supporting Hand in Hand for Syria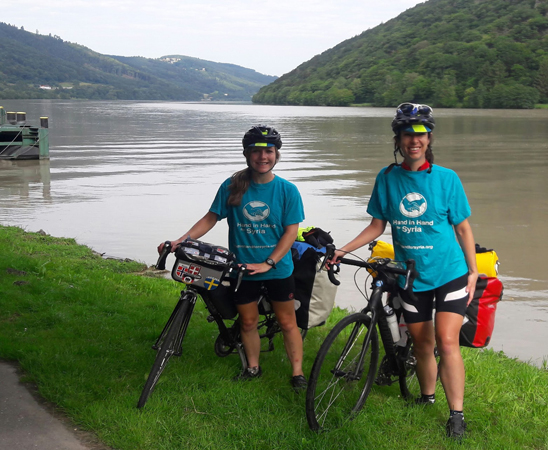 A 20 mile stunning stretch of hilly Austrian lanes took us northwards to Europe's second largest river.
The Danube!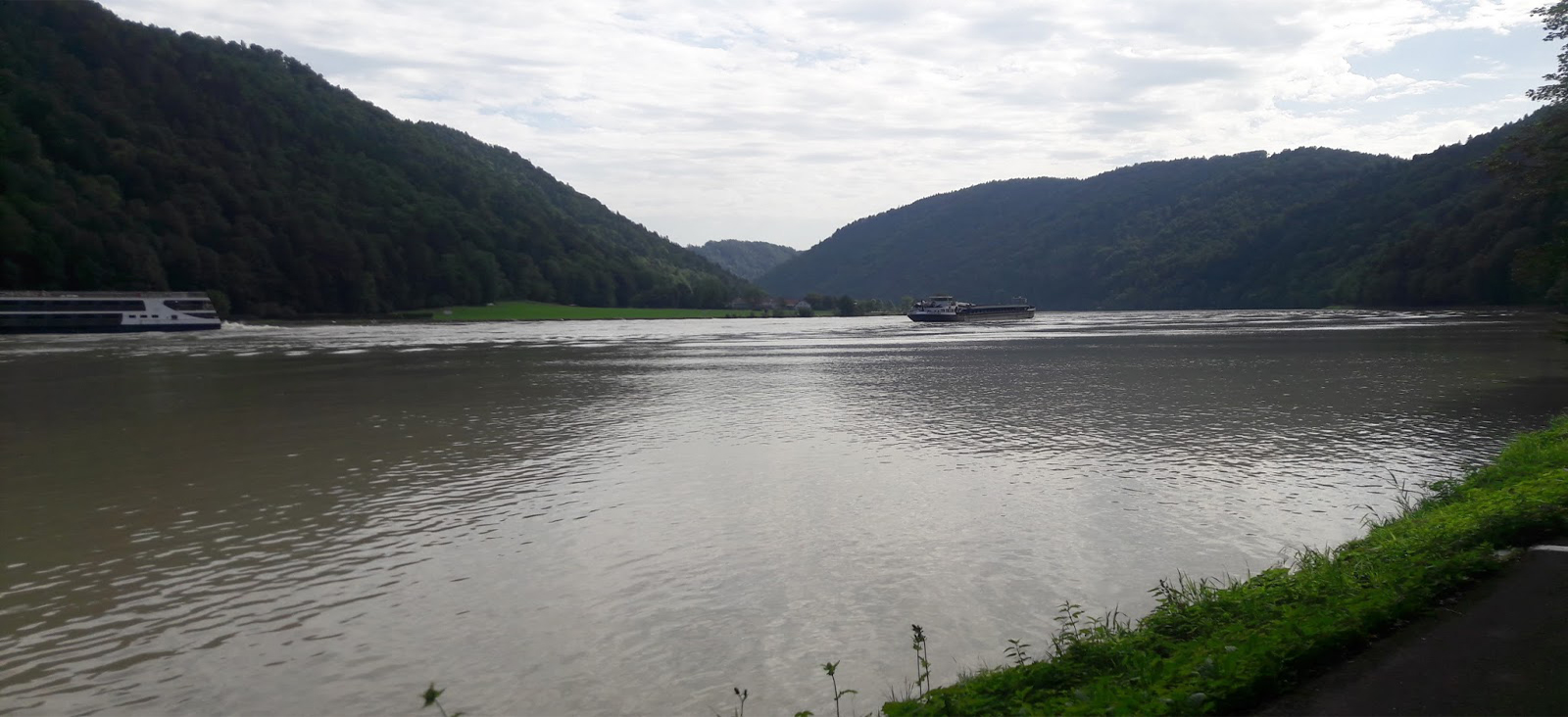 Our roller-coaster suddenly dropped us, as we wound down the freshest of tarmac through thick forest, being given fleeting views of the immense water beneath. The wind resistance was so powerful, I could create a different pitch by altering my head position! Incredible.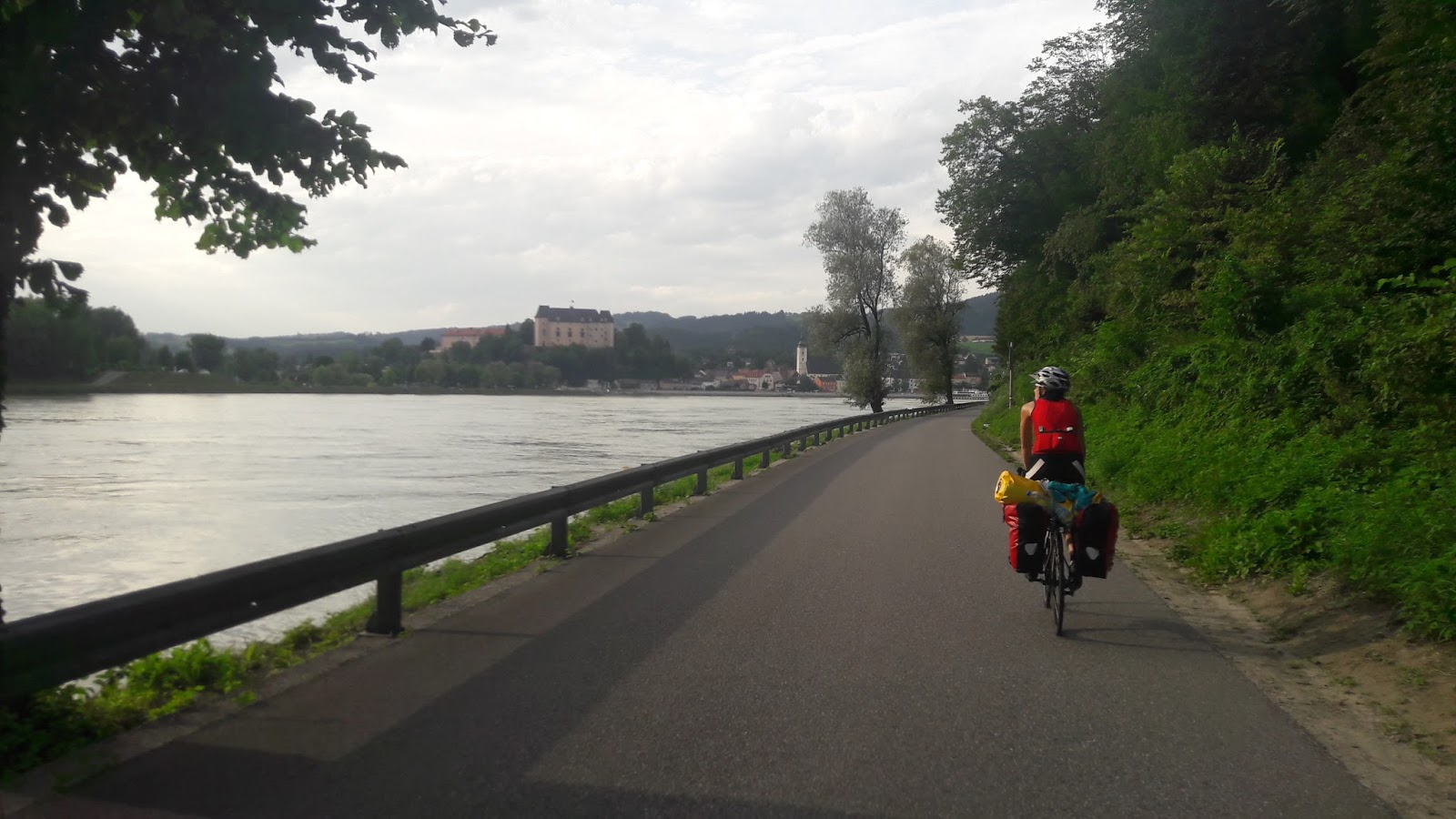 Finally, we've made it! Into a village called Schlogen, we had a quick caffeine boost & some photos. This part of the river is apparently the most photographed, as it meanders around the land in a giant loop.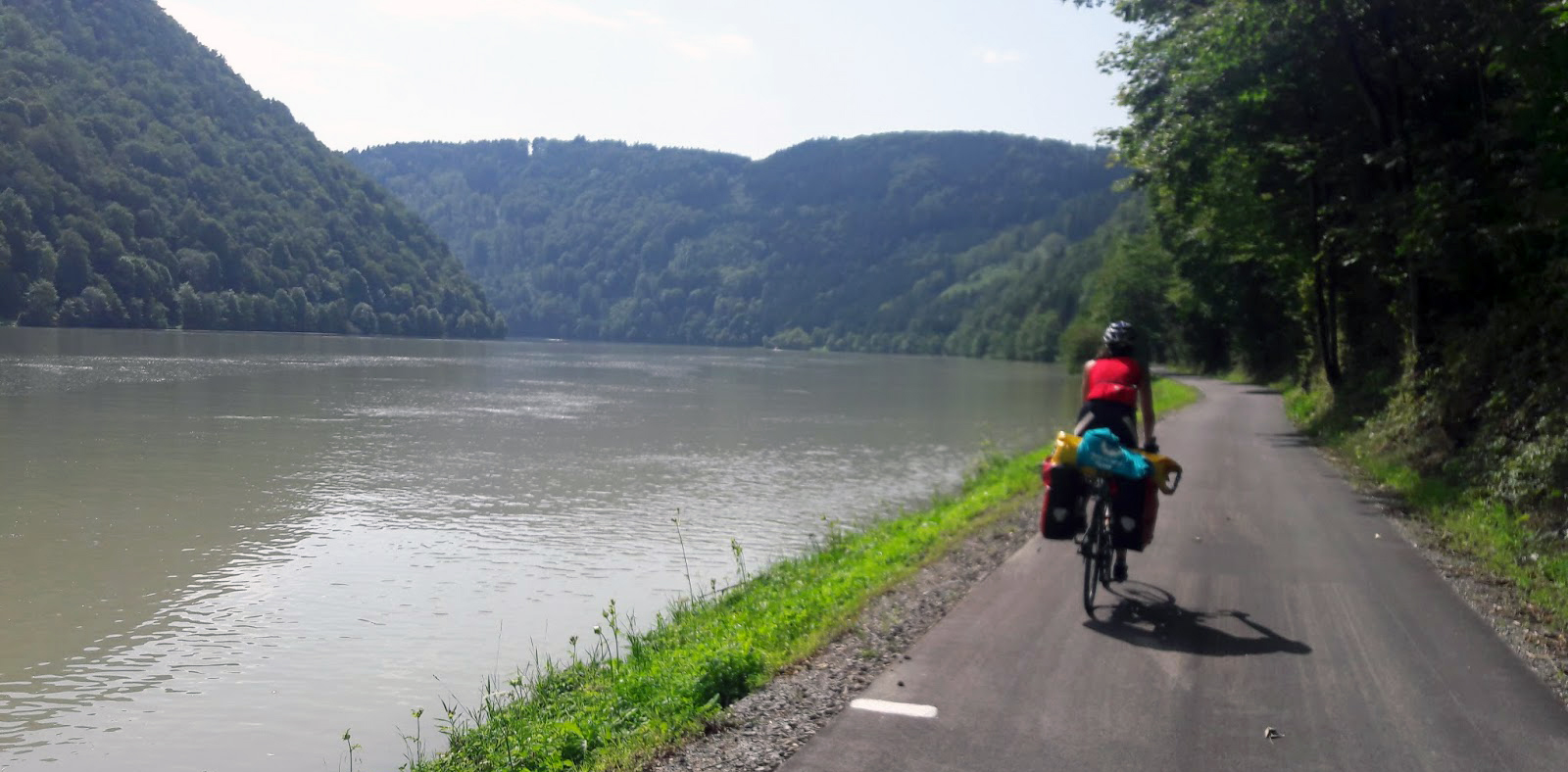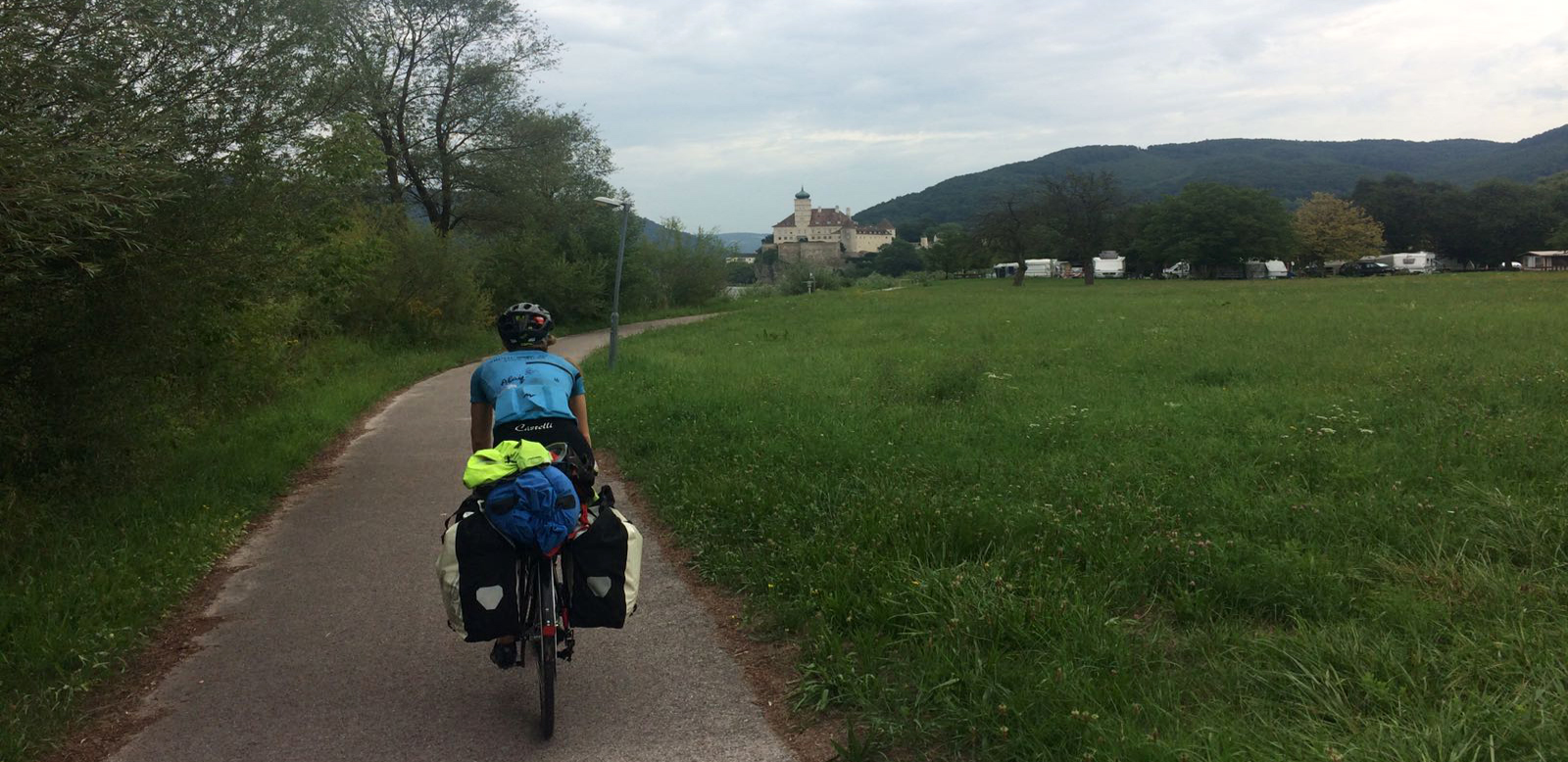 The path was incredible, the views were of the wide, calm river & forested hills, & we were met by other excited people on bikes all around (but not too many, unlike what we had been warned about).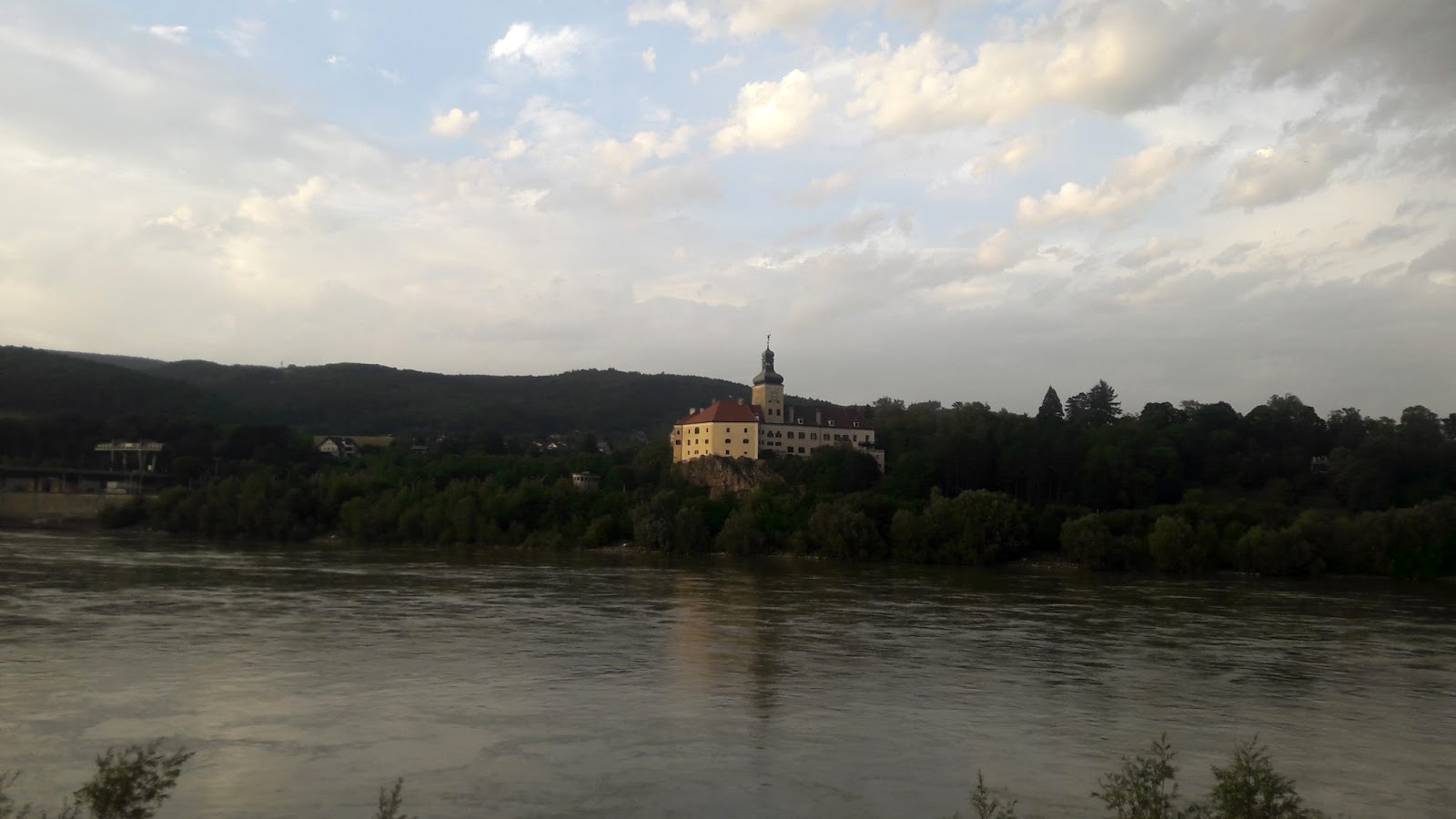 The large town of Linz took a hefty chunk of our time (1h 40min, ouch!): navigating here was a challenge, as was finding an adequate supermarket. When querying the price of a muffin with a waitress (I have to take care of months' worth of pennies, you know!), & declining it, a man in the queue bought one & handed it to me, "a gift from a stranger" he said. How lovely!
We then set ourselves down on the pavement, scoffing whatever vegan things could be found, mainly lots of salad or couscous pots. Passersby observed this, & one gentleman handed us a bottle of mint water. Not the best, but a kind offer for us seemingly poor travellers! Hilarious.
Linz, where we were handed fizzy mint water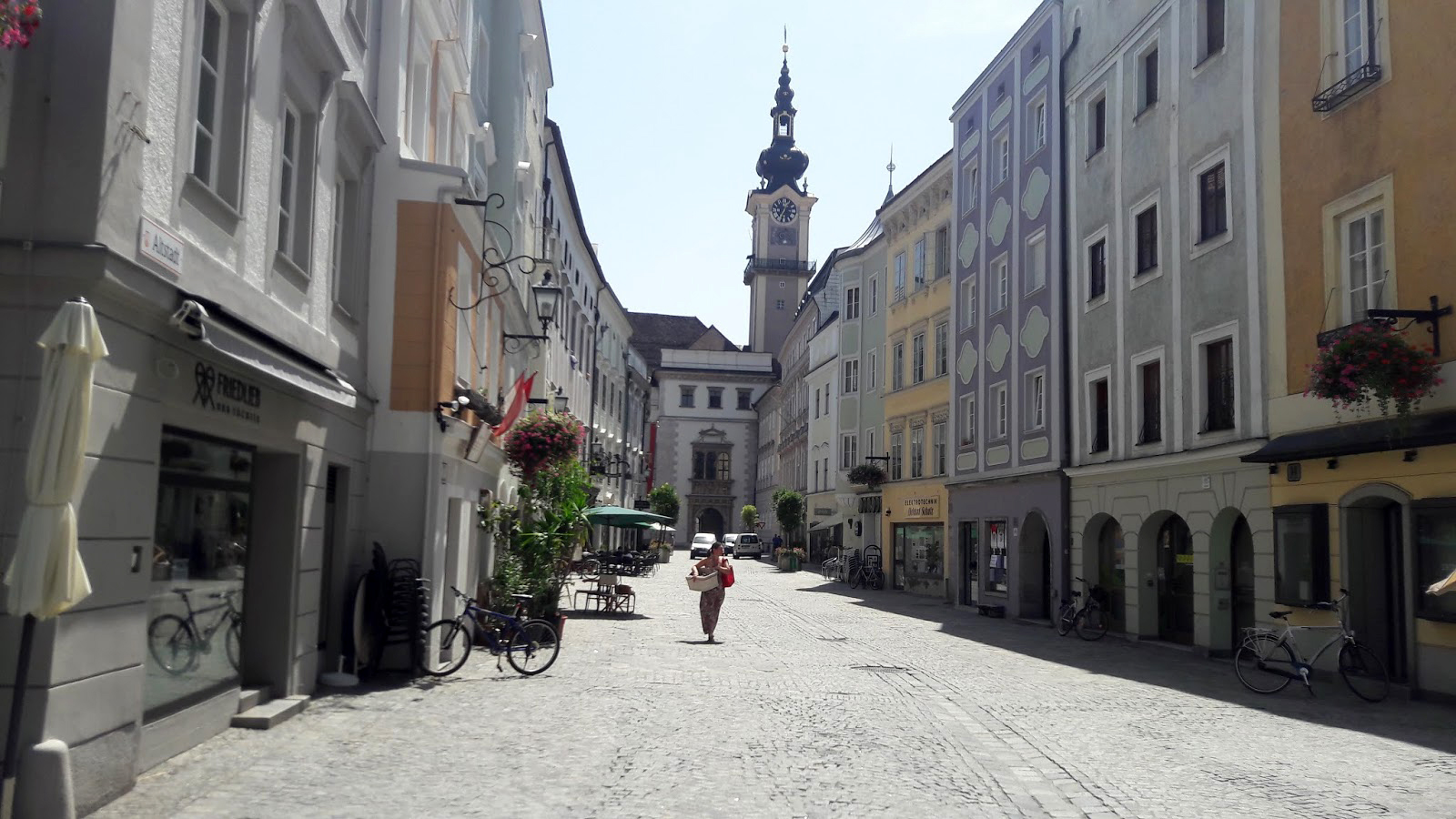 Later we got quite lost, & had to go via an awful main road, again. We kept spirits up by practicing our new song, "Vamos al danubio": it goes along to the melody of Vamos a la Playa, by Loona. If you youtube it, you can sing along right now!
"Vamos al danubio, a mi me gusta ciclismo, el ridmo del rodar, sounds of (insert spontaneous funny occurrence here)" the ending would usually be something mature like 'sounds of Sonia farting'.
The beautiful food/water stops via the main road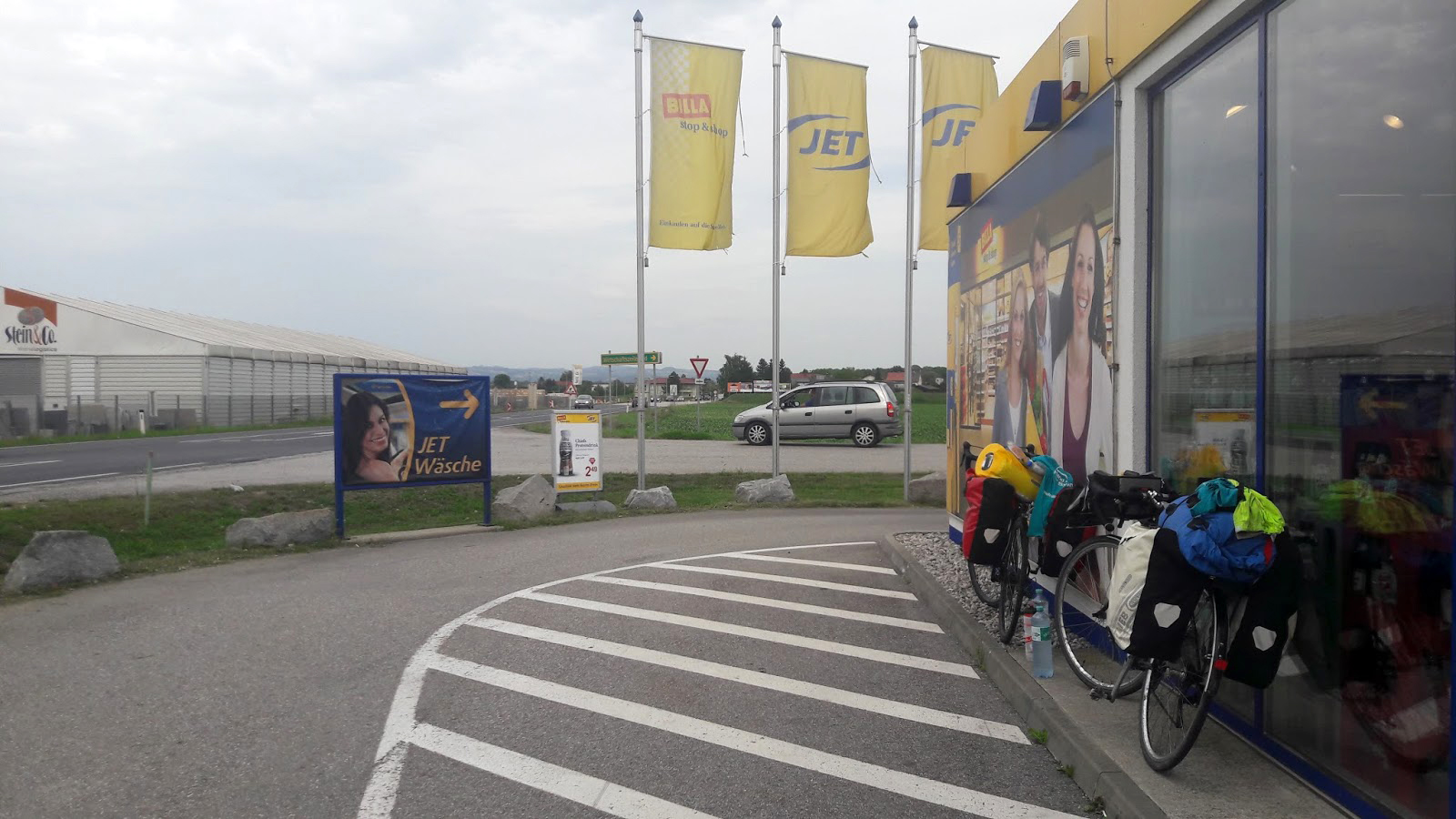 Anyway back to the serious stuff. We arrived at a campsite in darkness, again, but I guess after 130+ miles, & a long lunch, that's to be expected! I started the cooking, & we enjoyed pasta & vegan frankfurters mmm, whilst sat on the steps of the toilet block (not so mmm!).
Beautiful sunset as we neared Melk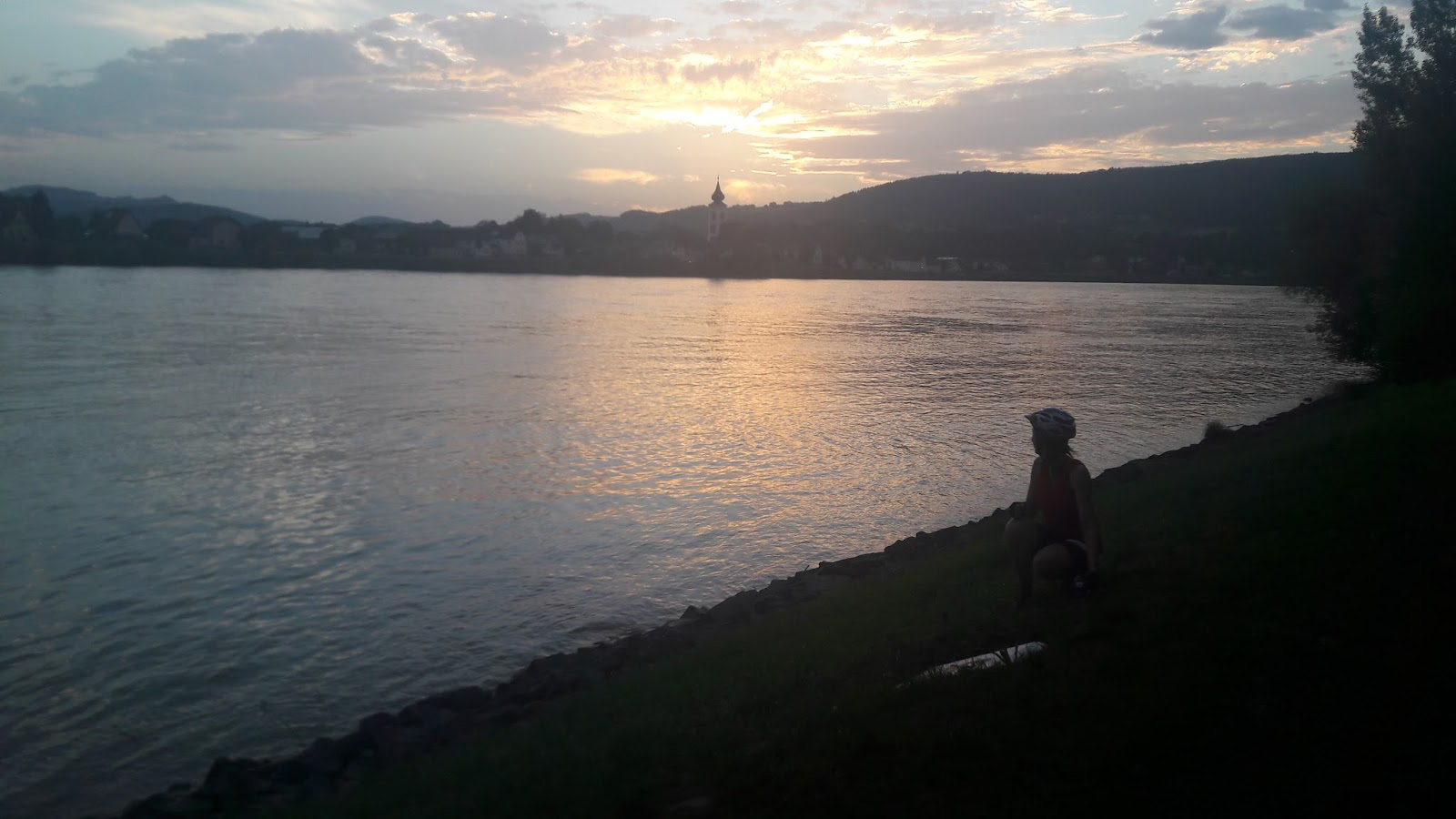 Melk to Vienna
Day 44 of riding | 79 miles | 127 km | Ascent: 520 metres
A serious hill climb, new friends (Austrian & Kurdish), & arrival in Vienna
Melk Abbey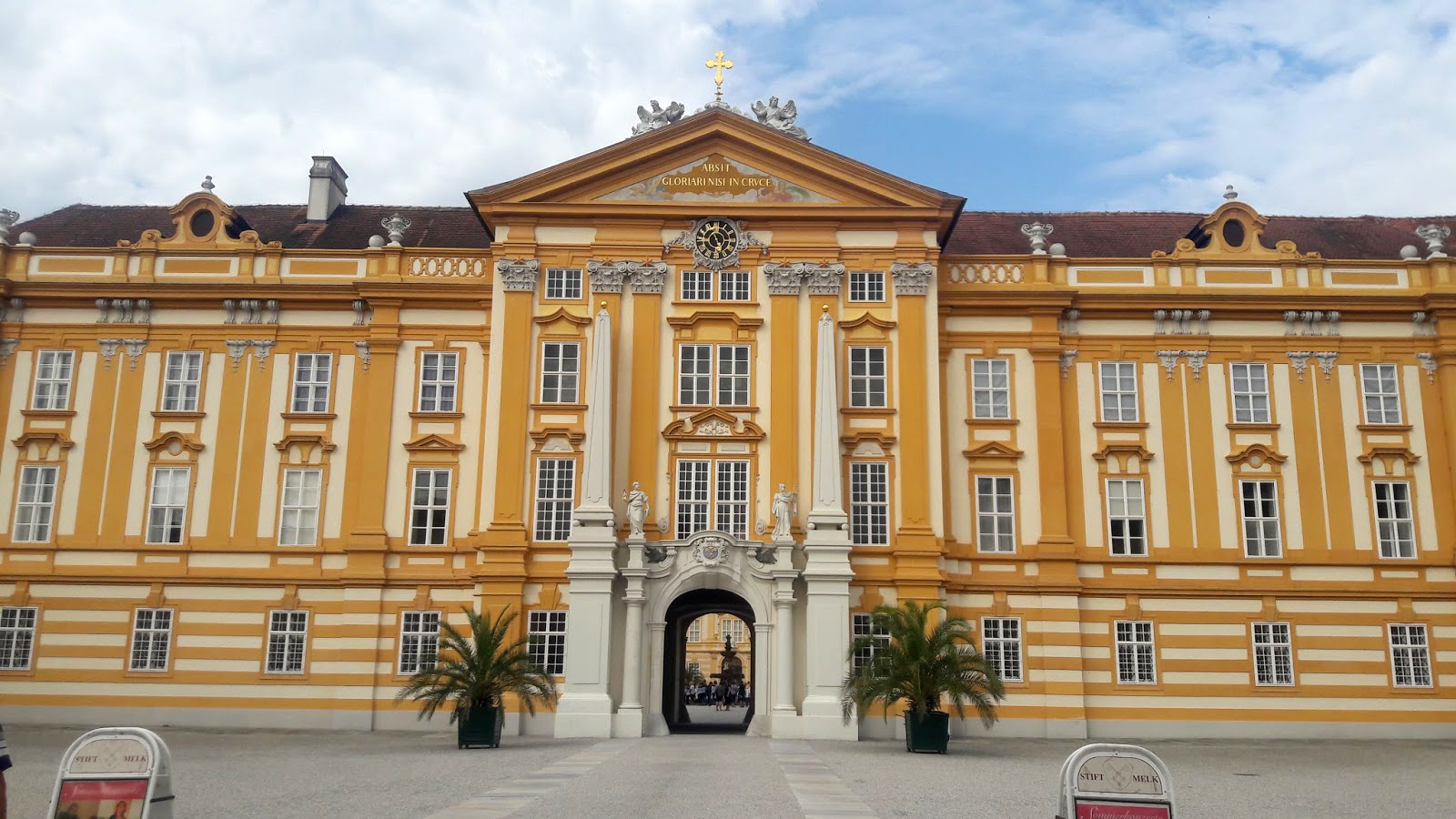 After a late night, we had a 'lie in', knowing that today would be shorter. I was feeling quite groggy, so we had many a coffee - praying it would help us!
Melk has a famous yellow, baroque Abbey, which housed the first Austrian dynasty. We allowed ourselves time to briefly check it out.
It exhibited a very beautiful & grand exterior, enhanced by delicate paintings high upon every wall.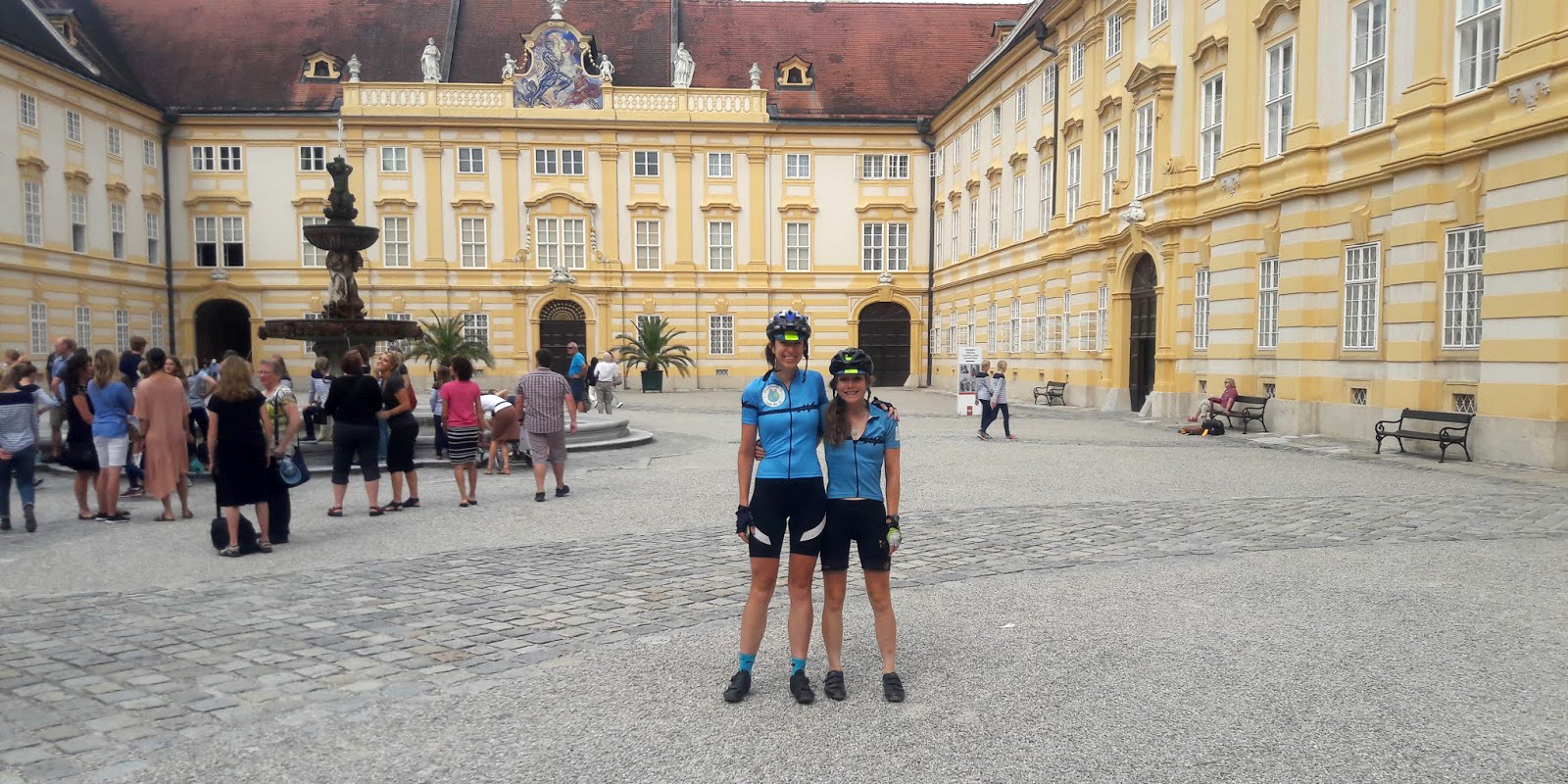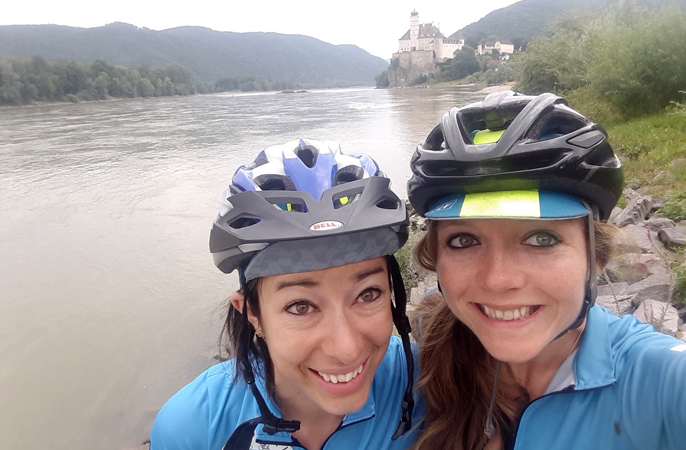 More coffees later, we hit the river road for a very short while, exiting to do an optional climb: Aggstein hill.
This road leads to castle ruins on a hill-top, that only means one thing... we must cycle up it!
Oh Jesus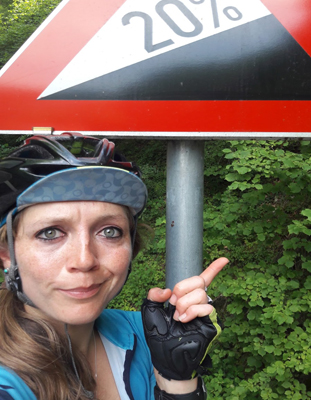 The road gradient & length was completely unknown to us, therefore potentially idiotic to attempt with 40kg of weight. We dumped our panniers in a nearby bush, & approached the hill, immediately being greeted by a 20% gradient sign...ha!
Campeona!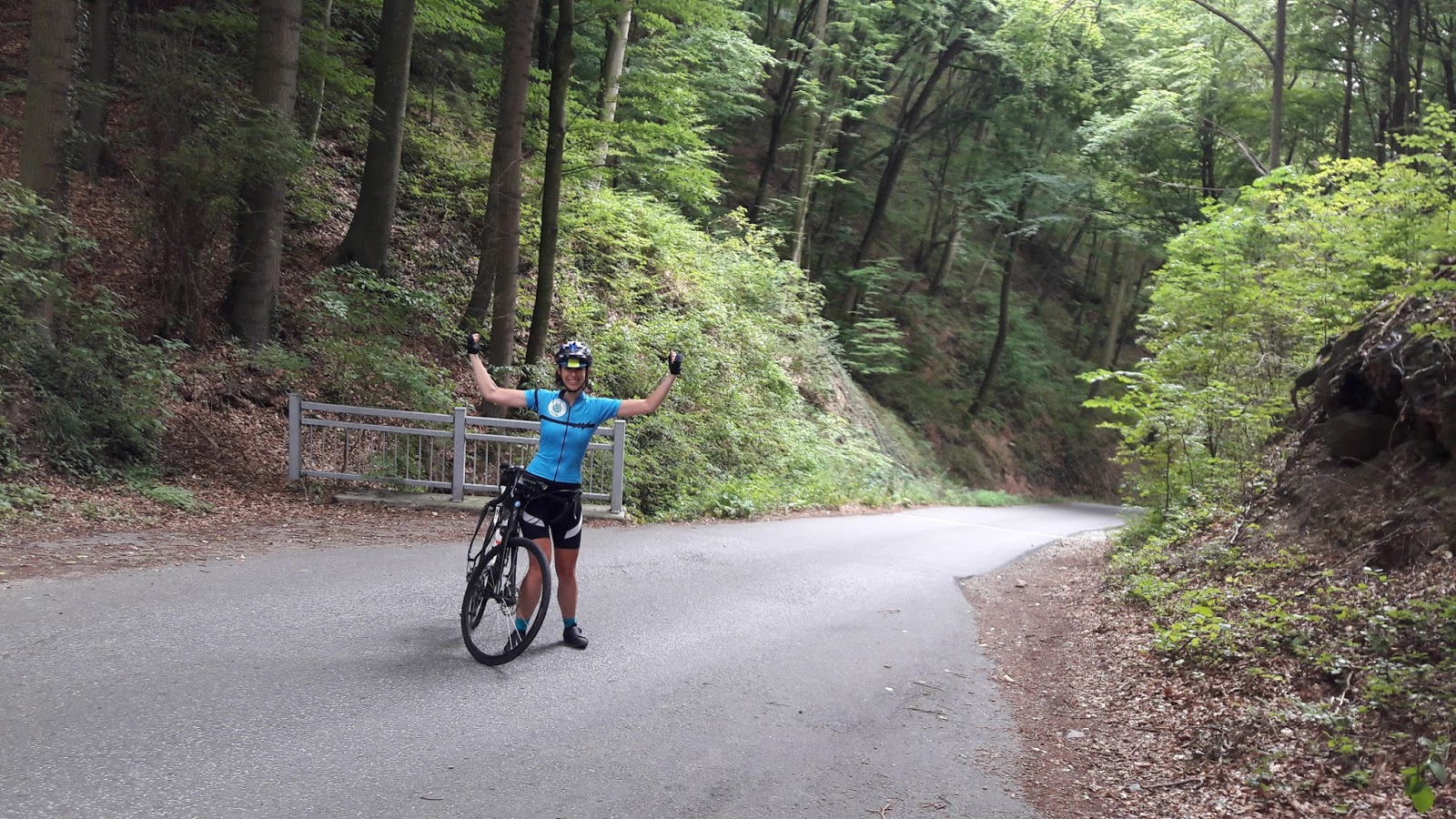 Oh to be luggage-free!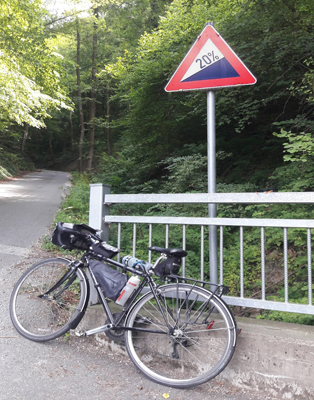 It was a relatively short but pretty tough ride, as the road kept up an average of 16% to the top!
Whilst searching for a view (of course you must pay entry fees to the castle for this, pfft), I wandered over to some rock & met some climbers, awesome!
The chalk is the clue...these pesky climbers get everywere!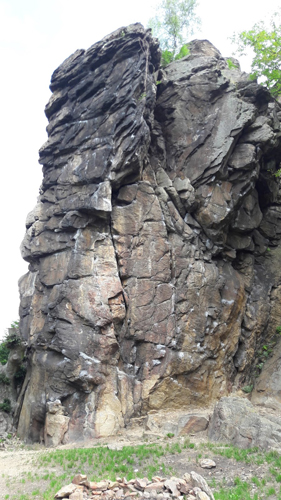 Aggstein Castle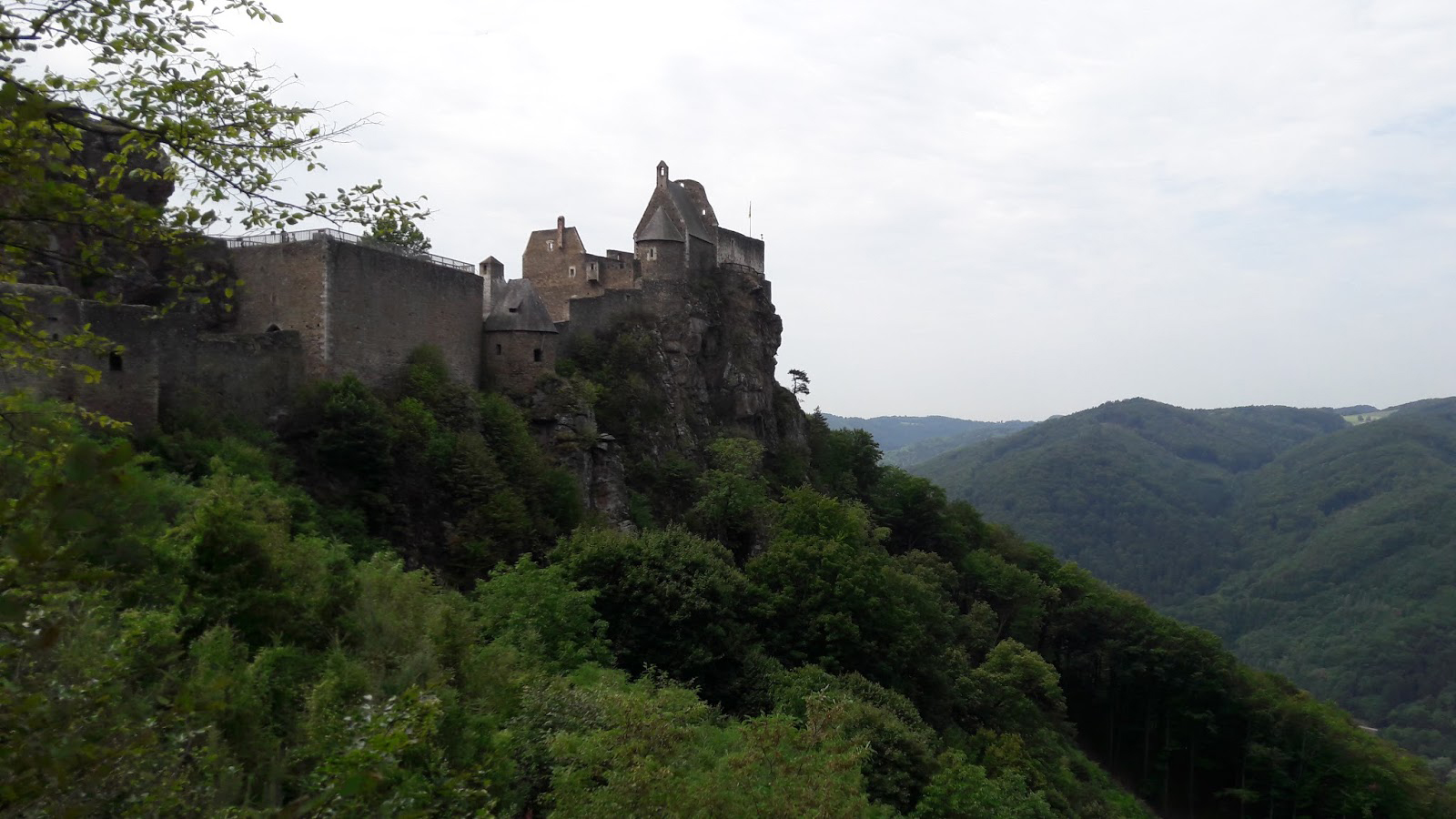 Son & I then enjoyed a quick ice pop & shared a lemon beer, conscious that we had only covered 9 miles by midday.
It was flat & uninteresting riding afterwards, but punctuated regularly by the view of opulent hill-top palaces, castles, & pretty little beaches. Oh, how we longed for a swim!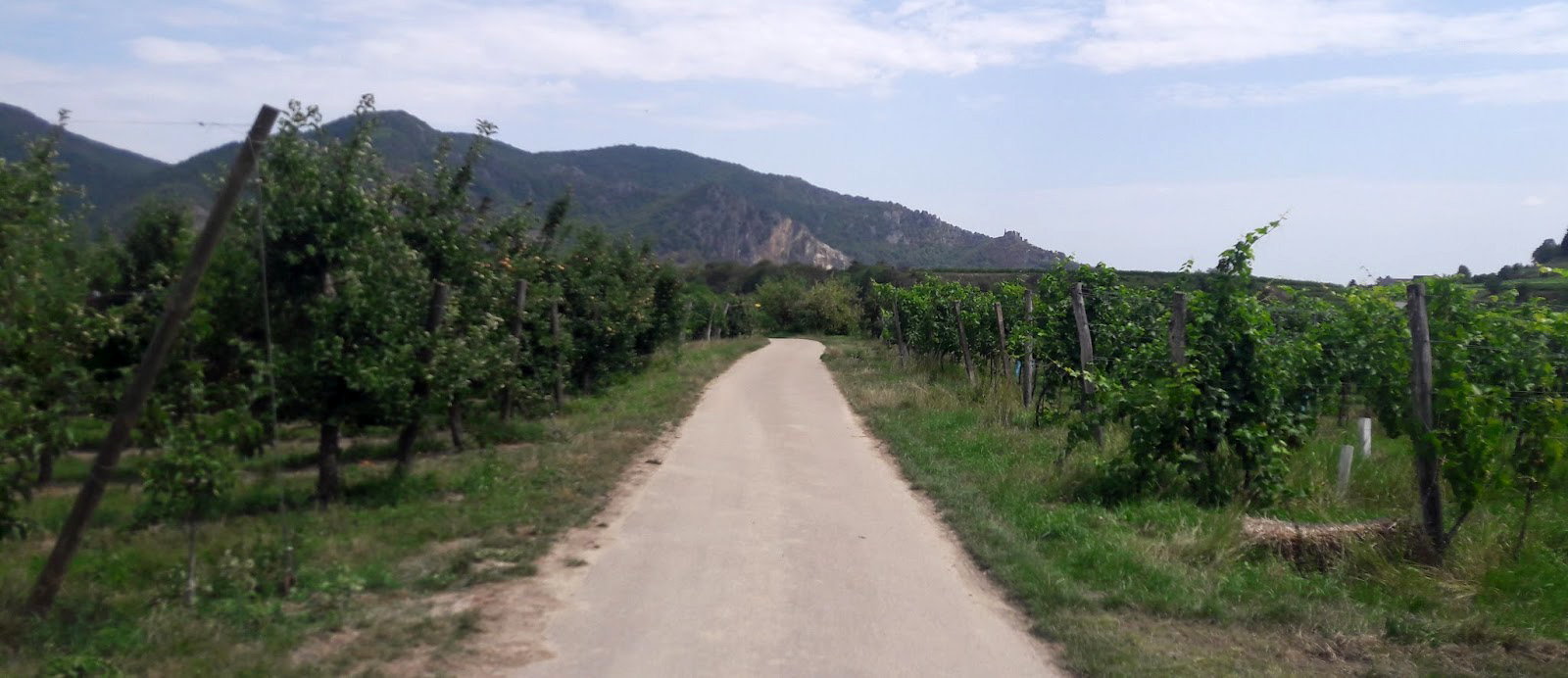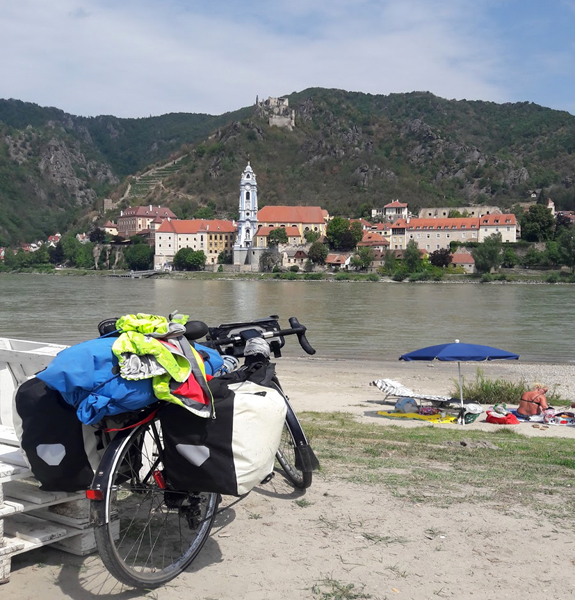 The current European heatwave 'Lucifer' was in full swing, not only causing nearly 40 degree heat, but leaving a disgusting humidity that had our whole bodies drenching wet all the time.
Sonia is a sweaty betty!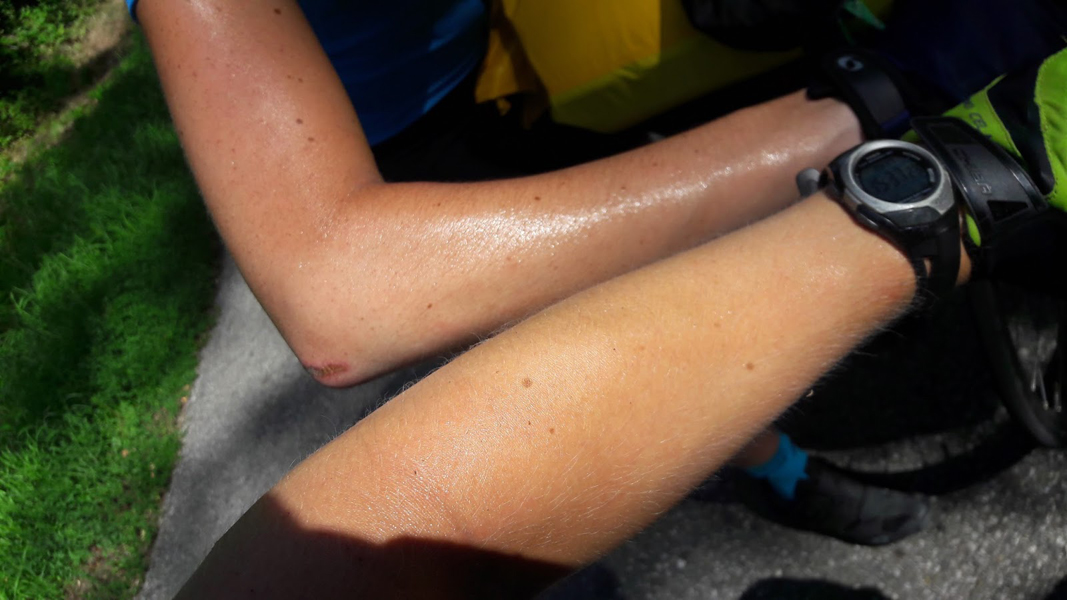 We soon approached signs to Wien (Vienna), yay! A Giant bicycle store appeared, & I ran in to enquire about a wheel. A mechanic called Stefan explained that I would definitely get one at a place called Ciclismo, then offered us 2 free beers after he heard about my trip. How lovely!
Aw thank you Stefan!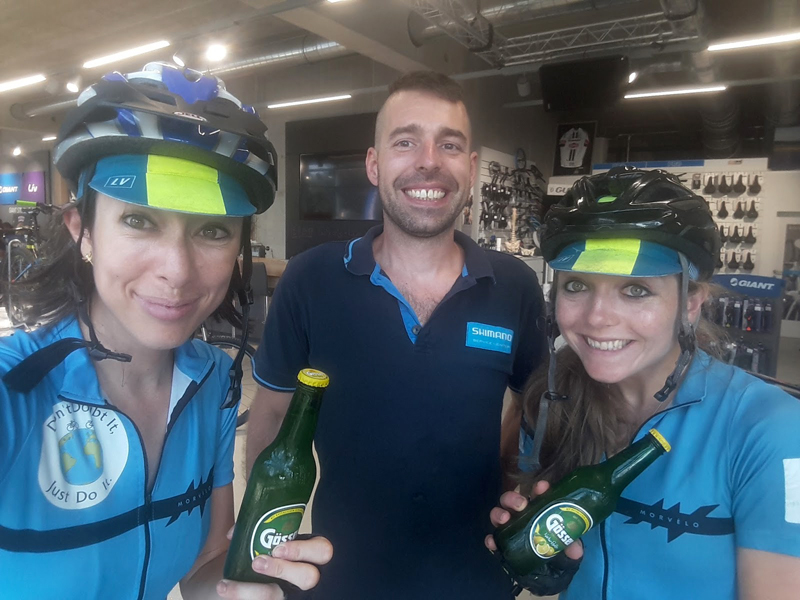 Back on the road, "Where are you guys going" said a voice from behind, this was Nicolas, a sweet Austrian guy who likes to do cycle touring himself. He accompanied us towards the city, and invited us to his friend's party on the Danube island.
Nicolas!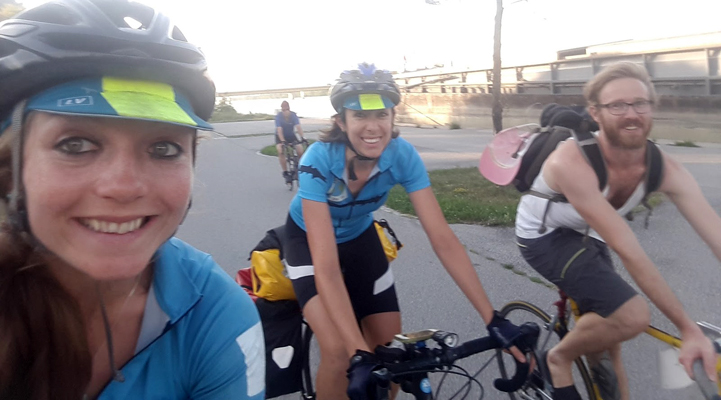 Approaching Vienna wooo!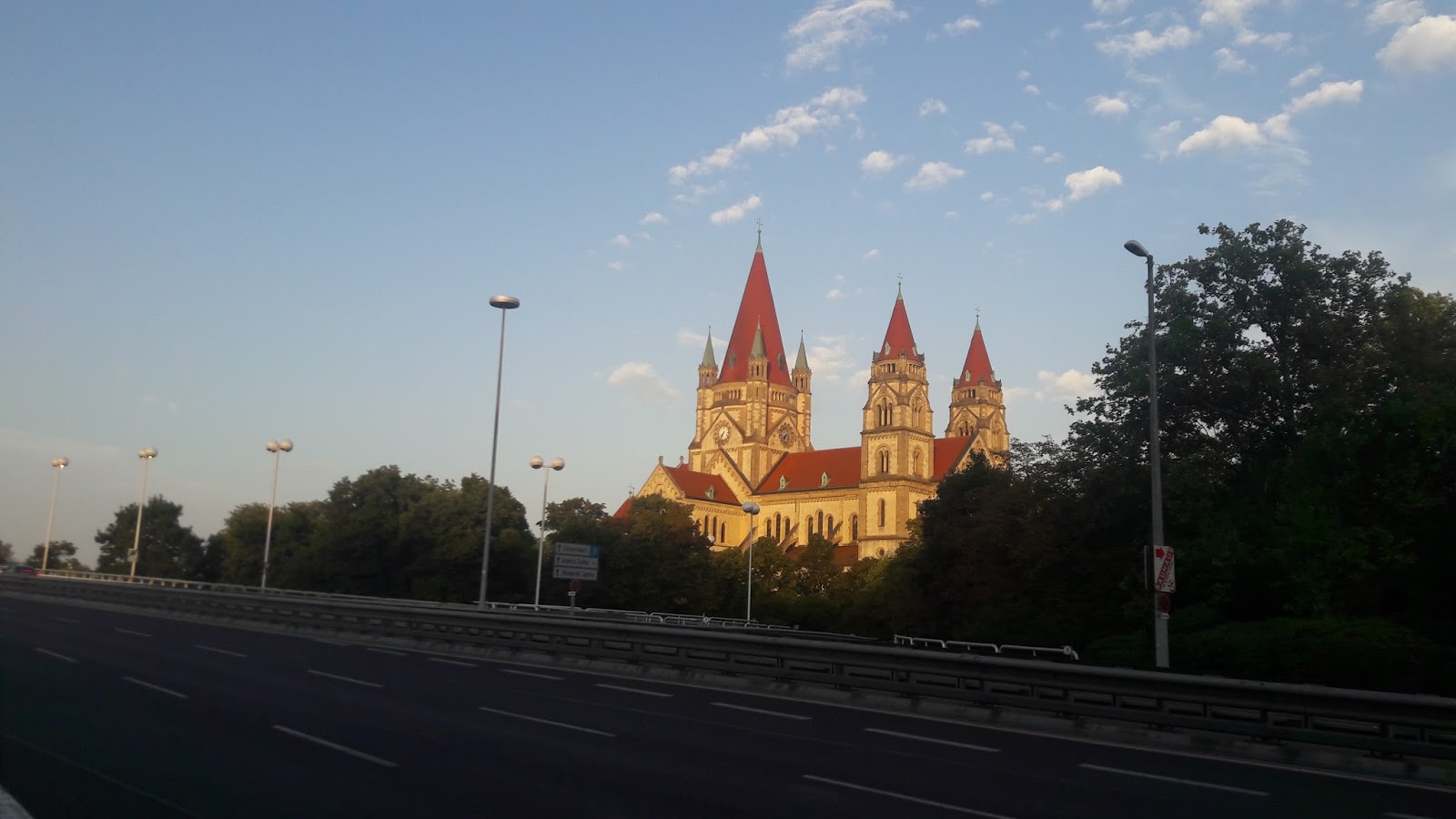 Our place was still 8km from the river, damn! But as darkness approached, we thought a quick falafel kebab would be an ideal & efficient vegan dinner. I spotted somewhere near our accommodation, & we enjoyed our first luxurious Vienese meal together!
Our romantic dinner in Vienna :)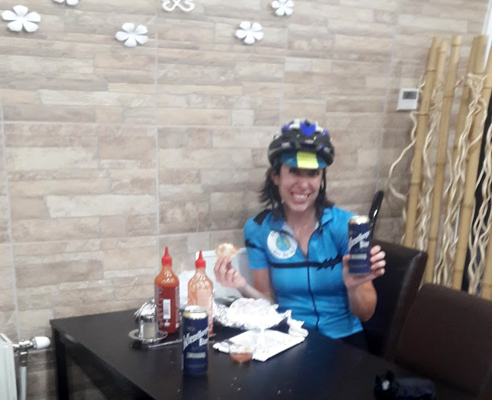 We also met the great Kurdish kebab man, Denis. He said meeting us (aka loud random English cycling girls) made his shift!
Exhausted & getting to bed very late, we were happy it would be a 'rest day' (aka wheel day) the next day!
TOTALS:
Ride days: 44
Miles: 4,411
Thank you for your interest! If you'd like to support my ride by contributing towards aid in Syria, I'd be extremely grateful - www.alaina.org.uk
Thank you!
Alaina Beacall
Return to Arctic-to-Med Blog contents
Return to Blog Main Page