Trans Am article Audax UK's magazine 'Arrivee'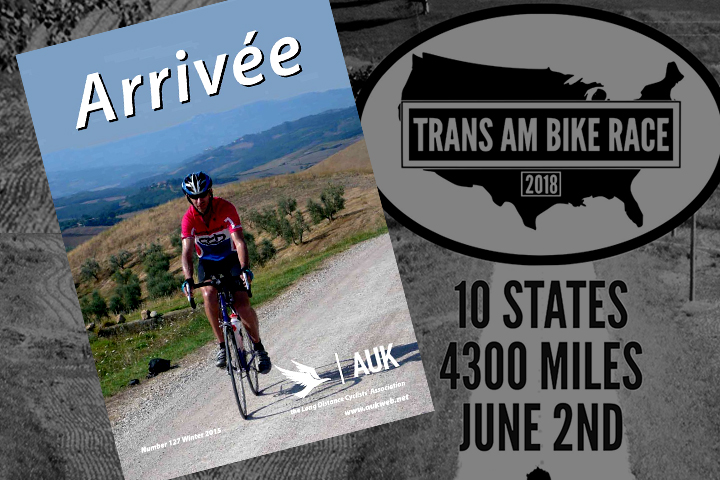 Here is an extract from an article I have written for Audax UK's magazine 'Arrivee'. Publication will be April/May.
The desire to challenge one's physical and mental boundaries, pushing them to new levels through beautiful ever-changing landscapes, is absolutely insatiable. Some question the 'enjoyment' of passing through places so quickly, which I agree can compromise aspects of the local experience. But the alternative is being a participant on a journey of personal ambition and achievement, through a faster changing and hence greater variety of spectacular environments day and night. It is incredibly liberating.
I had planned to spend my second year working in New Zealand, before having to return to NHS training in august 2018. But this taste of the endurance riding game influenced me to decide against New Zealand: I could spend another year working flexibly, and have time for another cycle adventure; what an opportunity!
Ultra-distance events have rapidly grown in popularity: those self-supported variations see participants carry their gear and source their own food, water and accommodation, yet many riders still average 200 miles per day. The Transcontinental is one such race through Europe, of approximately 2400 miles, which was occurring as Sonia and I were riding the Danube. I was transfixed with the enormity of the daily mileage, the clear mental fortitude these incredible riders were showing (some doing up to 300 miles straight). It seemed that there were no limits. Another spark of inspiration began burning continuously inside.
Instantly Sonia started pecking away at me, "Alaina, you HAVE to do this. You have another year, you need to do a massive ultra-distance race. I know you can do it!" Transcontinental was a no-go as it clashes with the start of my GP training. Sonia, "Right, well you'll just have to do the longer one then won't you, the one across America." For me this would be a massive step up: a much higher daily mileage, over a restricted timeframe, with no rest days. This is not only a massive physical challenge, but in some ways more so a challenge of the mind. These races involve day after day of being alone in your own head, thousands of miles and roads of solitude, riding through whatever conditions are thrown at you. They strongly test your problem-solving skills and survival instincts in remote locations (e.g. with mechanical issues, food, water, sleeping and accidents).
The TransAm Bike Race is a 4,300 mile self-supported race coast-to-coast across the USA: it begins in June on the west coast of Oregon, traverses north west into the Rockies; going through both Yellowstone and the Grand Tetons National Parks and southwards; you then go east into Kansas, over the Appalachian mountains, and to the Virginia coast to finish. This is a pre-defined and very popular cycle route (which will help with the planning, compared to my last beast of a trip!), but the idea is to do no more than 30 days. This makes it a minimum of 144 miles every day, although the current record is 17 days (247 miles per day). I had better get training.
Alaina Beacall
Return to Trans American Blog contents
Return to Blog Main Page